2 DPO – Pregnancy Symptoms
If you are reading this article, you are most likely at 2 DPO- or 2 days past ovulation.
If you are trying to conceive, the TWW (two-week wait) can feel like an eternity.
This article, provided by us at MyBump2Baby, will go through pregnancy symptoms you may possibly be experiencing at this point, as well as what the best time to take a pregnancy test is, but first, we will be discussing what DPO means, and when pregnancy symptoms begin and what triggers them.
In this article:
What Does DPO Mean?
DPO stands for "Days Past Ovulation"- and it is exactly as it sounds! For example, 1 DPO is the day after ovulation, 2 DPO is two days after ovulation and so forth.
By identifying what DPO you are at, you are able to tell what stage of your menstrual cycle you are at, when the best time to conceive is (also known as your fertile window), and when you are able to receive accurate pregnancy test results.
What is Happening at 2 DPO?
At 2 DPO, you are in the luteal phase of your menstrual cycle: the phase in which the follicle which released an egg during ovulation changes into the corpus luteum. The corpus luteum releases progesterone and some estrogen, in order to maintain your thickened uterine lining in preparation for a fertilised egg.
If you have recently had unprotected sex, and the egg has been fertilised, at this stage, the fertilized egg (or zygote) is most likely travelling down one of the fallopian tubes towards the uterus.
The uterus will be the home of the zygote, which will divide and multiply to form a fetus over time, for the next 9 months.
Once the zygote reaches the uterus, implantation occurs.
When Do Pregnancy Symptoms Begin?
Pregnancy symptoms usually begin once implantation occurs. Implantation is the process where a fertilized egg implants itself into the uterine lining. You can calculate when implantation is likely to happen using an implantation calculator.
It is through this connection that the fertilized egg receives the nutrients and blood supply that it needs to grow.
Once implantation occurs, your hCG (human chorionic gonadotropin) hormone begins to be produced.
It is the hCG hormone that is responsible for giving you a positive pregnancy test result.
Your estrogen and progesterone levels also rapidly rise once implantation occurs.
It is the rising of this combination of progesterone, estrogen and hCG hormones that causes the early pregnancy symptoms.
Some signs of implantation are implantation bleeding and implantation cramping.
Early Pregnancy Symptoms at 2 DPO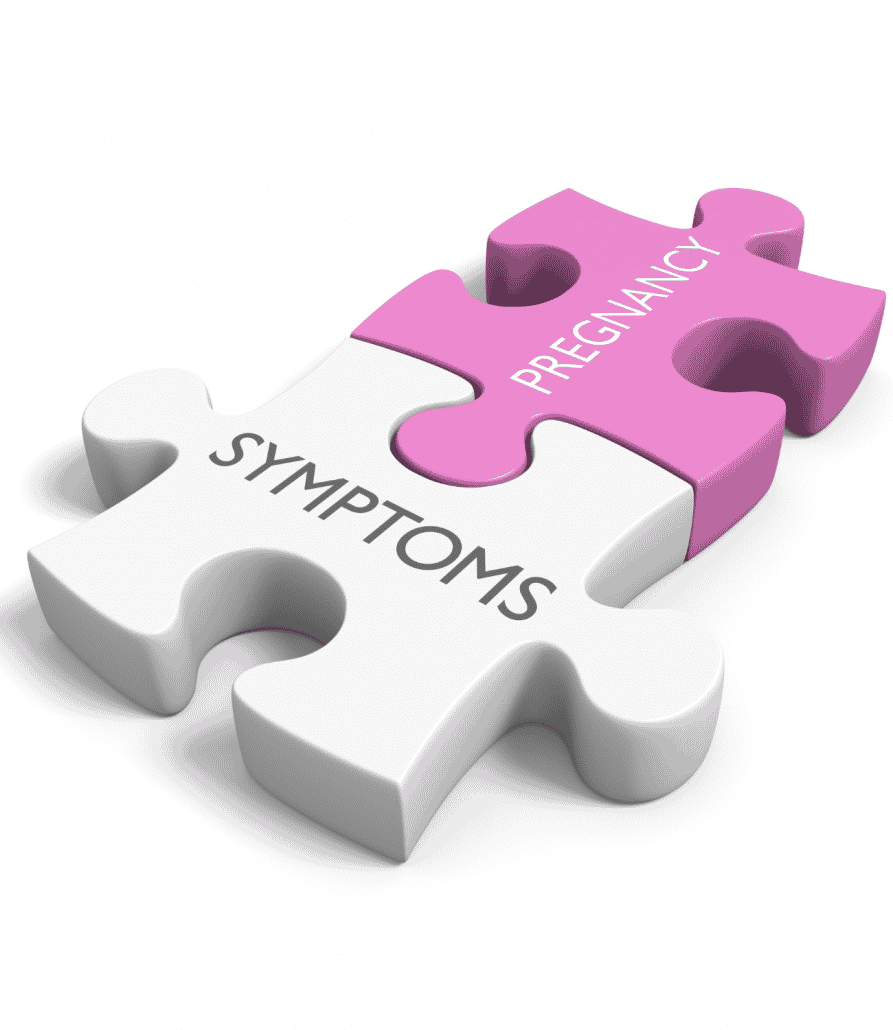 At 2 DPO, you will most likely not be experiencing anything out of the ordinary due to how early it is.
However, some women do claim to experience early pregnancy (2 DPO) symptoms. These symptoms include:
Fatigue
Fatigue is a very common complaint in pregnant women. This symptom is to be expected; after all, your body goes through so many amazing changes in such a short period of time!
Bloating
Bloating is caused by the increase in progesterone levels that comes with pregnancy. This increase in progesterone levels can slow down your digestion and can cause constipation, bloating and build-up of gas. These digestive issues may also cause abdominal pain or cramping at 2 DPO.
Ovulation can also cause ovulation bloating.
Mood Swings
If you find that you are happy one moment, and then sad the next with no plausible explanation, it can be a sign of pregnancy. Mood swings are caused by the rapid changes in hormone levels that come with pregnancy.
Back Pain
Back pain is a common complaint amongst pregnant women. If you are feeling this particular symptom, a massage or warm bath may help to ease the pain.
Breast Tenderness
Breast tenderness, or breast pain, is caused by the increase in pregnancy hormones within your body and increase in blood flow.
Whilst these are typical pregnancy symptoms, they can also be signs of your usual, impending period or menstrual cycle.
If you are wondering if breast pain is normal during ovulation, you can read our article Do Breasts Hurt During Ovulation?
Is 2 DPO Too Early for a Positive Pregnancy Test?
The short answer is yes! 2 DPO is too early to receive a positive pregnancy test. This is because the pregnancy hormone, human chorionic gonadotropin (or hCG) is only present after implantation occurs (when the fertilised egg attaches to the uterine wall).
Implantation typically occurs between 6 and 12 DPO (usually between 8 and 9 days after conception).
Signs of implantation include implantation bleeding (or spotting) and mild cramping.
When is the Best Time to Take a Pregnancy Test?
To get the most accurate result- the best time to take a home pregnancy test is between 12 and 14 days past ovulation- or at least the day of your missed period.
Alternatively, if you will be taking a blood test for your hCG levels, you should wait until around 11 days after conception- or between 6 and 8 DPO.
The Take-Away
At 2 DPO, you will most likely not be experiencing any pregnancy symptoms and it is much too early to receive a positive pregnancy test.
If you would like to confirm whether you are pregnant, you should wait until you are at least 14 DPO before taking another pregnancy test.
More from MyBump2Baby
To read about pregnancy symptoms at each day past ovulation, click the links below:
if you enjoyed this article, why not check out another one of our articles Can An Ovulation Test Detect Pregnancy?
Hi, I'm Louise- mum of one to a little boy called Mason.
I am the Digital Marketing and Admin Assistant for MyBump2Baby.
I enjoy working to provide excellent service to MyBump2Baby's growing families.
Nice to meet you!
You can email me at [email protected]
https://www.mybump2baby.com/wp-content/uploads/2021/12/2-dpo-pregnancy-symptoms.png
630
1200
Louise McCamily
https://www.mybump2baby.com/wp-content/uploads/2016/10/Logo-MyBump2Baby_transparent-bg-1-1.png
Louise McCamily
2021-12-09 11:31:21
2023-05-12 16:11:19
2 DPO - Pregnancy Symptoms