3 Month Old Wake Windows

Today, we talk about 3-month-old wake windows, including what they are and why you need to know about them. You can also read more about feeding schedules as well as sleeping and baby nap schedules within this article.
I love the newborn days and often feel sad that I will never get that time back with my little girl. We don't plan on having any more children and after multiple pregnancy losses, I really do feel that I am embracing every moment.
My baby is now 3 months old and I have now left the fourth trimester and my little girl is getting into more of a routine, which makes life a little easier. My baby girl is now a lot more interactive and playful, she smiles laughs and actually sleeps through the night (virtual high five).
In this article, I want to share more about the three-month-old sleep schedule and our feeding schedule too, as well as information about the 3-month wake window, so you can understand a little more about how your little ones' sleep cycles work throughout the day and night.
Following this simple routine has helped my little one sleep through the night at three months old, so I thought I would share my journey in using a sleep schedule and the baby's wake window to develop healthy sleep habits.
If your baby is a little younger, we also have a blog on 2 month old sleep schedule which you may be interested in reading. Or, if your baby is slightly older, or you want to be prepared for the next month, we also have a blog on 4 month old wake windows.
What is a Wake Window?
A wake window is exactly how it sounds: it is the amount of time your baby is awake between naps. It is the awake time from the end of one nap to the next nap.
Getting the timings correct when it comes to the wake window makes a huge difference when it comes to trying to get your baby to sleep through the night too, which is what every parent wants to achieve as soon as possible. Not only that but it also helps you understand how much daytime sleep is needed for your 3-month-old. Find out about wake windows by age.
You wouldn't think that daytime naps and wake windows make a difference to your baby's sleep, but once I learnt about wake windows, it made a huge difference to our baby's nighttime sleep.
A baby that is awake more throughout the day will often sleep worse during the night, due to them being overtired.
When Should I Start Using a Wake Window?
I would say the sooner you recognise your baby's wake windows the better. Recognising wake windows will get your baby into a good routine, both during the day and during the night too! It is really important we understand baby sleep and the reasons why wake windows really do matter.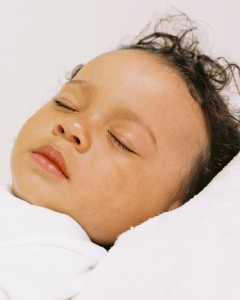 Before going any further, I want you to know that I am not a routine type person and I hate following rigid schedules, but following wake windows allowed me to plan my days better and with a little more ease. Following a predictable schedule helped me balance my business and home-life a little better, too.
What Are Sleep Cues to Look Out For?
You may have heard the term 'follow your babies sleep cues' and you might be wondering what it means. Basically, these are signs your baby is tired and is ready for a nap. The types of sleep cues your baby can have are:
Yawning
Rubbing eyes
Jerky body movements
Disengaged
Staring in to a blank space
Rubbing head
Closing their firsts
if your baby is showing sleep cues but fighting sleep, it can be frustrating. We have an article called Why Does My Baby Fight Sleep to help you get to the bottom of why your baby might be fighting sleep.
Why is the Wake Window at 3 Months Old Important?
Your baby may struggle to sleep and stay asleep if there is too long between wake windows, likewise if your babies wake windows are too short your baby may not be ready for sleep and may end up falling asleep for only a short time span.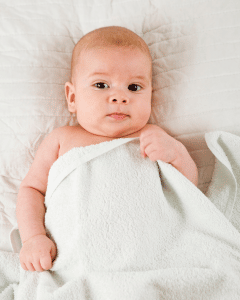 When Should I Start Using A Wake Window For My Baby?
Personally, I used wake windows from the very beginning. By 3 months old you will know your baby's sleep cues and when they are getting tired. It is important to also be aware of how long your baby has been awake, so you don't have an overtired baby on your hands.
Of course, newborn wake windows are very short, as newborns only able to stay awake for a feed and then they fall back to sleep very quickly afterwards. As your baby gets older, the wake windows will increase in length.
What is my Babies Wake Window at 3 Months Old?
At three months old, your baby's wake window is still fairly small. Around this time your babies wake window is around 90 minutes (one and half hours) in length. This usually applies to babies that are between 11 weeks and 14 weeks old.
Once your baby is around 16 weeks old, the wake window will be closer to 2 hours. At 20 weeks, your baby's wake window will get longer again, measuring at around 2.5 hours long.
What are Babies Wake Windows Depending on Age?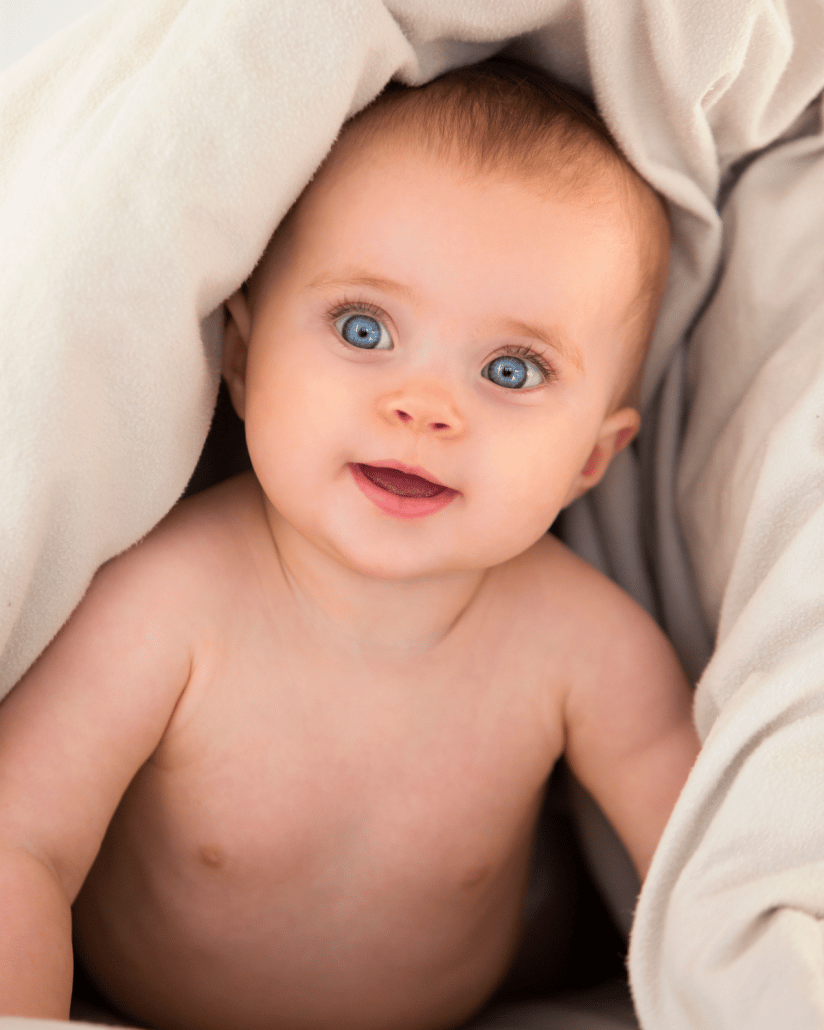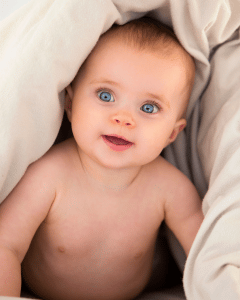 You may have a baby that is younger or older than 3 months old. If so, you can find the length of your baby's wake window in the guide below:
0- 4 Weeks Old: Multiple naps and an average wake window length of 30 minutes
1 Month Old: Multiple naps and an average wake window length of 1 hour.
2 Months Old: 4 naps and an average wake window length of 60 – 75 minutes.
3 Months Old: 4 naps and an average wake window length of 60 – 90 minutes.
4-6 Months Old: 3 naps and an average wake window length of 1 hour 45 minutes.
6-9 Months Old: 2-3 naps and an average wake window length of 2-3 hours.
9-12 Months Old: 2 naps and an average wake window length of 2-3 hours.
1 Year Old: 1-2 naps and an average wake window length of 3-4 hours.
18 Months Old: 1 naps and an average wake window length of 6 hours.
It is important to remember that babies are unpredictable and they go through many things that may interrupt their usual routine. It is important that, when this happens, you keep an eye on your babies sleep cues so you can make sure you know exactly what they need.
Should I Start a Nap Routine at 3 Months Old?
Absolutely! Introducing a nap routine is a great way to ensure that your little one doesn't get overtired and also helps them recognise when it is time for a nap.
How Long Should My Three-Month-Old Nap For?
Nap times are not set in stone at this time, but if your little one naps well you could get as much as 90 minutes of nap time.
If your little one has 90 minutes sleep, then is awake for 90 minutes, this can really work well for 3 hour feed routines.
Please note that wake windows include the time your baby is feeding too.
Should I Encourage My 3 Month Old Fall Asleep Independently?
It is important to remember that not all babies can fall asleep by themselves at three months old, of course there will be some babies that can and do, which is great. If your baby can fall asleep by themself, you should absolutely encourage it, however, it is important not to force it.
What Does a 3-Month Schedule Look Like on a Typical Day?
I jotted down what we did with my daughter each day, and she was sleeping through the night at around 12 weeks old.
7am – Baby wakes up. I changed her and gave her the first bottle feed of the day.
8:30-10am – She went down for a nap.
10am – Another feed, nappy change and play.
11:30am – 1pm – Nap time
1pm – Another bottle feed, nappy change and play.
2:30pm – 4pm – Nap time
4 pm – Feed, nappy change and playtime
5-5:30pm – Short nap burst (I would wake her to stop her going into her bedtime routine)
6:30pm – She would go upstairs for her bath followed by a bottle and straight to bed at 7pm
9:30-10pm – I would give her a dream feed which is a feed whilst she is half asleep.
Can You Stretch Out Wake Windows?
You may want to try and stretch out your baby's wake windows, if your baby is showing signs that they need to sleep earlier in their wake window. If they are showing signs of tiredness earlier in their wake window, then try and distract them with a toy or something they haven't seen before.
You could walk around with them in your arms for a few minutes, or try to change rooms. This should help to wake them up a little
It is also important that your little one knows the difference between daytime and nighttime.
What Are The Benefits of Using Wake Windows?
There are so many benefits of using wake windows some of which are:
Helps your little one get the right amount of sleep without being overtired
Helps you understand your babies needs
Helps your little one towards sleeping through the night.
Carla is the founder of MyBump2Baby. Carla has a huge passion for linking together small businesses and growing families. Carla's humorous, non-filtered honesty has won the hearts of thousands of parents throughout the UK.
She has previously written for the Metro and made appearances on BBC News, BBC 5 live, LBC etc. Carla is a finalist for Blogger of the Year award with Simply Ladies inc. Carla is also the host of the popular Fifty Shades of Motherhood podcast and The MyBump2Baby Expert podcast.
https://www.mybump2baby.com/wp-content/uploads/2022/07/3-Month-Old-Wake-Windows.png
630
1200
Carla Lett
https://www.mybump2baby.com/wp-content/uploads/2016/10/Logo-MyBump2Baby_transparent-bg-1-1.png
Carla Lett
2022-07-11 15:28:22
2023-08-24 10:11:03
3 Month Old Wake Windows