4 Month Old Wake Window

As your baby grows, you'll notice rapid changes in their sleeping habits. Knowing when it's the right time to drop a nap can be tough. We're here to help you with the 4 month old wake window.
If your baby is 3 months old, you may be interested in looking at 3 month old wake windows instead. Slightly older? We also have a blog on 5 month wake windows.
This blog includes:
What is the 4 month wake window?
How much sleep does a 4 month old baby need?
4 month old nap schedule
Sleep tips: How to cut down from 4 naps to 3 naps
Signs your baby is ready to drop a nap time
4 month old wake window activities
Sleepy cues of a baby
Creating a routine for a 4 month old baby
What is the 4 month wake window?
A wake window refers to the amount of time that your baby is awake between their naps. A 4 month wake window occurs when your baby is around 4 months old. Baby wake windows and sleep schedules change quickly at a young age.
During the newborn wake window, it often feels like there's only just enough time for a feed. But, as your baby grows, you'll find there's time to play with toys and spend quality time together.
A 4 month old sleep schedule will involve wake windows of around 2 hours. This gives you time to feed them, change their nappy and even play some games! Find out more about wake windows by age.
How much sleep does a 4 month old baby need?
The actual amount of sleep your baby needs is hard to suggest, as babies are all different. Similarly to adults, some babies sleep more than others. As an average, your 4 month old baby will need around 8 hours sleep per night.
At this stage, there's no need to try and perfect your baby's sleep routine. As long as your baby is healthy and happy that's what matters.
New parents are often told to sleep when the child sleeps. There's also often a lot of pressure to have the right sleep schedule in place. At the end of the day, your baby will sleep when they want to.
Putting your baby down for a nap when they're not ready often doesn't leave them in the best mood. We'll be telling you about the signs of a sleepy baby further down the article.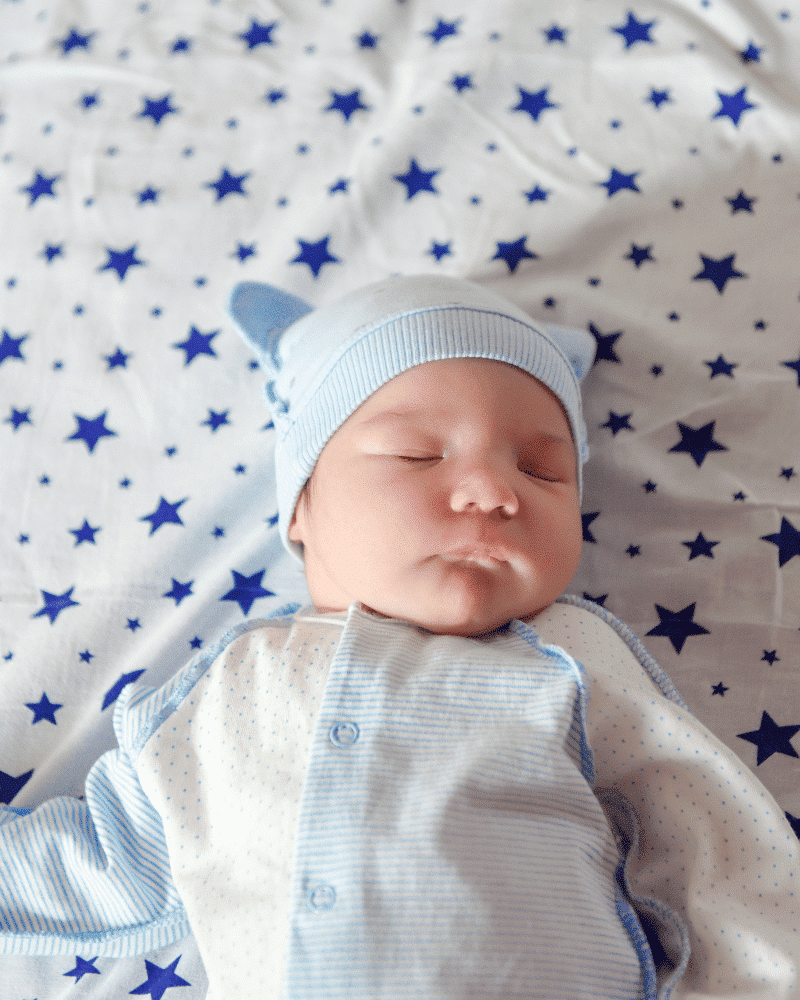 4 month old nap schedule
A baby nap schedule varies depending on age.
At 4 months old, your baby is likely having either three or four naps in the daytime. Each nap is probably lasting around two hours. So, if your baby is waking at 7am and bedtime is at 7pm, feeds will be every 4 hours.
Every baby is different and some may be hungrier than others. This means they may struggle to wait 4 hours between feeds. This can also vary based on whether your baby is breastfed or bottle fed.
The best way to work out feeding times for your baby is to keep trying. You'll be able to spot when your baby has had enough and also when they need a little more. Don't panic.
With your baby having 2 hour naps in the daytime, you should aim for them to stay awake for 2 hours. This is a simple baby sleep routine to remember. While it's a good routine, you may need to adapt it. Sometimes your baby might be more tired and therefore less wake time might be more appropriate.
How much daytime sleep your baby needs will depend on your baby's personal preferences. The shortest wake window is usually the first one of the day.
You know your baby best, don't get too caught up on perfecting a sleep schedule, it'll change again next month!
Sleep tips: How to cut down from 4 naps to 3 naps
Making the transition between 4 naps to 3 can be quite daunting. But to be honest, most babies are ready at this point. Just because you've chosen to drop to three naps doesn't mean there won't be days when 4 naps are needed. How much awake time and how many naps your baby needs will depend on many factors.
One of the best ways to cut down on daytime sleep periods is to increase awake windows. You don't have to increase it by an hour straight away, instead start with 15 minutes extra. See how your baby reacts to this. Over time, you can add more awake time and there will naturally be less naps.
You may find your baby struggles with less sleep, in which case try just 10 minutes extra before the next nap. The last thing you want is an overtired baby. You're reducing their naps so you can spend more time having fun with them.
If your baby is more tired after the longest wake window, try to introduce an earlier bedtime or longer naps.
Signs your baby is ready to drop a naptime
By 4 months old, your baby's wake windows can probably be a little longer. But that doesn't mean that every baby will be ready. Your best option is to try it, some babies need just a little longer before they drop a nap time. Here are the signs that your baby is ready:
Not falling asleep within 20 minutes of being put to sleep
Baby wakes earlier in the morning or from naps
Struggling to stay asleep throughout the night sleep
Not wanting to go to sleep at bedtime
Your baby might stay awake for the full wake window and show no signs of being tired. If this happens you might want to wait a bit longer before the next sleep period. Adjust wake windows based on your baby's sleep, not based on what's expected of a 4 month old sleep schedule.
4 month old wake window activities
What will you do with all this extra time? More time to play games and have fun with your little one! Whether you're going to spend time singing together or having tummy time, the choice is yours! Don't forget that wake windows also include time for feeding.
Having this time with your baby can really help them to develop and find out what they like doing. At this age, your baby has probably learnt to roll over and reach for things! With those skills behind them, they'll definitely be able to tell you what they want!
At 4 months old, you should select toys that are easy to grip. This is because your baby hasn't quite started developing fine motor skills. It's a good idea to have musical toys nearby, such as a rattle or a crinkly toy. These can help your baby to develop sensory skills.
You might choose to head outside for some fresh air, this can aid your baby's development. It also provides them with a new and exciting environment. Maybe you'll meet some friends or family which will also help them to learn social skills. At 4 months old, your baby will be smiling and maybe even laughing too.
Sleepy cues of a baby
We've talked a lot about altering the 4 month wake window, which might be easier for some. Others may struggle as they notice their baby becoming more tired. Here are the signs of a sleepy baby:
Fussing more than usual
Not sleeping through the night
Only having short naps in the daytime
Falling asleep during the wake window
Struggling to fall asleep when it's naptime
If your baby falls asleep during the wake windows, you may need to adjust nap lengths. You'll also need to check your baby is in the appropriate wake window for their age.
Creating a routine for a 4 month old baby
With a 4 month old, it might be time to start creating a routine at bedtime. It doesn't need to be perfect, but it might help your baby to learn when things are happening.
Newborn babies don't know when it's daytime or nighttime, they have to be taught. If your 4 month old is already sleeping around 8 hours at night, they probably already know when it's nighttime. In which case, keep up a good sleeping routine.
Encourage playtime in the day
Keep the noise to a lower level during nighttime sleep
Run a bath and get in pyjamas before milk
Settle down for sleep
By getting your baby into this routine, you're teaching them when it's time to sleep. While your baby sleeps during the day, try not to change the common noise level too much. This will help your baby sleep through it instead of teaching them it will always be silent.
If you plan to adjust awake windows, you don't need to worry. It's all about trying it out and seeing how you get on. If you make a change and your baby seems overtired, you can just make a smaller change instead.
If you find yourself worrying about your child's sleep cycle, contact a certified paediatric sleep consultant. They will be able to give you advice and tips on dealing with sleep patterns and getting better sleep.
Enjoy having this extra time to play games and have fun with your little bundle of joy! Your baby may currently be experiencing a 4 month sleep regression. Look out for the signs of a 6 month sleep regression.
Hey there, I'm Abigail! 
I recently graduated with a degree in Marketing. I'm currently a freelance blogger and Marketing Assistant. I love learning new things and hope that you find my blogs useful and informative.
See you in the next article!
https://www.mybump2baby.com/wp-content/uploads/2022/08/4-month-old-wake-window.png
260
750
Abigail Sproston
https://www.mybump2baby.com/wp-content/uploads/2016/10/Logo-MyBump2Baby_transparent-bg-1-1.png
Abigail Sproston
2022-08-11 15:18:17
2023-08-24 10:07:10
4 Month Old Wake Window