5 Weeks Pregnant Ultrasound Showed Nothing – 3 Reasons Why
When your pregnancy does not show on an ultrasound scan, it is referred to as a "pregnancy of unknown location".
This simply means that the sonographer is unsure whether the pregnancy is normal, or whether you have had a miscarriage or ectopic pregnancy.
In this article, we will cover the three potential reasons the 5-week ultrasound scan showed nothing and more:
What Should You See on a 5-Week Ultrasound Scan?
3 Potential Reasons Why Nothing Showed On Your 5-Week Ultrasound Scan
What Happens Next if Nothing Shows on my 5-Week Ultrasound Scan?
What Should You See on a 5-Week Ultrasound Scan?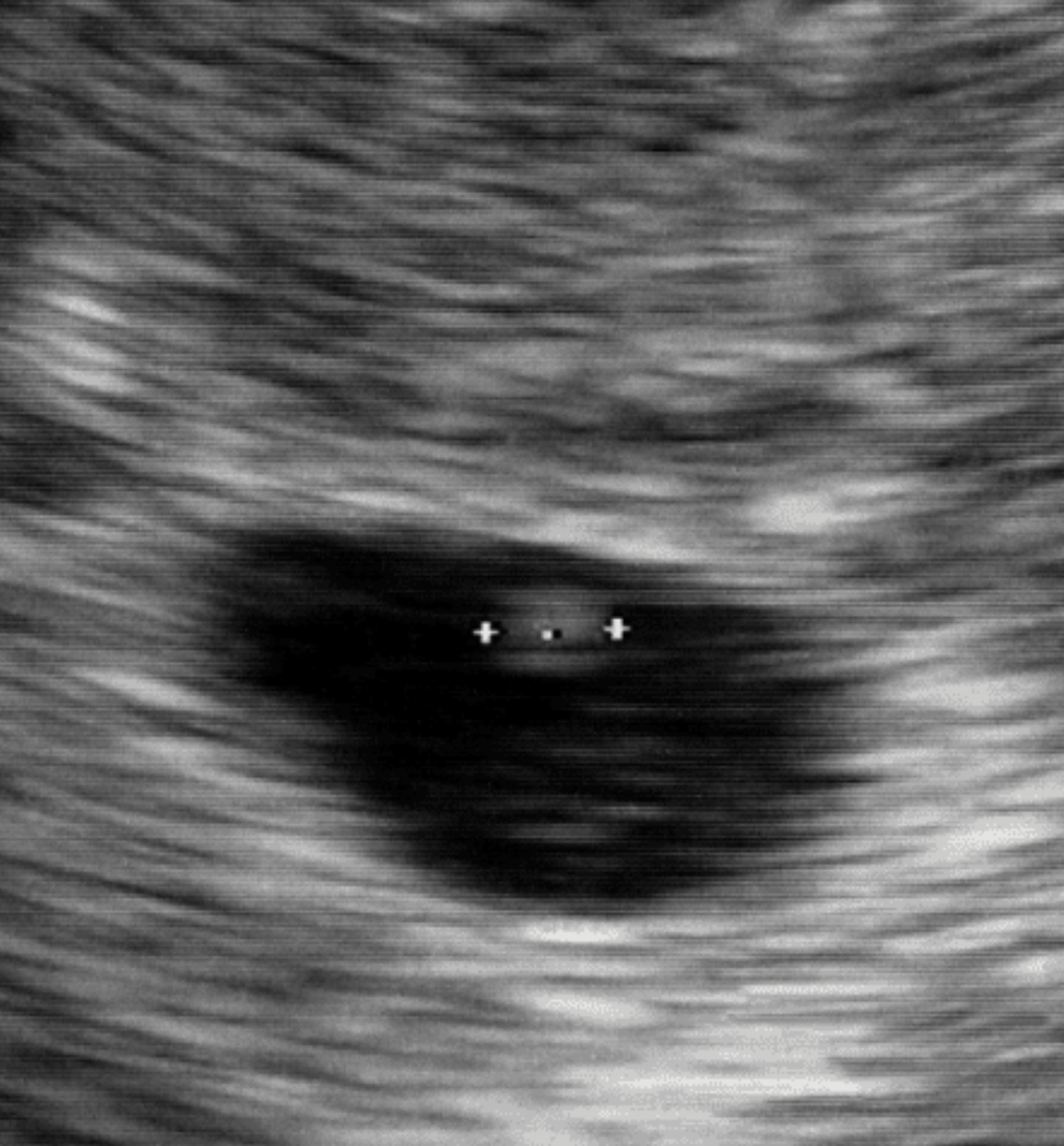 The gestational sac and yolk sac are likely to be visible on a 5 week pregnancy ultrasound.
The gestational sac contains the entire pregnancy and it is the first structure seen by an ultrasound, and the purpose of the yolk sac is to provide the growing embryo with all of the nutrients it needs, until the placenta takes over.
A gestational sac is the first thing that most 5 week transvaginal scans will detect.
At 5 weeks, your gestational sac is around 5mm to 6mm in size, and the embryo is usually around 2mm.
On the ultrasound scan image shown above, the yolk sac shows as a small white circle, and the gestational sac is the black area on the scan.
3 Potential Reasons Why Nothing Showed On Your 5 Week Ultrasound Scan
If nothing has shown on your ultrasound scan, you may be wondering why. Below are three reasons why nothing may have shown on your 5 week early pregnancy ultrasound scan.
1) It is Too Early in Your Pregnancy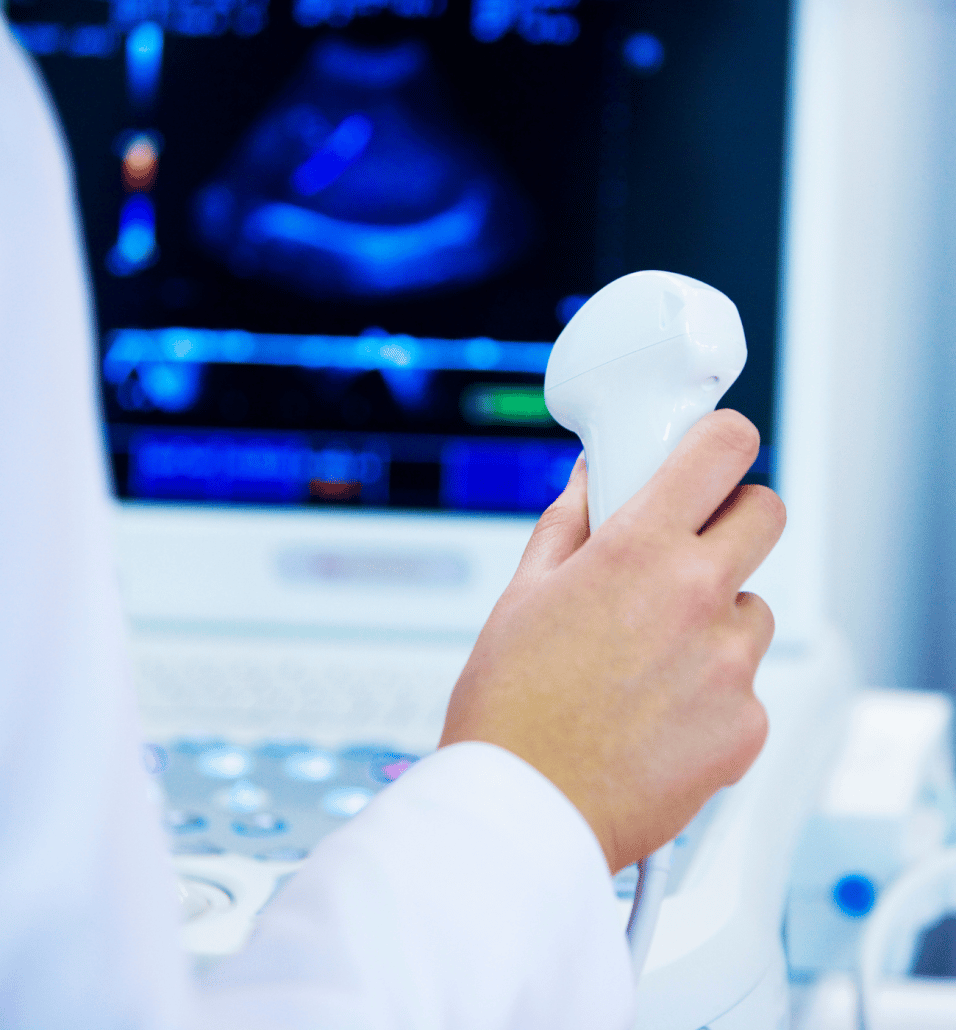 The gestational sac is usually visible on a transvaginal scan between 3 and 5 weeks of pregnancy, or when the hCG level reaches 1500 to 2000.
Prior to that, even in a viable pregnancy, early scans before the 3 – 5 week pregnancy mark will not show a visible gestation sac.
If you have had no confirmation of your hCG levels or any definite evidence of the gestational age, you may be earlier in your pregnancy than you thought, so nothing may show on the pregnancy ultrasound scan.
A follow-up ultrasound is advised in this case.
2) You are having a Miscarriage
If no gestational sac is shown on your 5 week ultrasound scan, it could indicate a very early miscarriage (also known as a chemical pregnancy) or that the pregnancy tissue has already left the uterus- especially when accompanied by miscarriage symptoms.
Potential symptoms of a miscarriage at 5 weeks pregnant include:
Vaginal bleeding
Sharp or severe pain
Cramping which may be stronger than your usual menstrual cramps
Loss of your usual pregnancy symptoms
Usual pregnancy symptoms can include the below, however, it is also normal not to experience any pregnancy symptoms at this stage, as you are still quite early in your pregnancy:
Morning sickness
Fatigue
Mood swings
Breast tenderness
Heightened sense of smell
Spotting (implantation bleeding)
If you suffer a miscarriage at 5 weeks pregnant and have dropping hCG levels as well as no gestational sac, the diagnosis is almost definite to be a miscarriage. As with an ectopic pregnancy, there are several therapeutic options available.
3) The Pregnancy is Ectopic
An ectopic pregnancy is where the pregnancy develops outside of the uterus- usually within one of the fallopian tubes.
If there is no gestational sac visible in the uterus on your 5 week ultrasound scan, there is a risk that your pregnancy may be ectopic. This can be worrisome, but keep in mind that the absence of a gestational sac is more likely to be due to incorrect dates.
Even if an ectopic pregnancy is discovered, it can be successfully handled if diagnosed early.
Potential symptoms of an ectopic pregnancy include:
A missed period and other pregnancy symptoms
one-sided lower tummy pain
pain in the tip of your shoulder
Discomfort when urinating or having a bowel movement
vaginal bleeding or brown watery discharge
Sometimes, an ectopic pregnancy can present no symptoms.
If you believe you are having an ectopic pregnancy, you should consult your healthcare provider immediately. An ectopic pregnancy can be serious, so it is important that you receive the necessary treatment right away.
If the hCG levels are high enough, a clinician may be able to diagnose ectopic pregnancy and recommend treatment without a follow-up ultrasound- if your hCG levels indicate that you are in a stage of your pregnancy where the gestational sac should be clearly visible if the pregnancy was in the uterus.
What Happens Next if Nothing Shows on my 5 Week Ultrasound Scan?
If nothing shows on your ultrasound scan, it is likely that your midwives will need to perform a series of blood tests to determine how your pregnancy is developing.
These blood tests will check your hormone levels and monitor how they are changing.
The sonographer will also need to perform ultrasound scans to determine whether your pregnancy is developing in the womb, or if you have had an ectopic pregnancy or miscarriage. It often takes multiple ultrasound scans before it becomes clear whether the pregnancy is ectopic or a miscarriage.
Receiving Support
If no pregnancy is shown on your fifth-week ultrasound, it can be worrying and you may find yourself fearing the worst before your follow-up tests.
Do not hesitate to contact your medical team, family, and friends for more help or support during this time.
For more information about any of the topics discussed in this article, you can visit the following links:
Hi, I'm Louise- mum of one to a little boy called Mason.
I am the Digital Marketing and Admin Assistant for MyBump2Baby.
I enjoy working to provide excellent service to MyBump2Baby's growing families.
Nice to meet you!
You can email me at [email protected]
https://www.mybump2baby.com/wp-content/uploads/2022/12/5-weeks-pregnant-ultrasound-showed-nothing.png
630
1200
Louise McCamily
https://www.mybump2baby.com/wp-content/uploads/2016/10/Logo-MyBump2Baby_transparent-bg-1-1.png
Louise McCamily
2022-12-09 13:07:04
2023-01-23 12:32:02
5 Weeks Pregnant Ultrasound Showed Nothing - 3 Reasons Why