6 Month Sleep Regression: Signs and Tips

Trying to perfect your baby's sleeping pattern is near impossible. Some parents may find sleep training easier than others. But if you're not succeeding, it's definitely not anything you're doing wrong! In this blog, we're covering six month sleep regression.
This blog includes:
What is 6 month sleep regression?
Is there always a 6 month sleep regression?
6 month sleep regression or teething pains
Signs of a 6 month sleep regression
How long does 6 month sleep regression last?
Tips for dealing with sleep regression
What causes 6 month sleep regression?
What is 6 month sleep regression?
Maybe your baby isn't quite there yet and you're just doing some research to prepare. Or maybe you're right in the midst of it and no one told you. Either way, it's all going to be fine.
Sleep regression is essentially when your baby's sleeping pattern starts to change. It's completely normal and happens to many babies. While it often occurs at different developmental stages, it is common around the six month mark in your baby's life.
We know, just as you've settled into parenthood and developed a good bedtime routine. We know how tough this is and how much your child's sleep also affects yours.
When babies are born, parents are often told to rest when they do. But what if your baby sleeping is a miracle right now?
It's harder to spot the signs of sleep regression when your baby wakes a lot in the night already. If your baby sleeps through, you'll notice a difference.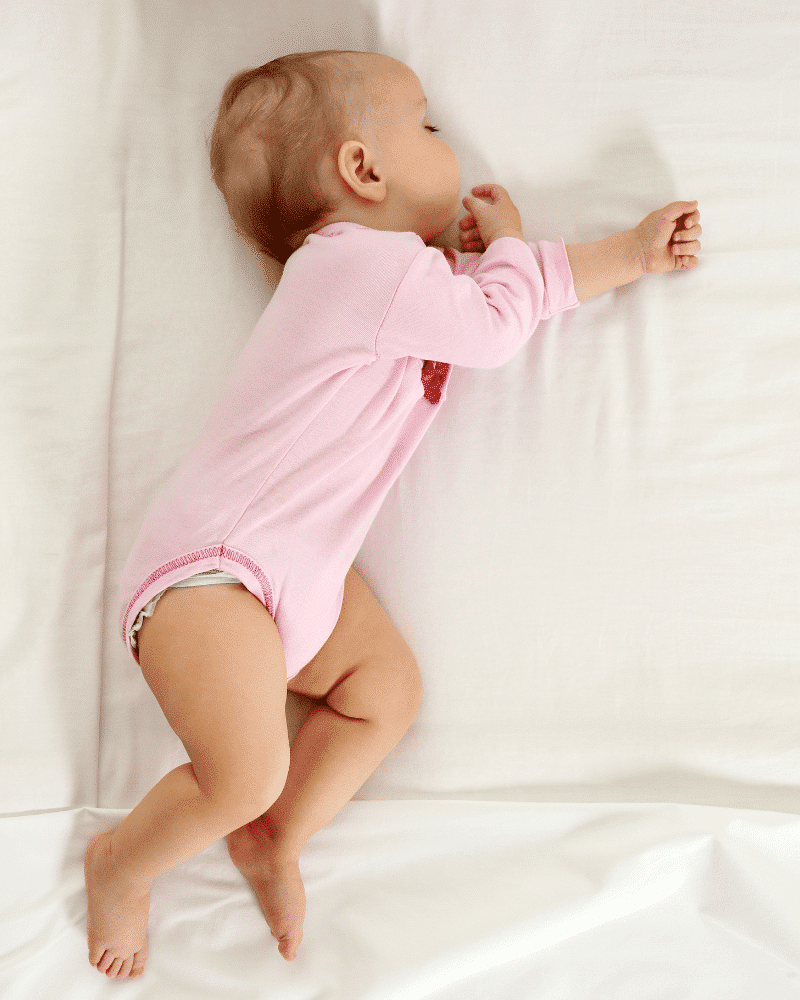 Is there always a 6 month sleep regression?
While it's common, it doesn't happen with all babies. There is no way to determine whether or not your baby will go through this stage.
It is also worth remembering that babies develop at varying rates. So, don't worry if all the little ones at the baby group have gone through it and yours hasn't. It doesn't mean there's a problem.
Even though you can't predict the sleep regression, or prevent it, you shouldn't ignore it. It's a good idea to get your baby into a solid routine so they can build healthy sleep habits.
6 month sleep regression or teething pains
We know what you're thinking: how can sleep and teething be so heavily related?
Well, teething begins in most babies at the 6 month mark, so it goes hand in hand with a six month sleep regression.
While it may be a contributing factor to sleep regression, it has its own signs.
Signs of teething include:
Sore gums with redness
A high temperature
Redness in the cheeks
Excess dribble
Irritable mood
To deal with teething, you can use a teething ring or a child friendly pain killing medicine. Teething rings work best when they are slightly cold. However, you must not put the teething ring in the freezer as this can cause gum damage. The ring should state how long to cool it for.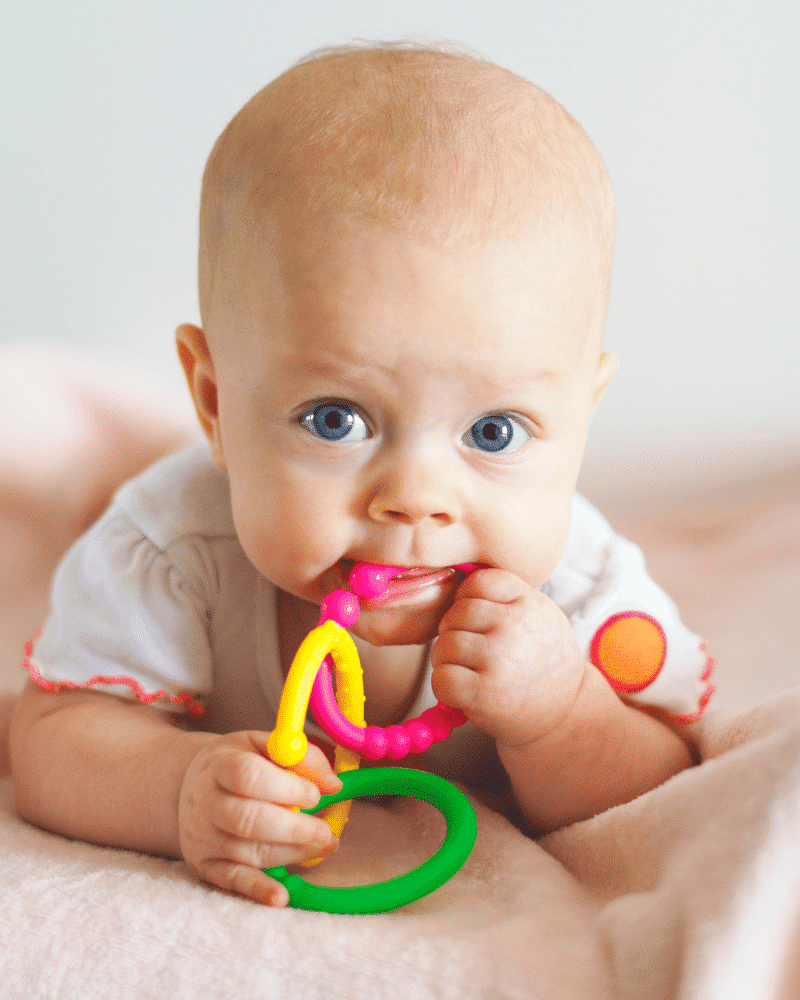 Signs of a 6 month sleep regression
Irritable mood
If your baby isn't getting enough sleep through the night it's quite likely that they'll be displaying signs of irritability. They may display this through being more teary or not wanting to play.
Early wake ups
A clear sign that your baby's sleep regression is starting is when they're waking up earlier in the morning. Maybe now it's a 5:30 wake up when it used to be 7:30. That change can make a big difference.
Six month old babies need around 12 hours of night time sleep. They may also be having 3 naps in the daytime, with a few hours between each one. Pay attention to your baby's sleep cycles and you may spot the next sleep regression early, if there is one.
Don't worry if this is not the typical pattern that your baby's sleep follows. If you are worried about sleep regressions or sleep problems you could seek medical advice.
Night waking and inconsistent sleep
At six months old, your baby probably doesn't wake for night feeds anymore. That means they may well have been sleeping through before the regression started.
In a sleep regression, babies can wake more often and also take longer to get back to sleep afterwards.
Refusing naps or having longer naps
As a parent, you can definitely tell when your baby is tired. They'll rub their eyes and maybe seem a little irritated. In a sleep regression, they can refuse to sleep even when they're over tired.
Alternatively, you might find that they are napping for longer stretches of time.
How long does 6 month sleep regression last?
Lucky for you and your little one, the 6 month sleep regression doesn't tend to last very long. It can usually be days or weeks.
If you feel as if the sleep regression is lasting longer than a month, you may want to seek advice. You may even be referred to a baby's paediatrician or sleep consultants if the regression lasts longer. That still doesn't mean that there's anything to worry about. A consultant may be able to talk to you and suggest a range of sleep training methods.
Tips for dealing with sleep regression
Even though a 6 month sleep regression typically only lasts for a few weeks, it can still be really tough. We understand that if your baby isn't sleeping, you aren't either. Whether that's because they're babbling away or you're just worrying, we get it.
You're probably looking for some helpful sleep tips to deal with sleep regressions.
Maintaining sleep schedules
If you've already got a good sleep routine in place, try to keep it up. The best way to build good sleep patterns in the first place is to be consistent.
Good sleep routines might include:
Bathing and teeth brushing
Changing into pyjamas
Keeping the noise and lights down
Having a cuddle
Reading a story
Let your baby sleep
We know how hard this one is. But it's quite important not to rush into your baby and pick them up every time they wake in the night. Instead, you should try your best to look through the door without being seen.
Once you can see that your baby is fine, you should try to leave them. They may be making noises or crying a little in their sleep.
By picking them up you're teaching that they can cry and get attention in the night. This is not what you want in the long run. You might find that they stop and fall back asleep within minutes.
A little reassurance
If your baby continues to cry for more than several minutes, you should go in and be there for them. You might find a simple 'I'm here' will do the trick or a stroke on the head. When your baby settles again, you should leave the room.
Try to avoid sitting by their bedside until they fall asleep. This can make them reliant on you being there at every bedtime.
Self soothe
Instead of cuddling your baby until they're fast asleep, try and put them in bed before this point. This can teach them to self soothe which may help when waking up in the night.
If your baby falls asleep in your arms and wakes up without you, they may wake up panicking. This means it'll take longer for them to fall asleep again.
Fun daytime schedule
Your baby will struggle at first to differentiate between night and day, so you have to teach them. During awake time, we would encourage playing and tummy time, which are great for baby development.
A lot of the time, the cause of sleep regression is that your baby is trying to develop. That may be through moving around or even babbling away. So, you should provide them with the time and opportunity to do this during the daytime instead.
Keeping the noise down
In addition to maintaining your baby's bedtime routine, you'll also want them to get used to noise. In the daytime, you should try to carry on as normal. This means your baby will get used to sleeping through everyday noises.
At night time, you should try to keep the noise down, as the house is likely to naturally be quieter. Some parents find it helpful to purchase a white noise machine. These help to disguise other noises in the area.
You may also find that spending some time one on one with your baby can help them to soothe at this age. While it may be nice to have the whole family around, just before bed is a good time to relax as well as keep the noise down.
What causes 6 month sleep regression?
If it's causing problems, you probably want to know why. Generally speaking, the six month sleep regression is associated with developmental milestones rather than sleep problems. So, while it's not the best thing to go through, it actually shows you've got a learning, developing and growing baby.
Chatting away
At this stage, your baby is probably discovering all kinds of noises they can make. You might even feel like you're having a proper conversation with them and they're even good company. It's likely that one cause of sleep regression is actually your baby waking themselves up making noises.
Separation anxiety
Separation anxiety is not easy for any baby or parent to go through. At this stage in your baby's growth, they may start showing signs of separation anxiety.
These can include:
Crying when a parent leaves the room
Preferring one parent over another
Clinging to a parent
Needing a parent nearby to sleep
Moving around
Everyone moves around during the night, but your baby is probably just learning to sit and roll. It's no wonder they want to do it all day long, even if it might be the cause of sleep regressions.
There's a chance that through your baby learning these new skills, they're waking up in the night trying them out. If they're rolling, they might have done it in their sleep and woken up!
Try not to worry if your baby is going through a 6 month sleep regression, it'll be done soon! Also remember that all babies are different and grow at different rates. We hope this has been helpful and you can build great sleep habits with your child.
Is your baby grunting in their sleep? Why not read our article Baby Grunting in Sleep?
Hey there, I'm Abigail! 
I recently graduated with a degree in Marketing. I'm currently a freelance blogger and Marketing Assistant. I love learning new things and hope that you find my blogs useful and informative.
See you in the next article!
https://www.mybump2baby.com/wp-content/uploads/2022/07/6-month-sleep-regression-tips.png
260
750
Abigail Sproston
https://www.mybump2baby.com/wp-content/uploads/2016/10/Logo-MyBump2Baby_transparent-bg-1-1.png
Abigail Sproston
2022-07-28 14:17:23
2023-01-27 16:11:04
6 Month Sleep Regression: Signs and Tips