As a new parent, it can be particularly difficult to choose the right equipment for your baby. In fact, the entire process can seem a little daunting.
We know that breast feeding your baby is one of the most important and rewarding experiences for yourself and your little one- and a breast pump can help you to produce your breast milk for later and allow your partner and other family members to share that amazing bonding experience with your baby too.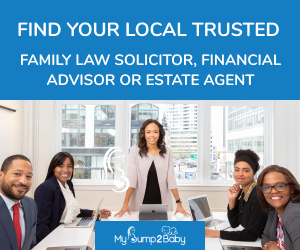 Why You Should Buy a Breast Pump
What you need to know before buying a breast pump
Whilst you can hand express to produce breast milk for your baby, it is usually much more efficient to use a manual or electric breast pump. Hand expressing your breast milk, or using a breast pump to express a little milk often, can increase milk supply.
Expressing your breast milk also means that your partner or family members will be able to feed your baby. This will allow them to bond with your baby, as well as give you a break from breastfeeding. It is recommended not to feed your newborn baby via bottle until they are at least six weeks old.
Breast pumping can also help to relieve engorged breasts.
Different models of breast pumps are also tailored differently depending on the mother's needs, for example, if you don't work/are a stay at home mum, a large, static breast pump will be more ideal for you than a mum who work; something small and portable would be more suitable for them).
Single Breast Pumps vs Double Breast Pumps
Whilst browsing for breast pumps, you may have come across the phrases, "single electric breast pump", "double electric breast pump" and "manual breast pump"; you may be wondering: what is the best kind of breast pump for me?
First of all, all manual breast pumps are single breast pumps. This is due to the fact that to use a manual pump, you require both hands to operate.
Single electric breast pumps only pump milk out of one breast at a time, but tend to be much cheaper than double pumps.
Double electric breast pumps pump milk out of both breasts simultaneously, meaning you save time. However, double electric breast pumps tend to be the most expensive type of breast pump. Many double electric pumps require you to use both hands to operate them, but for some double electric pumps, you can buy accessories (such as bras), meaning you can operate them hands free.
Should I buy a single or double pump?
Manual pumps are less costly than electric pumps, and are easier to carry around on-the-go. Manal breast pumps do, however, require the user to pump a handle to create suction. Manual pumps are also arguably more discreet than most electric breast pumps- being much quieter.
Electric breast pumps are powered via a motor to create suction, and therefore require less effort to use but are more costly than manual pumps and are usually more difficult to move around with.
The Best Breast Pumps
Medela Swing Flex Single Electric Breast Pump
£94.95
£139.99
in stock
11 new from £94.95
5 used from £87.55
as of January 20, 2022 10:56 am
The Swing Flex Single Electric Breast Pump is advertised to help you find the most comfortable and effective position to express breast milk. The Medela pump helps with quick, efficient expression whenever you need it.
The Medela pump comes with a PersonalFit Flex breast shield so you can easily alter the way the breats pump fits you, to find the most comfortable and easy way to pump (even as your breast shape and size changes!)
The Swing Flex Premium Edition Breast Pump is designed to simulate the breastfeeding experience (starting quickly and then slowing to resemble feeding), with its 2-phase expression, to help get your milk flowing.
VITAL BABY NURTURE FLEXCONE ELECTRIC BREAST PUMP
£74.23
£99.99
in stock
8 new from £74.23
as of January 20, 2022 10:56 am
This great breast pump prioritises comfort, but is also very efficient!
It has a soft silicone breast cup and efficient pumping action and strength. You can also choose between manual or electric mode, depending on your preferred choice of expressing.
Spectra S1 double electric hospital-grade breast pump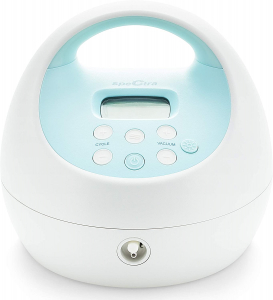 £225.00
in stock
as of January 20, 2022 10:56 am
The Spectra S1 hospital-grade pump is simple to use. It comes with brilliant additions which will support you whilst you are breastfeeding. The breast pump comes with a built-in rechargable battery (which lasts approximately 3hours when fully charged), making it possible to take this handy electric breast pump out-and-about.
The spectra double electric pump features a letdown mode and full adjustable program to best suit your body.
Another great feature of this breast pump is that it is very quiet, allowing you to breast pump without worrying about disturbing other household members.
It also has a night light, timer and 30 minute auto power off to ensure no battery is wasted.
The suction is very comfortable, yet powerful, allowing for a great expressing experience.
Elvie Electric Breast Pump
£269.00
in stock
as of January 20, 2022 10:56 am
The Elvie Electric Breast Pump can be described as a revolutionary form of breast pump, being the first silent wearable breast pump.
The Elvie wearable breast pump fits in your bra and has no wires.
This lightweight Elvie pump is perfect for mums who do not want to be tethered to a wall, or tangled up in wires, and want to be able to carry on with their day-to-day activities, all whilst breastfeeding discreetly.
It is easy to clean up and maintain- with it only having 5 parts to clean and taking just seconds to assemble.
You can also connect the Elvie Electric Breast Pump to the phone app to monitor the milk volume whilst you pump.
The Elvie Electric Breast Pump also swaps from Stimulation to Expression Mode automatically when it detects let-down, and also pauses once the bottle is full.
This single electric breast pump comes with two different sizes of breast shields to maximise comfort, bottles and many more accessories to make feeding easy. It also comes with 7 different speed and suction settings.
Medela Freestyle Flex 2-Phase Double Electric Breast Pump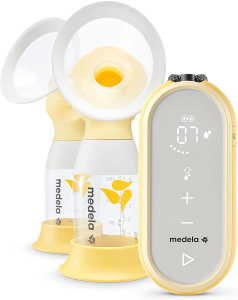 £233.30
£349.99
in stock
4 new from £233.30
2 used from £228.63
as of January 20, 2022 10:56 am
The Flex Premium double breast pump combines both functionality and comfort, coming with flexible breastshields, which will still fit you as your breast size and shape changes, and make finding a comfortable position easy.
The Medela freestyle flex has a very simplistic design and is very easy to clean. The Flex Premium comes with plenty of accessories and bottles.
MAM 2 in 1 Single Manual Breast Pump
£129.99
in stock
as of January 20, 2022 10:56 am
The MAM 2 in 1 Single breast pump is a brilliantly flexible- and inexpensive! –  electric and manual breast pump. It does the job brilliantly, and is very easy to clean. It has a nine hour battery life, a digital touchscreen and a timer. It allows you to easily switch between manual or electric breast pumping modes, making for easy pumping sessions.
It is simple to use and compact, making it perfect for mums-on-the-go.
Haakaa Silicone Breast Pump
£12.99
£16.19
in stock
2 new from £12.99
2 used from £12.74
as of January 20, 2022 10:56 am
The one-size-fits-all Haakaa breast pump is very cost effective, and works with your let-down to collect milk.
It is BPA-free, making it safe for your little one.
The Haakaa breast pump is easy to use and is very fast to clean.
This breast pump is a great hit with mums, with its inexpensive price and all-round great functionality.
Tommee Tippee Made For Me Electric Breast Pump Kit
£90.00
£159.99
in stock
9 new from £90.00
1 used from £81.34
as of January 20, 2022 10:56 am
The Made For Me electric breast pump is perfect for mums-on-the-go, being portable, lightweight and quiet enough to express breast milk when and where you'd like with confidence.
The Tommee Tippee Made for Me Electric Breast Pump features a choice of massage and express modes, so you can decide how you would like to express your breast milk, whenever you feel you are ready.
This breast pump is gentle on your breasts with its soft, cushioned silicone cup and 5 massage modes and 9 express modes.
The LED screen displays a timer to let you know how long you have been expressing for.
The Tommee Tippee Electric Breast Pump is USB rechargable, meaning you can easily charge whilst out.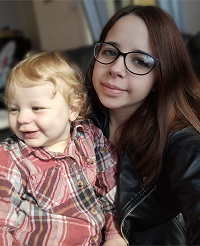 Hi, I'm Louise- mum of one to a little boy called Mason.
I am the Digital Marketing and Admin Assistant for MyBump2Baby.
I enjoy working to provide excellent service to MyBump2Baby's growing families.
Nice to meet you!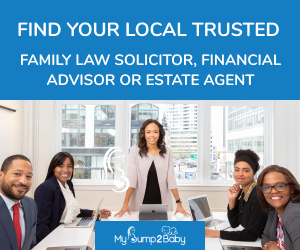 https://www.mybump2baby.com/wp-content/uploads/2021/07/the-best-breast-pumps.png
630
1200
Louise McCamily
https://www.mybump2baby.com/wp-content/uploads/2016/10/Logo-MyBump2Baby_transparent-bg-1-1.png
Louise McCamily
2021-07-15 11:43:20
2021-10-17 08:57:27
6 of the Best Breast Pumps