6 Types of Protection Every Family Should Consider
At MyBump2Baby we believe in the importance of family protection and linking local trusted advisers with growing families. We believe in building long-lasting relationships with your local advisors to ensure your protection needs are always up to date.

As parents we spend a lot of our time protecting our family. From investing in first aid courses to investing in stabilisers, a helmet and knee and elbow pads for their new bike. It is all about family protection and looking after our loved ones as much as we can. But do we protect them against things that may or may not happen? We share our 6 types of protection every family should consider.

Here are 6 Types of protection that every family should consider
Protection 1: Critical Illness Cover
Critical Illness cover will look after your family by providing them with a lump sum payment in the event or serious illnesses such as cancer, parkinsons, heart attacks, strokes and so much more.
People often think they would be covered by their employer but many employers pay bare minimum sick pay and for most people it would be impossible to keep up with household bills and financial commitments. A large sum of money would be extremely helpful to keep up large payments such as mortgage repayments.
To find out more about critical illness cover contact your local financial adviser.
Protection 2: Income Protection
Income protection will provide a substitute income if you can no longer work due to an illness or accident and let's face it we need every penny of our salary to simply get by. Income protection often covers a widespread of health issues including mental health problems like depression and ensures your family are looked after should you be off work for any length of time.
Speaking to your local financial adviser will help you find the best policy for your needs.
Protection 3: Life Insurance
Life insurance can be a difficult one to get your head round. Life insurance means that your family will be supported in the event of your death. This is of course something we hope doesn't happen but it is important to think about the consequences of your death and how it would affect your family.
Ask yourself how your family would be affected, not just emotionally but financially.
Would your family be able to keep the house?
Would they be able to continue with family holidays?
Would they be able to go on school trips?
Life insurance ensures that your family are financially supported in the event of your death. The great thing about this policy is that you can arrange for them to receive either regular payments to help with monthly financial commitments or a one-off lump sum where they could potentially pay off things like the mortgage.
When speaking with your financial adviser you can work out the best policy to suit your family's needs. A whole life policy will pay out regardless of what age you die, whilst a term life insurance policy will only pay out during the term of the policy. Some employers include a "death in service policy" as part of your employee benefits package which could provide alternative cover however, we would advice speaking with a financial adviser to check over any existing policies.
Protection 4: Will Writing
A will is a legal document that shares your wishes after death. You can appoint executors and trustees to administer your estate and ensure your estate is shared the way you intended it to be.
What a lot of people don't realise is that a will can also determine who will be your child's guardian, should you die before they become adults. As soon as a child is born, parents should update or create their will to appoint a guardian who will make sure the child is looked after should both parents pass away before your child is 18.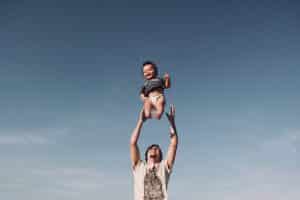 Protection 5: Caring for your home
From leaking washing machines to paint of carpets – we all know accident happen at home (especially when kids are involved) Building insurance covers you in the event of structural damage such as subsidence or a fire whilst contents insurance covers your possessions.
Protection 6: Travel
We love to holiday, time of work visiting sunnier climates is often a favourite for families. We recommend taking our travel insurance when you book your holiday. The last thing we want is to lose money when it comes to our holiday and let's face it accidents can happen before holidays and also during them.
Travel insurance is often offered with bank accounts and credit cards but it is important to make sure you check the small print to make sure you are covered for everything you need.
If you would like to speak to your local financial advisor, why not check out our directory?
Carla is the founder of MyBump2Baby. Carla has a huge passion for linking together small businesses and growing families. Carla's humorous, non-filtered honesty has won the hearts of thousands of parents throughout the UK.
She has previously written for the Metro and made appearances on BBC News, BBC 5 live, LBC etc. Carla is a finalist for Blogger of the Year award with Simply Ladies inc. Carla is also the host of the popular Fifty Shades of Motherhood podcast and The MyBump2Baby Expert podcast.
https://www.mybump2baby.com/wp-content/uploads/2020/02/6-Types-of-Protection-Every-Family-Should-Consider-scaled.jpg
1707
2560
Carla Lett
https://www.mybump2baby.com/wp-content/uploads/2016/10/Logo-MyBump2Baby_transparent-bg-1-1.png
Carla Lett
2020-12-29 11:17:25
2023-02-22 15:25:49
6 Types of Protection Every Family Should Consider