8 Weeks Ultrasound Scan – All Your Questions Answered
At 8 weeks pregnant you are in the first trimester. Your baby is about the size of a kidney bean, although it may not seem like it, your baby's growth is well underway. Only 3 weeks ago (at the 5 week ultrasound) your baby was the size of an orange seed. You may be thinking about booking an early pregnancy scan, you can book an 8 week ultrasound scan by visiting pregnancy scans in our directory.
You are currently in your first trimester of pregnancy the second trimester begins at the end of week 13. Over the last couple of weeks you may be now suffering with morning sickness as well as other common symptoms due to the rise in pregnancy hormones.
Pregnancy Symptoms at 8 Weeks Pregnant
Pregnancy hormones are rising and pregnancy symptoms at 8 weeks pregnant can include:
Morning sickness
Sore breasts
Frequent urination
Fatigue
Emotional swings in mood
Heightened sense of smell
Bloating around the uterus
8 Weeks Pregnant Belly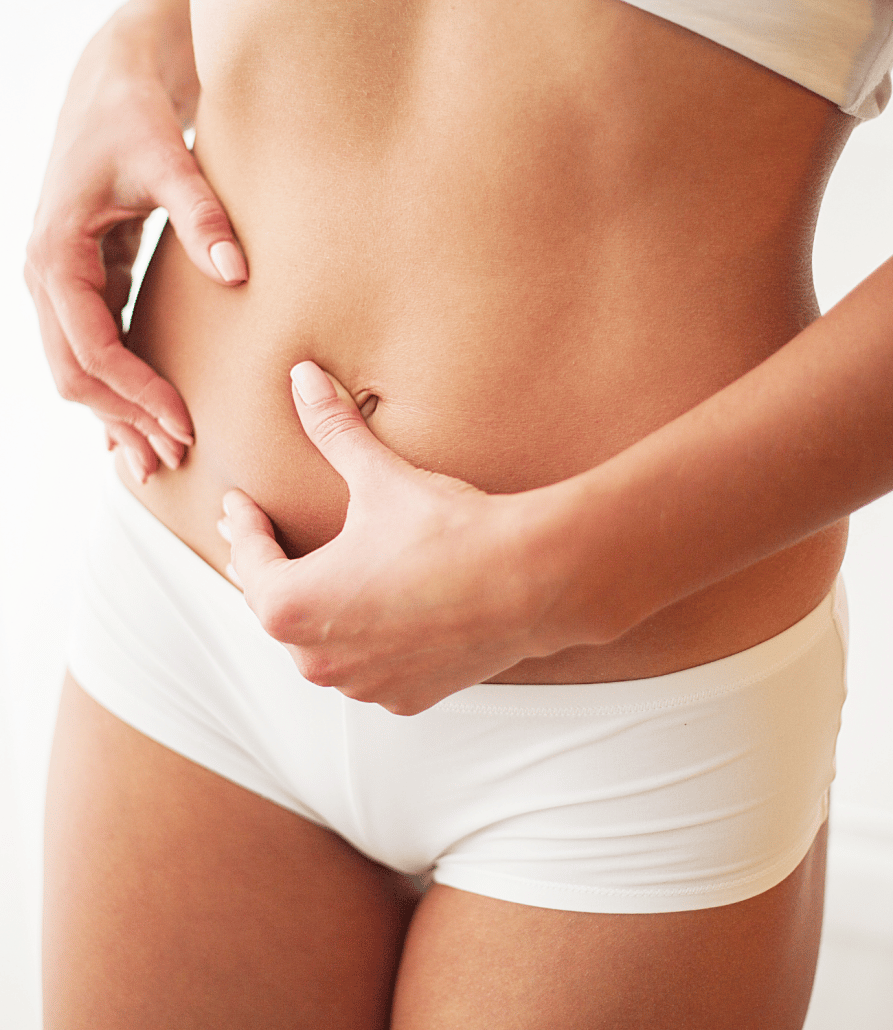 At 8 weeks pregnant, you are likely not to be showing yet- especially if you are just becoming pregnant for the first time! Most first-time pregnancies do not show until around the 12th week of pregnancy- or the beginning of the second trimester.
If you have been pregnant before, however, you may be showing already, as a result of your uterus and belly being stretched in your previous pregnancy.
Pregnancy Week Eight
You are in week eight of your pregnancy, your last menstrual period was 8 weeks ago and although you ovulated around 6 weeks ago you are still considered 8 weeks pregnant. You are in the first trimester of your pregnancy until the end of week 13.
You may find you are a little nervous over the next few weeks whilst you wait for your first ultrasound through the NHS, this is usually about a month from now. Being nervous is common for most women, but it is important to remember that most pregnancies end up with a healthy baby at the end.
You should have reported your pregnancy to your doctor by now, once reported your doctor will schedule an appointment with a midwife to go through your family history and previous pregnancy experiences.
Pregnancy Ultrasound in the First Trimester
The NHS currently only offer 2 ultrasounds, your first ultrasound is around 12-13 weeks and is sometimes known as the dating scan (this is when you can find out your due date) and the second one is in the second trimester at around 20 weeks also known as the anomaly scan, in the 20-week scan the sonographer goes through various checks on your baby and your baby's major organs to check they are healthy and growing as they should be, this is when you can find out your babies gender too.
If you would like to learn more about when you would normally have ultrasound scans with the NHS in pregnancy, you can read our article When do you have Ultrasound Scans in Pregnancy?
Why You Should Go for an Early Ultrasound?
Early ultrasounds are incredibly popular for parents-to-be who are looking for that extra reassurance. If you have gone through IVF or if you have had multiple pregnancy losses you may be entitled to extra scans from the NHS.
Another reason you may be invited for an early ultrasound is if you (at 8 weeks pregnant) have had bleeding or if you have a suspected ectopic pregnancy, these can be incredibly dangerous if left untreated.
If you are worried about miscarriage, you can opt for an 8-week ultrasound. To see the statistics on miscarriages at this rate you can see the following chart from Datazye
8 weeks miscarriage probability 5.2%
8 weeks, 1-day miscarriage probability 4.8%
8 weeks, 2 days miscarriage probability 4.4%
8 weeks, 3 days miscarriage probability 4.1%
8 weeks, 4 days miscarriage probability 3.9%
8 weeks, 5 days miscarriage probability 3.8%
8 weeks, 6 days miscarriage probability 3.6%
All Your 8-Week Ultrasound Questions Answered
We ask Early Days Ultrasound from Wakefield a few questions about the 8-week ultrasound;
Will it be a Transvaginal Ultrasound?
An 8-week scan can be performed transvaginally, but we use transabdominal at this stage of pregnancy.
Will I See the Gestational Sac At 8 Weeks?
Yes, we can identify a gestational sac from approximately 5 weeks onwards.
Is the Yolk Sac Visible On An 8-Week Ultrasound?
Yes, we can see a yolk sac from 5 to 5 and a half weeks onwards, so we would hope to see this at an 8-week scan.
What Does An 8-Week Fetus Look Like on An Ultrasound?
At 8 weeks baby is starting to develop more of a recognisable baby shape.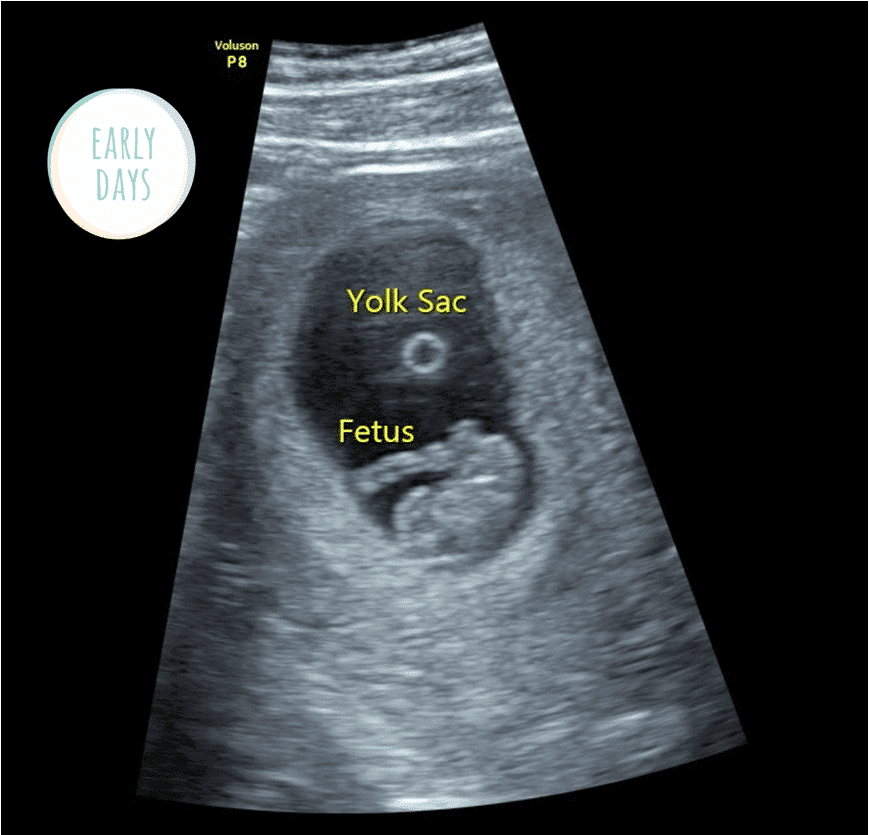 Is My Baby's Heartbeat Visible on the 8-Week Scan?
Yes, the baby's heart starts beating from 5 and a half to 6 weeks onwards so we would hope to see the baby's heart beating at an 8-week ultrasound.
Could I See Twins on the 8-Week Ultrasound?
Yes, twins would be visible by an 8-week scan and can actually often be seen earlier than this.
Can You Tell if Twins Are Going to be Identical on the 8-Week Scan?
It isn't always possible to confirm whether a twin pregnancy is identical or not at 8 weeks, but sometimes this can be clearly seen.
Would the 8-week Ultrasound Be in 3D?
We wouldn't usually use 3D at an 8-week scan because this doesn't assist the assessment of your pregnancy and the baby may not look as 'baby-like' as you'd hope to see later on in your pregnancy.
Can a Miscarriage or an Ectopic Pregnancy be Confirmed at the 8-Week Ultrasound?
During an 8-week early pregnancy scan we are locating and dating your pregnancy – this also includes checking for the baby's heartbeat. If we are concerned that your pregnancy hasn't progressed as expected or may not be in the correct place (ectopic pregnancy/pregnancy of unknown location) then we would discuss this with you and refer you for an NHS assessment at your local Early Pregnancy Unit.
8 Weeks pregnant bleeding coud be a sign of a miscarriage or ectopic pregnancy.
Here is What Our MyBump2Baby Mums Said About Their Scans at 8 Weeks Pregnant…
"My pregnancy was a worry from the beginning due to bleeding at around 5 weeks pregnant. My first pregnancy was normal and very smooth but the second time was scary. I had regular private pregnancy scans throughout every trimester, this made me feel a lot more positive and not as scared."
-Lucy Liverpool
"There is nothing like seeing your babies arm and leg buds on your scan at 8 weeks, you can just about make them out. You can also see your baby's head a bit more clearly by 8 weeks, i attended private scans with my ivf baby from about week 4 and i loved watching my growing baby develop before my eyes. I was so excited to be growing a little human"
-Stacey Cheshire
For information about ultrasound scans at other weeks, you can visit:
Carla is the founder of MyBump2Baby. Carla has a huge passion for linking together small businesses and growing families. Carla's humorous, non-filtered honesty has won the hearts of thousands of parents throughout the UK.
She has previously written for the Metro and made appearances on BBC News, BBC 5 live, LBC etc. Carla is a finalist for Blogger of the Year award with Simply Ladies inc. Carla is also the host of the popular Fifty Shades of Motherhood podcast and The MyBump2Baby Expert podcast.
https://www.mybump2baby.com/wp-content/uploads/2022/04/8-week-ultrasound-.png
630
1200
Carla Lett
https://www.mybump2baby.com/wp-content/uploads/2016/10/Logo-MyBump2Baby_transparent-bg-1-1.png
Carla Lett
2022-04-27 21:20:24
2023-06-02 10:06:58
8 Weeks Ultrasound Scan - All Your Questions Answered