Is MSC's Bellissima a Good Cruise for Families?
As a parent, I personally am always looking for holidays and nice breaks for us to go and make memories, away from home, away from work ideally somewhere warm. Only recently, have I actually started looking for good cruises for families. The more I read about Crusies for families the more I want to go on one.
Today we have a guest post from the expert Rebecca Whitmore, a travel agent from Chester sharing her amazing experience on MSC's Bellissima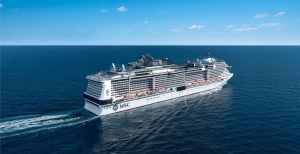 Ideal Cruise for families – MSC's Bellissima
Rebecca shares her experience;
Meaning beauty, in English, MSC's Bellissima truly lives up to her name. From the giddy heights of the colour changing LED dome embedded in the ceiling, down the star-spangled stairs encased in Swarovski crystals, to the polished grand pianos, the keys just waiting to be tinkled. This ship is beauty galore and you can almost smell the money that has been ploughed into the furnishings. I was on board to explore for research purposes, but I did start to wonder if my two children – with their bubbly chatter and sticky faces – would be welcome should we take our annual family holiday on board. I decided to find out more…
First things first…let's try out the food
I make my way to the buffet restaurant to find out what the lunchtime experience is like. I am always slightly sceptical when it comes to buffets, not knowing what to expect. Known as the 'Marketplace Buffet' this is a casual dining venue, open 20 hours a day. I am overwhelmed by all the choice and variety of food on offer, pasta's, rotisserie, soup, salads, pancakes, pastries…the choice is immense! The open kitchens add a little theatre and I opt for a freshly made pizza. Being an Italian ship, believe me, these Chefs know how to cook! Buffets, in my opinion, make sense for a family, certainly at lunch time at least. Perhaps you've been out by the pool and don't want to get too fancy for a waiter service meal? It's relaxed, it's informal, but onboard Bellissima is still a quality meal. It's worth noting that there are poolside snack bars too, if you don't want to leave your lounger. Evening dinner is going to be at one of the waiter service restaurants, a chance to get glammed up. Perhaps you'd opt for one of the themed dining options? tapas, steak, sushi, bistro and more– you'll be spoilt for choice!
Time to explore the poolside
There are several pools on board including an indoor section with Jacuzzi's. The aptly named Atmosphere pool is just that, with a great vibe and also hosts evening events such as the Sail Away party. The Horizon pool is another fantastic open-air deck space for sun-worshipers, and at nightfall this also becomes an outdoor entertainment venue. The highlight of the ship for kids is bound to make a few jaws drop. The Arizona Aquapark is one of the most intricate and exciting waterparks at sea. There's 4 twisting slides, a Himalayan bridge and a really fun tone all around. Yes, my little Whitmore's would certainly be right at home here!
Let's head indoors to see what the kids club has to offer
There are 5 clubs, categorised by age. The Baby Club is a dedicated area for babies and toddlers and has been created along with the leading baby-care brand Chicco. The room is crisp and bright with modern, fun, educational toys and activities, there's certainly hours of entertainment here for little ones. There's opportunity for parents to stay and play, or leave baby with the trained youth team – perhaps a chance for Mum & Dad to head to the spa?
The Magic Lego room for 3-6 years is bound to impress, with hands-on brick building and a whole host of Lego fun. Junior club, Young club, and Teen club are also dedicated areas, themed to suit the relevant age groups. I'm impressed to see the Doremi Studio, this is a family activity room, specially created for grown up's & children to join in the fun together.
Evening Entertainment
Evening entertainment is a real treat, with 6 different Broadway style shows every week. There are 2 performance times each evening, so you can work around dinner and bedtime too. If you prefer to take an evening stroll, the indoor promenade is 80 metres long with shops & bars all around. Watch out for the chocolate bar boutique! Enticing sweet delights are created in a unique open-concept kitchen. There's 24-hour entertainment on the promenade including parades and different LED sky screen shows each night, with themes such as time travel or wizardry.
Time for Bed
After all that excitement it's time for bed. I have chance to explore some of the cabins, and I'd like to find out if they are suitable for families. The cabin I've been allocated is spacious enough for 3, it's roomy with large double bed and sofa bed. The balcony is a welcome treat, and I personally always recommend a balcony cabin. My husband and I like the chance to sit up a little while longer while the children nod off, so having a balcony for us, would be ideal. The desk space is home to 'Zoe', the world's first cruise virtual assistant. Zoe is an 'Alexa' type feature, configured to suit your particular itinerary when you are on holiday. She can tell you which ports you are visiting, available excursions, what time the kids club is open etc…I see it as a great way to multitask when you are getting the children ready to go out for the day. The family cabins are incredible with space to sleep up to 10 people in comfort, great for those with larger numbers travelling. Interior and Ocean view cabins are available for those that don't require a balcony and prefer to save some money, or on the other end of the scale if you'd like a little more luxury, suites and even duplex suites are suitably glamourous.
MSC advertise themselves as embodying the elegant side of the Mediterranean and they desire for all guests to have new experiences and good times, at every age.
Our Overall Experience as a Family onboard the MSC's Bellissima
My experience has been that they embody this perfectly. If we were on land the ship feels like the equivalent to a quality 4 star hotel. You have fabulous facilities and service, but in a fun, informal way, rather than being pretentious. I could tell you so much more – about the spa, the exclusive areas of the Yacht Club, the solutions on board to lower the environmental impact of cruising, and MSC's ambitious growth plans, watch this space as in the coming years they have even more ships joining their fleet.
Bellissima is set to sail around the classic ports in the Mediterranean before heading over to the exotic delights of Arabia. Where she will be after that is currently under wraps, but one thing I do know is that Bellissima's true beauty shines when she is helping you create happy holiday memories with your family. Please contact me at any time to find out more about Bellissima, Beauty at Sea.
If you would like more information about any cruises or holidays contact Rebecca and she would be happy to help.
Rebecca Whitmore Travel Counsellors
01244 490 005 / 07568 056 623
Carla is the founder of MyBump2Baby. Carla has a huge passion for linking together small businesses and growing families. Carla's humorous, non-filtered honesty has won the hearts of thousands of parents throughout the UK.
She has previously written for the Metro and made appearances on BBC News, BBC 5 live, LBC etc. Carla is a finalist for Blogger of the Year award with Simply Ladies inc. Carla is also the host of the popular Fifty Shades of Motherhood podcast and The MyBump2Baby Expert podcast.
https://www.mybump2baby.com/wp-content/uploads/2019/04/Is-MSC's-Bellissima-a-Good-Cruise-for-Families.jpg
730
1421
Carla Lett
https://www.mybump2baby.com/wp-content/uploads/2016/10/Logo-MyBump2Baby_transparent-bg-1-1.png
Carla Lett
2019-04-30 13:07:53
2019-05-18 22:11:04
Is MSC's Bellissima a Good Cruise for Families?