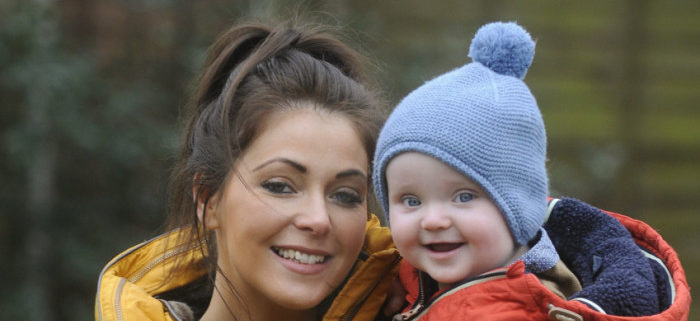 My gorgeous George,
It is your 2nd birthday and the door has just closed for the final time after your party this evening, my ears are ringing amongst the silence. You are fast asleep in your cot after a very exciting birthday.
I head in to the kitchen with a smile – "we did it!!" I whisper, "we got to your second birthday without too much trouble and any major disasters."
I glance around the messy kitchen wondering where to start …. The Peppa Pig helium balloon reflects the light and the bright glare catches my eye, I notice the balloon it is a little more deflated than it was this morning, there is a slight crunch under my pink slippers as I walk towards it … the sign of a good party, I thought.
I can't help but think back to the day you were born, the struggles we went through in your first few weeks and the size of you as you were whisked off for emergency care – you were a tiny, helpless, 4lb12oz baby and little did I know that the tiny, helpless 4lb12oz baby would become my best friend, my sidekick and our 3rd amigo.
I am not going to pretend that the last 2 years have been easy- it hasn't. We have struggled, we have tested each other, our equal bouts of stubbornness continue to make our disagreements long-lasting.
Numerous times you have watched me cry when I find being a mummy hard and numerous times I have watched you cry when you find being a little person hard… neither of us are perfect but who is? We are both learning my baby.
In truth, I am still learning to cope with how much I love you – I only cry because I want the best for you and I worry someone else could do it better. I need to accept that I will always question if I could have been a better mummy and I am sure in some ways I absolutely could have.
However hard it has been, one thing is for sure my darling George, ohhh we have laughed, we have laughed so hard our cheeks hurt, you laugh so hard you get hiccups and we have to stop just in case you get sick. Your already "adult like" sense of humour makes your dad and I laugh so much.
I smile, shut my eyes and picture you rolling over for the first time – I was amazed, when you finally crawled after bum shuffling for months… those first steps in to my arms- oh my boy, I was so proud. Each day you continue to make me proud George, your need for regular reassurance in "cuddles and kisses" melts my heart and I will continue to reassure you until my final breath.
So here we are my beautiful boy – your 2nd birthday – another year older another year of learning, another year dealing with tantrums, tears, falling out, making friends and laughing so hard it hurts. I can't wait my darling boy – you complete me.
Lots of love, snuggles and kisses,
Mummy
Xxxxxx
https://www.mybump2baby.com/wp-content/uploads/2018/04/bg-1.jpg
467
700
Carla Lett
https://www.mybump2baby.com/wp-content/uploads/2016/10/Logo-1-300x81.png
Carla Lett
2018-04-25 20:33:40
2018-04-25 20:48:43
Just a Note to My Boy on your 2nd Birthday!