Sometimes, it is all too easy to forget those precious little outfits your little one wore in their first year – you know which ones I mean, those treasured items you washed, neatly folded and put away in their untouched nursery, those baby clothes you nervously packed in to your hospital bag, those baby clothes you once held up and said "I love it but this will be way too big" and then, before you know it they are bursting at the seams.
Eventually you are folding all your favourite outfits that were once "too big" and sending them up to the attic with every intention to "do something with them one day" and then before you know it and as sad as it is… life takes over and we end up forgetting about those once loved clothes and then just like that our little one's clothes are buried under old Christmas decorations, school books and CDS and never looked at again!
The fact is that, no matter how hard we reminisce, no matter how hard we try to picture those first days with our babies … they are just memories and no matter how hard we try, we will never get those days back… but, we can treasure those memories even more by creating something special, something everlasting, something that displays some of our favourite memories in a beautiful way.
Teddy Bears Made Out of Baby Clothes
Today we are thrilled to be reviewing the amazing Tracy's Treasured Keepsakes, Tracy's Treasured keepsakes is a fantastic business that creates beautiful personalised items for all the family including the much loved keepsake animals which almost look "too cute" to be displayed in your tantrumming two year olds bedroom – believe me I know!!!

Tracy's Treasured keepsakes showcases stunning keepsake animals on their website. They have 4 animals to choose from, each animal also has a miniature version so if you think the large one maybe slightly "too big" for the window ledge, fear not – Tracy's Treasured Keepsakes has thought of everything.
You can choose from the following animals;
Bear
Mini Bear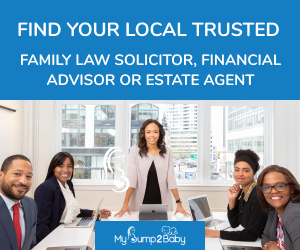 Bunny
Mini Bunny
Fox
Mini Fox
Elephant
Mini Elephant
 Our Review of Tracy Keepsakes Bear
We chose the Personalised Memory Bear for George's bedroom
George loves bears so it made sense for us to choose the memory bear as our item. My husband headed up to the attic and we brought down the bag of our favourite and most memorable outfits of George's. They still smelt of my baby George and I sent them over as they were. We sent a total of 7 items over to ensure Tracy had more than enough to use.
 The Process
It was refreshing to receive constant updates from Tracy's Treasured Keepsakes, it was clear to see that Tracy genuinely cares about customer service, from confirmation she received of the clothes we posted to the stuffing of our little bear we felt involved in every step and we had an instant bond for little Malcom the bear right from the beginning.
Delivery Day
We received an update from Tracy telling us that our bear was on his way, George and I were very excited and cleared a shelf in George's bedroom ready for Malcom's arrival.
Malcom arrived in a big white box and I waited for George to get home from nursery before we got him out.
I was memorised by Malcom the bear from the moment I saw him, it was very clear to see that Tracy is an absolute perfectionist when it comes to creating these personalised bears. The stitching, the buttons and the items she chose were absolutely perfect and I couldn't picture a better keepsake bear if I tried.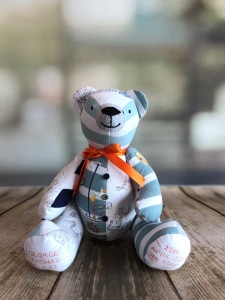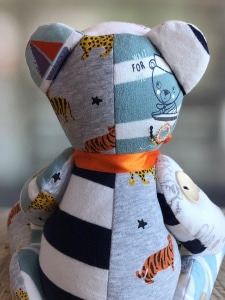 Malcom the bear
Although Malcom is very cute, he is not to be used as a toy and George eventually understood this. I told him that Malcom sits on the shelf in his bedroom and that is where he lives. He has been happy with this and enjoys speaking to him at night.
As you can see Tracy included George's full name, date of birth and birth weight on the bear which melted my heart.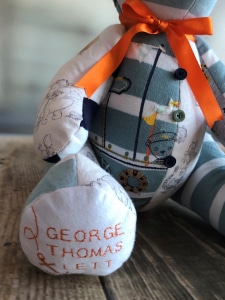 How to Order your Keepsake Memory Bear
You can visit Tracy's website or Facebook page and make an order, perhaps you would love one of these bears as a gift? Tracy's Treasured keepsakes also offers vouchers which would be a fantastic baby shower or mother's day gift.
Extra details can be added upon request, such as a jumper, a collar or even a voice recording or your baby's heartbeat from an antenatal appointment. Additional charges may apply.
Recommended on Badge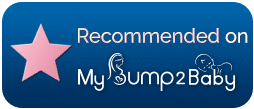 We awarded Tracy's Treasured Keepsakes with or recommended on MyBump2Baby badge.
You can follow Tracy's Keepsakes via
Her website is www.tracystreasuredkeepsakes.co.uk
Carla is the founder of MyBump2Baby. Carla has a huge passion for linking together small businesses and growing families. Carla's humorous, non-filtered honesty has won the hearts of thousands of parents throughout the UK.
She has previously written for the Metro and made appearances on BBC News, BBC 5 live, LBC etc. Carla is a finalist for Blogger of the Year award with Simply Ladies inc. Carla is also the host of the popular Fifty Shades of Motherhood podcast and The MyBump2Baby Expert podcast.
https://www.mybump2baby.com/wp-content/uploads/2019/03/baby-clothes-keepsake-bear-main-e1552854448496.jpg
2560
1920
Carla Lett
https://www.mybump2baby.com/wp-content/uploads/2016/10/Logo-MyBump2Baby_transparent-bg-1-1.png
Carla Lett
2019-03-16 16:27:55
2021-10-20 12:26:44
Baby Clothes Keepsake Bear - Tracy's Treasured Keepsakes Review