"Have a baby "they said…. "it will be fun" they said… but they never said how many sleepless nights you have when you have a baby.
Regardless of whether it is the numerous night feeds or the amount of thoughts on your mind when you are trying to balance everything that comes with being a parent, there is always a little bit of stress attached when it comes to running a household.
We simply cannot deny the increase in outgoings when it comes to starting a family. The fact is, our babies are always growing which means clothing purchased that initially fits like a glove, regularly need to be replaced with new clothing.
When it comes to babies, growth spurts happen at different stages and sometimes you can end up buying a whole new wardrobe and within weeks the clothes have gone from loose to bursting at the seams and new sizes are needed. Before you know it, you are haul-assing your way to the local shop on an urgent shopping spree at a time that is totally inconvenient for everyone not to mention expensive.
Now what if this problem could be fixed? What if this problem could be fixed with one simple change? What is you could rent baby clothes via a monthly subscription….. wait a minute….. YOU CAN!!!!!!!!!!
Troberg Baby Box is a subscription rental service that allows you to rent clothes for your baby rather than purchase them, ultimately saving you money and creating a simple delivery service to ensure you receive your new clothing ready for the next growth spurt. The old items are simply sent back, quality checked, washed and sent to a new family. This is a great way to recycle baby clothes.
The Björk Box is a subscription renting service that brings 16 baby clothes items right to your door. Use them for 3 months or until they no longer fit and swap them for the next size up. The box is based on a simple brand to match the simple life we are trying to create for you. By having a subscription box, you can rest easy knowing when you need clothes most they will be delivered to your door.
There are no time restrictions when it comes to the items, simply return and swap as and when suits you and your baby. The baby clothing is 100% cotton, 100% soft. All the clothes are machine washable and each box is designed to get you through one week.. Just throw it all in the wash and you will be ready for another 7 days – it is that simple!!!!
The box was delivered and came in a beautiful box.
Inside the box there was some lovely items which comprised of;
Baby Grows x 2
Baby Vests x 5
Tops x 5
Trousers x 1
Bibs x 3
Hat x 1
The clothes are good quality and the outfits included in the box cleverly match up together no matter what top or trousers you choose.
Let's face it, as parents we long for an easy life. When I think about the most difficult times of the day with George they often involve trying to locate something to wear and match it up with something else. I personally would have loved this box when George was a baby, I think it would have saved a fortune.
The whole concept of the baby clothes subscription box is fantastic. In the first 2 years of parenting we spend lots of money on new items and our babies barely have a chance to wear everything before we are replacing it with something else.
Based on our experience we have awarded Troberg Baby Box with our Recommended on MyBump2Baby badge.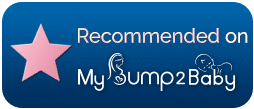 If you would like to get started with your own baby box click here.
You can follow them on Facebook too.
Carla is the founder of MyBump2Baby. Carla has a huge passion for linking together small businesses and growing families. Carla's humorous, non-filtered honesty has won the hearts of thousands of parents throughout the UK.
She has previously written for the Metro and made appearances on BBC News, BBC 5 live, LBC etc. Carla is a finalist for Blogger of the Year award with Simply Ladies inc. Carla is also the host of the popular Fifty Shades of Motherhood podcast and The MyBump2Baby Expert podcast.
https://www.mybump2baby.com/wp-content/uploads/2019/04/baby-clothes-rental-subscription-box.jpg
1706
2560
Carla Lett
https://www.mybump2baby.com/wp-content/uploads/2016/10/Logo-MyBump2Baby_transparent-bg-1-1.png
Carla Lett
2019-04-30 15:19:04
2021-10-20 12:49:14
If Only You Could Rent Baby Clothes | Baby Clothes Subscription Box