Baby Dance Ballroom: Rhythm & Dreams Dancing Centre
Disclosure: This article may contain affiliate links, this means at no cost to you, we may earn a small commission if you purchase a product through them.
After the Coronavirus pandemic, social distancing and lockdown, we can all be forgiven for being anxious about getting out and about again- especially those of us with young children. But as Emine Saner wrote, in her March 2021 article for the Guardian, while the easy option might seem to be avoidance, it will not help long term. By avoiding social situations anxiety levels will rise, so we need to find a way to ease ourselves back in, and a great way to do this is by joining a group or class.
Who are Baby Dance Classes For?
Baby dance classes are also a group for parents and carers, where we can interact with others who understand life with small children and babies, share stories and talk about our experiences, while still being a class for the 'Little-Ones'. The structure of a dance class will ease the pressure of social interaction, by allowing us to focus on the movement we are learning or the music we are listening to, alongside our children.
It is also a group for children, where they can have the time and space to explore music and movement and develop skills that will benefit them for the rest of their lives. Many organisations and forums, from parent and child focused groups (such as Mom Loves Best), to organisations such as the NHS, tell us about the benefits of dance. It is easy to see that children love to dance, and in our "Rhythm and Dreams Baby Ballroom class" the focus is on fun! It doesn't matter if a move is performed successfully on the first try, or if you are still working on it a year later. Dance is about expression, interaction and fun, though plenty of other skills are gained!
These skills, as outlined in the early year's framework, are both evident in, and supported by, dance.
The Benefits of Baby Dance Classes.
There are seven main areas of development and learning but, for younger children, we focus on three.
These are:
Personal, Social and Emotional Development.
Physical Development.
Communication and Language.
During a dance class, such as ours at Rhythm & Dreams Dancing Centre, children develop skills across the range.
For personal, social, and emotional development: they make friends and watch and learn from others.
For physical development: they find and recognise body parts such as hands and feet and begin to move them to music or rhymes. We also sing action rhymes and use clapping and jumping to develop movement, coordination, and balance.
And for communication and language: they repeat common words and phrases and begin to understand and follow simple instructions.
During our classes, skills are developed in ways that are enjoyable, for example: we take turns and share instruments, dress up and socialise with others.
How do Baby dance Classes help our Children?
The National Association for the Education of Young Children believe that we can help by being present and interacting with their learning, by turning everyday activities into fun and educational situations. Dance lends itself to this in many ways: We are asked to:
By taking part in a group or activity with your child, you are ensuring you are doing just that; you have walked away from that laundry that needs to be done and you are focusing solely on the quality time between adult and child.
By talking about the part of their body you want them to move or about the song that is playing, counting steps and discussing directions and speeds, you are developing the bond between you and your child, while promoting learning in a fun way.
By asking questions or encouraging them discuss which dance they like best, you will promote skills in the dance studio which will support your child throughout their lives. They will also learn to build new friendships- friendships that will be strengthened by shared interests, nurtured in a place where children and adults can work together to achieve a shared goal. As these friendships and skills develop, so does the physical and mental wellbeing of everyone involved.  At the Rhythm & Dreams dancing Centre, we have both Baby Ballroom classes for 12–36-month-old children and follow-on classes for children & adults, split into narrow age ranges, so that pupils can learn and develop their skills and friendships with other children their age.
Why Choose Dance?
We know that both physical and mental health is vital for both adults and children, and it's clear that dance, as much as any form of physical exercise, is great for our bodies, but why choose dance?
Research published in Arts & Health, states that dance can promote healthy bones, help control weight and improve cardiovascular fitness. A great thing about dance is that dance is individually-led; it is easy for everyone to work at different fitness levels while still taking part in the same class.
The NHS also promote dance for fitness, stating that dance is great for muscle strength, posture, balance and coordination.
Both agree on the benefits of dance on reducing stress. Others expand on this to include improved spatial awareness, self-image, motivation, and social skills. This can be seen in our studio every day in both children and adults.
The joyful atmosphere, active nature and welcoming social environment, within adult and child dance classes, creates the perfect recipe for self-care, providing a rush of endorphins and the reassurance that your children are benefitting from the same experience whilst having fun and learning together.
About Us
Our Baby Ballroom Class is on every Thursday morning, starting at 9:30am. It's just £4.50 per child, on a 'pay-as-you-go' basis. There is no membership or advanced fees to pay. All you need to do to register is turn up. For details of our follow-on classes for older children, see our Facebook page, or visit our Webpage:- www.rhythm-and-dreams.co.uk
Emine Saner article. Nervous about socialising again? https://www.theguardian.com/lifeandstyle/2021/mar/15/how-to-address-social-anxiety
Foundation Years http://www.foundationyears.org.uk/files/2015/04/4Children_ParentsGuide_2015_FINAL_WEBv2.pdf
Arts & Health an International Journal for Research, Policy and Practice
https://www.tandfonline.com/doi/abs/10.1080/17533015.2012.665810
NHS dance for fitness
https://www.nhs.uk/live-well/exercise/dance-for-fitness/
The National Association for the Education of Young Children (NAEYC)
Promoting Powerful Interactions Between Parents and Children https://www.naeyc.org/resources/pubs/tyc/aug2018/promoting-powerful-interactions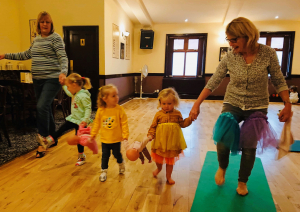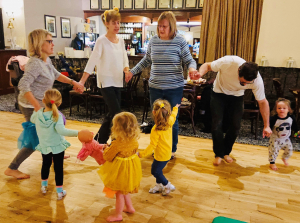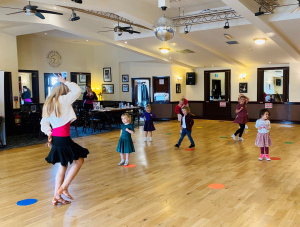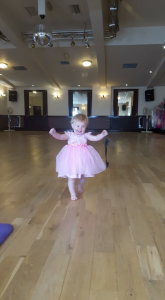 Vicki started dancing in 1972 and began teaching in 1986. She qualified to teach professionally with the IDTA in November 1991. Vicki also became a DBC Championship Adjudicator in 2014.After her initial qualification, Vicki continued to study the technique and theory of Ballroom, Latin, Freestyle, Classical, and Modern Sequence, with several well-established, Vicki has since achieved success in Associate, Licentiate, and Fellowship qualifications in all subjects and now owns Rhythm and Dreams.
https://www.mybump2baby.com/wp-content/uploads/2021/06/Baby-Ballroom-Rhythm-Dreams-Dancing-Centre.png
630
1200
Vicki Smith
https://www.mybump2baby.com/wp-content/uploads/2016/10/Logo-MyBump2Baby_transparent-bg-1-1.png
Vicki Smith
2021-06-23 11:50:23
2022-02-17 14:13:43
Baby Dance Ballroom: Rhythm & Dreams Dancing Centre