Why Does my Baby Fight Sleep?

Fact Checked
If your baby fights sleep, it can be very stressful for both the parents and the child- after all, sleep is a key component in keeping us healthy and mentally sane! If your baby is fighting sleep regularly, you may wonder what you can do to help your little one get a full night's sleep with less hassle.
MyBump2Baby brings you this article to help you get your baby to stop fighting sleep.
Do babies at different ages fight sleep for different reasons?
Infants will fight sleep at different ages for different reasons. For example, the newborn who isn't entirely satisfied with their feed may not be full up enough and ready for sleep, even though they are tired. Then there's the baby who has just learned to sit up and play with toys who suddenly finds going to sleep boring and arduous! Then there are the toddlers who think sleep is only for babies and want to stay up and play, even if they're running on absolute empty.
However, irrespective of the age, little ones will always fight sleep when they are overtired. Overtiredness produces a hormone called cortisol. You probably have heard of this being our stress hormone, also known as "fight or flight", so when children are overtired and have excess cortisol in their body, they will tend to become more hyper, more naughty, more up and down with their emotions, and more likely to fight sleep or be upset going to bed.
This bedtime battle or upset will often lead to parents changing their approach to how their child goes to sleep, the child likes the new approach and then puts up the same fight the next night… and the next night… and it becomes a repetitive pattern.
What are the reasons a newborn baby would fight sleep?
There are 4 main reasons why a newborn baby fights sleep. Below are the reasons babies fight sleep:
1. They aren't satisfied with their feed and are still a little hungry. This can be very normal especially in those first weeks for breastfed babies where the breastfeeding is often still being established.
2. They aren't comfortable from their feed, e.g. they still have some excess wind even after burping, or are not digesting the feed so well. This can be a one-off digestive issue or it can be linked to something a little more recurring like reflux or an allergy.
3. They are overtired because they are short on sleep or they've been awake too long, and it becomes a bit of a vicious cycle where they are then fighting sleep when that's the one thing they need.
4. They are being placed on their back for sleep when they aren't happy to do so, often linked to point 2, or because they just love to be on someone's chest.
Could my newborn be confused between day and night?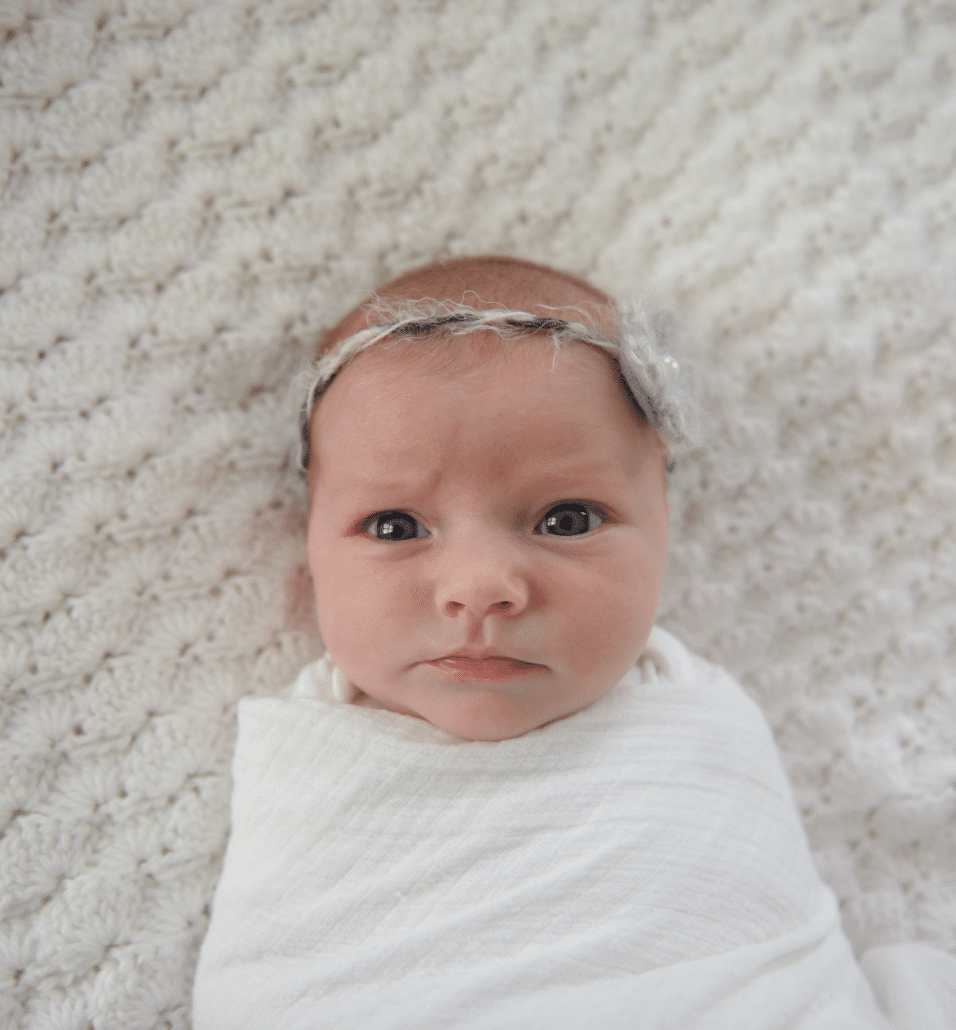 Babies often come out of the womb with their day and night upside down. The reason is that babies, when in Mum's tummy, are being rocked to sleep more during the day when Mum is on the move. Then, when Mum is lying down and sleeping at night – or trying to anyway! – the baby isn't being rocked to sleep and can often be more awake, which is then continued when they arrive into the world.
This pattern is often recognisable when a baby is feeding and falling asleep during the day very, very quickly because they are so sleepy. Whereas when they feed at night, they remain awake longer and want to "party" into the wee hours! And it simply means that their day and night rhythm is the wrong way round.
This might not seem too much of an issue when they're so little and not awake for that long over a 24 hour period, but when a parent is very tired during the night – having to stay awake with their newborn who is more alert and engaging than desirable – can make the nights even longer and even more tiring. It can also be dangerous given the risks of a carer falling asleep with a baby on them.
Therefore, switching daytime and night time around is often the single biggest improvement a family can make to their newborn's sleep and it can be done in a few days, just like when you move between time zones when going on holiday. Once it's changed, you should find the baby can do longer stretches of sleep at night.
Could my newborn be tired?
Newborns should be sleeping around 18-20 hours over a 24 hour period and one thing we find when working with clients, and from our social media following, is that parents aren't always aware of the sheer amount of sleep their newborn should be having.
Additionally, newborns shouldn't be awake for very long in those early days, waking only for a quick nappy change, a feed, a burp and then back to sleep again. If a newborn is staying awake for much longer than 45mins at a time, we would recommend parents to be looking into their feeding as the first step, as often this is the one thing which is preventing the little one sleeping more and for longer periods at any one time. This is either because of being hungry or not being comfortable enough after a feed.
It's only around 2-3 months that we should expect to see a newborn stay awake for up to an hour and have some stimulation after their feed, before then going back to sleep.
Find out more about an overtired newborn.
When do babies start with separation anxiety?
The very early stages of separation anxiety can start to develop around 6 months and we often see a sleep regression around this time given it's such a big cognitive development. However, separation anxiety really starts to ramp up around 8 months which is a big driver of the 8 month sleep regression.
Separation anxiety starts to show at this age as a baby's object permanence develops. This is when a little one starts to understand that something exists even if they cannot see it. Examples are of a toy that they could see but has been taken away, or parents who have popped away for a moment. So when their parent leaves a room for example, they can become more upset because they now know that they exist even when they're not there, but don't know when they will be back.
Activities like peek-a-boo, and a parent practicing leaving the room and coming back very shortly afterwards, can help a baby with separation anxiety as they begin to learn that their parent will return.
Related: baby is crying in their sleep
Is it important to follow wake window guides?
Whilst we are big believers that the body doesn't lie and sleep cues are absolutely critical to understanding when a baby's ready for sleep, some babies are very good at disguising the standard sleep cues of pink eyebrows and zoning out (yawning and rubbing eyes means the baby is already moving towards an overtired state).
Because of how good they can be at disguising their sleep cues, we recommend understanding your baby's wake windows as it will help parents know when their little one will be next ready for a nap and they can build their plans around that, whether that be remaining at home for a nap or doing the nap whilst they are out and about.
We find that wake windows tend to fall into age groups of 4-5 months, 6-8 months, and 9 months until a toddler drops to one nap (around 14 months on average). Whilst children often move to more fixed nap times from about 9/10 months onwards, knowing your baby's wake windows will be so helpful for days where those fixed times aren't possible because of daytime activities.
It's also worth pointing out that wake windows will reduce during periods of extreme teething, sleep regressions or sickness.
Whilst every baby is different, and we recognise that fully when we work with our private clients, we do find that up until about 2 years, the wake windows we use don't diverge too much from child to child.
We have found from studies of our client work that 98% of the children we support conform exactly to our wake windows. For the other 2%, the difference in wake window is then very minimal. For example, 98% of our 6-month-old babies will have a wake window of 90-120mins, depending on how long their previous sleep period was. For the other 2%, their wake windows will only be longer by about 10-15mins.
We find the biggest divergence in wake windows across children is from when they are about 2 years old. This is when sleep needs really start to differ from child to child, with some toddlers dropping their nap quite young and others needing some daytime sleep until they start school.
What is the perfect environment for sleep success?
By creating the perfect sleep environment, you can help your baby to sleep through the night. We recommend an infant's sleep space be dark at all times, including for daytime naps.
The only exception we would make to this is for newborns and exposing them to daylight for naps when they are in the newborn phase will really help build their 24 hour bodyclock. However, darkness will always be best for 2 reasons:
1. Darkness helps promote the production of our sleep hormone melatonin.
2. If a baby is transitioning between sleep cycles and they catch some light – or a change in noise – they are much more likely to wake up fully.
Some parents will say to us "but what about when we go on holiday or stay somewhere that it won't be as dark, we want to have that flexibility that they can sleep in a non-blackout room?" which is a great point. What we would add here is that there are great travel blackout blinds available at very budget-friendly prices, and also the number of times that a child won't sleep in their own sleep space over the course of a year, is probably quite small except for families who are travelling regularly.
Likewise, we do think darkness is best for toddlers too, albeit a night light can be useful for those toddlers in a bed who need to make trips to the toilet during the night.
The other thing to consider around the sleep environment is white noise. So many families use it as a tool to help a baby settle to sleep or back to sleep, and it's definitely a very useful tool for the 4th trimester as a newborn transitions out of the noisy and comforting womb, with the shushing sound of white noise often being very comforting.
However, it can become a sleep aid which babies become dependent on for sleep and that's what we would always recommend trying to avoid. Longer-term, we believe white noise has its best use in blocking out external noise to stop a child waking such as the noise from sharing a room with their parents, siblings, pets, traffic or birds tweeting in the morning, all of which can disturb a child's sleep.
Using white noise can be an effective tool to block out that external noise, and we would just recommend that a family plays it all night so that it becomes part of the environment and is less likely to wake a little one up if it's switched on or off.
Is it a good idea to follow a bedtime routine?
Having a bedtime routine in place is often a quick and easy way to help families get some structure to their evening and it's really helpful for a little one's sleep patterns. A bedtime routine should be a simple set of steps that a baby or toddler recognises as the lead up to bedtime and could include things like a bath or massage, books or songs and a change into their nightwear. The aim is to have something that is calming for the little one, is enjoyable as a family, and it fits into a family's lifestyle.
Children don't have language until a certain age, and others develop this earlier or later than others. A series of familiar steps prepares the child for bedtime so there are no surprises, even when they cannot be communicated to with verbal language. This is so important for their security and happiness as children feed off knowing what is coming next and what to expect each day. This is especially crucial for newborns and young babies by establishing a pattern that shows them each evening they are going into night sleep, which is hopefully longer and more restorative.
A bedtime routine will evolve as a baby grows into a toddler. They will likely stop having a massage as they become so active, and they may stop having a milk feed before bed. They may have some more calming playtime and they may also have some more books before bed. You may even find some more stalling tactics as they learn to test boundaries!
Whilst no family will ever be able to do a bedtime routine every night in today's active world, having a simple set of steps most nights is going to make a huge difference to a little one's sleep.
How can I stop my baby being over stimulated?
We think it's very natural for babies to become overly stimulated. They are constantly seeing, hearing and smelling new things which will impact them. However, before naps, introducing a short 5-7mins nap routine such as closing the blinds, getting them into a sleeping bag and reading a book or two, can be really helpful in giving a little one some time to adjust from playing, to suddenly being put into their sleep space.
Keeping an eye on a baby's sleep cues and/or focusing on their wake windows will also help with reducing overstimulation. As a baby becomes more overtired, they become more "energetic" and that can make it more difficult to bring them down to the ideal calm state before sleep.
For nights, creating a calming bedtime routine with some time in a more dimly lit room for any milk and stories before going to sleep, can really help their little bodies start to wind down and prepare for sleep.
What can I do if we are travelling to help my baby sleep?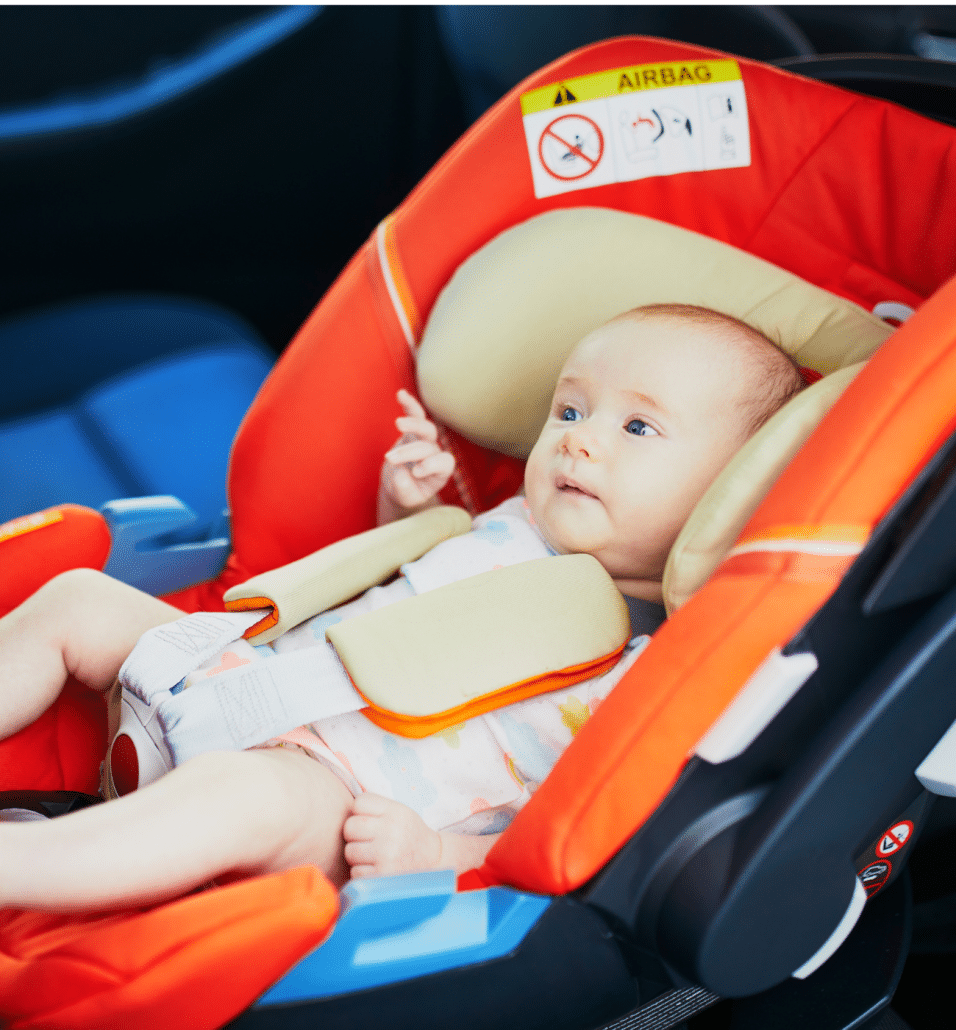 When traveling, the first thing to do is know that a baby's sleep will be different on travel days. They probably aren't going to get the same quality or length of sleep if they are going between cars, prams, planes, trains, etc. Which is absolutely OK. Our advice on days like that is just to do whatever you can for sleep, such as more frequent naps, contact naps or naps on the move, and an earlier bedtime if possible to reduce some of that overtiredness.
When working with clients privately, we never make them stay at home during our plan because working on sleep AND continuing to have flexibility on how, and where, a little one sleeps will be crucial for families when they aren't at home such as daytime plans, days out or going on holiday. Some babies don't sleep as well when not in their cot so trying to not be too worried about that will help, and aiming for an earlier bedtime will be key.
What do you recommend I do if my baby is fighting sleep?
If a baby has started fighting sleep and it's out of character, trying to be consistent with what was working before in getting them to sleep is really key. Then once the baby is asleep, assessing what was different that day can help:
Was the wake window into bedtime too long and they were overtired?
Did they have less sleep in the day than they should have? Did they have too much sleep and weren't tired enough?
Was the wake window between naps too long?
Did they have enough wind-down time before going to bed?
If this is something that is happening all of the time, and you then have to help support them to sleep, sleep training is likely the solution. This doesn't mean cry it out – there are other methods available to parents, including more gentle, room-based methods which can support a little one to sleep rather than just leaving them to cry on their own.
Should a baby have a bath before bed?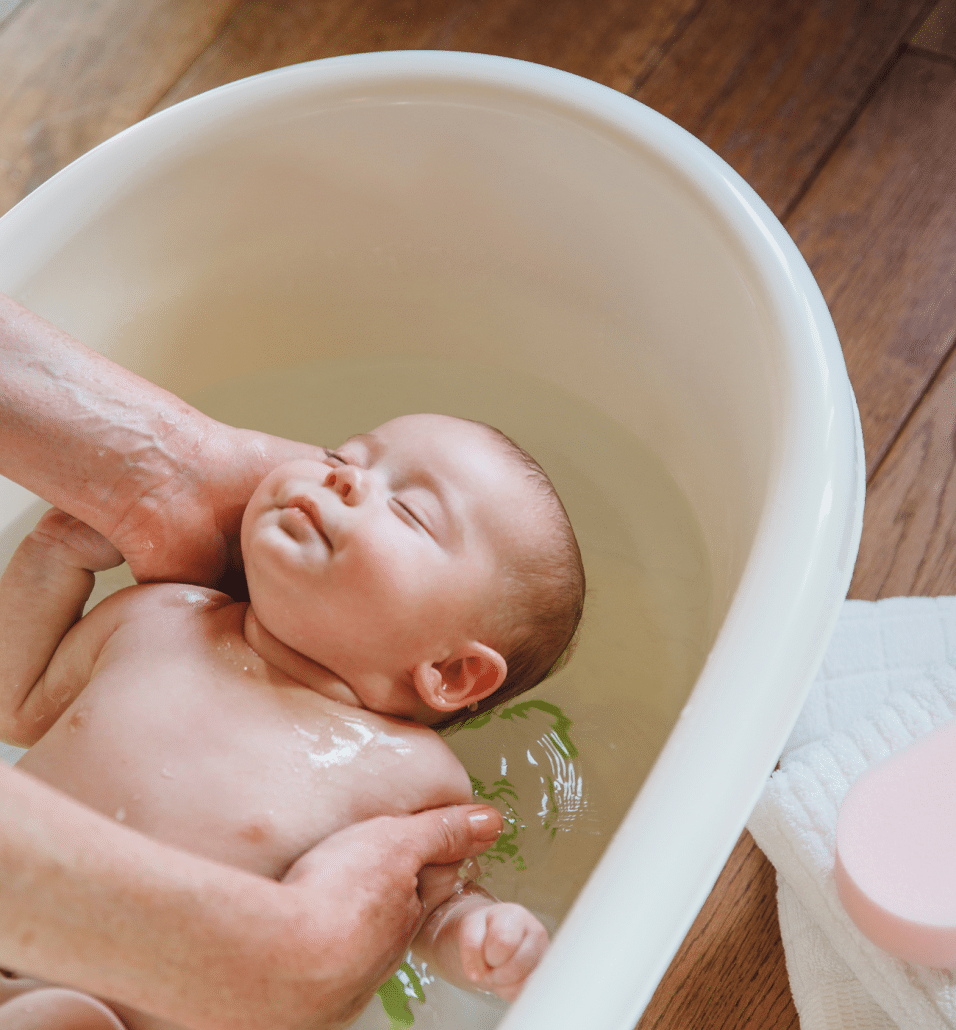 For a bedtime bath, it's something we always did as a family and it's a lovely thing to introduce for young babies, but we don't believe introducing it is essential if a family don't want to. Some families don't believe in baths every night for sustainability reasons; others want to protect the baby's skin from drying out, or if they have existing skin conditions.
Additionally, sometimes baths can overstimulate children, and families therefore can shy away from doing it before bed. One tip we recommend for children who do get over-excited in the bath is to move the bath to a different time in the day. For some families, moving it to a daytime activity can be really helpful and so much fun!
For other families, they may still want to do a bath in the evening after their baby's wiped dinner all over themselves! Therefore, moving it just a little earlier in the evening to immediately after dinner time is finished is a great approach as it should then leave a period of time after the bath for the little one to wind down, play with some low-stimulation games or read some books before then going to bed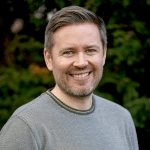 Co-founder of world-leading sleep consultancy, The Mummy & Daddy Sleep Consultant® Chris is also a leading industry trainer, teaching, and mentoring lots of sleep consultants via The Sleep Consultant Academy.
But most importantly, he is Daddy to my 3 amazing boys: Teddy, Rafferty & Malachy.
He specialises in designing gentle sleep training programmes specific to individual families and their lifestyles using his own sleep training approach Comforting Through Change™.
Chris was the first qualified male baby and toddler sleep consultant in the UK & Ireland and understands how impactful sleep deprivation is to physical and mental health.
As the only male in this industry, Chris also strives to help Dads feel more involved and move the industry's narrative to be more inclusive of all parents and caregivers. His content gives brands the opportunity to engage and relate to Dads, something mums also love and appreciate. As a regular a guest speaker covering sleep and offering support for men to have a voice in the parenting space.
https://www.mybump2baby.com/wp-content/uploads/2021/07/baby-fight-sleep.png
630
1200
Chris McFadden - Co-founder of The Mummy & Daddy Sleep Consultant® | OCN Certified, Industry-Leading Trainer of Sleep Consultants
https://www.mybump2baby.com/wp-content/uploads/2016/10/Logo-MyBump2Baby_transparent-bg-1-1.png
Chris McFadden - Co-founder of The Mummy & Daddy Sleep Consultant® | OCN Certified, Industry-Leading Trainer of Sleep Consultants
2021-07-06 16:34:30
2023-11-02 15:26:50
Why Does my Baby Fight Sleep?