Bamboo Eco Friendly Toothbrushes for Children & Toddlers
Have you managed to do your bit for the environment? 
We know how hard it can be to make the changes to use more sustainable products that are better for the environment, but we also know how important it is that people make these changes. The environment is suffering a lot at the moment and just one small change in each household could make a huge difference which is why we are writing a review on a fantastic brand that offers Bamboo Eco Friendly Toothbrushes for Children and Toddlers.
Did you know that just ONE plastic toothbrush takes over 400 years to decompose? Dentists recommend that you change your toothbrush every 3 months. The average family household has 4 people. There are 7.7bn people on earth, so if everyone throws away 12 plastic toothbrushes per year, that's a lot of plastic in our oceans!
If each family changed to eco-friendly toothbrushes, the environment would be much better off. We have the perfect option for the toddlers and children in your household…and the fantastic company is called Blue Splash.
Blue Splash – Eco Friendly Bamboo Toothbrushes for Children and Toddlers
Blue Splash offers children over 18 months a fun way to help the environment. They produce eco-friendly, bamboo toothbrushes, that are fun and colourful, just what children like! Their aim is not only to support the environment but also to encourage small children to enjoy brushing their teeth. When it comes to making morning and evening routines easier – we are all for it!!!
Eco Friendly Toothbrushes for Toddlers and Young children
The overall theme of their bamboo toothbrushes is to 'help save our ocean friends'. They are a "Work For Good" partner and give a proportion of their proceeds to conservation charities. We think this is a hugely important theme to consider and would encourage people to look into trying to help the ocean. By purchasing these brushes, not only are you contributing to reducing plastic waste, but you're also helping charities – it is a win win!!!!
Fun at the Sink with Blue Splash Bamboo Toothbrushes 
The Bamboo Toothbrushes come in packs of 4 at an incredibly reasonable price of £6.99 on Amazon! You can now also purchase them individually for £2.99 each and let your kids pick their favourite ocean friend.
These fab toothbrushes feature a different ocean character on each toothbrush and fun facts about them. Children will enjoy choosing which toothbrush they want to use and learning new things about their favourite ocean friends and their environment. A brilliant way to instil the importance of caring for the environment into young children's minds.
The toothbrushes have been carefully manufactured to have an ergonomic handle, making it easier for your child to hold the toothbrush and clean their own teeth. The handles are made from moso bamboo, which grows very fast and is not eaten by pandas, so we're not stealing anyone's food! The handles are naturally antibacterial and water resistant too. Why wouldn't you switch?
Blue Splash have carefully selected specific materials to form the bristles on their toothbrushes. They are BPA-free, DuPont Nylon bristles that are high in quality and naturally soft. The bristles have also been made to feature 4 different colours – rainbow, aqua green, blue and purple, so your child can choose their favourite one. These brushes are perfect for both genders too.
The outer packaging is 100% recyclable and each toothbrush is individually wrapped. Blue Splash has considered all of the environmental factors and brought a product to the market that is so great. It's hard to find products that are truly eco-friendly, so this really is a high quality, innovative product!
We think it's so good that Blue Splash have considered the environment is such depth and it's great that these brushes are so fun, so children really will enjoy brushing their teeth. It can be hard to encourage children to brush their teeth at a young age, but with these exciting brushes, it's sure to make the job easier. Click here to purchase your Blue Splash toothbrushes.
Morning and evening routines can be a little… what's the word… challenging, painful, irritating, annoying, frustrating…. You get my drift…. 
When it comes to brushing teeth, the sounds coming from my bathroom could be mistaken for a torture chamber. George likes to avoid brushing his teeth as much as I try to avoid dry January so I was keen to give these new Blue Splash eco-friendly toothbrushes a try and see if it helped.
I am all for protecting the environment for our little ones and making the world a better place so I was keen to give this a whirl.
George absolutely loves that he got to choose his own toothbrush from the pack of 4 provided. He chose the Ollie the Dolphin one. I told him that we are looking after the planet (he has recently been learning about planets at school so this went down really well)
George now thinks that every time he brushes his teeth using the eco-friendly toothbrushes kindly gifted to us from Blue Splash, he is saving animals which is a nice way to look at it, although he has now been requesting to brush his teeth four times a day. Toddlers hey, one extreme to the other.
We have awarded Blue Splash with our recommended on MyBump2Baby badge based on our personal experience.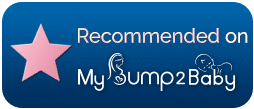 You can find Blue Splash website here.
Why not visit them on thier social media;
Carla is the founder of MyBump2Baby. Carla has a huge passion for linking together small businesses and growing families. Carla's humorous, non-filtered honesty has won the hearts of thousands of parents throughout the UK.
She has previously written for the Metro and made appearances on BBC News, BBC 5 live, LBC etc. Carla is a finalist for Blogger of the Year award with Simply Ladies inc. Carla is also the host of the popular Fifty Shades of Motherhood podcast and The MyBump2Baby Expert podcast.
https://www.mybump2baby.com/wp-content/uploads/2020/02/Bamboo-Eco-Friendly-Toothbrushes-for-Children-Toddlers-2.jpg
2000
2000
Carla Lett
https://www.mybump2baby.com/wp-content/uploads/2016/10/Logo-MyBump2Baby_transparent-bg-1-1.png
Carla Lett
2020-02-09 14:41:12
2021-10-20 12:09:52
Bamboo Eco Friendly Toothbrushes for Children & Toddlers