The ice cold was wind blowing into my heavily painted face and snot was dripping from my nose – it was THAT cold. I actually managed a shower and shave that morning… I was like a new woman. As I casually walked through central Blackpool I couldn't help but think about the day ahead, although a little nervous, I was eager to get to Blackpool Tower and stand up for Mental Health in any way I could.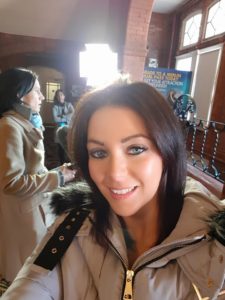 I started thinking about how I far I had come in 18 months and I felt myself smirk a little – I was proud, proud of where I am at as a person, as a mum and in my career.
Only 18 months ago I was in a dark miserable place after a traumatic pregnancy and birth. I often wondered if the dark cloud over me would ever move on and I often longed for bright days again.
I kept my thoughts and feelings to myself… Why? Because admitting them meant defeat – or at least that is how I felt. I couldn't understand why I couldn't just be grateful for my gorgeous son who I loved to bits, my husband who is my best friend and our lovely newly decorated home. I felt selfish, embarrassed, completely confused and all alone.
My thoughts and fears were heightened every day during my months with postnatal depression and anxiety. Generally, when I was around people I was ok or perhaps I was just good at "faking it" I am not sure but those times as a new mum when I was alone, the silence became deafening and it was at that point that my fears became somewhat haunting, overwhelming and difficult to deal with. My heart was constantly racing and when I say constant I mean from morning to night and throughout the night too. Imagine carrying a terrified, shaking animal close to your chest, that is what my anxiety felt like. My mind would think the worst possible thoughts and I would worry about literally everything. After breaking down numerous times I decided to seek help and speak out. Less than a year later, I am walking through the doors at Blackpool circus, confirming my name on a BBC guest list and waiting to be interviewed by BBC news live and appear on the live feed during BBC 5 lives – #mumtakeover.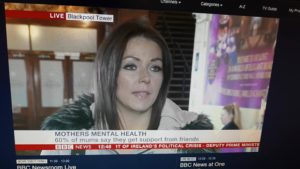 For me BBC 5 lives #mumtakeover was one of the best, most rewarding days I have ever had. My main aim for the day was to help get rid of the stigma that surrounds mental health and to raise awareness about real motherhood and how great it can be but also how hard it can be – it is ok to admit that you are not to be ok.
I was inspired by people's stories, especially how many of them have turned their own experience in to a positive by using it to help others in a similar situation. #mumtakeover made me cry a little, nod like a Churchill dog and laugh so much that I snorted like a pig.
I knew #mumtakeover was a complete success when the woman from the audience began putting their hands up and wanting to speak out, I turned round in my chair to see tears streaming down people's faces from heartbreaking stories. We all supported and listened to one another and it was fantastic, I felt so proud to have been part of something so incredible.
I got to meet some of my idols which was amazing and even more amazing when I realised how down to earth and lovely they all were.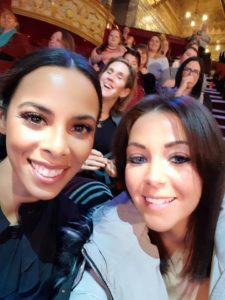 I am a firm believer that mental health can help achieve dreams
I started MyBump2Baby in October 2016, I used it as my diary and sounding board and it helped massively towards my recovery. Something that began as a humorous yet honest blog about parenting and became the UK'S fastest growing Baby, Toddler and Pre-school directory with over 35k visitors a month, I am so proud to help other parents with this free resource.
I created the free MyBump2Baby free app and website so that parents can find things to do with their children in their local area in a bid to beat loneliness. The directory covers the whole of the UK and has a recipe section which covers baby led weaning through to family meals, a review section where I review days out, products and services, my blogs on mum life, help articles to help parents or parents to be from preconception- pre-school.
If you are suffering in silence then don't, speak to someone, if you have no one to talk to I am all ears. I speak to people regularly about mental health so please do feel free to message me anytime and I would be happy to support you in any way I can https://www.mybump2baby.com/contact-me/
Lots of love

https://www.mybump2baby.com/wp-content/uploads/2017/12/BBC-5-Lives-mumtakeover.jpg
1080
1920
danny
https://www.mybump2baby.com/wp-content/uploads/2016/10/mybump2babyheader-300x79.png
danny
2017-12-06 10:09:36
2017-12-06 10:15:30
BBC Radio 5 Live - #mumtakeover