It's the most wonderful time of year, which means it's time to snuggle up in your comfy pjs and watch your favourite Christmas films over and over again. We asked our audience of families for the Best Christmas Movies for all the Family and dum dum dum here they are;
Elf
What better way to enjoy the build up to Christmas than to laugh at Will Ferrell. In Elf, a toddler is accidentally transported to the North Pole, he's brought up with all the mannerisms of an elf and is taught to make toys ready for next Christmas. After years, 'Buddy' realises he's not like the other elves and decides to take a trip to New York in search for his real Dad. Their relationship begins to blossom, but not without many obstacles ready to test them along the way. An incredibly funny and fantastic film.
Watch the trailer here:
The Grinch
This film is brilliant, the Grinch and his dog set out on a crazy adventure in an attempt to steal Christmas. They live alone, and they really don't like Christmas. So when their neighbours start making it bigger and brighter – the Grinch begins feeling rather disgruntled. A great adaptation of its original.
Watch the trailer here:
Home Alone
What a wave of emotions – one minute you're laughing, the next you're crying. Cheeky, 8 year old Kevin starts acting up the night before his family are due to go on holiday to France. The family leave for the airport after a mad rush (sounds familiar!) and accidentally forget Kevin. At first, Kevin loves being in charge, until thieves begin trying to break into his house. Kevin must use traps in order to stay safe!
Watch the trailer here:
Miracle on 34th Street
An ultimate classic. Old man, Kris Kringle finds himself in a bit of a situation when he's pretending to be Santa Claus at the Thanksgiving Parade. Following his successes, he ends up working as Santa in Macy's store, but this doesn't go down too well. It leaves him in court having his health and authenticity questioned.
Watch the trailer here:
Polar Express
A fantastic adventure. A young boy is encouraged to hop on the train that's appeared outside of his bedroom window on the night of Christmas Eve. He makes a trip all the way to the North Pole, to see how Santa is preparing for Christmas. He makes the journey in a bid to find himself. The perfect film for Christmas Eve.
Watch the trailer here:
Santa Claus the Movie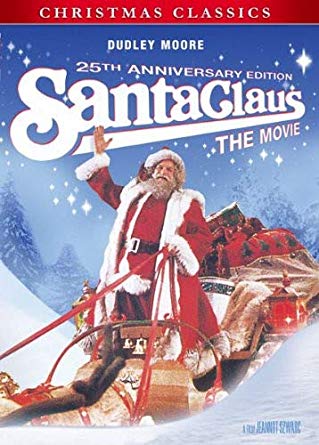 Claus' destiny was always to become Santa Claus, he had been delivering toys to his local town, but he wanted more. In present day, Claus can hardly cope with his enormous workload. With Christmas on the way, Claus' most hardworking elf 'Patch' decides to leave the workshop and puts Christmas in huge trouble. Everyone must work together to fix it.
Watch the trailer here:
Shrek the Halls
'Ogres don't celebrate Christmas' – they do when Donkey's around. This 30 minute special is enough to put anyone in the Christmas mood. Shrek's never celebrated Christmas and Donkey tries everything he can to change this. The family must come together to celebrate Christmas in a different way.
Watch the trailer here:
The Snowman and The Snowdog
So heartwarming. In this film, a young boy suffers after the tragic death of his beloved dog. To distract himself, he decides to build a snowman in the back garden, but he can't leave the snowman alone, so he builds him a snow dog. In the cold night, the snowman and his snow dog come to life and they take the young boy on a moving adventure.
Watch the trailer here:
Jack Frost
A heartening fantasy. Musician, Jack Frost, struggles to balance his busy lifestyle, after an awful accident, Jack passes away, leaving his wife and son 'Charlie' alone. One Christmas, Charlie decides to play a tribute to his father on his harmonica, when his dad is magically brought to life as a snowman. Jack Frost has another opportunity to be there for his son.
Watch the trailer here:
Jingle all the Way
A standard last minute Christmas stress. A father promises his son the greatest toy on the market 'Turbo Man', only problem is, he's left it till Christmas Eve to buy it. Unfortunately, the toy has sold out in every shop, so the father is forced to hunt it down when he bumps into another father on the same mission as him. It's a race against time as the father realises the true meaning of Christmas.
Watch the trailer here:
Mickey's Once Upon a Christmas
Featuring 3 short films, this classic is perfect for Christmas. 'Donald Duck Stuck on Christmas', after a wish for it to be Christmas every day, three brothers end up pranking their family. It's only until their Christmas goes terribly wrong, that they realise that Christmas is about more than just presents. 'A Very Goofy Christmas' this lovely classic brings a tear to our eyes, after Max is told that Christmas isn't real, Goofy is forced to try everything to convince him that Santa is real. When Santa finally delivers Max's present, Max asks him an important question, and the answer is incredibly special. 'Mickey and Minnie's Gift of the Magi', this brilliant storyline shows exactly what people will do for love. Both Mickey and Minnie go through troubles to buy each other the perfect Christmas gift, only for them to end up being pointless. But at least they have each other – and that's what Christmas is all about.
Watch the trailer here:
https://www.mybump2baby.com/wp-content/uploads/2019/11/11-of-the-Best-Christmas-Movies-for-all-the-Family-main.png
1280
720
Carla Lett
https://www.mybump2baby.com/wp-content/uploads/2016/10/mybump2babyheader-300x79.png
Carla Lett
2019-11-22 10:46:56
2020-07-14 05:18:24
11 of the Best Christmas Movies for all the Family