As a family, we understand how difficult it can be when it comes to picking your dream family holiday. Regardless of whether you holiday yearly, every 5 years or even if you are lucky enough to holiday every few months…. picking a family friendly hotel can be daunting and no one can afford to get it wrong, which is why we like to take the stress away by reviewing a hotel before you press the "book it now" button so you know exactly what to expect before you get there.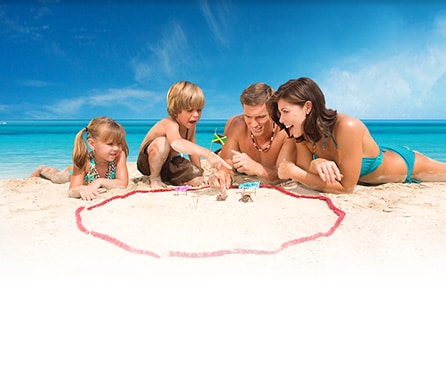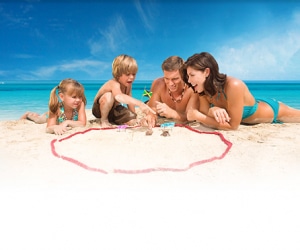 Today we are writing a review on quite possibly the best family hotel in the Albufeira, Portugal. We have been to Portugal many times as singletons but when it comes to taking our 3-year-old with us there are certain things we look for when booking our family holiday.
We want to make sure the place is clean, the food is good, there is plenty for our little ones to do, it is safe, we are close enough to stroll out to the shops and our holiday is … (those 4 important words)…. Good. Value. For. Money.
First things First –  Why Visit Albufeira Portugal
Portugal is a beautiful country to visit and I personally, have been to Albufeira more times than I can remember. The Algarve is definitely the place to be for families with plenty of attractions, beautiful beaches, delicious restaurants and fancy bars – I mean…what more could you want?
The short flight from the UK to Portugal
Flights with babies and toddlers can be a scary thought and something we want to experience for as little time as possible which is why Portugal is the ideal location. Only 2 and half hours away on a plane means you can set off in the morning and be in your hotel by the afternoon.  Read our tips on flying with a toddler.
The Best Family Hotel in the Albufeira Portugal – Real Bellavista Hotel & Spa

After what felt like a long day travelling we were greeted at reception with a lovely welcoming smile from Carolina, she was very helpful, explained everything clearly and even gave us a list of some beautiful Algarve hidden gems to visit. Carolina explained everything clearly so we understood what was included in the all-inclusive package. We were really excited to see the rest of the hotel was like.
All Inclusive at Real Bellavista Hotel & Spa

We were happy that we were all inclusive once Carolina explained everything that was included, as a family with a toddler we knew we could relax and didn't have to leave the complex which was a breath of fresh air, especially if you are on a budget.
Wifi  
Wifi is pretty much life or death for me as I do like to work whilst I am on holiday, especially if I am writing reviews, not forgetting the magical ipad when parenting gets "too much to bare". I was delighted to find that the WIFI was very powerful and we had no issues with it whatsoever.
Rooms
We were lucky enough to opt for the suite which was fantastic and highly recommended. We had a front room, 2 bathrooms, a bedroom, the front room had a fold out double couch and a cot was provided for George. We also had an outdoor eating area and a garden area with sun loungers.
We had a fridge and a kettle which was really handy as George likes a cup of tea (milk) before bed. I recommend buying your own tea/coffee from the local supermarket because you get charged for using theirs regardless of whether you were on all-inclusive or not. You do however receive one tea or coffee during your stay free of charge.
The rooms were extremely clean, with plenty of storage. It was a refreshing change to not have tiled floor throughout our suite which meant I could relax a whole lot more as tiled floor fills me with worry for months before we even go on our family holiday.
The Main Bedroom
The bedroom had a large king-size bed which was very comfortable to sleep in and George had a cot which did take a little persuading for him to sleep in (he has a big boy bed at home). We had plenty of storage space which was a refreshing change, usually when we go on a family holiday we are fighting for space and coat hangers.
The bedroom and front room had TV's which was great to see but sadly these were in Portuguese. We managed to find the odd channel that was English at night but it would have been nice to have a smart TV so that we could log in and watch our Netflix or even a TV where we can purchase films for those much needed nights in. I recommend bringing Ipads and DVDS and a HDMI cable so you can watch your favourite films in the evenings you don't fancy venturing out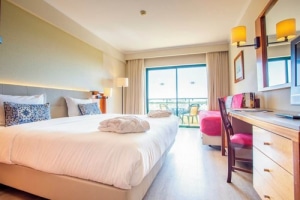 Bathroom
The Bathrooms were great with a bath/shower, toilet, a built in hairdryer and build in body and hand wash so be sure to save that extra space in your luggage. The shower and bath were powerful which always makes you feel cleaner (there is nothing worse than a shower that takes 30 minutes to wet your hair)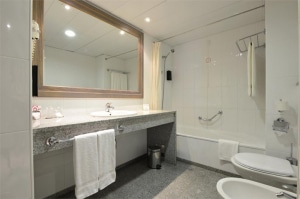 Fantastic Food at the Real Bellavista Hotel & Spa

We were all inclusive which was fantastic and well worth the money, All-inclusive runs from 7am – 11pm and includes all food and drinks within this time which saved us a fortune (a lot more than it costs).
Real Bellavista Hotel & Spa – Restaurants
There were two "eat in restaurants" the alla carte which could be used once per week or the main restaurant that served breakfast, lunch and dinner.
The main restaurant had plenty of highchairs to go round and it was extremely spacious, it was all self-serve which was easy enough. There was a microwave which is handy if you have your own baby food with you. I do recommend taking a shawl to leave on your table as a couple of times when we were up grabbing a drink our meals were taken away as they thought we had left.  The restaurant did serve beer and alcohol but you are to get these yourself from the fridge.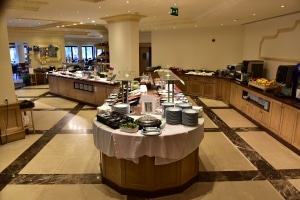 Breakfast 7am – 10am
Cereals, croissants, fruits, cakes, fresh bread, beans, eggs, sausage, bacon, fresh juices, coffees. The restaurant is self-serve which was good.
Lunch 12:30 – 3pm
soup, 2 meat options, 2 fish options, vegetarian option; pastas, simple and composite salads, rice, potatoes, vegetables, snacks, Chef's suggestion and live cooking, children buffet and dessert buffet.
Dinner 7pm – 10:30pm
Rice, fish, sandwiches, fish fingers, pastas, chips etc. The "specials corner" served pasta each night. It would have been nice for this to have changed each night to something else as towards the end of the holiday the food started getting a little repetitive but I can't deny that there was a great selection of food available.
Bellavista Hotel & Spa -Restaurant 7pm – 11pm

You can visit the alla carte restaurant once a week, if you are staying for a week I recommend booking this for midway through to give you a change. The restaurant must be booked 24 hours in advance so make sure you don't forget to book in. It is definitely worth the visit.
Real Bellavista Hotel & Spa – Bars for Snacks and Drinks
When breakfast lunch and dinner are not available in the restaurant the snack bars serve food. You can also grab cling filmed sandwiches from the snack bars if you are heading out for the day which is a really nice touch.
I am not going to sit here and pretend I drank water all day on holiday, quite the opposite. I do love having access to a good bar and this hotel certainly has that. The all-inclusive facility at this fantastic restaurant allows you to order 2 drinks at a time. So I would often grab a water and a beer (the water for George and the beer for me)
Real Bellavista Hotel & Spa – Kids Club at the Hotel

Yes you read it right -This hotel offers a freekid's club for children over 4 years of age. The kids club is a fantastic place to take your toddlers too as there are plenty of toys and games for them to play with. It is a great shaded area for children to hangout when the heat gets a little overwhelming. George had hours of fun in the kid's club and had his face painted.
There is also a park in the kid's area too, George loved it but I must admit they could do with more toddler friendly equipment as the climbing frame was a little big for a 3-year-old.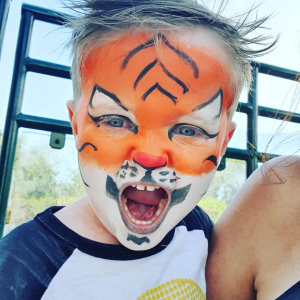 Real Bellavista Hotel & Spa – Pools
There were 5 pools in total. 2 toddler friendly pools, 2 larger pools and an indoor pool. I must admit I was really happy to see toddler pools.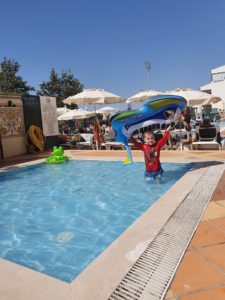 Real Bellavista Hotel & Spa – Spa/gym
The gym was good according to my husband, I for one chose to take full advantage of not having to go to the gym. I did however visit the spa for a massage which was fantastic. Be sure to keep your eyes peeled for deals and offers on massages.
Real Bellavista Hotel & Spa – Entertainment
The entertainment staff at the hotel were excellent especially Jorge, there was always regular pool games on and each evening they had a kids disco followed by something else for the adults.
There were also Reptile and bird shows for the kids throughout our time at this hotel which was fun for George – not so much me.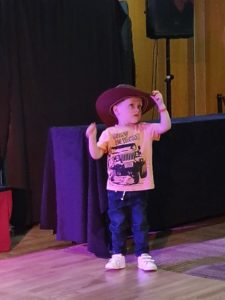 Real Bellavista Hotel & Spa – Onsite Shop/local supermarket
The onsite shop is based in the hotel, it is a fairly small shop which has toys, pick and mix and snacks. It was reasonably priced but doesn't have baby essentials. There is however a local supermarket 10 minutes away which has everything you could ever need, it is also near a Mcdonalds and KFC which was a nice surprise.
Real Bellavista Hotel & Spa -Shuttle buses
The hotel is around 15 minutes' walk from the old town and the hotel put on a free shuttle bus to take you to and from your chosen destination. There are 3 stops on the shuttle bus, the old town, the new town and a local beach. We used this service and were really impressed by it.
 The all-inclusive option – Incredible value for money
We ended up spending a lot of time at the hotel as George seemed to go crazy if we took him out of the hotel. This meant that we utilised the all-inclusive. I definitely recommend upgrading to all-inclusive if you can – we literally saved hundreds of pounds.
Overall summary of Real Bellavista Hotel & Spa – Our Favourite Hotel in Albufeira – Algarve
We loved this holiday and will look at returning to this hotel or one of the Real Hotel Groups hotels for our next family holiday. The hotel and service was everything we expected and more. We have been to Portugal many times before and this is definitely our favourite hotel to stay in by far.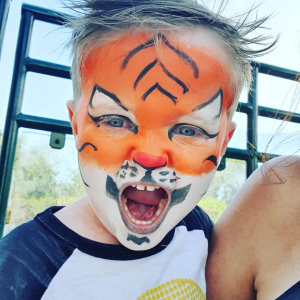 Carla is the founder of MyBump2Baby. Carla has a huge passion for linking together small businesses and growing families. Carla's humorous, non-filtered honesty has won the hearts of thousands of parents throughout the UK.
She has previously written for the Metro and made appearances on BBC News, BBC 5 live, LBC etc. Carla is a finalist for Blogger of the Year award with Simply Ladies inc. Carla is also the host of the popular Fifty Shades of Motherhood podcast and The MyBump2Baby Expert podcast.
https://www.mybump2baby.com/wp-content/uploads/2019/09/the-best-family-hotel-in-albufeira-portugal.jpg
460
703
Carla Lett
https://www.mybump2baby.com/wp-content/uploads/2016/10/Logo-MyBump2Baby_transparent-bg-1-1.png
Carla Lett
2019-09-30 16:16:32
2019-10-22 09:57:14
The Best Family Hotel in the Albufeira Portugal