Quite Possibly the Best Mum Pamper Spa Session in Lancashire | Clare Ashton Hair
"Have a child" they said… "It will be fun" they said….
Here I am typing away as my darling child is smashing up the house behind me with a broomstick "take that" he is shouting at my walls as he pretends they are a fierce dinosaur. With a blink of the eye all the house work I have done today has been reversed and I am pretty sure some permanent damage is being done at the moment. If I am totally honest, I have stopped caring – I have stopped caring about a lot of things including myself.  I often spend my time looking after everyone else and when I get a moment to myself I fall asleep. This ultimately means the only "spa experience" I look forward to these days is my daily trip to the "au'de kitchen", pulling on that "just finished" dishwasher leaver and sticking my head it…. I love that moment…..ahhhhh!!!!
Last month I decided enough was enough and I deserve a treat, so I started searching for the best mum pamper session in Lancashire. It was then that I was inundated with messages about Clare Ashton Hair and Beauty in Freckleton and the fantastic packages they offer. Initially I thought it was just hairdressers but they offer so much more than that.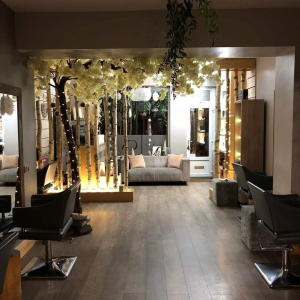 I was shocked to see a fantastic deal offering a full 1 hour 20 minutes of pure bliss for only £50, 1 hour 20 minutes???? my first thought was… "my c section took less time"….. this felt like an eternity away from work and jobs and I had to book in.
The £50 mum package included;
25min Crystal Clear facial
25min Quartz spa back,neck and shoulder massage
Shellac hands or feet
Gift vouchers available
Foot Spa and Shellac nails
If you have set foot in to Clare Ashton Hair and Beauty before, you will know exactly what I mean when I utter the description "luxurious classy design peppered with a twist of modern décor", in other words it is simply stunning and you instantly feel like you are in the perfect place for a well-deserved treat.
I was greeted by the lovely Toni who kindly asked me to fill in a form to ensure I get what I want out of my experience. I was instantly offered a coffee and we went to the foot spa room.
I took my shoes off and I had my feet soaked in a warm foot spa as I sat comfortably and chilled with my latte – mums and hot drinks don't happen often and of course I totally embraced it. I chose a glitter shellac which was simply stunning. My feet however, are totally gross. I took numerous pictures but I can't bring myself to share them with you sorry!!!! #feetphobia
Luxury neck back and shoulder massage
We then headed to the luxury treatment room – it was beautiful, it smelt lovely. It was great to listen to something other than the "Peppa Pig" theme tune. I loved the relaxing spa music and that alone was bliss. For all the mums out there that fear cold rooms – you can rest assure that this room was the perfect temperature. Toni confirmed again that I am not allergic to anything and also asked me how I would like to feel after the massage as the different oils encouraged different feelings. I could choose from Happiness, Hope or Energise. We chose Happiness which offers a revitalising boost of happiness whilst clearing the mind of any stress and business. Rose Quartz crystals were used in the back massage. Rose Quartz restores trust and harmony in relationships, encouraging unconditional love. Rose Quartz purifies and opens the heart at all levels to promote love, self-love, friendship, deep inner healing and feelings of peace
We started with the 25-minute back, neck and shoulder massage and it was absolutely brilliant and as expected I was full of knots of stress. Every inch of my neck back and shoulders were massaged and Toni managed to get these out without causing any pain or discomfort – I felt incredible afterwards and was close to drooling.
I then had my 25-minute mini facial, I have no idea why it is called "mini" as 25 minutes is probably the most time I have ever had someone concentrate on my face before. When it comes to skincare, I must admit my face has been neglected. The fantastic mini facial included eye and facial cleansing. Toni also used a skin analysis lamp to see what skin type you are and what products are best for your skin in particular which was handy for me as I never know what type of skin I had.
The facial included, 2 facial and neck cleanses, eye cleanse, lip cleanse, a skin exfoliation with a Clarisonic brush to get all of the dead skin away and refresh my face. Toni applied a super repair face mask which is full of all the necessities your face craves, such as deep hydration and nourishment, and anti-ageing plant stem cells. Whilst I had the face mask on I did a relaxing scalp massage. We finished with a toner, an eye moisturiser, and a face moisturiser, along with some nourishing lip balm. All of the products were removed throughout with some fresh hot mitts. My face felt amazing!!!
Overall Review of Clare Ashton Hair and Beauty Pamper Session
Book in!!! Book in and you will never look back!!! This is the best package for a mum ever, forget flowers, chocolate if you really want to treat yourself or another mum then this is absolutely the way to do it. I highly recommend Claire Ashton Hair and Beauty.
Follow them on
To book in call 01772 490156
Carla is the founder of MyBump2Baby. Carla has a huge passion for linking together small businesses and growing families. Carla's humorous, non-filtered honesty has won the hearts of thousands of parents throughout the UK.
She has previously written for the Metro and made appearances on BBC News, BBC 5 live, LBC etc. Carla is a finalist for Blogger of the Year award with Simply Ladies inc. Carla is also the host of the popular Fifty Shades of Motherhood podcast and The MyBump2Baby Expert podcast.
https://www.mybump2baby.com/wp-content/uploads/2019/03/the-Best-Mum-Pamper-Spa-Session-in-Lancashire-5.jpeg
1334
750
Carla Lett
https://www.mybump2baby.com/wp-content/uploads/2016/10/Logo-MyBump2Baby_transparent-bg-1-1.png
Carla Lett
2019-03-23 09:54:24
2019-03-23 10:42:45
Quite Possibly the Best Mum Pamper Spa Session in Lancashire | Clare Ashton Hair