Best Newborn Gift Ideas 2022
There's no doubt about it- whether you are new parents or even fifth-time parents, the arrival of a happy and healthy newborn baby is definitely an occasion to be celebrated! Gift-giving is a wonderful way to celebrate the wondrous occasion. For thoughtful gifts that the parents will treasure forever as their little one grows or gifts that will make the parents smile upon unwrapping- you can find them all in our collection of the best new baby gifts- "Best Newborn Gift Ideas – Gifts for Newborns 2022". From colourful baby clothes to super-soft teddies to keep the baby entertained, this gift guide has it all.
Read below to find out what is included in our Best Baby Gifts for Newborns Guide:
Nordicstork
nordicstork.com is a family-run business, specialising in ethical wooden and natural toys for babies and children.
Founded during lockdown when our third child became sick at 20 hours old, Nordicstork gave us something positive to focus on and we wanted to share the wonders of safe toys that support child development in the most beautiful of ways. Daniel, our lockdown soldier, is now growing healthily and happily and so is our business.
We believe that all families should have access to open-ended toys  – so we keep our prices competitive and strive to offer the utmost in value for money.
When you support Nordicstork, you also support our family. Our eldest is Autistic and has ADHD. We want him to always have a job and we are working very hard to create a legacy for our 3 children. Less than 22% of Autistic adults are in employment – which is a shocking figure and we would like to actively offer employment opportunities to those who are most in need as our business grows.
For now, we are still small but perfectly formed. And In return for your valued custom, we can offer you the highest quality products and our outstanding customer service – just check out our five-star reviews.
Follow us on;




Taffy Tots
Based in Banchory, Aberdeenshire, Taffy Tots Clothing is a primarily online based shop. With a large range of clothing to suit babies, toddlers and pre-schoolers in prints for boys and girls. Every item is handmade to order by owner, Karen, ensuring a perfect fit and clothing that can withstand childhood adventures.
Karen is a mum to 3 boys – Thomas, Andrew and Fergus – and a fur baby Labrador Yogi: that's where the name Taffy Tots came from. She wants to provide you with an alternative to the High Street, with clothing in colours and patterns for both girls and boys. Priding herself in the quality of her workmanship, each item is handcrafted in quality, UK sourced cotton fabrics.
The most popular items of clothing she creates are the rompers, made in gorgeous seasonal and Scottish themed prints. With 3 different styles to choose from, the easy fitting romper is the perfect wardrobe staple for an infant or toddler and makes for the perfect baby gift.
Pair with one of the coordinating accessories to create an adorable gift set. Karen also offers a gift-wrapping service and can send directly to the recipient with a handwritten note.
"Amazing quality. The romper is so well made and looks beautiful. Matching dribble bib is just the cutest. Would highly recommend." – Susanne
https://taffytotsclothing.co.uk/
Follow us on;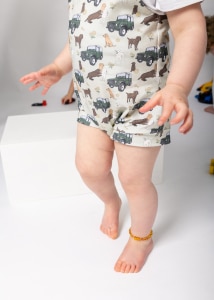 Motherlylove
Motherlylove Natural Skincare for Pregnancy, Birth, Baby and all Mothers has been developed by Jan, a Midwife Nurse and Aromatherapist. These pregnancy safe skincare products have been carefully developed with mother and baby's well-being in mind. Motherlylove Baby products are fragrance-free with no added preservatives. Only ingredients that have been tested as safe for newborns are used in our products. We understand how porous a baby's skin is, so no essential oils or additives are included.
All the oils are backed by science and Jan's own research. The company offers a range of massage oil blends to help women and children through all stages of life.
"To share my expertise as a midwife, clinician and aromatherapist, I have created this range of luxurious Motherlylove products. Each of our oils is from a specially selected supplier and chosen for its unique properties, then rigorously lab-tested for purity, quality and chemical composition.
The range includes beautiful fragrances to lift the spirits, carrier oils to hydrate and soothe, and constituents to pamper, energise and promote restful sleep."
Jan worked tirelessly in hospital maternity units, encouraging natural births without intervention by using aromatherapy and massage. Leading her to earn a degree at Greenwich University, where she obtained a BSc (Hons), Complementary Therapy (Aromatherapy), on top of her extensive nursing, midwifery, and anaesthetics qualifications.
Jan's academic paper 'Aromatherapy and Massage for Antenatal Anxiety: Its Effect on the Fetus' was published in the journal Complementary Therapies in Clinical Practice.
Natural Skincare for Pregnancy, Birth, Baby and Mum | Motherlylove
Meet Our Experts – Motherlylove
Natural Skincare for Pregnancy, Birth, Baby & Mum | Shop | Motherly Love
Product Links:
GREEN AND NATURAL GIFT FOR BABY – 100% NATURAL – FRAGRANCE FREE – CRUELTY FREE – VEGAN

MOTHERS PAMPER GIFT BOX – A PERFECT Recovery GIFT After the birth
ALL MOTHERS AND NEW MUM GIFT BOX – To Make Mum Feel Special
Follow us on:
Made Just Wright
Made Just Wright was founded in 2014 when I had my first son, wanting to find something fun and functioning to put on his feet, this is when my unique baby booties were created.
Over the past 8 years I have perfected my designs, whether it be patterned material or a personalised bootie that is tailed to the customers request.
Using high quality sublimation inks and heat transfer vinyl, vibrant designs  are produced that really stand out, all booties are designed, printed and handmade by myself.
Available in sizes from newborn up to 24 months they are handmade to order and with an elasticated back they give the perfect fit that is soft, comfortable and actually stay on those little feet.
Made Just Wright is now a well established provider of booties to customers all around the world, with many return customers.
Take a look at my website www.madejustwright.co.uk and check out my best selling item https://www.madejustwright.co.uk/product-page/personalised-baby-booties these are the perfect gift and keepsake.
With over 50 patterns and designs to choose from they are the perfect finish to any outfit.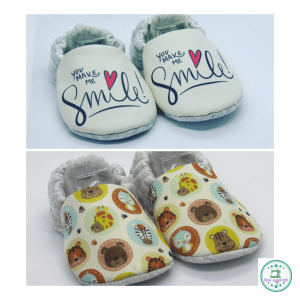 https://www.madejustwright.co.uk/
Follow us on;
Cubwear Clothing
Cubwear is a fresh and exciting family-run baby & children's clothing company. Offering a beautiful selection of BabyGrows, Rompers, Bodysuits, Pyjamas & more. Cubwear also offers personalisation on a number of items, allowing you to add names & initials to your outfits.
Cubwear was established in 2020 and is based in Bedfordshire, UK. All items featured in the Cubwear collection are dispatched from the UK on a 1 to 4-day service. All orders are gift wrapped free of charge and can be sent directly to a loved one using our personal greeting cards. You will also receive free delivery when you spend over £30.00
We appreciate money is tight for lots of us at the moment and we don't want money to stop your little ones from having what they need. So we have teamed up with "Lay Buy" who offer a buy now and payback in 6 weekly installments. If things are a little tight right now, then spread your payments over 6 weeks.
Cubwear is also proud to launch its signature range, which is exclusive to Cubwear and not available anywhere else in the world. Featuring 6 adorable characters that your little ones will simply fall in love with, this range is available in many different outfits. The range features Babygrows, Rompers, T-shirts, Long sleeve tops and leggings.
Thank you for taking the time to read this and we hope you love our range.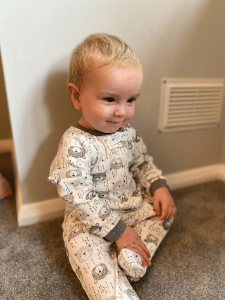 Follow us on;
BettyBugg
BettyBugg – "Your first stop for quality and affordable baby wear"
Every baby deserves the best start in life and that is why, at BettyBugg, our family team has designed and produced 3 beautiful sets of clothing which every new parent would love to receive as a gift.
The BettyBugg collection includes Swaddle Wrap Blankets for new born babies and 2 Baby Sleeping Bags in 2 sizes.
Each of these beautifully presented items have been made using soft to the touch Organic Cotton which protects babies delicate skin from potentially irritating chemicals.
If you are searching for a newborn baby gift, baby shower or christening present then we have the solution for you.
Our range in more detail:
BettyBugg Baby Sleeping Bags
In 2 sizes – 0-6 months and 6-18 months
Cute and calming heart design
Unisex
1.5 tog 100% unbleached organic cotton ideal for year-round use
Comes in a presentation box
Wrap around zip making nappy changes less disruptive
Plenty of free leg room allowing baby to assume the frog position
Adjustable arm outlets so baby cannot wriggle free
BettyBugg Baby Swaddle Wrap Blanket
For newborn babies aged 0-3 months old
A soothing grey and white unisex design
0.5 tog soft 100% organic cotton fabric
Easy to use Velcro fasteners keeping baby safely wrapped up
Wrap around zip for easy nappy changes
Delivered in a presentation box for you to easily wrap up
To find out more please visit us at:
Web: www.bettybugg.co.uk
Posh Totty Designs
Personalised Jewellery – Handmade with Love.
We are the original hand stamped jewellery company. Each piece is lovingly hand crafted and personalised in our coastal workshop.
We believe in quality, forever pieces that mean something to the wearer rather than throwaway jewellery. We have a range of stunning original collections including both classic and contemporary designs to suit every style.
Our all-female team of professional jewellers can add your special dates or words to your chosen design to create a truly bespoke and thoughtful gift or keepsake.
Popular personalisation's for new parents includes baby names, birthdates, birthstones, or special words such as 'To the Moon and Back' to capture their world and keep them close at heart.
Our jewellery is crafted using recycled gold and silver and our precious gemstones are ethically sourced from a handful of trusted suppliers. We also plant a tree every time you place an order to help tread lightly on the planet and offset our carbon output.
Our jewellery comes presented in the luxe blue and gold jewellery box and is delivered to your door in our iconic recyclable packaging.
Our full collection can be found at poshtottydesigns.com.
We have two lovely boutique stores in London, Camden Passage and Brighton, North Laine. We also have concessions in Elys, Wimbledon and Fenwicks, Bond Street.
Mummy and Baby Personalised Star Necklace – https://www.poshtottydesigns.com/mummy-and-baby-personalised-star-necklace.html
Locket Collection – https://www.poshtottydesigns.com/jewellery/shop-by-collection/lockets.html
Personalised Little Message Envelope Necklace – https://www.poshtottydesigns.com/personalised-little-message-envelope-necklace.html
Personalised Mini Two Ring Russian Ring Necklace – https://www.poshtottydesigns.com/personalised-mini-interlinking-necklace.html
You can follow us on:
Lazy Baby
Mark Hagley, a surfer, cyclist and skater lives by the beach in Devon, England with his wife, 3 children and his dog.   When Mark and Katie had their first child, Mark's eyes were opened to the gifts on offer to new parents, already the owner of a successful lifestyle clothing company, he spotted a gap in the market for an organic ,sustainably sourced baby brand. And thus Lazy Baby®was born.   Since Lazy Baby®s best-selling design "Just Done 9 Months Inside®" hit the stores, it has been a phenomenal success, outselling every product Mark has ever sold. It seems he has found that elusive Christmas number one…   Mark's vision is to create more ethical, fun clothing gifts for babies.
Lazy Baby® Features:
AMUSING – Original and best baby shower gift. "Just done 9 months inside®" baby grow, guaranteed to bring smiles and laughter to new Mum, Dad and friends.
FABRIC – This baby grow is made from 100% organic cotton & sustainably sourced. This keeps baby's skin soft and gentle, as well as helping the environment.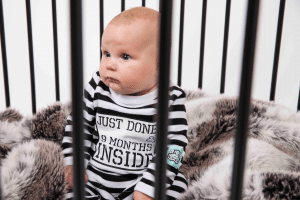 SIZE – This clever baby grow is designed to be footless to fit baby boy, girl up to 6 months.
EASY ACCESS – We have had babies and know the importance of easy nappy access. We use YKK poppers on the bottom of the baby grow for easy access for important tasks!
PERFECT GIFT – The Just done 9 Months inside® baby grow comes in gift envelope ready for any baby shower or newborn gift.
Follow us on
 Bears4U
Bears4u have a lovely range of teddy bears and soft toys that can be personalised for any special occasion. So, if you are looking for a new baby gift, a Christening gift or a special birthday gift then head over to www.bears4u.co.uk
With a wide selection of cuddly teddies and animals, from quality manufacturers, there is something for everyone.  All you have to do is choose your favourite teddy and let them know what you would like embroidered on it. You can choose your jumper and embroidery colour. There are options to add an engraved wooden tag or a printed customised ribbon, making your gift very personal.
If you want something that really reminds someone of you then there is a lovely range of Talking Teddies. Voice Recording Bears | Message Bears (bears4u.co.uk)  You can record your special message to go inside the teddy. Imagine the surprise when the bear is squeezed and your voice comes out!
Your gift can be delivered anywhere in the UK and will arrive beautifully wrapped.  You get a free gift card to let the recipient know it is from you.
The online shop also offers a lovely range of personalised baby comfort blankets. Baby Comforters | Blankies |Gifts for Newborns | Bears4U With the baby's name and date of birth embroidered on it they are the perfect gift for a new arrival.
Bears4u come highly recommended with hundreds of 5-star reviews so head over now to browse Personalised Teddy Bears and Gifts | Customised Teddies | Bears4U the range and find your perfect gift.
Follow us on;
Carla is the founder of MyBump2Baby. Carla has a huge passion for linking together small businesses and growing families. Carla's humorous, non-filtered honesty has won the hearts of thousands of parents throughout the UK.
She has previously written for the Metro and made appearances on BBC News, BBC 5 live, LBC etc. Carla is a finalist for Blogger of the Year award with Simply Ladies inc. Carla is also the host of the popular Fifty Shades of Motherhood podcast and The MyBump2Baby Expert podcast.
https://www.mybump2baby.com/wp-content/uploads/2022/04/best-newborn-gift-ideas.png
630
1200
Carla Lett
https://www.mybump2baby.com/wp-content/uploads/2016/10/Logo-MyBump2Baby_transparent-bg-1-1.png
Carla Lett
2022-04-18 21:38:22
2022-04-23 08:39:45
Best Newborn Gift Ideas 2022