New parents need a product that is n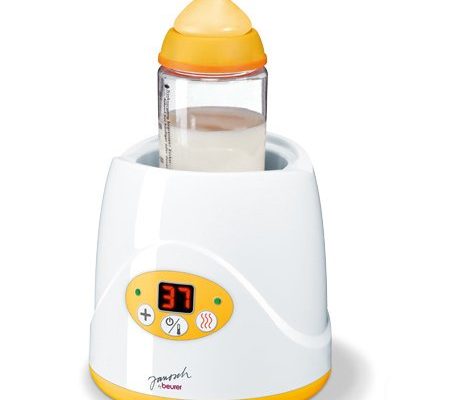 ot only affordable but that is also good in quality – Unfortunately good quality and affordability don't often go hand in hand, however I have carried out a review on the Beurer digital baby food and bottle warmer JBY52 to help you decide whether this product is for you.
[dfrcs name="JBY52″ brand="Beurer"]
This baby food warmer warms up a bottle extremely quickly, it can also be used to warm up any sort of baby food. The baby food or milk will remain warm in the bottle warmer until used, this feature is a true god send for the night feeds. Many mummys make the bottle before they go to bed, they leave the bottle in the warmer until it is feeding time, they add the formula and then feed their baby. There is no need for trips downstairs when you are half asleep (I used to hate that part).
The design of the warmer is fantastic; it is simple to use and the parts are removable and easy to clean. An added benefit to the Beurer above any other bottle warmers is the display of the temperature on the front part of the bottle warmer. Supervision is not needed because the bottle warmer will not warm the content further more once it has reached the wanted temperature. Below the temperature display there are three small buttons; the first one ( + ) helps you set the temperature higher or lower, the middle one (with the turn-off/thermometer print) allows the bottle warmer to start working and the last one (with the wave print) sets the time. It can be adjusted to heat the bottle or jar content from three to eighteen minutes. As soon as the bottle warmer reaches the desired temperature, you can remove the container. The plastic container is especially practical because the opening has a little wider plastic ring, allowing you to take it out without effort and without risk of burning your fingers.
You can heat baby food from 35 to 85 degrees, Why does it go to such a high temperature you ask? The wonderful thing with Beurer Digital Baby Food Bottle Warmer JBY 52 is that it can be used for defrosting too. Another excellent benefit is that the Beurer bottle warmer is that once it reaches the desired temperature, it does not turn off, it simply remains warm and you can leave the bottle inside; the content will remain warm enough for your baby at feeding time.
The product dimensions are 14 x 14 x 13.7 cm and it weighs only 481 gram. This product is light weight which means it is easy to transport wherever you need it.
MyBump2Baby Score

{{ reviewsOverall }} / 10

Readers Score

(0 votes)

MyBump2Baby readers say... Leave a review

Order by:

Be the first to leave a review.

Show more
https://www.mybump2baby.com/wp-content/uploads/2016/10/Beurer-digital-baby-food-and-bottle-warmer-JBY52-Review.jpg
500
453
danny
https://www.mybump2baby.com/wp-content/uploads/2016/10/mybump2babyheader-300x79.png
danny
2016-10-12 20:42:20
2018-07-02 21:38:08
Beurer Digital Baby Food and Bottle Warmer JBY52 Review & Best Price