Mooky Doolittle Pantomime 2017 at Blackpool Circus Review

"Invitation to the Mooky Doolittle Pantomime 2017 at Blackpool Circus," WHAT?? I couldn't believe my eyes, I had to read it out loud a couple of times just to be sure I was reading my emails correctly. Now, I don't know about you but I absolutely love both pantomimes and circus acts but I have never been to anything that has both of those things in one show, nor had I ever heard of anything like it but boy… was I excited?!
My husband, my son and I headed in to Blackpool town centre and parked in the Houndshill Shopping Centre car park which is minutes away from Blackpool Tower Circus, you pay for your parking on return and can pay by card which means you don't have to have spare change on you.
We decided it was probably easier for us to carry George (18 months) as I was aware that buggys cannot be taken directly into Blackpool circus – you have to leave them downstairs in the buggy park which is completely free of charge.
As we headed in to the the Blackpool Circus we had our picture taken against a green backdrop – little did we know the reason why they told us to stick out our arms is because on the actual picture we were going to be walking a tightrope. I personally love the picture, my husband on the other hand was a little embarrased about it (his face actually looks scared and his arm movements are so realistic its untrue) but what a great way to keep a  souvenir of the day. You can choose from keyrings, magnets and lanyards, prices start from £7 and are displayed at the photo desk within the Circus.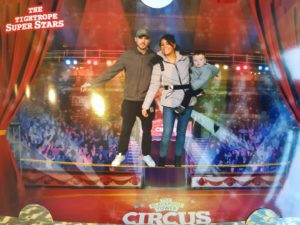 Now, I can't say I wasn't nervous about taking an 18 month year old to a show that lasts 2 hours – I was! I packed plenty of food and drink to keep him quiet and we decided to sit somewhere where we can easily get out without disturbing anyone if George decides to do his usual 'kick off' episode.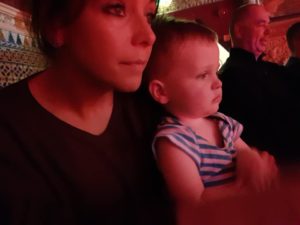 We got ourselves some drinks and snacks from the Kiosk which was reasonably priced and open before the show and in the break.
The kiosk had;
Alcohol – (wine and kopperburg)
Crisps
Tea
Coffee
Fizzy drinks
Popcorn
Ben and Jerrys ice cream
Ice lollies
The kiosk had a meal deal on which meant that we could get a drink, crisps and an ice lolly for £5.00 which was great.
The lights went out and the show started and to my utmost surprise George absolutely loved it. I thought he may be a little too young to appreciate the Mooky Doolittle Pantomime but he spent the whole time laughing and pointing.
I won't go in to too much detail about the "Mooky Doolittle Pantomime 2017" because I would hate to ruin it for you but if you can, just for a second… Picture this;
Mind blowing circus acts, timeless music performances, angelic extremely talented dancers…. all of this whilst listening to a continuous array of gasps, laughs and cheers from the audience from start to finish.. this describes my experience of the "Mooky Doolittle Pantomime 2017" perfectly.
If you want to experience something magical this winter, something that appeals to everyone from toddlers to grandparents then this show is for you!!!!
Don't miss out on the "Mooky Doolittle Pantomine" 2017 at Blackpool Tower Circus.
The show is only on for a limited time only running from 25th November 2017 – 21st January 2017.
Order your tickets by clicking here
You can upgrade to VIP or second row seating by calling 0871 222 9929
Carla is the founder of MyBump2Baby. Carla has a huge passion for linking together small businesses and growing families. Carla's humorous, non-filtered honesty has won the hearts of thousands of parents throughout the UK.
She has previously written for the Metro and made appearances on BBC News, BBC 5 live, LBC etc. Carla is a finalist for Blogger of the Year award with Simply Ladies inc. Carla is also the host of the popular Fifty Shades of Motherhood podcast and The MyBump2Baby Expert podcast.
https://www.mybump2baby.com/wp-content/uploads/2017/11/Mooky-Doolittle-Panto-Review.jpg
954
1200
Carla Lett
https://www.mybump2baby.com/wp-content/uploads/2016/10/Logo-MyBump2Baby_transparent-bg-1-1.png
Carla Lett
2017-11-29 21:03:04
2017-11-29 21:45:42
Mooky Doolittle Pantomime 2017 at Blackpool Circus Review