Bolton Abbey Review
Disclosure: This article may contain affiliate links, this means at no cost to you, we may earn a small commission if you purchase a product through them.
After recently finding out I was pregnant, I have spent the majority of the last 4 months either sleeping, catching up on work or with my head down the toilet, we haven't had many family days out at all and it is something I am keen to change. We have decided that moving forward weekends are all about spending maximum time together as a family, exploring, fun days out and last minute adventures.
A Family Day out at Bolton Abbey
We decided that one of our first days out this summer would be to the beautiful Bolton Abbey , we were really lucky that it was going to be an absolute scorcher of a day so the weather was definitely on side. We decided to pack a picnic, a picnic blanket and head to this beautiful place for a bit of an adventure. I decided that we would also write a Bolton Abbey Review for families whilst we were there.
We have visited to Bolton Abbey for our first visit around the same time the year before and we really enjoyed it. It is a lovely site.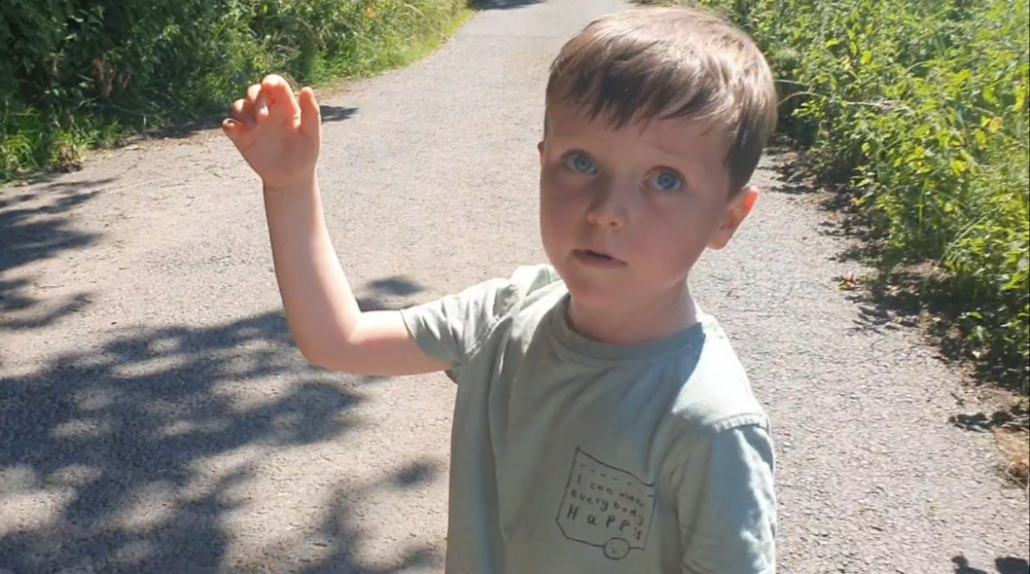 Bolton Abbey Location
Bolton Abbey is located in Wharfedale, North Yorkshire. The River Wharfe runs through Bolton Abbey.
Bolton Abbey Car Park
Before you arrive at Bolton Abbey, you need to book your car parking. The price for car parking at Bolton Abbey is £12.50, you can arrive at any time and stay until closing time at 7pm. There are a few car parks to choose from but we parked at Riverside.
The car parks you can choose from are;
Bolton Abbey car park
Riverside car park
Strid Car Park
Barden Field
Something to consider when booking the car park
Parking must be booked online, you need to state the hour you will arrive so its worth checking the distance on the sat nav and taking in to account any stops you may make on the way. You can arrive in the morning or near closing time and the price for parking is still the same. The opening hours when we went was
Picnic Area at Bolton Abbey
In my video you will see that we found the perfect spot for a picnic which wasn't too far from the car so we could put everything away easily before our welly walk (not that there was much left).
There is so much grass and so many beautiful spots for a picnic. If you forget anything there is a cafe and a little shop too…. don't forget the ice cream kiosk.
Toilets and Changing Facilities at Bolton Abbey
The toilets and changing facilities were clean, well kept and located near the cafe. I would suggest using them before you go on your lovely walk or you may find yourself having a wild wee.
Bolton Abbey walks are Pram Friendly
I was delighted to see lots of prams on the welly walk, I personally didn't have a pram but this was a pram friendly walk.
Stepping Stones in the Stream
The stream that runs through Bolton Abbey is just gorgeous, lots of pebbles to throw and you can paddle in the water. I would recommend bring some swim stuff for your little ones and some beach shoes as the pebbles can be quite sharp for kids.
Kids seemed to love paddling their little feet in the stream, there are some shallow bits. Some Children were swimming with their parents too but I am not sure how safe this is.
George and his daddy loved paddling and pebble throwing.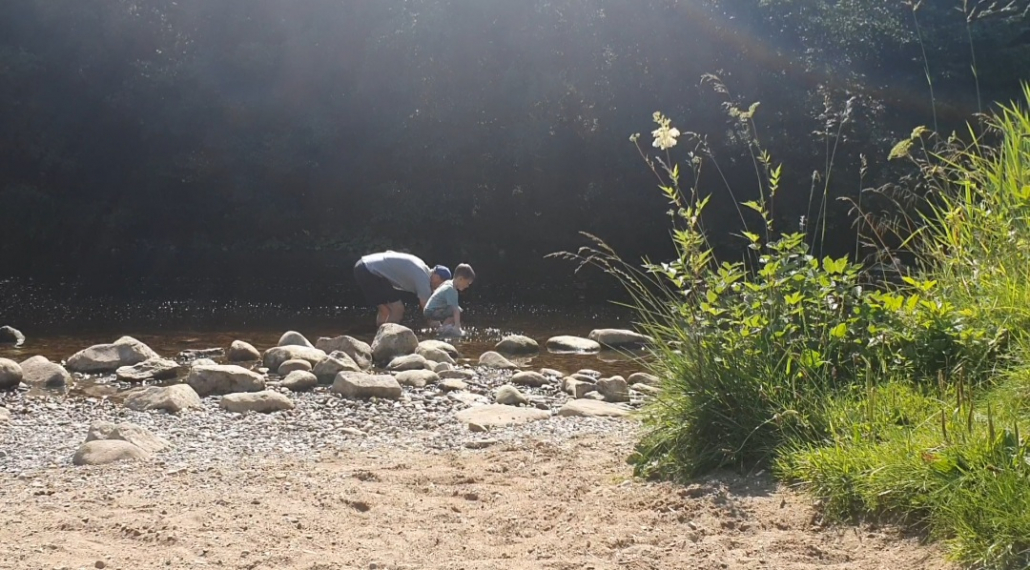 Bolton Abbey Welly Walk
The welly walk was a great way to get your children to walk and had plenty of attractions along the way. You will see the different attractions on my video. George loved it and he walked for much longer than he usually does.
Top tips from our Bolton Abbey Review
Take a back pack to carry drinks
Go for a wee before walking
Wear comfortable shoes
Bring Puddle suits or a change of clothes for your children
Book car park in advance
We love reviewing days out and you can read our other blogs on days out on our website.
What other MyBump2baby families said about Bolton Abbey;
"We have been to Bolton Abbey a few times, it is a lovely place to go. We just love sitting, reading and watching the kids play. We are glad we found Bolton Abbey as it is one of our favourite places to go. There is also a lot of events on at Bolton Abbey including Halloween Trails, shows etc so I recommend taking a look at what is coming up and making a day of it"
"Bolton Abbey is a fantastic place to go, amazing for all the family. Beautiful walks, lots of fun for little legs, we love the afternoon tea at the cafe and watch the kids whilst they play on the pirate ship. The car park is the only cost you have to pay, you can make this day as cheap or as expensive as you want. We do love to eat in the cafe but we don't always. Sometimes we go early and leave by lunch."
Carla is the founder of MyBump2Baby. Carla has a huge passion for linking together small businesses and growing families. Carla's humorous, non-filtered honesty has won the hearts of thousands of parents throughout the UK.
She has previously written for the Metro and made appearances on BBC News, BBC 5 live, LBC etc. Carla is a finalist for Blogger of the Year award with Simply Ladies inc. Carla is also the host of the popular Fifty Shades of Motherhood podcast and The MyBump2Baby Expert podcast.
https://www.mybump2baby.com/wp-content/uploads/2021/07/Bolton-Abbey-Review.jpg
600
1080
Carla Lett
https://www.mybump2baby.com/wp-content/uploads/2016/10/Logo-MyBump2Baby_transparent-bg-1-1.png
Carla Lett
2021-07-18 08:47:44
2023-02-02 13:33:46
Bolton Abbey Review