"You will need to come back for another scan at 32 weeks to check its moved, go to the front desk and they will book it in for you" the lady reassured me "9 out of 10 low lying placentas move by week 32 – you should be fine" she added.
I was so thankful that everything else was fine and I headed back to work with my scan picture to show my colleagues.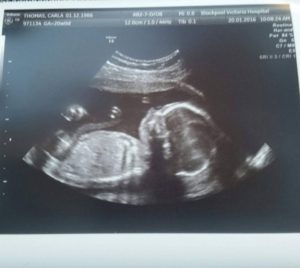 I was 20 weeks pregnant and just getting used to the idea of being pregnant. People say by week 20 you should be feeling fresh and radiant (I certainly didn't) I was already ready to down a bottle of wine with my girls but I had so much in front of me before I could, my hen do in Amsterdam, my wedding and then our honeymoon then the dreaded labor (I was terrified).
When I got home from work, I had my usual nap and awoke to a nice slaver of dribble on my pillow (that's when you know you have had a good nap) and I started looking in to this low lying placenta and what it entails (just in case it didn't move). I read that a low lying placenta that doesn't move means that a c section will be booked for week 39. A low lying placenta was also known as placenta previa and in very rare cases ladies with placenta previa can end up having a big bleed which if not treated quick enough it can be fatal to mum and baby (me being the drama queen that I am instantly thought that it will probably going to happen to me and I would end up dying).
I had my hen do at 26 weeks pregnant and I was off to Amsterdam with my favourite girls. Why Amsterdam when pregnant you ask??? Very good question…. My friends had booked Amsterdam before I found out I was pregnant. My plan was to try for a baby after my wedding and not before but I came off the pill after 12 years to get my body "ready" and I genuinely thought the pull out method would be effective until the wedding day… well let me tell you…. THE PULLOUT METHOD ISN'T EFFECTIVE.
Amsterdam was awe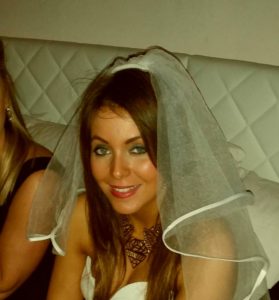 some but different being the sensible sober one (that was never me) but I got to witness my friends many of who had little kids at home, being themselves … getting drunk and having fun… ooo I also went to a sex show too but that is another story.
About a week later, I went to the bathroom and saw some bloody, I instantly went to the hospital where I had to stay for a further 2 days to be closely monitored. They said it is likely that my low lying placenta is still low and it is now unlikely to move and I should not be doing anything including working in case I had a big bleed. Sounds great being off doesn't it? Not really. I felt like a ticking time bomb and I was so bored. I was also put on a sex ban… I was gutted.
A week later I had more blood and had to be admitted to hospital again. This happened each weekend for the next 2 weeks. "I'm getting married next week!" I said to the nurse " I don't think you will be" she replied. My eyes started watering… in reality she was right… I mean I have been in here for 4 weekends in a row now, it's not likely that it is going to just stop.
The week of the wedding I just spent it resting. My family had come over from Canada for the wedding and my mum wanted me to see them. On the Wednesday morning there was a knock at the door. I had just come out of the shower, the house was a tip and I looked like crap. I knew it would be my mum and I thought she would be bringing the family round. I opened the door and she was in tears "What's wrong?" I asked. This was not like my mum… she never cries. "It's your dad he has had a heart attack".
"What do you mean?" "When?" "How?" "Is he ok?"
"I don't know, he went to the hospital himself and wouldn't let me take him and then the hospital rang to say he was having a heart attack". My daddy was my world and I was absolutely devastated. I fell to the floor and just started screaming. Then it hit me… he is meant to be walking me down the aisle in 3 days. My dad and I are best friends, I adore him and I couldn't imagine ever getting married without him. We headed straight to the hospital to see how he was. The doctor said that he had a major heart attack and they will have to see how he is before they can make any decisions about him attending my wedding. Unfortunately whilst I was in hospital my dad had another heart attack which meant that he could not make my wedding and had to stay in hospital whilst they carried out further tests and they decided how they can treat him.
It was Saturday and the big day arrived.. I had no bleeding and I was ready to marry the man of my dreams. I spent the morning getting ready with my 6 bridesmaids. I couldn't stop thinking about my dad – I was truly heartbroken, but I thought I would rather my dad get himself better so that I can have many more years with him and not just one day. I put my dress on and I face timed my dad (th
ank god for technology) he saw me in my dress and he cried (I'll never forget that moment)
My big brother came to rescue and he was happy to walk me down the aisle. The cars came and we were on our way… Luckily Danny my husband had spoke to one of his ushers and his job was to face time my dad practically all day from the ceremony to the last dance it made it easier knowing my dad could watch.
The day was great and everyone seemed to have fun.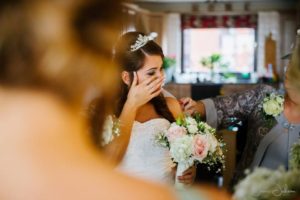 After the wedding I continued to have bleeds and there seemed to be more blood each time. They finally decided to book me in for a c section at 37 weeks (4 weeks away) I had another bleed that weekend and was staying in hospital.. I knew all the nurses by this point and they put me in a side room for my final night before home time the next morning.. I woke up at 2am and felt a trickle of blood… I stood up and turned the light on to check and as I did.. in the corner of my eye I just saw red… my bed was covered in blood. I started to walk down the corridor and the blood was just pouring out of me… so I quickly walked back to the room and pressed the buzzer. The first midwife came in and was so shocked she buzzed for others before I knew it I had 8 nurses round my bed
By now the blood loss was extreme and I found myself getting light headed. I was wheeled on the bed straight to delivery, they quickly explained that with a low placenta there is a chance of a hysterectomy if they can't stop the bleeding but before they do that they will try putting in a balloon to help put pressure on the walls of the uterus and then packing me with material. I quickly signed to say I accepted the risks involved and they explained because of the amount of blood they wanted to put me to sleep… I begged them not to, I was terrified I wouldn't wake up they had to act quickly and agreed to my request. I had my spinal block anI was instantly numb. It was strange because I could feel touch but I couldn't feel pain. They moved me on to the correct bed and there were 12 doctors and nurses in the room and then my husband Danny walked in with his surgery gear, I was soooo pleased to see him, I instantly felt safer. The C-section was in process and I was waiting for the nurses to dangle my son over the screen (my friends told me this is what they do) but it didn't seem to happen. I turned my head at one point and I saw George being worked on in the corner of the room.. a few minutes later Danny was then asked to go over and he cut the cord. They quickly showed George to me but before I could focus properly he was taken to the neonatal unit, he has lost too much blood and needed a transfusion. I heard the nurses say that they were going to give the balloon a try to see if it would stop the bleeding, once I was sewed up they wheeled me to be monitored for a few hours. My mum stayed with me to make sure I was OK, she said that I was in shock for quite some time. Apparantly I was telling the surgeon all about my small fried egg boobs and how I wish they were bigger…. CRINGEEEEE
Please read my next blog for the follow on of this story.
Save
Save
Save
Save
https://www.mybump2baby.com/wp-content/uploads/2016/08/me-dan.jpg
321
686
Carla Lett
https://www.mybump2baby.com/wp-content/uploads/2020/02/Logo-300x81.png
Carla Lett
2016-08-18 12:04:13
2017-11-04 21:59:15
Placenta Previa, A Heart Attack, A Wedding and a C Section all in the space of a month... and BREATHE