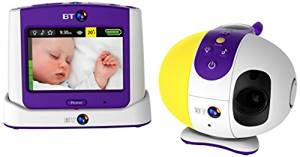 MyBump2Baby Score
MyBump2Baby Readers Score
Overview
Bring on the heavenly soothing lightshow to your baby! The BT Video Baby Monitor 7500 Lightshow is not just all about its twinkly stars and tunes. This state of the art video monitor offers a wide range of features – pan, tilt, zoom, infrared night vision, temperature display and two-way communication, which means you can talk to your baby through the parent unit (the piece you control) and calm him/her down if you need a few extra minutes before you can finally come to the rescue. This is one of the few monitors designed in the UK, with BT working with real mums and dads throughout the product development.
Specifications
This video monitor includes three functional pieces – the charging dock with micro USB charging cables, the parent unit and the wall mountable baby unit, with screws included.
The parent unit is portable, compact and sturdy, with a 3.5 inch colour touchscreen LCD display. It projects a clear image at 480 x 320 resolution, making the night vision mode extra reliable. For optimal views, the image can be zoomed 2x to 3x. The unit has capacity to connect to up to four cameras (sold separately). Other settings which are viewable and/or controlled through the parent unit are the pan/tilt function, music with 19 lullabies, low battery indicator, the vibrating alert, the cry alert and the nightlight to sooth and comfort your baby in the dark. Another cool safety feature you can view is the baby's room temperature. If that's not good enough, the unit features an alert when temperatures considerably fluctuate and may not seem suitable. The temperature sensor alerts you when the temperature falls below 15 degrees or above 25.
The baby unit is all sorts of wonderful. It is egg-shaped, where half is a nightlight and the other half is the camera compartment. There aren't too many baby units out there with a nightlight but this comes handy. The warm orange glow definitely soothes your baby while helping him/her sleep in a dark room. The most talked about features are the lightshow and the 19 lullabies that can be remotely controlled from the parent unit. Sparing you from stretching your vocal cords, surely most will consider this option a better way to help tuck your baby to sleep. For a better night vision and peace of mind, infrared helps monitor a clear image at night. If that's not enough, its HD sound offers crisp audio, so sensitive you can even hear your baby's breathing.
Another notable feature of the BT Video Baby Monitor 7500 Lightshow is the two-way communication. Surely you will agree, this feature is a bonus, especially when you are in the loo… or doing just about anything, when you're baby cries or looks for you. With a simple touch of a button, you can easily say, "It's ok baby. Mummy is coming!"
Ease of Use
Anyone with a smartphone can pretty much navigate through this video monitor with ease.
A plug and play device with most of its functions intuitive enough that reading the manual might not be necessary (although the manual provided is quite easy to read). Visual icons on the touchscreen are straightforward, you would know what to press: the lightbulb for the light, the music note for the lullabies and so on.
Quality
Some may consider the BT Video Baby Monitor 7500 Lightshow pricey, but compared to other devices, this baby video monitor definitely offers several features worth the price, that breaking your wallet may not seem so awful. Picture quality and HD sound are great; battery life is excellent at 7 hours 29 minutes of constant video and 15 hours 2 minutes for audio only. But of course battery runs out faster if you play around with the parent unit consistently. Overall, the great attention to detail in the design, the safety features and the added frills are so well thought out that the price is consistent to its value. Not to mention, it's so easy to use that even granny can handle it.
Awards/What Other's Say
The BT Video Baby Monitor 7500 Lightshow has proven to be a true upgrade of the BT Video 1000, as confirmed by BT and its users. It is recognized and awarded Mother & Baby Gold for best baby monitor. It has also been rated 4/5 stars on Amazon based on user reviews and included in a few site reviews, ranking within top 1-5 on average.
[amazon template=just review&asin=B00P7MVSR0]
Conclusion
If you're looking for a baby monitor with great appeal, easy to set up and offers fantastic safety features, the BT Video 7500 Lightshow is for you. So when you want to get on with that chore you've wanted to finish up, watch TV or read a book in the other room, the BT Video 7500 Lightshow will give you complete reassurance that your baby is safe and sound in the cot.
Display the users reviews only
MyBump2Baby readers say... Leave a review
Order by:
Be the first to leave a review.
Show more
Display the form for user rating
https://www.mybump2baby.com/wp-content/uploads/2016/10/bt-video-baby-monitor-7500-lightshow-review.jpeg
157
300
Carla Lett
https://www.mybump2baby.com/wp-content/uploads/2016/10/Logo-1-300x81.png
Carla Lett
2016-10-01 19:06:07
2020-01-14 15:03:25
BT Video Baby Monitor 7500 Lightshow Review