Can cinnamon cause a miscarriage?

In early pregnancy, it is common to feel anxious about what you're eating. After all it's not just you that you're feeding, it's your unborn baby too. There are a few items you're told to avoid in pregnancy, but what about cinnamon? Can cinnamon cause a miscarriage?
This blog includes:
Health benefits of cinnamon
Cinnamon in pregnancy
Can cinnamon cause a miscarriage?
Signs of a miscarriage in early pregnancy
Other foods to avoid in pregnancy
Cinnamon is a well known spice used in both sweet and savoury dishes. There are many different types of cinnamon that vary in strength and have different flavours. The spicy flavour comes from cinnamon bark.
The strong flavours associated with this spice means that you usually know when you're eating something with cinnamon in it. It's a delicious spice with many health benefits. You can also get drinks flavoured with cinnamon such as cinnamon tea.
Health benefits of cinnamon
There are benefits to eating cinnamon, though not in large quantities. Cinnamon is known for being full of antioxidants. Antioxidants can help to strengthen your immune system which is important for pregnant women whose bodies are changing.
Cinnamon can help to regulate blood sugar levels, improve blood flow, lower blood pressure and improve heart health. This can help to reduce the risks of heart disease.
Its anti-inflammatory properties can help to reduce the effects of swelling in pregnancy. Around the middle of your pregnancy, it is not uncommon to experience swollen ankles and feet.
Cinnamon also has antimicrobial properties which means it is able to fight off bacteria.
There are many health benefits of cinnamon, which is why it is used in food and drinks around the world. But while it may promote good health, can cinnamon cause a miscarriage?
Cinnamon in pregnancy
The average person's regular consumption of cinnamon is unlikely to impact your pregnancy. But, cinnamon is rumoured for its ability to induce labour. There are many suggestions for inducing labour, such as eating spicy foods and even curb walking.
There are many forms of cinnamon but some are more popular than others. These include ceylon cinnamon and cassia cinnamon. Large amounts of cinnamon consumption even without pregnancy can sometimes cause problems.
Some people choose to take cinnamon supplements to benefit their health. In pregnancy it is not recommended to take extra cinnamon essential oil or supplements containing cinnamon.
Pregnant women may be advised to monitor their blood sugar levels. This can often be done to spot the earlier signs of diabetes in pregnancy. Consuming cinnamon in minimal quantities shouldn't usually cause a risk.
Minimal quantities would usually include having cinnamon as a flavouring on a snack or within a meal. Snacks may include bakery products, which should be eaten in small doses to control blood sugar levels. Frequently consuming high sugar items may put you at increased risk of gestational diabetes.
If you are a pregnant woman taking blood thinners, it's likely that you would be told to avoid cinnamon.
Can cinnamon cause a miscarriage?
There is no scientific evidence to suggest that cinnamon can cause miscarriage in pregnancy. However there is evidence to suggest that it's best to have minimal amounts of cinnamon, whether you're pregnant or not.
Cinnamon can cause liver damage. Therefore, it's best to be consumed as you would usually with it accompanying a dish or snack, such as a cinnamon roll or croissant.
Although there are health benefits associated with cinnamon, such as preventing high blood pressure. You should not start taking cinnamon supplements in pregnancy. These supplements can include: cinnamon oil, cinnamon pills or even cinnamon powder.
If you're unsure about how much cinnamon you usually consume and whether it's safe in pregnancy, ask your midwife. This is particularly important if you are a high risk pregnancy. They will be able to advise you best based on your personal circumstances.
People often report that drinking cinnamon tea leads to minimal cinnamon consumption, but it's best to check first. So, does cinnamon cause miscarriage? It's hard to find solid evidence.
Signs of a miscarriage in early pregnancy
Unfortunately, most women who experience a miscarriage are only in the first trimester of pregnancy.
There are some signs of miscarriage to look out for in early pregnancy. If you believe that you are having a miscarriage or are worried about the signs, seek advice.
In the early stages of pregnancy, you may be invited for a transvaginal ultrasound. This varies from a standard ultrasound as it is performed internally rather than externally.
A transvaginal ultrasound involves a lubricated wand being inserted into the vagina. This is used due to your baby currently being too small to see on a regular ultrasound.
Vaginal bleeding
The most common sign of pregnancy loss is bleeding from the vagina. If you experience bleeding at 4 weeks pregnant, you should tell your doctor. While it might be nothing to worry about, it could be a sign of something more serious.
When suffering from a miscarriage, the colour of the blood is important to monitor. In some cases, the blood may be light spotting or brown. Brown blood is often referred to as old blood. For others, the blood may be bright red and appear thicker and clotted.
Vaginal bleeding will likely come as a shock and isn't very nice. However, bleeding at 4 weeks pregnant isn't too uncommon. Many women experience this and it is known as implantation bleeding.
Implantation bleeding occurs when the embryo attaches itself to the uterine wall. This can also cause cramping at 4 weeks pregnant.
Cramping
When experiencing a miscarriage, you may also have pains in the stomach. It's important to monitor cramps as they may be associated with baby implantation.
If your cramps seem to get much worse or you experience a heavier blood loss, you must seek medical advice. This could be a sign of miscarriage or even ectopic pregnancy.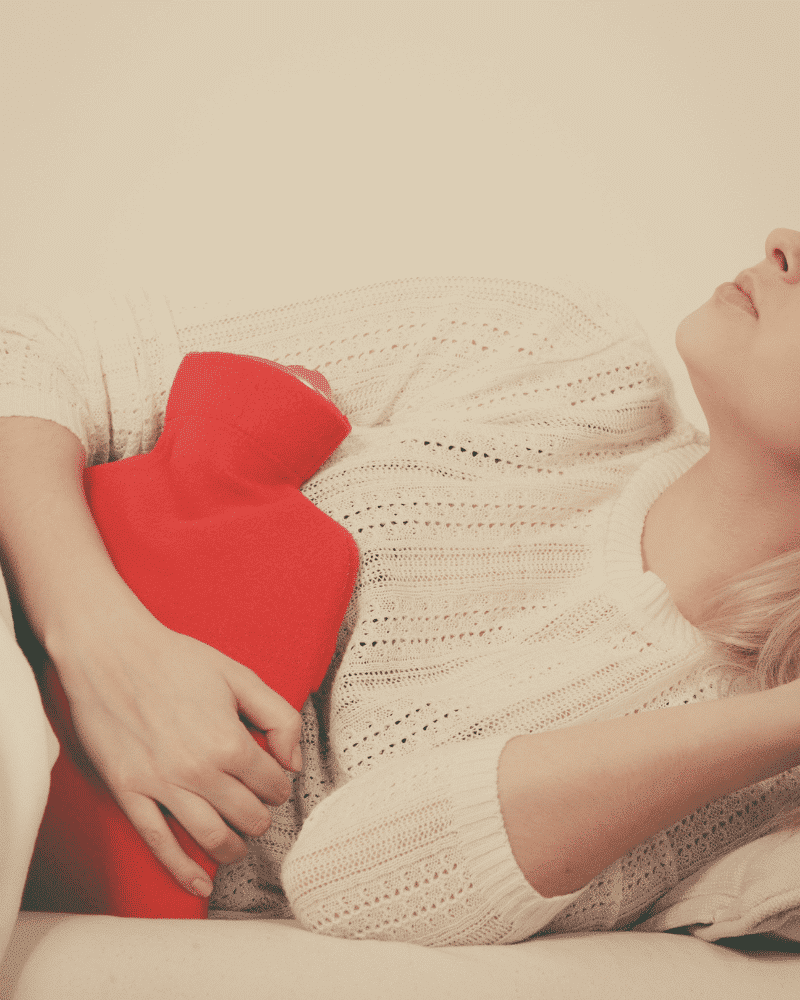 Pregnancy feelings
Another common sign of miscarriage is no longer experiencing pregnancy symptoms. In this early stage of pregnancy, you may have only experienced a couple of symptoms. These may include sickness, tiredness or sore breasts.
If you have previously experienced these pregnancy symptoms and you aren't anymore, you may want to get checked out. It might just be that your body is no longer being affected by these symptoms. But, it could also be the early signs of miscarriage.
If you are experiencing a suspected miscarriage, you should be referred for tests. These tests may include an ultrasound or a blood test to measure pregnancy hormones.
Blood tests can measure hCG levels in pregnancy in the same way that home pregnancy tests do. HCG is a pregnancy hormone that is likely to drop to a lower level if you experience pregnancy loss.
Dealing with a miscarriage is very tough and the process can be mentally draining. There is help and support available should you need it. We would also advise you to take your time, tell people when you are ready to and try to take it easy.
Other foods to avoid in pregnancy
In pregnancy, it is safe to continue eating most foods. However there are some foods that should be avoided to ensure that your baby is safe. These include:
Certain dairy products
Some meats
Some egg products
Some fish
All alcohol
Additionally, there are other foods and drinks that should be limited. These include but are not limited to:
Caffeine
Herbal teas
Liquorice
Your healthcare provider should be able to inform you of the specific foods to avoid in pregnancy. They can provide guidance on diet based on your individual needs.
Lucky for cinnamon lovers out there, the advice in pregnancy is to eat small amounts, not avoid cinnamon altogether. If you typically only have cinnamon every once in a while then you can probably continue as normal. But, too much cinnamon can be dangerous.
Maintaining a healthy diet in pregnancy is very important. Ensuring that your baby has all of the essential nutrients will promote baby growth and a healthy pregnancy.
If you're worried about your diet, speak to a healthcare provider who can advise you. They will know how much cinnamon is safe to consume.
If you believe you are suffering with an early miscarriage, seek help as soon as you can. This is the best way to get access to support.
Why not check out our articles Foods to Avoid in the First Month of Pregnancy and Things to Avoid in Early Pregnancy?
Hey there, I'm Abigail! 
I recently graduated with a degree in Marketing. I'm currently a freelance blogger and Marketing Assistant. I love learning new things and hope that you find my blogs useful and informative.
See you in the next article!
https://www.mybump2baby.com/wp-content/uploads/2022/08/Can-cinnamon-cause-a-miscarriage.png
260
750
Abigail Sproston
https://www.mybump2baby.com/wp-content/uploads/2016/10/Logo-MyBump2Baby_transparent-bg-1-1.png
Abigail Sproston
2022-08-04 14:44:05
2023-01-27 11:53:40
Can cinnamon cause a miscarriage?