Cold Cast Metal – Capturing the Art and Beauty of Life-casts
Capturing the art and beauty of life-casts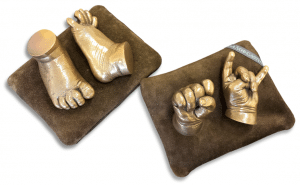 Image Casting create beautiful casts in a variety of materials from cold cast metals, to real metals (hot founded metals) and glass and we are often asked to explain how the metal casts differ.
Traditional bronze and sterling silver casts – hot metal casts – are made in a foundry using the "lost wax" method which is a complex, time and labour intensive process. It requires an artisan with years of experience to create a good quality cast, with skill and judgement being exercised at every step of the process. This is especially true in achieving the precise temperature of 1200 degrees for the molten bronze!
If you are interested in the full process and the complexities of hot metal casting Wikipedia provides a good general overview of the process – Click here to read it.
Hot metal casting (lost wax method) is a diminishing craft and this, combined with the increasing costs of raw materials, has resulted in a significant rise in the price of real bronze baby hand and foot casts.
What is "Cold Cast" Bronze?
Cold cast bronze is also known as bronze resin or bonded bronze and, as the name suggests, does not require any heating which makes it more accessible. The initial process of creating a mould is the same as for hot metal casts but after that the process is quite different. Unlike hot metal casting, the entire cold cast process is completed in-house.
A two-part epoxy resin forms the basis of the cast. The two liquids are combined and at Image Casting we mix in real metal powder which is poured into a silicone mould and then left to cure to create the cold cast. By mixing the metal powder throughout the cast it creates weight and ensures there is an even colour across the surface.
The cast is then very carefully polished and finished to bring out the shine and beauty of the metal and the fine detail of the cast. If comparing directly to real hot cast bronze, the cold cast finish is like a mid-patination, so a warm mid brown rather than the traditional dark patina that is often associated with real bronze. The casts can be difficult to tell apart by look alone but if a cast is warm to the touch or can be scratched with a key or coin, it is more likely to be resin than real bronze.
With our bronze cold casts, we pack plenty of bronze metal powder into the resin so there is a good weight to the cast. Some companies choose to cast a shell of bronze resin, which is just a thin layer that coats the mould, and then use a light mineral-based filler to fill the rest of the mould. Others may use acrylic paints applied directly onto the surface of a plain resin or plaster cast which flattens the surface in comparison and makes for a much lighter weight and doesn't look or feel like real metal.
As you can tell, the process is considerably faster and less expensive than that required for hot metal bronze and another advantage of cold casts over real metal is that they can be framed as well as freestanding.
 What can be cast in cold metal?
If a mould of an object can be made, then a cold metal cast can be created!
For more delicate objects the mould may need to be made in 3 or 4 sections so that nothing gets damaged in the original object and this requires great skill to ensure that the joins are not visible in the finished cold cast.
What have Image Casting made in Cold Metal?
A child's plasticine model of her Dad!
An imprint of a dog paw that had been made in a concrete slab
Copies of plaster casts
Sir Ian McKellen's hands
A tiny dummy for a premature baby
A rubber duck!
Whether it is casts of your baby's hands and feet or another unique keepsake that you would like to create, we are always happy to talk through your ideas!!
Carla is the founder of MyBump2Baby. Carla has a huge passion for linking together small businesses and growing families. Carla's humorous, non-filtered honesty has won the hearts of thousands of parents throughout the UK.
She has previously written for the Metro and made appearances on BBC News, BBC 5 live, LBC etc. Carla is a finalist for Blogger of the Year award with Simply Ladies inc. Carla is also the host of the popular Fifty Shades of Motherhood podcast and The MyBump2Baby Expert podcast.
https://www.mybump2baby.com/wp-content/uploads/2019/02/Image-Casting-.png
569
923
Carla Lett
https://www.mybump2baby.com/wp-content/uploads/2016/10/Logo-MyBump2Baby_transparent-bg-1-1.png
Carla Lett
2019-02-13 21:27:24
2019-02-15 16:26:35
Cold Cast Metal - Capturing the Art and Beauty of Life-casts