So as your probably aware from my many, many posts last week (sorry about that) that I was on my first family holiday in Tenerife. Many of my friends have asked me … how did George behave? And quite frankly I am not sure. I have never taken a 9-month old baby abroad before so I suppose I have nothing to compare his mood swings, loud screams and daily tantrums to, let me explain to you how he behaved and then I guess you can decide for yourselves.
The only thing I was dreading about the holiday was the airport and the flight but after a stressful 5 minutes at security the airport part was fine…. PHEWWWW We sat down and grabbed a bite to eat and then we heard "Final call for Tenerife" so off we ran like maniacs through the airport with the pram. We eventually found the gate and off we went through the tunnel on to the plane. There was a slight queue as people were putting their luggage away and I slowly made our way down the plane holding George, he was leaning out of my arms like a giant baby grinning at people but clearly looking for trouble.  I could see the panic on people's faces whilst they were thinking pleaseee don't sit him next to me, but at the same time covering that thought with an "awwww look at him" … I don't blame them really; I know exactly how they felt even I didn't want to sit next to the little monster. As we walked past each row I could feel people sighing with relief… Eventually we sat down near the back of the plane and I apologised to the people
sat around us right away however surprisingly with a little help from baby TV, George and my friends baby Lucia fell asleep almost straight away for the majority of the flight which meant my friend Marcella and I could enjoy a few Proseccos whilst our husbands sat in front of us paying for them as we requested them, giggling like school girls – it was great. So George's behaviour on the way there was bloody brilliant, I took a sip of my prosecco sat back and thought, this holiday is going to be a breeze… Little did I know….
When my little darling awoke it wasn't too far until landing time… I gave him a bottle and he polished it off and then proceeded to vomit all over my leggings, now this was a little embarrassing walking around the airport waiting for the luggage especially when his dad was carrying him and wasn't anywhere near me.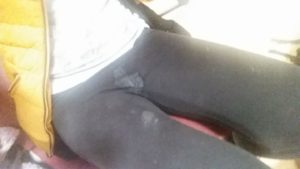 So we stepped out of the taxi at our lovely hotel, Hotel Fanabe, Costa Adeje in Tenerife. After checking out the hotel which was fabulous, we decided that we couldn't wait any longer to get out in to the sun… we were meeting our friends that night for a meal but we were starving so decided to have a pizza to share and a couple of cocktails. We found a quaint little restaurant on the seafront and it was like a dream. The waves were calmly hitting off the rocks and there was a light breeze running though my hair and I couldn't help but notice the light smell of sun cream. The cocktails were delicious, it was such a beautiful moment and then the pizzas came out….  it was at that point that the dreaded screams began. Now George has always liked his food.. and he doesn't like us eating without him, he usually cries until I give him something to eat at the same time. As soon as he saw Danny and I eat he proceeded to scream, the scream wasn't a normal scream it was a high pitched scream and it sounded like something out of a horror movie…. I quickly gave him some food but it wasn't enough and the screame
d more and more. At one point it reminded me of a scene from the film "Jaws" you know… the bit when they are just throwing things in to his mouth hoping he will calm him down and eventually leave them alone… but it didn't seem to work, so what began as a lovely picturesque peaceful restaurant by the calm sea became a hellish atmosphere of baby screams and the sea no longer looked calm in my eyes… The seemingly busy restaurant soon became empty.
Now I am not the type of person to argue in public or…cause a scene in front of other people so George behaving like this each time we went for food was a little embarrassing but my friend Marcella told me he was probably teething. I went with what she said and just used it as an excuse for the remainder of the holiday… telling people "he is just teething" like it is a valid excuse for his devilish behaviour. I did think it was a bit odd how every time we got food his teeth would start hurting but I just went with it… It is better than just saying to to people…. oh sorry about the noise my son is just a greedy pig.
Holidays for me are now a completely different ball game, I remember the peaceful days, sipping cocktails in the sun, reading books and worrying about if I have spent more time on my front than my back. Now I worry about whether George has pooed enough, eaten enough, drank enough water and has enough sun cream on and I wouldn't have it any other way….well I probably would but I can't!!!! haha
https://www.mybump2baby.com/wp-content/uploads/2017/01/family-holiday-1.jpg
701
526
Carla Lett
https://www.mybump2baby.com/wp-content/uploads/2020/02/Logo-300x81.png
Carla Lett
2017-01-31 11:39:56
2017-06-20 12:19:51
Mood Swings, Loud Screams and Daily Tantrums