I don't know anyone who doesn't love a family trip to a pantomime around Christmas and if I did, well…. I would probably be questioning our relationship right now!
Pantomimes around Christmas are a tradition for most families, a tradition that has often been passed on from generation to generation. Pantomimes are often based around kid's stories combining the perfect balance of magic, audience interaction and music peppered with witty humour creating an everlasting memory for all the family – whatever the age.
We reviewed the fantastic Mooky Doolitte Christmas pantomime this time last year and of course, we jumped at the chance when we got invited to this years "Aladdin Christmas Pantomime" at Blackpool Circus. I personally love the added edge that a circus panto brings above the usual pantomimes. Last year our son George was 18 months old and he really enjoyed the Mooky Doolittle Pantomime so I was really excited for us all to go again this Christmas.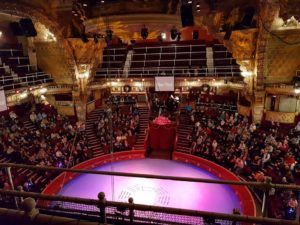 You can read our Aladdin Christmas Pantomime, Blackpool Circus overall review below.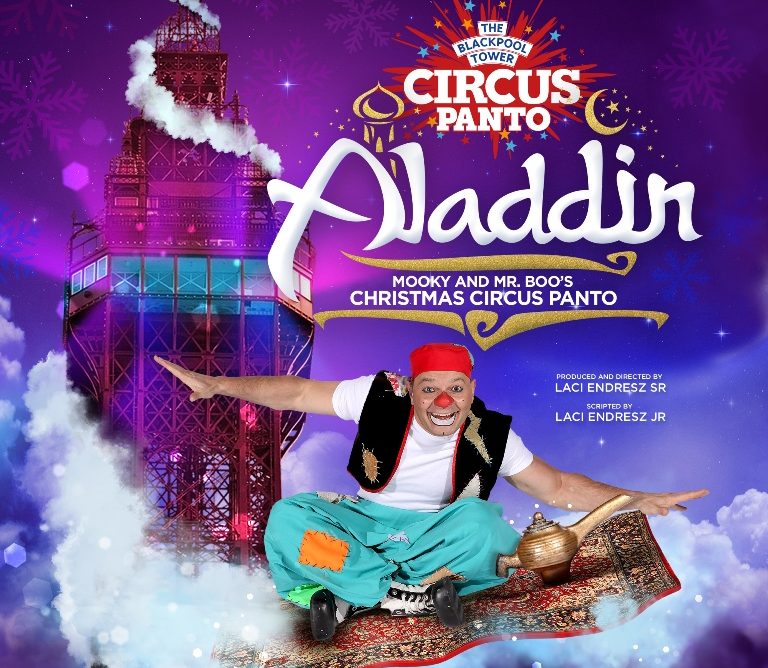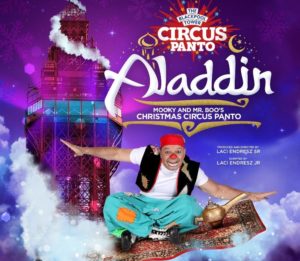 Parking
We parked in the Houndshill shopping centre car park in Blackpool, you can pay via card or cash when you return to your car.  The walk from Houndshill shopping centre car park to Blackpool tower takes around 5 minutes. The postcode for the houndshill car park is FY1 4NY.
I would suggest leaving the pram in the car as they cannot be taken in to the circus and must be left in the buggy park downstairs.
Ticket Prices
The Blackpool Tower Winter Pantomime now! Season runs between 24/11/2018 – 20/01/2018
Save money if you can by booking online by clicking here
You can upgrade to VIP or second row seating by calling 0871 222 9929 or via the link above.
 

Adult (15+)

£16.50 walk up price

 £14.00
 

Booked online

Child (3-14 years)
£13.50 walk up price
£11.50
Booked online
Toddler (Under 3)
£5.95 walk up price
£5.95
Booked online
Group of 4*
£54.00 walk up price
£46.00
Booked online
Safety
You will struggle to get telephone signal in the circus and it can get a little confusing when looking for your seat especially as it is dark during the show. I strongly suggest that you have a meeting point should anyone get lost.
Recommendations for babies and toddlers
2 hours is a long time to keep a baby or young toddler happy and interested – George can't even colour in felt tips on our walls for that long so I knew he would probably get a little stressed sat in the same seat for 2 hours. I would suggest bringing milk and some snacks if you can. We brought a couple of emergency sweets that George could eat and we also treated him to an ice lolly and juice in the interval which kept him quiet.
The Refreshment kiosk had;
Alcohol (always handy if your child is giving you a hard time)
Crisps
Tea
Coffee
Fizzy drinks
Popcorn
Ben and Jerrys ice cream
Ice lollies
 The Aladdin Pantomime, Blackpool Tower Circus 2018
 The Aladdin Pantomine at Blackpool tower circus is the perfect combination of theatre, music, dance, jokes, audience participation, and mild yet hilarious innuendos. We laughed from start to finish. The first half displayed the most beautiful rendition of "A whole new world" and once the circus ring filled with water, Aladdin and Jasmin sat on the magic carpet and made their way around waving at the audience – a tear actually fell down my cheek (ok, ok I may have had a few too many vinos the night before but it really was a beautiful moment)
By the second half it was clear to see that Blackpool circus had really upped their game since last year, the jaw dropping acts that were totally different to last year which was refreshing and showed how dedicated and hardworking the performers must be.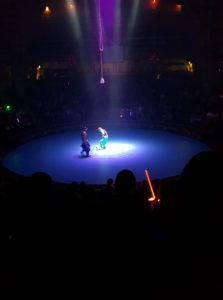 If you are looking for a pantomime with an extra sprinkle of edge from daredevil performers to keep you gasping throughout then look no further Aladdin Pantomime at Blackpool Circus is for you.
Get your tickets here
https://www.mybump2baby.com/wp-content/uploads/2018/12/Blackpool-tower-circus-panto-2012-768x668.jpg
668
768
Carla Lett
https://www.mybump2baby.com/wp-content/uploads/2020/02/Logo-300x81.png
Carla Lett
2018-12-04 22:32:58
2018-12-04 22:40:11
Aladdin Christmas Pantomime Blackpool Circus