We were so lucky that we chose to visit CBeebies Land on what happened to be the hottest day of the year so far, I mean this kind of luck never happens to us – like ever! We packed up some sweet treats, sun cream, nappies, wipes and plenty of snacks and headed to CBeebies Land located inside the Alton Towers theme park.
Last time I visited Alton Towers I was a twenty something year old thrill seeking theme park lover whose only worry was paying my phone bill on time and now I am returning to the beautiful grounds of Alton Towers as a married mother of one and the only thrill seeking I seem to get at the moment is when I snoop down the reduced section in my local supermarket – so you can imagine my excitement when we were invited to review CBeebies land – I may have peed a tad to be brutally honest!
MyBump2Baby's CBeebies Land Review
Parking
Parking at Alton towers is currently £6 for the day and is paid when you exit the park. A huge tip in regards to parking is to remember the letter of where you parked. The carpark was pretty empty when we got there and for some reason we never took note of where we parked – BIG mistake! Yes, we were the family wondering aimlessly around the car park at around 5pm with the screaming child.
Opening times
Opening times were 10am – 5pm for CBeebies Land in Alton Towers. Please note that these times can change depending on the day or time of year so make sure you check the website in advance.
Ticket prices
Ticket prices were all inclusive of both CBeebies Land and Alton Towers which means you are free to go wherever you like in the park. The prices were £32 if you book 5 or more days in advance or £55 for a day ticket which also includes a free pass for the rest of the season. Children under 3 go free (these prices are based on the 22/05/2018).
Our First Impressions
Me, behaving like the immature child I am, insisted that we had to get the monorail to the park to get the "full experience" we had just missed a train so had to wait a few minutes for another – when we did finally get on the monorail the Alton Towers theme tune began and it was truly magical – well for about 7 seconds anyway, as the theme tune was quickly drowned out by the deafening tantrums of our 2-year-old shouting for the one snack I hadn't packed.
The park is definitely within walking distance of the car park so if you fancy the walk instead of the monorail then it isn't too far.
As we entered the park our bags were checked, you are allowed to pack food and the grounds are absolutely beautiful so to save yourself some pennies and make a picnic if you can – I wish we did but to be totally honest with you, it is lucky we get out the house at all most days.
CBeebies land is one of the first areas we saw, it is perfectly placed right near the entrance of Alton Towers. I was so happy when I saw it, we have been to theme parks before and although my husband likes to think he is Google maps but we often end up lost! There was no getting lost today!
As we reached the entrance of CBeebies land we were greeted by a very happy staff member that took the time to speak to George and advise us of the show times which was really useful. She also directed us to the map so we could find exactly what we were looking for right away. We decided to have a wander round first and let George decide what he would like to go on first.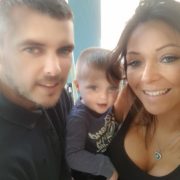 The "In the night garden magical boat ride"
George saw a picture of the in the night garden ride and ran towards it shouting "Pacca, Pacca" we decided to quickly dump the pram in one of the many pram drops (remember to note which one you leave your pram in) and get in the queue. The estimated time for the ride was 25 minutes and my initial thought was "how the hell will he cope in a queue for 25 minutes?" Luckily, I had a rucksack packed plenty of snacks and loaded my phone up with Netflix and IPlayer downloads. I was impressed to see that Alton towers had identified the fact that bored toddlers can be a tad difficult and they placed some fun noisy games in the queues which kept kids entertained.
The 25 minutes seemed to pass by quicker than I thought it would, with the odd slap to the face all in all it wasn't half as bad as I thought it would be. We stepped on board a lovely little boat. The theme tune began playing and our magical "in the night garden" journey began. The boat ride was lovely and the scenes were set out exactly like the programme. The audio on the boat also told us the character's names as we sailed towards them. When it was time to sail towards Macca Pacca George began excitedly screaming out "Pacca, Pacca, Pacca" until he saw Macca Pacca and then he went incredibly shy – it was really cute. To be totally honest I thought Macca Pacca was the blue character until I went on the ride so it was extremely educational for me and my husband too.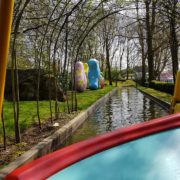 Postman Pat Ride
George has never expressed an interest in Postman Pat before our trip to CBeebies land but as soon as he saw other kids driving cars and their parents squashed in the back like sitting ducks, George being the bossy little monster he is, made a beeline for it. The queue for this one was 30 minutes long, I brought the rucksack of treats and had apple, crisps, raisins at the ready, I also had an extra tight grip of the Curly whirly in my pocket should things really "Kick off!" We showed George lots of Postman Pat videos so he got extra excited.
George laughed his head off the whole way round this ride, he loved it that much that we had major tantrums when his turn came to an end.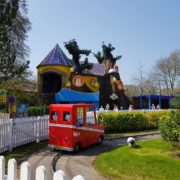 Something Special Sensory Garden
Now, I have to be totally honest with you – I breathed a sigh of relief when I saw "The Sensory Garden". In my head this was the perfect excuse to let George run around like a maniac so that mummy and daddy could enjoy a meal in peace afterwards whilst he napped.
George loved running around the sensory garden, he copied the children in front of him and they were showing him what to do. It was a great break away from the rides and was a good place to go where George could let off some steam without feeling restricted.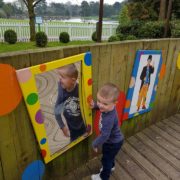 The Numtums Number-go-round
This ride is like a merry go round and the children get to sit on their own numtum cart. The other kids loved the ride, George loved it until the ride started and then he saw it as the perfect opportunity to make a scene. I wanted to hide so badly but unfortunately when you are on a kid's merry-go-round no matter how hard you try to look down in sheer embarrassment, you seem to make eye contact with the same people again and again and again. This was probably George's least favourite ride but that could be because he was ready for his nap.
Get Set Go Tree Top Adventure
In hindsight we should have gone on this ride first so we could point out the different areas we wanted to go to. This ride is a high cart where you and your little one sit in a car and view the wonderful CBeebies land from the treetops.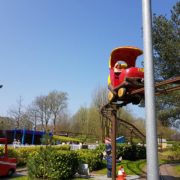 The Furchester Hotel
If you love the "muppet show" you will love the furchester hotel. I loved the way the muppets interacted and played games with the kids, there was dancing and lots of laughs. The show didn't last very long which was perfect for a 2 year old.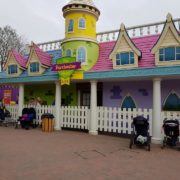 The Showtime Area
The showtime area is where the character meet and greets take place and the live shows are held. There were tons of games to play with and plenty of space for little ones to run around freely. We were in there for about an hour playing with the hula hoops and meeting the "In The Night Garden" characters.
A real bug bear of mine is paying a fortune to go to a theme park and then having to pay for pictures with your favourite characters. CBeebies land impressed me massively with the free meet and greets and they even offered to take pictures for you on your mobile phone.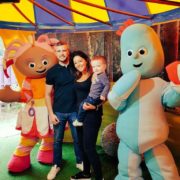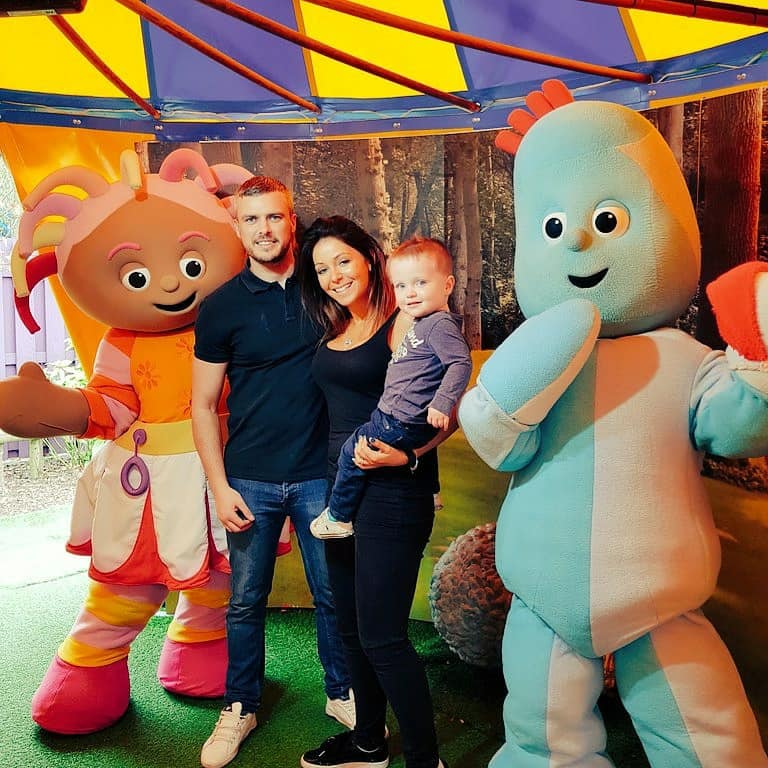 Other Attractions in CBeebies land
Unfortunately, one day is never enough for a theme park and sadly we didn't have time to go on everything but we definitely did make the most of our time in CBeebies land. Some of the other rides we didn't manage to go on included;
Tree Fu Tom Training Camp
Charlie and Lola Moonsquirters and Green drops
Nina's Science Lab
Justin's Pie-o-matic Factory
Mr Bloom's allotment
Oconauts
Jet Setters
Grub for the Belly

Anyone who knows me personally understands that I am a big of a drama queen – A slight grumble of the belly and I am up against a wall feeling faint (even though I had a full English breakfast a few hours previously) I can't help it – I want to say it's in my DNA but I am not sure being a drama queen is in someone's DNA or not?
We decided to have a little walk around the Alton Towers part of the theme park and to my delight George fell asleep after he ate his sandwich. We intended to go on the hunt for some amazing restaurant but have you seen the size of Alton Towers? I was nearly lying on the ground in a hunger coma and then I heard someone say "Burger Kitchen" – my ears pricked up and I dragged myself there, my husband about 10 meters ahead.
The restaurant was a bit like a burger king, the burgers were great and the prices were reasonable. A big tip is to head to this place if you want an ice cream during the day they were like Mr Whippy ice creams and were only a pound WITH SAUCE.
So What was CBeebies Land missing?
Definitely a crèche facility, I am only joking – or am I?
In all seriousness, it was probably our favourite day we have ever had with George to date. Luckily for us the weather was amazing, I do think an indoor soft play area where mummy and daddy can get a brew would be nice especially when the weather is a little off.
Our MyBump2Baby CBeebies Land overall Review
MyBump2Baby Score

{{ reviewsOverall }} / 5 (0 votes)

Readers Score

MyBump2Baby readers say... Leave a review

Order by:

Be the first to leave a review.

Show more
https://www.mybump2baby.com/wp-content/uploads/2018/05/Cbeebies-land-review-Alton-Towers.jpg
720
960
Carla Lett
https://www.mybump2baby.com/wp-content/uploads/2016/10/Logo-MyBump2Baby_transparent-bg-1-1.png
Carla Lett
2018-05-23 20:24:34
2018-06-19 12:14:48
CBeebies Land Review, Alton Towers