Cesarean Section – Recovery – Everything You Need to Know
Congratulations! If you are here, then you are most likely celebrating the arrival of your baby and are wanting more information about recovering from a C-section. The good news is, this article, "Cesarean Section – Recovery – Everything You Need to Know" is the only guide you will need to read for information about recovering from a C-section. Alternatively, if you are preparing for a C-Section, why not read What To Expect When Having A C Section instead?
C-Section Recovery – Week by Week Guide
How Do I Know If My C-Section Incision Is Healing?
Can I Shower Or Bathe After Having A C-section?
Driving After A C-Section
C-Section After Care Tips

Why You Should Massage Your C- Section Scar
How To Massage Your C-Section Scar
During history, scars earned on the hunt, in battle, and in pursuing various adventures were, and are, often seen as marks of honour and a source of both public and personal pride.
Well, our c-section scars are definitely something to be proud of! Let's just stop here for a second! Tell me any procedure or any occasion where you are chopped into half and you're expected to go home 24 hours later, carry on with your life AND look after a newborn baby (and your older kids, if you have any).
C-Section Recovery – Week by Week Guide


Week One
Typically, the first two to four days, of the first week after a C-section, are spent in the hospital. During this time, the nurses will provide you with some pain medication to help ease the incision pain. You are able to eat or drink whenever you feel hungry or thirsty. For the first 12 hours, you will have a flexible tube, called a catheter, in your bladder. Before you go home, your doctor should provide you with after-care advice to ensure the recovery process goes smoothly.


It is normal to experience pain, soreness or numbness around the c section incision site at this stage. It is also normal to have puffy, swollen and darker skin around the incision site.


After your C-section, you should avoid lifting anything heavy, or twisting and turning. You should also ensure that you apply gentle pressure to the incision area whenever you laugh, sneeze or cough to avoid reopening the scar.


You will most likely find, after your C-section, that you are experiencing a vaginal discharge of blood, tissues from the lining of your uterus and bacteria. This vaginal discharge is called lochia. For the first two days, the lochia will be bright red. You may experience heavy vaginal bleeding for the first few days. It is important that you do not use internal sanitary products during the first 6 weeks after cesarean delivery to reduce the risk of infection. You should instead use maternity pads.


During the first two days after your cesarean birth, you may experience some bloating, or abdominal pain due to gas buildup, as well as some constipation. You can help to prevent gas buildup and avoid constipation- and the chance of getting blood clots- by moving around- but remember not to overwork yourself! The best way to get moving around is with postnatal exercises- such as pelvic floor exercises. We recommended reading about The Do's And Don'ts Of PostNatal Exercise and Postnatal Exercise Tips For New Mums so you do not overwork yourself or cause injury.


Most importantly, you should REST! You have just had major abdominal surgery after all! It is recommended that you sleep when your baby sleeps, or to ask friends and family to look after your baby whilst you rest.



Week Two – Week Five
The first six weeks after a cesarean delivery should be spent recuperating- with a newborn baby to look after, it can be easy to forget that you just had major surgery!
A postpartum visit should occur during the second week after your caesarean section. Here is what to expect during your first postpartum visit:
Your healthcare provider will want to check your blood pressure, your belly, your weight and your breasts.
Your healthcare provider will want to inspect the cesarean cut to ensure that you are recovering correctly and that there are no signs of infection.
During the first few weeks after a c-section, you should not perform any strenuous exercise or heavy lifting. Doctors recommend you wait at least 6-weeks post-surgery, which is the average cesarean section recovery time.
After a c-section, it is more likely that you will develop a blood clot due to reduced mobility. Signs and symptoms of a blood clot include:
Chest pain or pressure
Pain or numbness on one side
Difficulty breathing
Sudden onset of a severe headache
Sudden loss of strength on one side of your body
Loss of balance
Additionally, if you experience any of the following symptoms, you should reach out to your healthcare provider:
Fever
Infection at the incision site
Chest pain
Abnormal discharge
Pain in your legs
Swelling in your legs
Shortness of breath
Heavy bleeding
Excessive pain
A few weeks after birth, many women find that they feel down. This is called the "baby blues". This is a normal symptom experienced by many women- although, if you find you are feeling constantly down, hopeless or depressed, it may be an indicator that you have postpartum depression.
If you believe you have postpartum depression, you should consult your health care provider who will offer you a range of treatments, from medication to therapy or even support groups.


Week Six
Now that you are 6 weeks post-delivery, you may be finding it easier to move around and perform more strenuous activities again- if not, don't worry!
At 6 around 6 weeks post-delivery, you should have your final postpartum appointment with your doctor. At this stage, your doctor may give you the "go ahead" to start having sex and performing heavy lifting once again. With this, you will be able to resume your normal daily activities, remembering to take rests when required!
How Do I Know If My C Section Incision is Healing?
There are three c-section scar healing stages.
Inflammatory Stage
The inflammatory stage of the C-section healing process lasts for the first 3/4 days after a c-section. The inflammatory stage occurs after the bleeding stops. During this stage, your c-section incision will be swollen and red or pink in colour.
Proliferative Stage
The proliferative stage lasts for 3-4 weeks after the inflammatory stage. During this stage, the c-section scar will become thicker and change colour as the scar recedes.
Remodelling Stage
The remodelling stage of the c-section scar healing process is the final, and longest, stage. During this stage, the scar tissue will flatten and fade in colour- and begin to be less apparent. This stage can last up to a year.
Can I Shower Or Bathe After Having A C-Section?
After a C-section, submerging yourself in water can introduce the risk of infection- so it is recommended that you wait around 2-3 weeks after your C-section surgery to have a bath. For some people, it can take around 4 weeks. It all depends on how well your c-section wound has healed.
Showering with warm water and a mild soap is the recommended method to keep your wound clean. You can shower approximately 24 hours after your Caesarian surgery. It is important that you pat the wound dry after showering, and replace any bandages regularly, to avoid infection.
Driving After a C-Section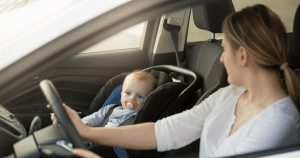 After a C-section, you are unable to drive for 2 weeks after the day of the cesarean birth. This is because after a c-section, your range of motion is limited due to the location of the incision, and muscles required for driving are affected during the surgery.
After a c-section, you are unable to complete the following movements safely (which are essential to driving):
Fastening your seatbelt
Turning your head to check for blind spots
Moving your legs to press the breaks or accelerator
The seat belt is also unable to rub against your abdomen, as it may cause damage to the c-section incision site.
C-Section After-Care Tips
We asked one of our experts, Dori Szentivanyi, from Fun Mums Fitness, to provide some information about how to love your C-Section scar with some aftercare tips- including how to massage your scar. She has written all about this below.
Here are a few important things to do to take care of your C-section Scar:
Take Arnica tablets. You can take Arnica tablets to reduce interior bruising and swelling, and help with the pain.
Drink Peppermint tea. Drinking peppermint tea helps reduce wind pain – and let's be honest, it's pretty bad after a C-section.
Keep your wound clean. You can keep your wound clean by washing it with mild soap and water.
Seek pain relief. Most pain relief medications are safe for women who are breastfeeding, but it is important that you check with your healthcare provider beforehand.
Massage your scar! See below for instructions on how to do this.


Why You Should Massage Your C-Section Scar
Unfortunately, most of the women are only advised to monitor the outside appearance of their scar, checking for signs of infection. I haven't met with any Mums yet who were advised or shown how to massage their scars and / or tell why this is beneficial. But if you don't massage your scar, you can develop some serious issues (lower back pain, frequent urination, pelvic pain and pain with intercourse just to mention a few).
When you massage your c-section scar, you help the scar tissue learn where to lie down and you keep it from growing in unwanted places like on the surrounding organs. Massage can help increase blood flow, which is beneficial for healing the area – and your scar area won't be numb! Massage can help smooth out thick scars (it won't make the scar invisible but it definitely will look neater!) As soon as the scar is no longer open and considered well healed, you can begin gentle massaging.


How to Massage Your C-Section Scar
In the beginning, it is best to work around the scar, focusing on the tissues immediately above and below it. As the scar becomes less sensitive you can start massaging the scar itself.
There are different ways to massage your scar. You can try the following:
Place your fingertips 2-3 inches from your scar.
Stretch the skin by moving the fingers up and down around the entire scar.
Repeat this by stretching side to side and clockwise/counterclockwise.
Then massage completely around the scar, repeating each movement 5-10 times.
Do it after you have a shower/bath then you won't forget it. Massage regularly until your scar tissues are freely moving in all directions. Effectively this means about 5 minutes each day if you can.
If you need more info on this, feel free to contact Dori Szentivanyi via the methods below:
Email: [email protected]
Facebook: @FunmumsfitnessUK
Instagram: @funmumsfitness
Or visit their website to learn more about Fun Mums Fitness and the services they offer:
Sources:
NICE (2021). Caesarean birth: NICE guideline 192. National Institute for health and care excellence https://www.nice.org.uk/guidance/ng192
NHS (2019). Recovery: Caesarean section. National Health Service https://www.nhs.uk/conditions/caesarean-section/recovery/
healthline (2020). When Can You Take Your First Bath After a Cesarean Delivery? https://www.healthline.com/health/pregnancy/bath-after-c-section#in-the-meantime
Hi, I'm Louise- mum of one to a little boy called Mason.
I am the Digital Marketing and Admin Assistant for MyBump2Baby.
I enjoy working to provide excellent service to MyBump2Baby's growing families.
Nice to meet you!
You can email me at [email protected]
https://www.mybump2baby.com/wp-content/uploads/2022/01/Cesarean-Section-Recovery-c-section-Scar-.png
630
1200
Louise McCamily
https://www.mybump2baby.com/wp-content/uploads/2016/10/Logo-MyBump2Baby_transparent-bg-1-1.png
Louise McCamily
2022-01-19 10:21:58
2022-01-28 13:53:08
Cesarean Section - Recovery - Everything You Need to Know