Chessington World of Adventures Review 2021
What is Chessington World of Adventures? 
Chessington World of Adventures is in Chessington, Surrey which is approximately one hours 45mins from me in Essex. We drove and it was a very easy drive and when approaching it was very well signposted. There is also easy access via train and is only 35 minutes away from central London stations. Opening hours vary depending on the day and time of year, we visited during term time on a Monday and Tuesday and the park was open between 10am and 5pm, I believe this increases to 6-7pm during school holidays and weekends in the summer.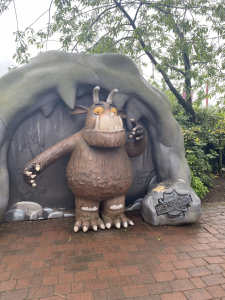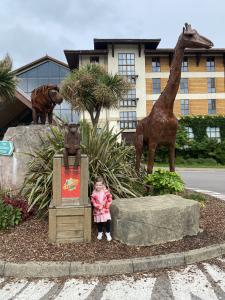 Arriving and Parking Arrangements 
We as a family struggle to get out the door on time and no matter how prepared we are we always leave later than I want! We arrived around 11am on the Monday so the park was already open and in full swing!  
 There are two car parks, one for hotel visitors and one for the general public. We were staying overnight so we headed for the hotel car park which is included within our tickets. The general car park requires payment and this is purchased at the same time as your park tickets either online in advance (which is cheaper!) or on the gate on the day.  
Ticket prices can be found on the website.

COVID Procedures at the Theme Park
We parked up and got ourselves ready. We couldn't check into the hotel yet so we left our overnight bag in the car and got our backpack with the days essentials. We had brought our daughters pushchair as a back up. She is three years old but you typical toddler that doesn't like walking that much. The park is easily laid out with flat surfaces and buggy parks at each ride; however we decided to brave it and leave it in the car and just come back and get it if needed.  
 We had printed our prebooked tickets so when we got to the entrance gate these were scanned, any bags we had checked and our temperatures taken to meet COVID-19 requirements.  
 There are hand sanitiser stations at every ride and dotted around the park again to ensure regular sanitising. We took our own and used this before and after every ride as advised.  
Since our visit restrictions have been eased but there are still procedures in place so I would advise you to check the website directly to see what the current procedures are.
Social Distancing at the Attractions
 There are also social distancing markers to ensure you distance as much as possible. Some rides have a reduced capacity to ensure distancing can also be met. There were also wardens walking around the park to ensure queues and crowds were as distanced as much as possible.  
 As per requirements and law at the time of our visit face masks need to be worn on rides by adults and those aged over 11 unless exempt.  
 We felt that these measures did not take away from the day in anyway. Over a year into the pandemic it feels like hand sanitising, distancing and masks are part of life and being able to go out and do things! Where the queue seemed to be a little closer than we thought they should be we wore our masks and kept as much distance between us and the people in front as possible.   
Chessington World theme parks Incredible App! 
Before we went I asked for top tips as we hadn't done anything like this before and someone advised me there was an App you can download. The Chessington App is FREE and available on both Android and Apple. It is incredible and I highly recommend getting it for your trip!  
FAQ to help plan your family adventures
 Prior to going you can use it to check out general FAQ, check current COVID-19 requirements and restrictions, get directions and travel information and also check the requirements for each ride. This meant I could go through the ride list easily and see which my daughter would be able to go on; and also what I could do as when we visited I was five and half months pregnant. It lists the minimum height requirement and also any conditions which may make the ride unsuitable for people such as pregnancy, heart conditions and back problems.  
Find how far away you are from the popular rides 
 You can search the App for specific rides, nearest toilets or food outlets very very easily and it will tell you how far you are away from them and then always plan a route and follow this ensuring you are going in the right direction! This was so so handy and meant we weren't looking at a paper map and heading in the wrong direction for ages before realising!  
 Another great feature was that you could put all your parties name and height etc into the app and your date of visit and it would automatically tell you if a ride was suitable for that person. You could then add this to your day and tick it off when you had done it. I thought this would be great to help children plan what they wanted to go on and then control their day whilst there.  
Chessington World Theme Parks queue times
 The main feature of the App is of course the up to date queue time feature. This helps avoids long queues. It lists all rides and gives you the queue time and if it open or closed. This updates in real time and is great for seeing what rides have shorter queues and which you may be waiting longer for. We used this to plan our rides, factoring in longer queue times to when we wanted to have our lunch etc to make the most of our time.  
Food Options at Chessington World theme park
There are snack and drink stalls dotted all across the park along with more seated restaurants such as Adventure Point Pizza and Pasta, Vampire's Burger Kitchen and Smokehouse BBQ & Bar. There were vegetarian and vegan options available so there should be something to suit all! Prices vary depending on what you have and where you go but didn't seem overly expensive for your usual theme park expectations.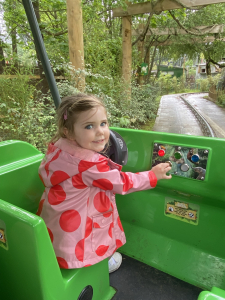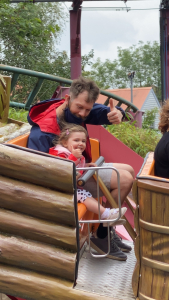 The Chessington World Theme Park Rides!
The rides are split into three categories:  Little Rangers, Family Explorers and Brave Adventurers. The Little Rangers and Family Explorers categories had rides that our daughter could do herself or with us while the Brave Adventurers category had the larger rides which she was too small for.  
Our daughter turned three in April and measures just under 1m. The minimum requirement for rides seemed to be 0.9m either unattended or accompanied with an adult. It then went to 1.1m for some rides and up to 1.4m for all rides however I would advise checking specific ride requirements on the app or website before you go to ensure you can do everything you want to do.  
 We managed to go on pretty much every ride we wanted at the theme park, and this included; 
 The Gruffalo River Ride Adventure
This is a little water ride where you travel through a fully immersive experience, with lights, music and figures that move and tell the story of the Little mouse who finds the Gruffalo. It's a beautiful ride. Our daughter was a little overwhelmed by this as it can be a bit dark or loud and she can struggle with loud noises. But we went on a couple of times and it was very enjoyable. 
Room on the Broom 
A Magical Journey  This tells the story of the room on the broom and again is fully immersive and interactive. You walk through and in each room you are helping the witch find what it is she has lost. It's an absolute must for those that love the story.   
Seastorm 
Sea ships which ride round and go over choppy seas, actually goes quicker than you think! Our daughter laughed the entire time!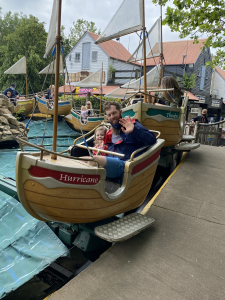 Scorpion Express 
Our daughters first rollercoaster! With a father who loves a rollercoaster she seems to of inherited his love for thrill seeking! This again went quite fast and had everything you would expect from a rollercoaster.  
Tuk Tuk Turmoil  
Just like the dodgem at our local Pier!  
Adventure Tree Carousel  
Your traditional fairground carousel with animals to ride on and cups to spin in!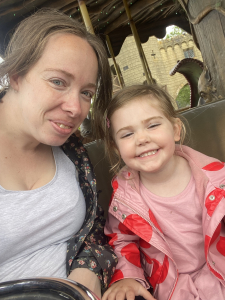 Amazu Treetop Adventures 
 Our daughter loved climbing through the rope ladders and bridges and exploring. A great one for older toddlers or children to do themselves.  
Griffins Galleon
This looked so fun and I'll admit I was little jealous that I couldn't go on it. It's like a ship that swings back and forth! So exciting and again another great introduction ride… there is a bigger version  that does a similar thing called Blue Barncale.  
Sea Dragons 
This is similar to Seastorm but more tame so great for younger children.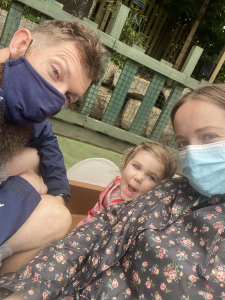 River Rafts 
This is the mini log flume, actually the ride we spent the longest time queuing for! A mini dip that still makes a big splash so make sure you take a poncho or change of clothes!  
Elmers Flying Jumbos  
Our daughter absolutely loved this! She could control the elephant herself and make it rise and fall. She loved being as high up as possible!  
Our daughter was also able to go on Jungle Rangers, Tiny Truckers, Treetop Hoppers and Jungle Bus.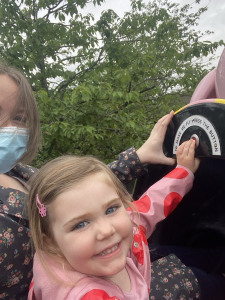 Even something for the older children and grown ups. 
Being pregnant meant I was chief bag holder, snack provider and navigator! This did also mean that my partner was able to try out some of the bigger rides my daughter couldn't do while we did things she could or had an ice cream break.  
 He tried out the new ride for 2021 Croc Drop. This looked great fun, you enter the ride through smoke filled doors and take your seat before being taken up 25 metres and then dropped into the Crocodile's mouth several times. He also went on Kobra, Dragons Fury and Vampire… twice!  
The Safari Resort Hotels 
We were fortunate enough to have been given an overnight stay in the Safari Hotel. We checked in online a couple of days before we went and it said our room would be ready from 3pm on the Monday. I was pleasantly surprised to receive at text at just gone 12pm saying our room was ready and we could check in anytime from them! This is a great system, we however didn't check in until after the park had closed but it was straightforward and we just needed to print our room key on one of the self service points. Our temperature was also retaken and we were given wristbands to show we were hotel guest and that we had already had our temperatures checked.  
The Chessington World Hotel
 The hotel is beautiful designed and features some gruffalo decor as well as animals in the lobby which is a great way to build a child excitement for this experience. There is a club house with evening entertainment and also as part of the booking we could use the Savannah splash park however at the time of our visit you had to book slots and while availability was good for this we couldn't find a suitable time where our daughter wasn't so tired! From looking though this looks like a great addition and a really fun extra to the hotel. There are lifts to the different floors and look out points over the reserve on the landings.  
Our Themed Room
We had a beautiful Giraffe themed room overlooking the Wanyama Reserve which my daughter loved! She loved looked out at the Zebras and Ostriches and it was the first thing she did when she got up the next morning! There are also other animal themed rooms and even Gruffalo and Room of the Broom themed Rooms available which look so fun!  
 There is a separate sleeping area for the little ones, which is open access so they can still get out of bed and walk into the grown up sleeping area if needed. They have their own TV and in our room it had bunk beds. It was fun and inviting and our daughter thought it was great!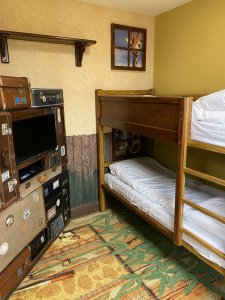 The bathroom had a bath with a shower over this and was a good size with toiletries and towels included. There was hanging space and drawers for clothes and shoes and there was also an ironing board and iron in the room.  
 In the grown up sleeping area and lounge there was a fridge and TV with all the usual channels you'd expect and also Chessington information regarding rides, the animals and their current COVID procedures.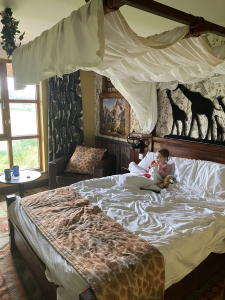 The whole room was clean and tidy and very well presented. The bedding and towels provided where excellent quality and very comfortable. The only thing I would say was the single duvet on our daughters bed was very thick; amazing quality and I loved it however she got quite hot, so if your child gets a bit hot and sweaty easily it may be worth taking a thinner blanket or cover should they need it.  
 The room also has a secure safe and featured a game to find out the safe code which once we completed the simple number questions and opened the safe there was two giraffe tokens as the prize which our daughter loved!  
Breakfast The Next Day 
Included in the overnight stay was breakfast the next morning in the Safari Restaurant. This is your usual cold and hot buffet style including cereals, fruit, yoghurt and pastries; and hot breakfast items including sausages, bacon, eggs and even vegetarian sausages. Tea, Coffee and fruit juices are available to you to get yourself via the machines. The selection available was really good and food good quality so it fuelled us up ready for a second day in the park!  
Early Park Access
As we had stayed in the hotel we were entitled to early access to the park between 9am and 10am; this was a great added bonus! My partner used this time to go on the bigger rides such as Vampire, Kobra and Dragons Fury as my daughter and myself couldn't go on these and the wait time was much much shorter so him doing these didn't take away from us. We went back of the Gruffalo River Ride and Elmers Flying Jumbos We even had the Adventure Tree carousel to ourselves.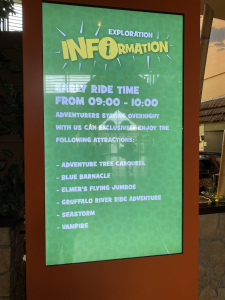 Second Day Tickets
As we hadn't taken our daughter to anything like this before we wanted to do it over two days incase 
it became two much or she was too tired. You can get a second day ticket at a discounted rate when booking online and I would definitely recommend this if going as it means you can take a bit of time and not be too worried about missing out rides if queue times are longer.  
We went back on some of our favourite rides from the day before and the park itself seemed even quieter so we were able to do so much before packing up and calling it a day around 3pm with a very happy but tired three year old.  
Overall, would we go back? 
Absolutely – we had a great day! Our daughter is already asking if she is big enough to go back and we fully intend on taking her back when she is taller and can do the remaining rides she couldn't this time. It's a great introduction to the world of theme parks for little ones. There really is so much they can do and yet it's still enjoyable for the whole family. Staying overnight made it a real treat especially after no holiday last year. We can't wait to return and spend more family days here.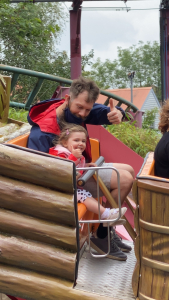 My Top Three Tips
1) Get the App! 
This was an absolute essential! Not only do you get real time queue timeupdates making it easy to plan what rides to go on next it also has the interactive maps which ensure you're going in the right direction!  
2) Take a backpack
It's a long day on your feet so a back pack with some drinks a light snacks will help as it could get expensive buying drinks and snacks for a whole family.  
3) Take your time
 Sounds like an odd one because you want to get as much in as possible, but it's theme park… expect queues! Using the App to monitor queue times, taking advantage of a second day ticket if possible and games to do during the queue (my little eye, seek and find etc) can help keep everyone happy and lead to an enjoyable stress free day!  
 You can check out Chessington's latest information, deals and offers here:- https://www.chessington.com/ 
Other Mybump2baby parents that have visited Chessington would of adventures said
"We had such a great time at the adventure park, it is a great day for all the family. We also loved the Chessington Zoo when we stayed at the adventures resort and we met some other hotel guests who we ended up becoming good friends with. My husband and I both managed to get on some roller coasters too which was great as we are both thrill-seekers but didn't want to take away from our little ones day. The attractions at Chessington World of Adventures were fantastic and a good day was had by all. I definately think as families you need to stay over to get full use of all the attractions. We felt that it was good value for money and we loved seeing all the animals on our second day. We went in October at the weather didn't affect the fun that we had and we have since recommended this theme park to other families" Carla 34
Jess Bleeze is a mum of 1 & has a contagious passion for supporting growing families and supporting small businesses in Tendring & Colchester and throughout the UK.
https://www.mybump2baby.com/wp-content/uploads/2021/08/chessington-world-of-adventures-review.png
630
1200
Jess Bleeze
https://www.mybump2baby.com/wp-content/uploads/2016/10/Logo-MyBump2Baby_transparent-bg-1-1.png
Jess Bleeze
2021-08-10 20:35:21
2021-08-10 21:04:19
Chessington World of Adventures Review 2021