Chessington World of Adventures Review
Much to my excitement, parents who regularly read my blogs have recently stated that they would like to see more reviews on days out and holidays in the UK, so when we were in London I decided it was the perfect opportunity to review Chessington World of Adventures. Although I had heard of Chessington World of Adventures, I had no idea what it actually entailed and if it was actually suitable for our 18 month old monster.
Now those of you who know me personally know that I have always been a massive fan of theme parks but now we have our son, it is all about him and visiting places that are suited to a crazy toddler on the run.
I didn't realise that Chessington World of Adventures was home to; Chessington Zoo, Chessington Sea-life Centre and the Chessington Theme Park, they are literally all in one park – I couldn't believe it. I get overly excited about going to a zoo, a sea-life centre and a theme park separately, so you can imagine how excited I was when I found out they were all within one complex…. I actually nearly peed. I couldn't wait to review Chessington World of Adventures for you guys.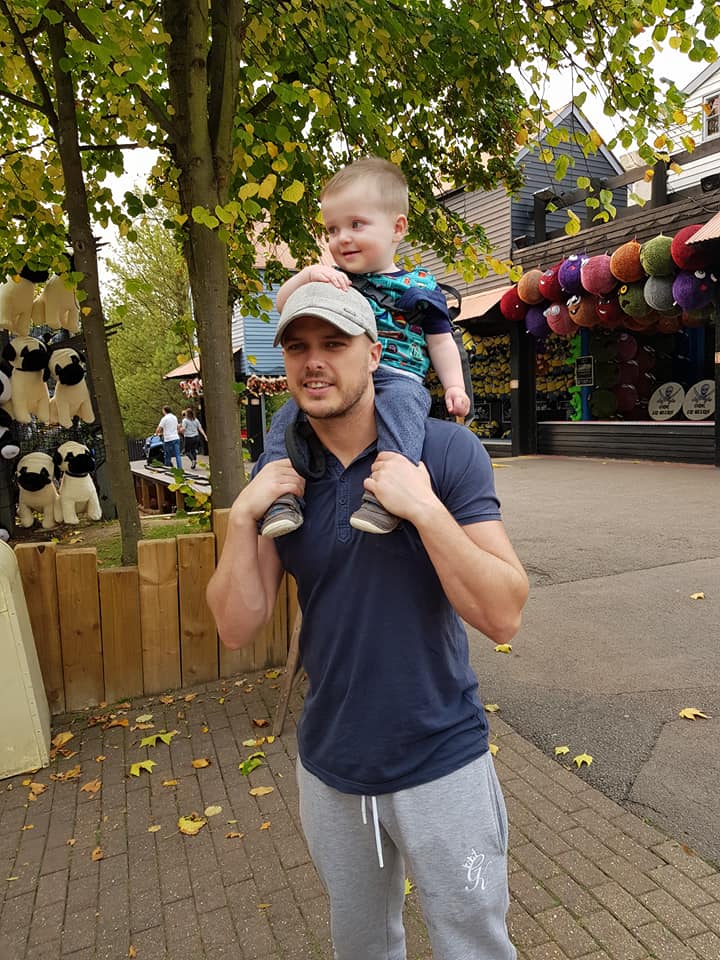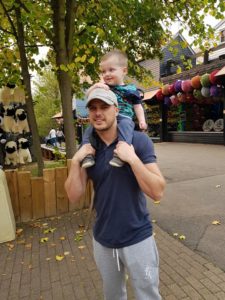 The Morning
Due to an unexpected influx of poop from George that morning we got there a little later than we wanted to which was a little unfortunate as I wanted to get around as much of the park as we could, We arrived around 11:30 am. The parks opening hours were 10am – 5pm.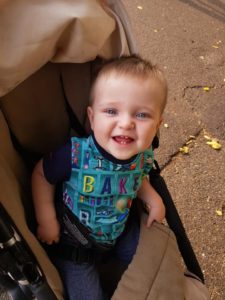 Parking Facilities at Chessington World of Adventures
There is a huge car park but as with most theme parks, you have to pay to park which is a little infuriating especially when you have paid enough for your tickets. It is £10 to park close to the park per day and £3 to park a little further away, the distance for the extra amount doesn't make too much of a difference and we opted for the £3 parking, however as it was so quiet that day, they allowed us to park in the £10 part for £3 which was good. You pay for your parking when you buy your tickets at the front desk so you don't need loose change, they do have card machines.
Ticket Prices at Chessington World of Adventures
If you can pre-book tickets then definitely do so as it saves you an absolute fortune, we were meant to but my husband thought I had booked the tickets and I thought he had so we weren't best pleased and there were a few cross words but we soon got over it.
Ticket prices when pre-booked are £24 per person (age 3+) – You need to book at least the day before

Ticket prices if you turn up on the day are £45 per person (3-11 year olds) and £49 per person (12 years +).
Annual passes start from £179 per person or £139 each for a family of 3+ (over 12 years).
Bag Search before Entering
Upon entering the park, my bag was searched; I really don't mind this as it always makes me feel that little bit safer. You are allowed to bring food and drinks (non-alcoholic) in to the park which is great if you fancy a picnic or you are trying to save some pennies.
Our First Impressions
I could not help but notice how clean and well-kept the park was. It was really open so it was perfect for George to have a run around with his reigns on. It was beautifully decorated for Halloween with pumpkins and spooky skeletons scattered throughout the grounds. As it was October and term time the park was quiet which worked to our advantage. There were no queues and it was easy to get around with a pram.
Unfortunately we didn't receive a map when we paid for our tickets so we were walking around like idiots when we first arrived wondering which direction to take and where to go first. We spotted a couple of other families with maps so we went back and asked for one. Chessington World of Adventures is huge therefore it is very important to plan your days so that you don't miss any of the shows and events that you would like to see. We sat down with a map and a drink for a few minutes and worked out the rides that George could go on and the shows and parts of the zoo that we would like to see.
Changing Facilities
There were plenty of communal changing facilities located around Chessington theme park. Each one I visited was extremely clean, well-stocked with toilet paper and clearly looked after which was great.
Food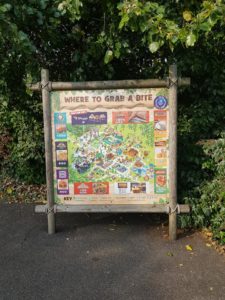 There are plenty of places to eat from burger bars; a fish and chip restaurant to an "all you can eat" pizza and pasta. My husband, George and I absolutely love "all you can eats" and we also love Pizza too so it was a no-brainer for us and we headed to Adventure Point Pizza & Pasta which was located near the entrance of the park.
Adventure Point Pizza & Pasta Review
We ate at the Adventure point pizza & pasta restaurant. It was £12.75 each for unlimited food and drink, George ate for free because he was under 3. If you are an annual pass holder you get 20% off food which would make the price £10.20 saving you £2.55 per person, make sure you show your card.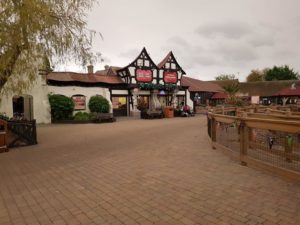 The restaurant was clean and basic looking but exactly what we expected in a theme park. We got seated right away and they had lots high chairs available which was great to see, it is a nightmare when you are out for a meal and there is a shortage of high chairs.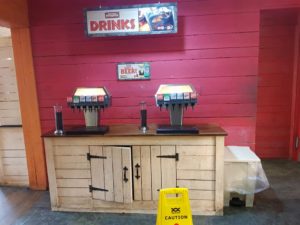 We grabbed a plate then off we went to the buffet. The restaurant had a wide range of pizzas, all of which were absolutely delicious. The Chefs were constantly cooking and adding new pizzas to the buffet which meant that the pizzas were always warm. There were many types of pizza to choose from including Hawaiian, Margarita, Meat Feast and Pepperoni. The salad and pasta buffet was lovely and fresh, the spaghetti bolognaise was a huge hit with George, he couldn't get enough of it. They had a drink machine which was included in the price. The drinks were; Pepsi, 7up, Fanta, pure Apple juice, pure Orange juice and Oasis too. The great thing was it was all inclusive so we had lots of different drinks and even filled George's juice cup up before we set off to enjoy the park.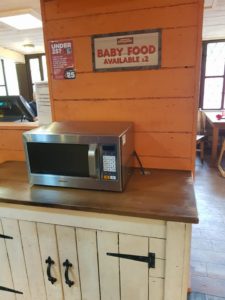 I noticed that the restaurant was baby friendly with a baby feeding area with a microwave which is perfect if you need to heat any baby food up.
The toilets in the restaurant were clean as was the baby changing area which was great – I am always really funny about unclean toilets in restaurants. It has been known to put me off my food before but not this toilet thankfully.
The Rides at Chessington World of Adventures
We had to do a bit of research about the park to find out what is suitable for George. We later found that if you go to the information centre they have a leaflet especially parents of toddlers with a detailed list of the suitable rides and information about facilities. I do think this should have been given to us as we entered the park, it would have saved us a lot of time trying to find out what was suitable.
Rides and Attractions for those below 0.9m
We noticed that many of the rides for toddlers were measuring at 0.9m or below; we wanted to check George's height and there we height charts next to rides, so we had a quick check against a chart and saw that he was less than 0.9m which meant George could come on the following rides as long as he was accompanied by an adult;
The Gruffalo River Ride Adventure Review

This ride was George's absolute favourite, as George is only 18 months old he has never been on anything like this before so upon entering the ride we had no idea what to expect. It is a little river ride which is filled with lights, sounds and special effects. He spent the whole ride open mouthed in amazement. This ride is definitely my favourite for his age.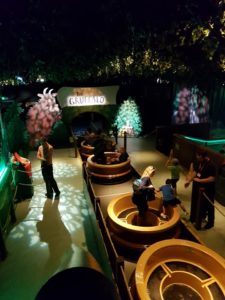 The Adventure Tree Review

This ride was good fun, however we had to keep moving George around, I don't think he quite understood the concept on staying sat on the horse whilst it goes round. We ended up sitting in the cup because it had a door and it stopped him trying to climb off as the ride.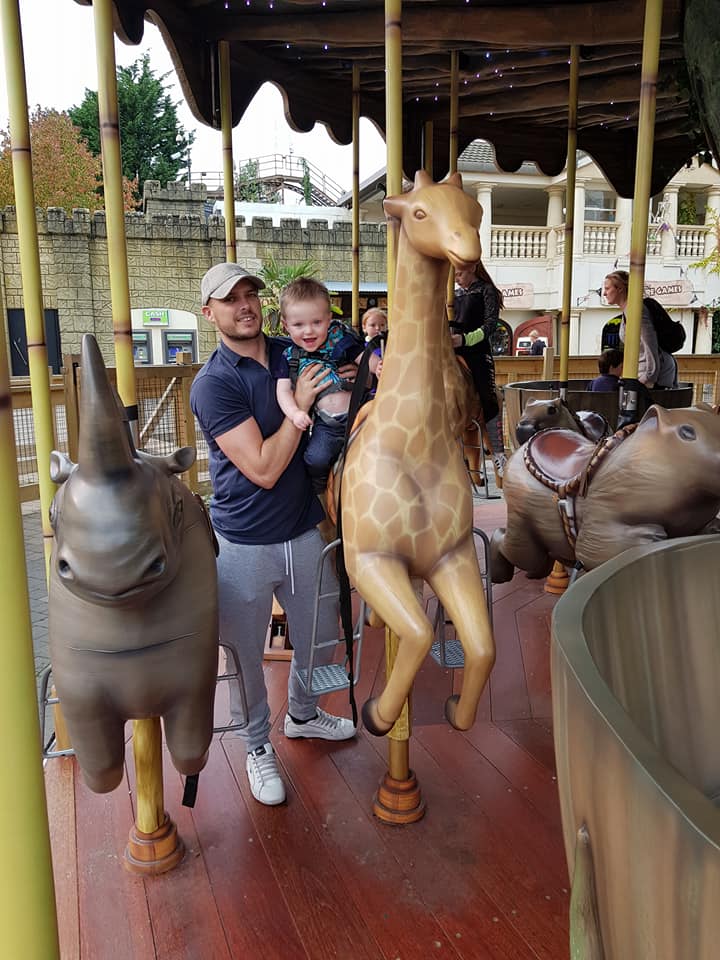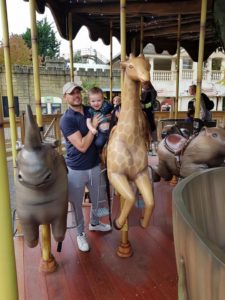 Canopy Capers Review
The Canopy Capers was good fun – but we didn't stay in there long as we were limited for time so we felt it was important to make the most of the time on the rides and in the zoo.
Dragon's Playhouse Review

Dragons Playhouse is great soft play area for toddlers, We could have spent a good hour or so in here playing but we spend a lot of our spare time in soft play areas so we felt it was important whilst were at Chessington World of Adventures to make the most of it.
Flying Jumbos Review

George loves Elephants and he especially loved the fact that the Elephant could fly.
He enjoyed waving to daddy as we flew through the sky.
Hocus Pocus Hall Review

The Hocus Pocus hall is a great little place for kids to have fun inside a spooky little house. Although it was fun for me and my husband, I did feel it was really for older kids. I had to carry George through the mirror maze which was fun but if I had of put the hyperactive little monkey down like he wanted there would have been some bumps and bruises. I do also think it was a bit frightening for a 18 month old toddler but perhaps I am just a major wuss.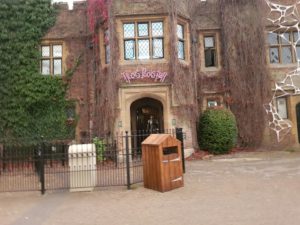 Peeking Heights Review

We all went on Peeking Heights, the views were good. George wasn't overly impressed and being stuck in a pod with an 18 month that just wants to explore was probably not the best idea.
Sea Dragons Review

This ride was closed which was unfortunate as George loves boats and we would have loved to go on this ride.
Temple of Mayhem Review

George and his daddy loved playing in Temple of Mayhem, George didn't quite understand the concept of shooting each other but he seemed to have lots of fun running around screaming.
Tiny Truckers Review

After being the passenger in the back of our car on our holiday to London George loved the idea of him driving his mummy and daddy round. He was very excited as we went round the track.
Toddlers Crazy cars Review

We didn't get a chance to go on this ride.
Tomb Blaster Review

This was definitely mummy and daddies favourite ride. You go round in a cart and try and shoot your targets gaining points as you go, it was me Vs my husband. George didn't really understand the concept but enjoyed it all the same. We enjoyed this clever ride and me even more so because I won…Daddy wanted a rematch but I was happy with my win and refused.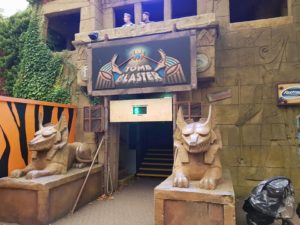 Gruffalo Arena Review
There was also a Gruffalo screening in an outdoor theatre every few hours which is perfect if your little one is tired from all the running around.

Buggy Hire
We took our buggy with us but you can hire a buggy which is quite handy, we took our buggy with us but the prices were as follows;
£8 for a single pram
£10 for a double pram
The prams can be hired from the Adventure Point Gift Shop.
The App
We didn't realise till it was nearly home time that there was a Chessington World of Adventures app to help you plan your day. I do feel we should have been told about this earlier. Make sure you download the app as you get discounts at the amazing Nitrogenie Ice Cream stall (oh myyyy  this ice-cream is unreal)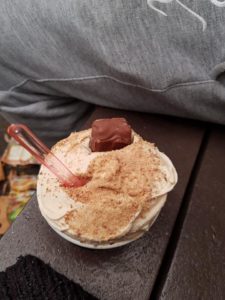 Chessington Theme Park review
I actually couldn't believe how toddler friendly Chessington Theme park was. There were 12 rides that George was able to go on at only 18 months old which was amazing. Once George is over 0.9m there are a further 6 rides he can go on which is fantastic. I was a bit disappointed that we paid full-price and some of the rides were closed. I did feel we should have been told about the closed rides before we purchased our ticket at the desk. It is a shame we didn't find out about the app till it was nearly home time as I feel we could have planned our day a lot better.
Chessington Zoo and Sea Life Centre
At 18 months old George is fascinated by animals, we were thrilled to see so many different animals at Chessington Zoo, the animals at Chessington zoo are;
Asiatic Lion
Ankole Cattle
Common Eland
Leaf Cutter Ants
Red-Bellied Piranha
Western Lowland Gorillas
Southern White Rhino
Grevy's Zebra
Sumatran Tigers
Rothschild's Giraffe
Pygmy Marmoset
Californian Sea Lion
Southern Ground Hornbill
Chloe Wigeon Ducks
Mandarin Ducks
Alaotran Gentle Lemur
Rainbow Lorikeets
Binturong
Crested Porcupine
Humboldt Penguins
Spider Monkey
Fossa
Kunekune Pig
Reindeer
Meerkats
Military Macaw
Guinea Pig
African Pygmy Goats
Geoffroy Marmosets
Three Banded Armadillo
Scimitar Horned Oryx
Red Handed Tamarins
Ferret
Dwarf Mongoose
Asian Short-Clawed Otter
Ostrich
Capybara
Kirks Dik-Dik
Ocelot
Squirrel Monkey
Flamingo
Golden Headed Lion Tamarins
Saki Monkey
Dorcas Gazelle
Sheep
Sitatungas
Blesbok
Agouti
Ecuadorian Red Lored Amazon
Giant Wood Rail
Now, I actually had no idea what most of the animals were by name and only knew the names of the usual ones that I learnt when I was about 2 years old (Tiger, Lion, Monkey, Sheep, Pig etc). To put it quite simply there were tons of animals, absolutely loads. George's favourites were the Sea Lions, the Tiger and of course the Pig (he named Peppa).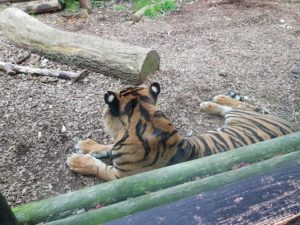 I strongly recommend watching the Sea Lion show and also watching feeding time for the Tigers as they were both really interesting and definitely worth the watch. We didn't get time to watch every show unfortunately so I am unable to tell you about the other event and show opportunities available at Chessington Zoo and Sea-Life Centre.
Chessington Zoo and Sea-life Review
There were plenty of animals to see at Chessington Zoo, we didn't manage to fit them all in as we didn't have enough time but we did manage to see all the animals that we wanted to. I loved that many of the windows were low enough so that George could look in and I didn't have to keep getting him out of his pram or lifting him up to see the different animals. I would definitely like to visit Chessington Zoo again and see all of the shows and review them for you guys properly.
[rwp_box id="0″]
My Overall Review on Chessington World of Adventures
Chessington World of Adventures has something for all the family, I know every theme park seems to use that line but it really does. I do feel that one day is not enough to see everything but I guess that leaves you wanting to come back for more, it certainly did for us.
As previously mentioned I was a little disappointed that we had to pay full price for the tickets even though some rides were closed but either way we all had a fantastic day and we created some memories that I will cherish forever. Georges face on the Gruffalo ride was a picture, if you are thinking of visiting Chessington world of Adventures then do it, you will not leave disappointed.
Carla is the founder of MyBump2Baby. Carla has a huge passion for linking together small businesses and growing families. Carla's humorous, non-filtered honesty has won the hearts of thousands of parents throughout the UK.
She has previously written for the Metro and made appearances on BBC News, BBC 5 live, LBC etc. Carla is a finalist for Blogger of the Year award with Simply Ladies inc. Carla is also the host of the popular Fifty Shades of Motherhood podcast and The MyBump2Baby Expert podcast.
https://www.mybump2baby.com/wp-content/uploads/2017/10/Chessington-World-of-Adventures-review.jpg
720
960
Carla Lett
https://www.mybump2baby.com/wp-content/uploads/2016/10/Logo-MyBump2Baby_transparent-bg-1-1.png
Carla Lett
2017-10-26 22:26:20
2018-01-24 22:26:12
Chessington World of Adventures Review