Coral Island Blackpool Review
We were invited to Coral Island on a VIP day out and I must admit I was very excited about it – I have a real love for amusements. I hadn't been to Coral Island since I was a kid so I was keen to see it from a families' point of view.
The weather this particular Sunday was utterly horrendous which was great because Coral Island is all indoors. On MyBump2Baby Lancashire, a lot of parents that often ask us "What can families do in Blackpool when it is raining" and I was keen to see if Coral Island is a place that we add to our list of recommended places in the local area.
Here is our Coral Island, Blackpool Review
We parked in Houndshill shopping centre as typically we had no change. For more organised people there is a car park literally over the road from Coral Island which is a pay and display car park. Houndshill shopping centre was only a few minutes away.
First Impressions of Coral Island, Blackpool

As we walked in to Coral Island, the echoing fun filled our ears… coins dropping, squeels of excitement, laughter, machines talking. I glanced around and there were flashing lights, plenty of rides, lots of mentions the fabulous offer of "kids eat free" – I mean this place is any toddlers dream. And, I am sure we can agree – when our toddlers are happy.. life is so much more beautiful and stressfree.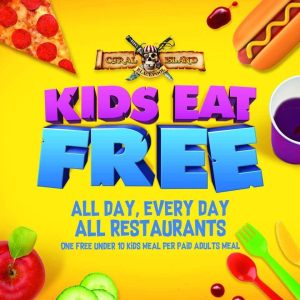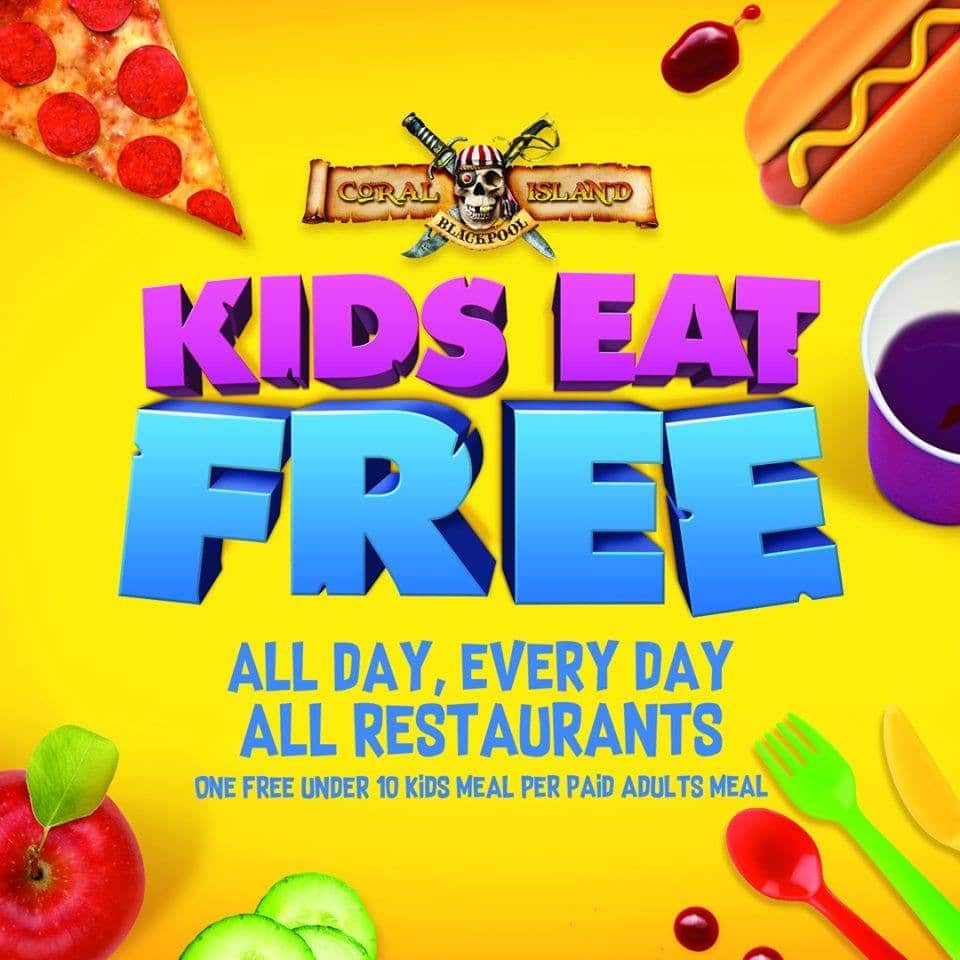 The Food at the Wonderful The Bucaneer Family Bar, Coral Island, Blackpool

As a pregnant mum of twins the first thing on my mind was food… oh heck… I can't blame the twins – food is constantly on my mind no matter where I go… but it was lunch time so I was especially hungry. Obviously the decision to go for food first meant that George kicked off. He wanted to go on the amusements but he soon settled down when we told him about the special desert he was going to have after his dinner.
We went to The Buccaneer Family Bar & Restaurant, but they had plenty of places to choose from including Captain Jack's Bar, the Fish & Chip shop & Grill and Peggy's Family Snack Bar.
George chose Sausage, mash, gravy and beans, I opted for Fish and Chips and my husband selected burger and chips. The food was delicious and we finished off with a brownie ice cream sharer and George had the jelly beans over ice cream. We really enjoyed the food and would definitely consider this place even if we were just shopping in town.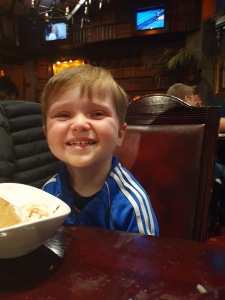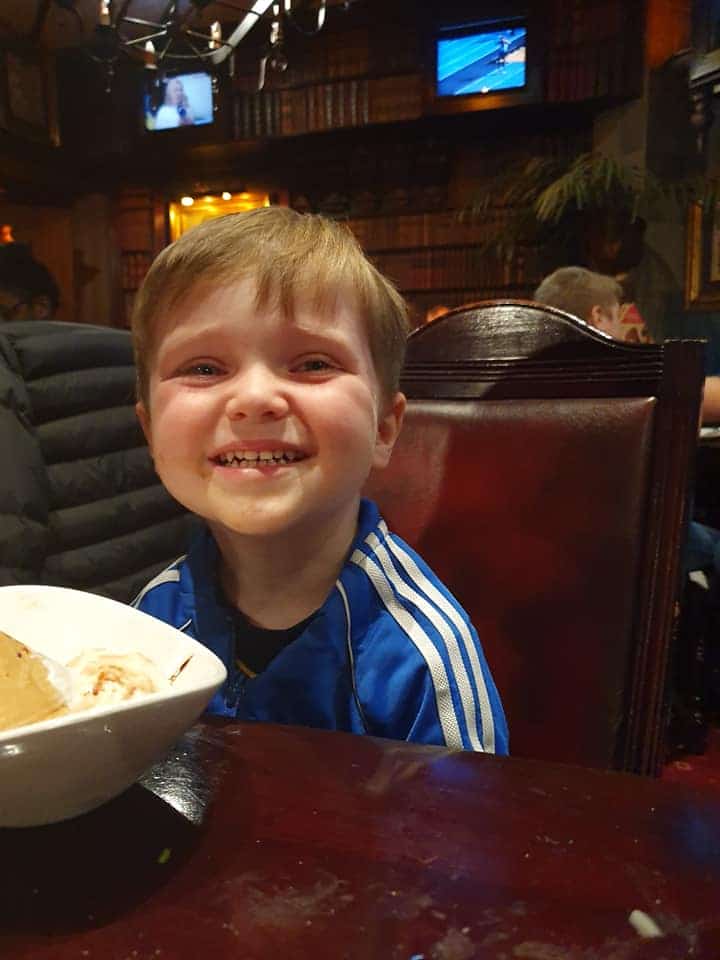 The food was wonderful value for money, the staff were fantastic specifically Tara ensuring we were well looked after.
The Amusements at Coral Island, Blackpool

I think the only way to survive at amusements is to set yourself a strict budget. We did this and it made things a lot less stressful (for my husband) when we have visited amusements before George and I end up begging daddy for more coins and before we know it we have spent a fortune and daddy is holding his head in his hands.
George loves the 2p slot machines so we went on this for a while which was fun. He screamed with excitement when he won. The 2p machine kept him entertained for ages.
We then decided to try and win him a toy on the grabber machines. Coordination isn't a strong point in our family so we didn't win but we did enjoy the challenge.
George then found a water pistol Zombie game that he was obsessed with. The Zombies appear across the screen and you have to shoot them with your water pistol to get them out the way. George was so obsessed with this game that we let him play it 5 times.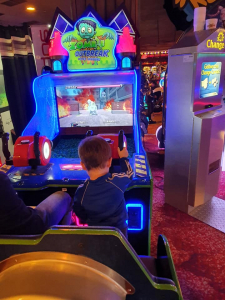 Both daddy and George wanted to race motorbikes together and they loved it. They came last and crashed numerous times but they enjoyed it nonetheless. There were lots of amusements where you can collect tickets to win amazing prizes but didn't use these machines on this occasion. We let George choose whatever he wanted.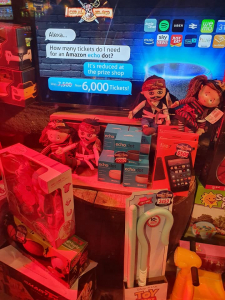 The Rides at Coral Island, Blackpool

The rides at Coral Island were brilliant, it was like being at a funfair but without the UK tempermental weather controlling your day.
We went on the Pirate Flyer which was fun, it was a little like a monorail allowing you to see everything going on in Coral Island. I did freak out a bit as I am a little scared of heights but George loved it.
I didn't think anything of setting foot on the ghost train, I even suggested that George and Daddy go on the ride on their own and I will follow in the cart behind, luckily daddy refused and said "no you go with George"…. I am not going to lie here… but I also have to refrain from swearing but I think it is safe to say I was scared… very scared!!!
We were carried off in to the ghostly darkness, items moving like they shouldn't, eerie noises. George was a little scared but I put my arm around him and then shut my eyes, I peered through them on one occasion only to be greeted by what looked like a dead pirate. I just kept saying out loud "it will be finishing in a second, just one more minute" reassuring myself rather than George who was a little scared but seemed to enjoy it. If I had known how scary it was I probably wouldn't have put George on it really but he didn't mention it after we got off and he was absolutely fine…. after a couple of minutes haha.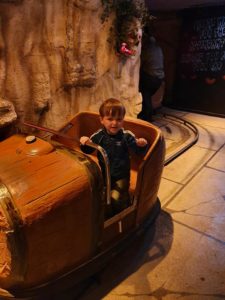 Finally, we finished off our day Camel Derby! That was really good fun!!
We absolutely loved Coral Island and George hasn't stopped talking about it since we left. I highly recommend this and we will be adding it to our favourite days out in Lancashire. To find other things to do in Lancashire.
Visit Coral Islands website by clicking here.
Carla is the founder of MyBump2Baby. Carla has a huge passion for linking together small businesses and growing families. Carla's humorous, non-filtered honesty has won the hearts of thousands of parents throughout the UK.
She has previously written for the Metro and made appearances on BBC News, BBC 5 live, LBC etc. Carla is a finalist for Blogger of the Year award with Simply Ladies inc. Carla is also the host of the popular Fifty Shades of Motherhood podcast and The MyBump2Baby Expert podcast.
https://www.mybump2baby.com/wp-content/uploads/2019/08/coral-island-review-blackpool.jpg
960
960
Carla Lett
https://www.mybump2baby.com/wp-content/uploads/2016/10/Logo-MyBump2Baby_transparent-bg-1-1.png
Carla Lett
2019-08-23 11:54:47
2019-08-23 11:54:47
Coral Island Blackpool Review