Curb Walking to Induce Labor: Does it Work?
Ahhh we know the feeling, your baby is almost here! By this point you might be feeling excited and nervous, but one thing's for sure, you can't wait to meet your baby. In this blog we're looking at curb walking to induce labor, does it work?
This blog includes:
What is curb walking?
Indoor curb walking for labor induction
When to start curb walking
How long to curb walk
Alternatives to curb walking to induce labor naturally
Curb walking to induce labor: does it work?
Most effective method of inducing labor
Waiting for labor naturally
If you're ready to meet your baby, you've probably been searching for methods to induce labor. While there might be lots of suggestions, how effective they are may not be clear.
Before you make the decision to try any labor inducing activities, consult your midwife or a healthcare professional. They know your pregnancy best and can provide advice to ensure you and your baby are safe.
If you are at extra risk in pregnancy or you are likely to have a pre term labor, you should avoid labor inducing activities.
It's important to remember that your baby will arrive when they are ready to. The process of oxytocin release can encourage contractions to start.
Any labor inducing activities will not work unless your body has begun preparing for labor. For example, you might have started having a few small contractions. But, even if your body is ready for labor, they still might not work.
What is curb walking?
Curb walking really is as simple as it sounds. It generally involves walking down the road with one foot on the curb and one foot on the road.
Curb walking creates an engagement between your baby and your pelvis which puts pressure on the cervix. This can help to start contractions through the release of the hormone oxytocin.
You must also be careful with this as walking this way presents its own risk. You should try curb walking down quiet roads. And to be honest, who says you have to do it outside? There are other ways you can achieve what curb walking does inside your home.
Indoor curb walking for labor induction
One method is to walk round the house with one high heel shoe on and one flat shoe on the other foot. Be careful not to injure yourself with high heels. Another way is to walk up and down the stairs. If you don't fancy walking up and down the stairs, you could try step ups.
When curb walking or using at home methods of curb walking, you should ensure that there is someone with you. This can help to prevent injury and also means that if you do go into labor, someone will be there.
Due to bodily changes during pregnancy, you may experience uneven gait. Uneven gait can cause an uneven walking pattern which may lead to falls.
When to start curb walking
Every pregnancy is different. Your due date will provide an estimation and your midwife will be able to inform you on labor inducing activities. This means you can be confident that they are safe for you and your baby.
In pregnancy, it is usually recommended that pregnant women try to wait until 39 weeks before trying to induce labor.
Curb walking tends to work best when your body has already begun the dilation process. Even if your uterine contractions are few and far apart, you may find that walking helps to regulate them.
With this in mind, it is difficult to suggest an exact milestone when you should start curb walking. Many women start at 39 weeks. Do not start too early as you may be at risk of premature birth which has its own complications.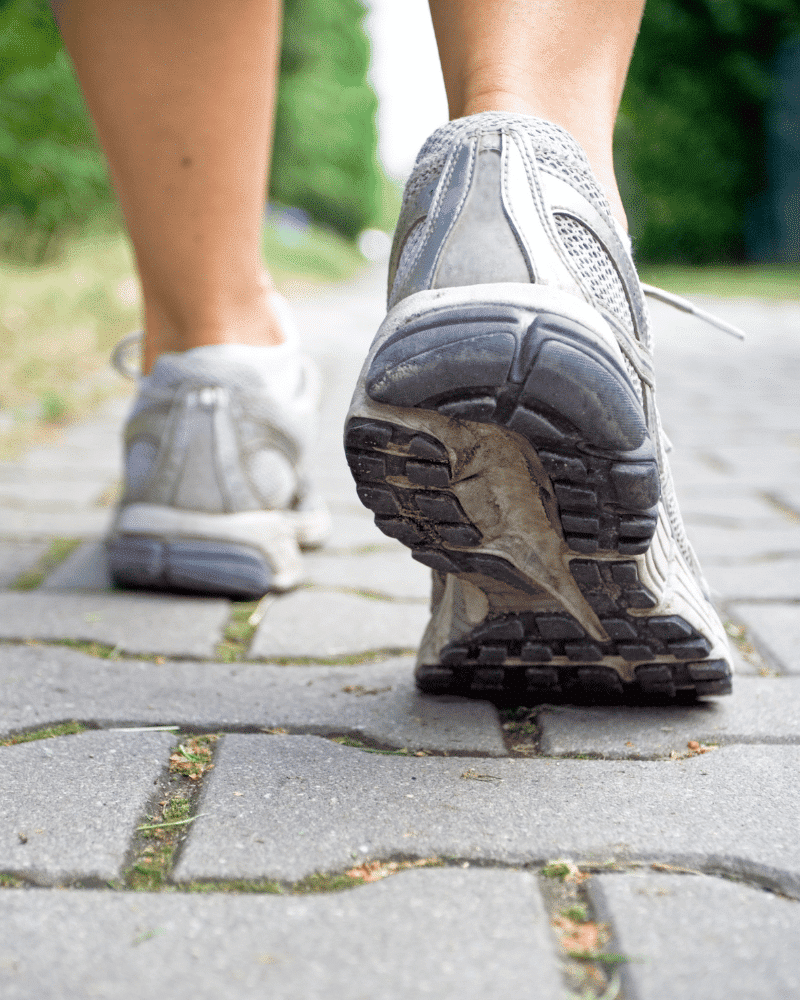 How long to curb walk
The amount of time you should spend curb walking depends on your pre-existing fitness levels. Many women may have high fitness levels, begin walking in pregnancy and are absolutely fine. While others may not be very fit and end up feeling very tired afterwards.
The key to walking in pregnancy is to build yourself up. If you usually walk every day, you should be able to keep this up, just maybe a little slower than normal. Do not go for a long walk and avoid the hottest part of the day. You should walk for around 30 minutes per day.
If you don't usually do much exercise, you should stick to walking a maximum of 20 minutes per day, a few times a week. Remember you are carrying a baby and therefore extra weight.
During your walking, you might choose to complete 5-10 minutes of curb walking. Do not spend the full 20 minutes or half an hour curb walking as you will tire yourself out. If you start to feel uncomfortable, you should stop.
Alternatives to curb walking to induce labor naturally
When searching for natural ways to induce labor, it's no surprise that there's lots of suggestions. Again, while some of them may seem harmless, you need to consult your healthcare provider before you try them. There is also no guarantee that they will actually work for anybody.
Here are some of the most common suggestions to induce labor naturally:
Gentle exercise
Gentle exercise may help to induce labor. This includes curb walking and things like yoga. Not only will exercise help to maintain your muscle, making you stronger, it'll also help to improve your mood.
Sex and nipple stimulation
It is usually safe to continue having sex during pregnancy. Having sex leads you to release oxytocin which is responsible for encouraging labor contractions. This is the same chemical released during nipple stimulation.
If you are experiencing placenta previa, you may be advised not to have sex. This can cause bleeding.
Eating spicy foods
This is often one of the most common suggestions to help induce labor. Eating spicy food can cause irritation in the gastric region, which may lead to mild contractions if you're already partly dilated. Again, there is no evidence that this actually works despite it being a common suggestion.
Pregnancy massage
When getting a massage in the third trimester of pregnancy you must ensure it is a specific pregnancy massage. This means the therapist will have in-depth knowledge and be able to provide you with a safe massage. Gentle pressure may not cause any issues but more could be damaging.
While there's lots of information about these alternatives to curb walking, it doesn't always mean they're safe or work.
There are other suggestions such as using castor oil and evening primrose oil for labor induction. These are not commonly suggested as they can cause issues.
Curb walking to induce labor: does it work?
Exercising in general can help induce labor. There's a chance that using the pelvis in this way might help to get your baby into the birthing position. However, there is actually no scientific evidence that this does work.
But, if your midwife says it's safe and you feel comfortable trying it out, why not give it a go?
Even if curb walking does not help to induce labor, the mental health benefits associated with exercise are great. And there will be even more benefits if you can get outside for fresh air too!
Like we said earlier, just make sure that you do any curb walking in a safe environment. Don't forget to always have someone with you.
Most effective method of inducing labor
There are various reasons why you may be offered an induction technique at the hospital:
Health problems
Being overdue
Waters have broken, labor not started
One technique is called a 'sweep'. During this, an examination is completed to separate the amniotic sac from the cervix. This cervical examination may cause some discomfort. If the labor fails to start from this, you may be offered an induction technique. In some cases, a cervical ripening technique may be used.
Waiting for labor naturally
We know how hard the last weeks of pregnancy can be, you're desperate to meet your baby. Sometimes it can put you in a better position to wait for labor to start naturally. In this last little push, try not to put pressure on yourself or your body.
Whether you're active or not, we would recommend trying your best to take it easy. You'll need all the energy you can get when your little one arrives.
Hey there, I'm Abigail! 
I recently graduated with a degree in Marketing. I'm currently a freelance blogger and Marketing Assistant. I love learning new things and hope that you find my blogs useful and informative.
See you in the next article!
https://www.mybump2baby.com/wp-content/uploads/2022/07/Curb-walking-to-induce-labor-does-it-work.png
260
750
Abigail Sproston
https://www.mybump2baby.com/wp-content/uploads/2016/10/Logo-MyBump2Baby_transparent-bg-1-1.png
Abigail Sproston
2022-07-28 14:56:25
2023-01-19 13:08:40
Curb Walking to Induce Labor: Does it Work?