Just by hearing its name, Cybex Cloud Q definitely exemplifies a modern and technologically-advanced infant car seat. It is categorised within Cybex platinum line of products. It is stylish and dubbed by many parents as a game changer. It has been designed with great attention around your baby's safety and comfort without compromising stylishness and quality.
Cybex Cloud Q is packed with extraordinary features like a fully reclining backrest, 11 position height headrest and a foot rest that extends, giving your baby much room as he or she grows. No wonder it has become popular and definitely a fan favourite!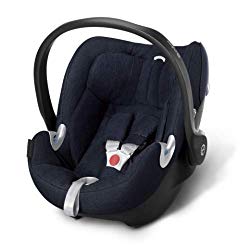 Cybex Cloud Q car seat is designed for infants from 0-18 months, weighing from 4-35lbs.
Talk about an infant car seat full of modern features. The Cybex Cloud Q car seat has been ergonomically designed which can be adjusted to fully recline and transform into a brilliant carry cot for newborns. This rearward-facing car seat also includes a 5-point adjustable harness which are padded, an 11-position height-adjustable headrest and a footrest that can extend automatically as the backrest reclines. Additionally, it features a Telescopic Linear Side-impact Protection (L.S.P.) designed to quickly absorb side-impact forces and channelling them through the flexible, "EPS energy absorbing foam-lined shell."
As an extra safety feature, the Cybex Cloud Q has an adjustable Load Leg base which prevents the car seat from rotating forward, keeping it intact during a crash and ensures that it supports and protects the baby's head, neck and spine.
In addition, the Cybex Cloud Q has an easy carry-handle, an insert for small newborns making them snug and fit in the seat and has a removable hand washable fabric. It also features a foldaway sun canopy and is certified for use in aeroplanes.
Cybex Cloud Q Car Seat Ease of Use
Being loaded with innovative features, the Cybex Cloud Q car seat may seem complicated to use, but set up is made simple with its quick and easy latch or vehicle belt installation. One of the downsides of this car seat is its weight, making it challenging for parents to lift and move from one place to another. The car seat recline also tends to be a bit fiddly, requiring some trial and error.
Overall, despite its advanced features, the Cybex Cloud Q is not too hard to use. The manual included provides detailed instructions which can take you step by step when installing or adjusting the car seat.
Yes, the Cybex Cloud Q comes with a price. It is probably one of the more expensive car seats out there, but this is due to the fact that it is more advanced than most car seats and the quality is worth the price. Although heavy, it is sturdy, which makes its quality more apparent when compared to other car seats. Not to mention, when you look at its stylish design, spending a little bit extra may not seem so bad.
The Cybex Cloud Q delivers on many aspects when it comes to safety, quality and innovation which make it worthy of the price you pay.
When parents, especially mums, talk about the Cybex Cloud Q, they are filled with excitement and are overjoyed:
 "This baby car seat seems so modern and designed with all of baby's safety and comfort needs in mind!  Knowing she is safe and snug when we are driving makes life easier!"
"This is an amazing car seat!  My baby is very safely and comfortably cocooned!  The various recline settings were handy as my baby likes to sleep in the car, and I was able to find one to suit her."
Evidently, the Cybex Cloud Q seems to be one of the most preferred infant car seats in today's modern world. It has been short-listed under innovation of the year award and won gold for the best car seats in 2016 for Group 0+.
If you are the type of parent who values ingenuity, this is the infant car seat for you. Safe, comfortable, forward-thinking, innovative, convenient, sturdy, cozy- are just some of the qualities that best describes the Cybex Cloud Q. Despite being expensive, it certainly offers great and extraordinary features that are non-existent in most of the infant carriers, specifically its ability to fully recline and transform into a comfortable carry cot so your baby can continue to sleep soundly without being disturbed, allowing  you to carry on with your busy life when you're constantly on the road.
Purchase The Cybex Cloud Q here
Read other Car Seat Reviews here.
Get the isofix base here.
[rwp_box id="0″]
Carla is the founder of MyBump2Baby. Carla has a huge passion for linking together small businesses and growing families. Carla's humorous, non-filtered honesty has won the hearts of thousands of parents throughout the UK.
She has previously written for the Metro and made appearances on BBC News, BBC 5 live, LBC etc. Carla is a finalist for Blogger of the Year award with Simply Ladies inc. Carla is also the host of the popular Fifty Shades of Motherhood podcast and The MyBump2Baby Expert podcast.
https://www.mybump2baby.com/wp-content/uploads/2016/10/Cybex-Cloud-Q-Review.png
813
2133
Carla Lett
https://www.mybump2baby.com/wp-content/uploads/2016/10/Logo-MyBump2Baby_transparent-bg-1-1.png
Carla Lett
2016-10-19 18:12:57
2021-10-20 11:29:38
Cybex Cloud Q Car Seat Review