DIY Newborn Photography – 10 Newborn Photography Tips for Taking the Best Photos

DIY Newborn Photography: Valuable Guidance for Capturing your Newborn at Home.
Whether you have taken steps to invest in a professional photographer to capture priceless memories for you or not, it is always good to have a basic idea of what to look out for when taking photos of your own. With technology rising to the occasion, our mobile phones are so handy when it comes to "capturing the moment" or for creating your own styled "Home Session".
These tips will benefit you no matter what stage of the journey your child is in, from Newborn, through Sitter, Toddler, and beyond.
So, grab yourself a Cuppa and have a little read. Then set off with your Camera/Phone and click away with confidence!
The below points are designed as guidance to help you capture your own gorgeous memories of your precious little one. These tips are aimed at lifestyle, simple/naturally posed images. Please do not attempt the specifically posed/prop images like the ones a professional photographer would aim to capture as these types of images require important safety measures and specific training.
1. Safety First:
It is important to remember that Professional Newborn Photographers have all undertaken specialised training in both safety measures and techniques. My advice for your home DIY Newborn photoshoot would be to keep it Safe and Simple. Back and side-lie poses are the most natural and safest.
I do not recommend that you try any intricate poses like the "froggy" pose or ones that may seem "airborne". (These are all either composite images, that have been achieved through the magic of Photoshop, or correct angle captures. Baby is always safely on a bean bag or in a prop and never suspended in the air, left unattended or left without proper head and neck support.)
A simple wrap or swaddle will help keep baby cosy and create some texture to your image. And a simple side lie or on their back will work beautifully. You can use a little cushion or a small rolled up towel under their head to lift it slightly so that they are not completely flat. Never leave your baby unattended or unsupported.
It is also often a great idea to have someone help you when doing your own DIY baby photography, to best ensure the safety of your little one.
2. Time is on your Side:
One of the biggest benefits you have at home, (believe it or not) is that time is on your side! Unlike a professional photographer who is limited to the time set aside for the session, you can choose your time.
There's no need to rush and try everything in one day. You have time to experiment a little and best of all, you will be able to capture some of the tiny changes Newborns go through in the first few weeks.
The best time for Newborn pictures is up to the first 20 days since birth, but honestly, they change so much, and so quickly that there is no "bad time".
Remembering that you Have the TIME will help keep your stress levels low and boost all those Happy Hormones too. Take a few photos every day even, rather than trying to do a set "session".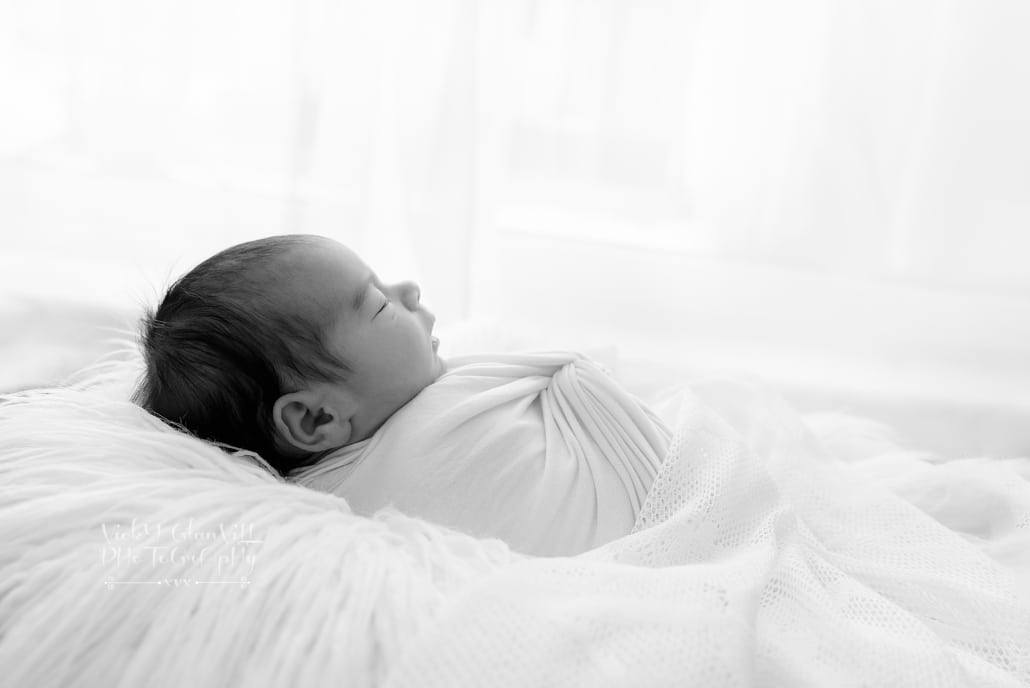 3. Happiness is Key!: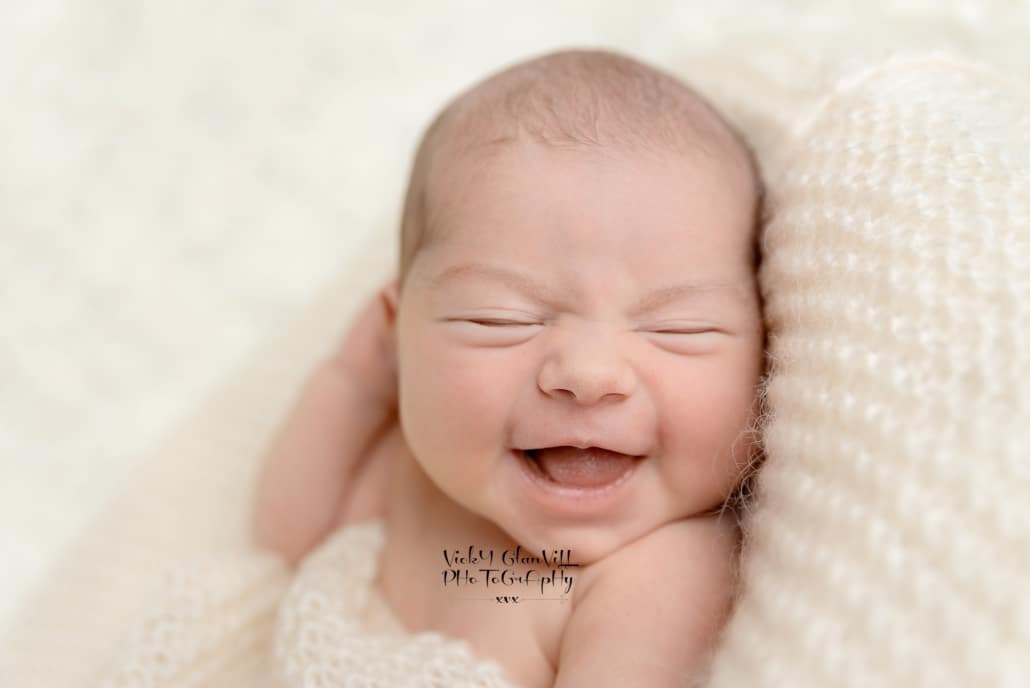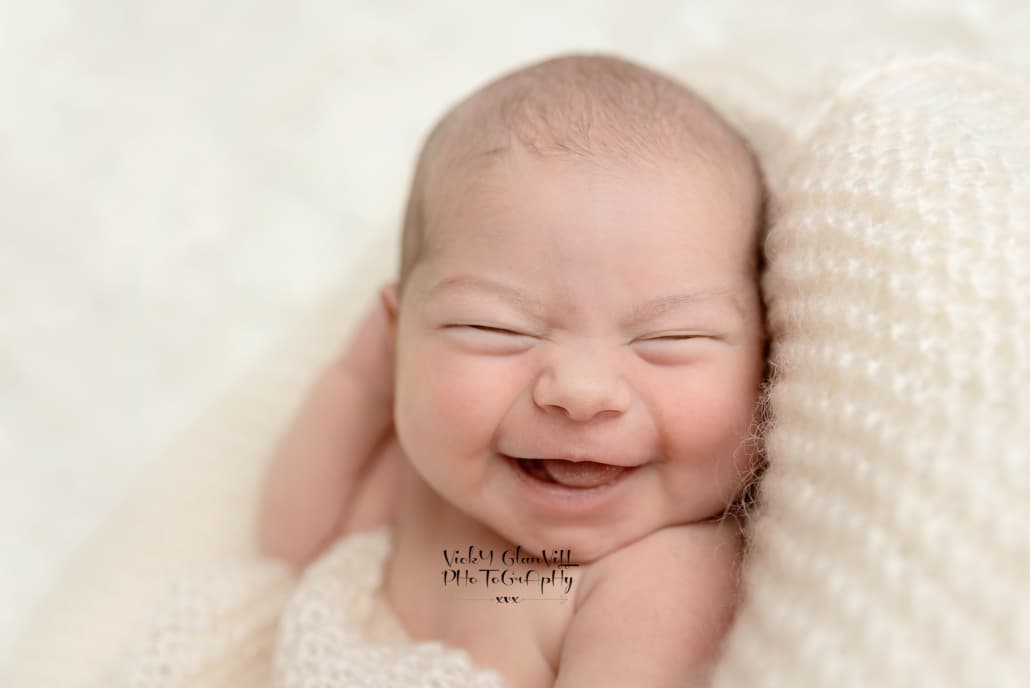 Keeping baby happy can often be essential to the success of your "session". Some easy ways to achieve this are:
a) Warmth – Newborns love being warm and cosy (it reminds them of the womb), No need to pump the heating up too much though (this can cause dehydration), but a "slightly-warmerthan-normal" room temp should be ok for the duration of a "session".
b) White Noise – If you haven't already, you can download any white noise app to play during the "session "to help keep your baby calm and comfortable.
c) Full Tummies – A newborn baby is easiest to manoeuvre when asleep, and they love to sleep when their tummies are full, so timing your session for just after a good feed will help keep them happy and asleep. A sleeping baby is a happy baby!
d) Mid-morning Sleepiness – Not only will this be the best time for great natural light, but babies do tend to be better sleepers in the mid-morning too!
4. Lighting Matters:
Lighting is often considered one of the most important things when capturing images on your camera (or mobile phone). You do not need any fancy studio equipment to get this right though.
You can utilise the beautiful natural light coming in through a window or French doors. Choose a room which has loads of natural light coming in for your DIY studio.
During the winter months on a sunny day, this light should be just right but during the steamy summer months, you may need to place a white sheet or sheer curtain over the window to soften it a bit.
Try some shots closer to the window, then other images slightly further away. If you feel the light is too harsh, try a different room with slightly different natural soft light. (South or north facing rooms are best.
Shake it up – Move around a little – Explore and experiment in different rooms and at different times of the day, the light will differ depending on the weather, the time of day and the direction the room is facing. Find the light that you feel works best for you.
When it comes to positioning your baby, the best thing to remember is to place your little one so that their head is towards the light, as opposed to their feet. And then aim for a 45- degree angle towards your light source or across from ear to ear…This way the light will shine down and across their face, creating lovely soft shadows.
One way to remember this is to picture a horror movie, when someone shines a torch held at their chin to light up their face – Eeeeeek– you want the OPPOSITE light direction with a slight angle to create either a 45-degree or 90-degree light source.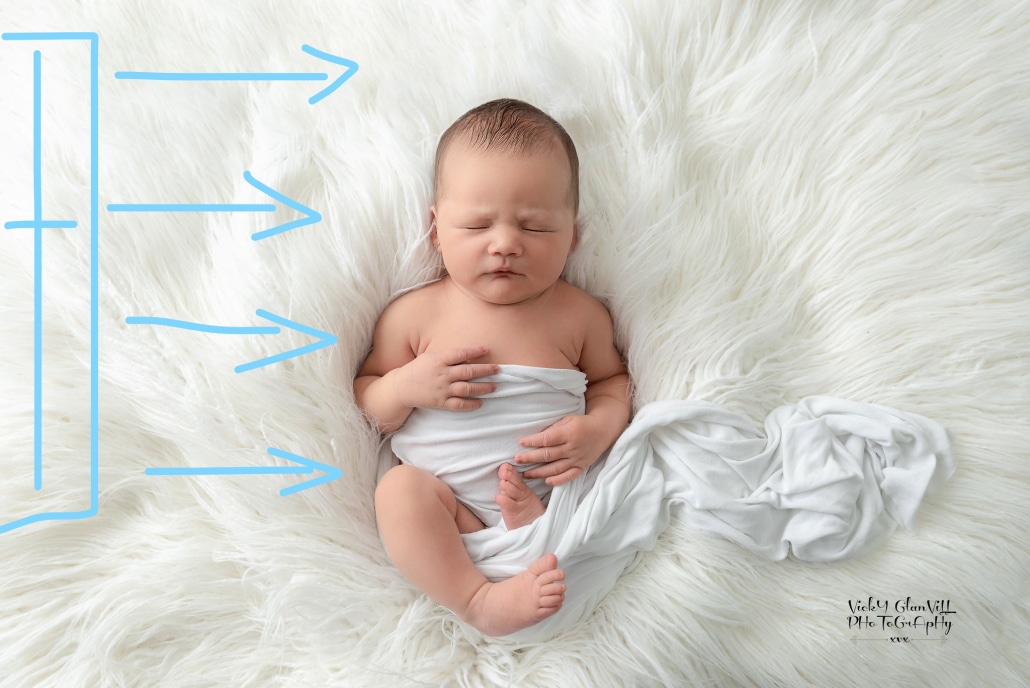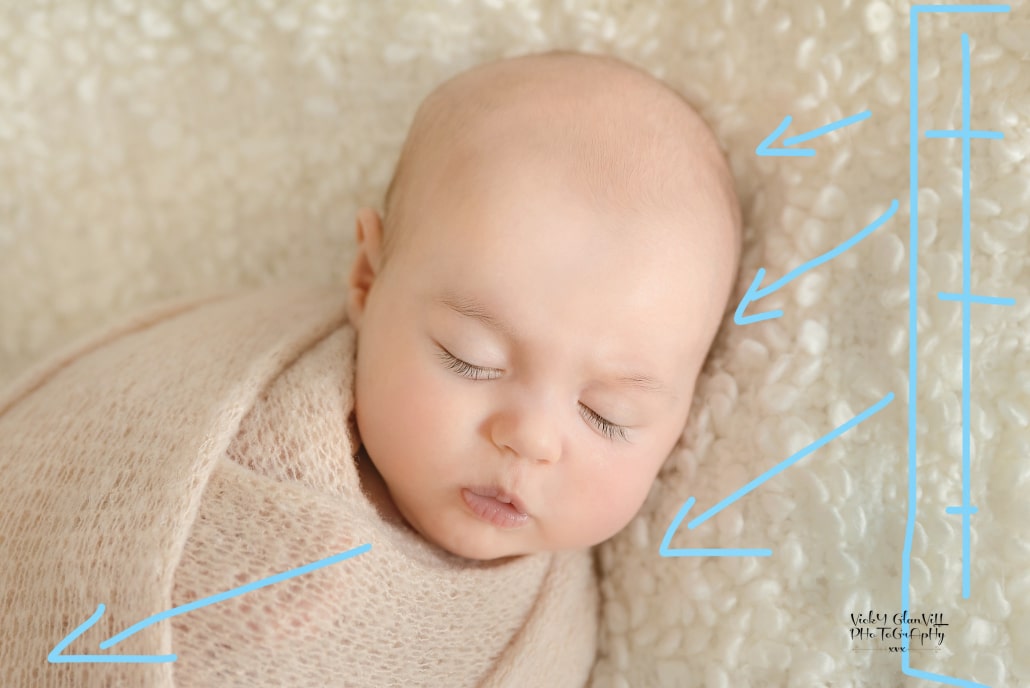 Examples of light direction at 45 and 90 degrees to the light source.
5. Set it Up Right:
a) Camera:
If you are using your mobile phone or a camera it is best to set it to a portrait mode. This will help blur the background a little and smooth out the skin tones. I tend not to recommend using Filters as they do detract from the main focus (Your gorgeous angel!)
If you have a DSLR or Mirrorless Camera, try and keep your focus point mostly on baby's eyes, and set your camera to a low aperture (about f/2.8 if you can) as this will help to blur and soften the background.
Do utilize a portrait lens if you have one (a prime 50mm for example) and try avoiding wide-angle lenses, which may cause lens distortion in your images.
b) Room:
Declutter the DIY Studio – Try to make the space/room as tidy/clear or as empty as possible. By doing so you will be taking away the unwanted distractions, leaving your little one as the main focus of the pictures.
The easiest (and quickest) way to do this, especially if you have other children at home, is to simply grab a large laundry basket or the like and shove everything that's lying around into it for the duration of your "session".
If you are using the bed, or perhaps the floor with a blanket/material under your Newborn, try to remember to keep pulling the duvet, sheet or blanket tight to keep it wrinkle free. You could even have your partner, friend or older child hold up the blanket as a makeshift, simple "backdrop" behind baby, to keep from having the background "noise/ mess" in your photos.
I would not recommend using a couch or settee to place baby on, especially if you are alone, as this could potentially be dangerous if they decided today is the day to roll!
Remember to never to leave your baby unattended.
6. Angles, Angles, Angles.
When taking your beautiful pictures, try to position yourself closer to your baby's head than their feet. The best way to achieve this is to carefully, stand directly over your baby.
This will help your images look more flattering than a picture where you are looking up baby's nose. Try to keep moving around a bit too, and "shooting" from different angles to create a different perspective of the same position / pose.
Don't forget: Safety First! – When standing over your little one, do make sure that your camera strap is safely around your neck or safely strapped to your wrist. The images below show the same pose at different angles creating such different images and yet the baby has not moved at all.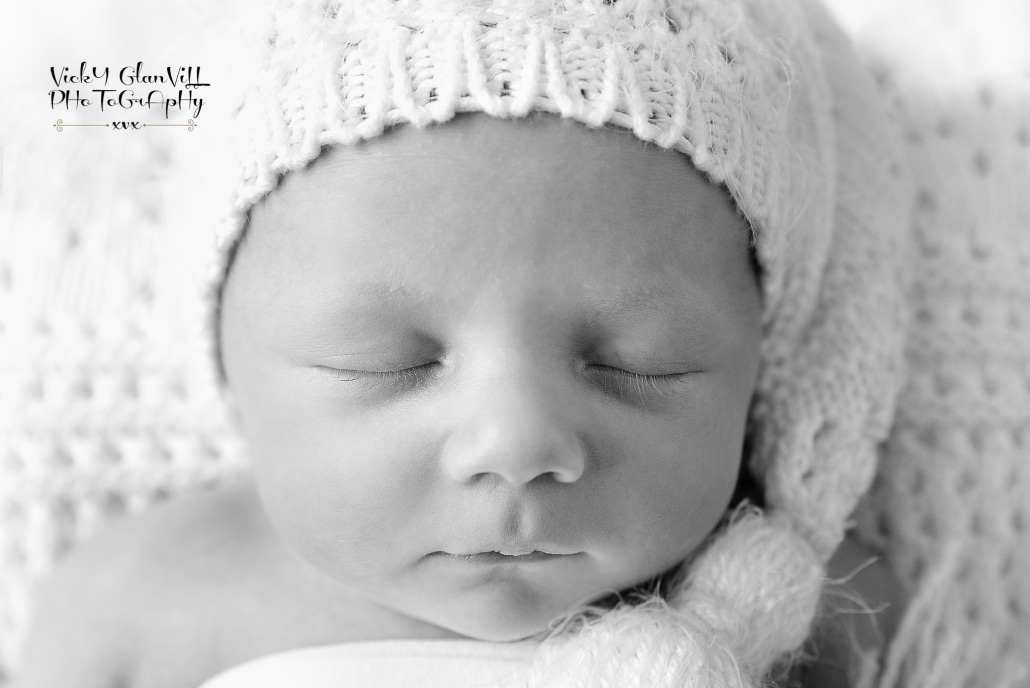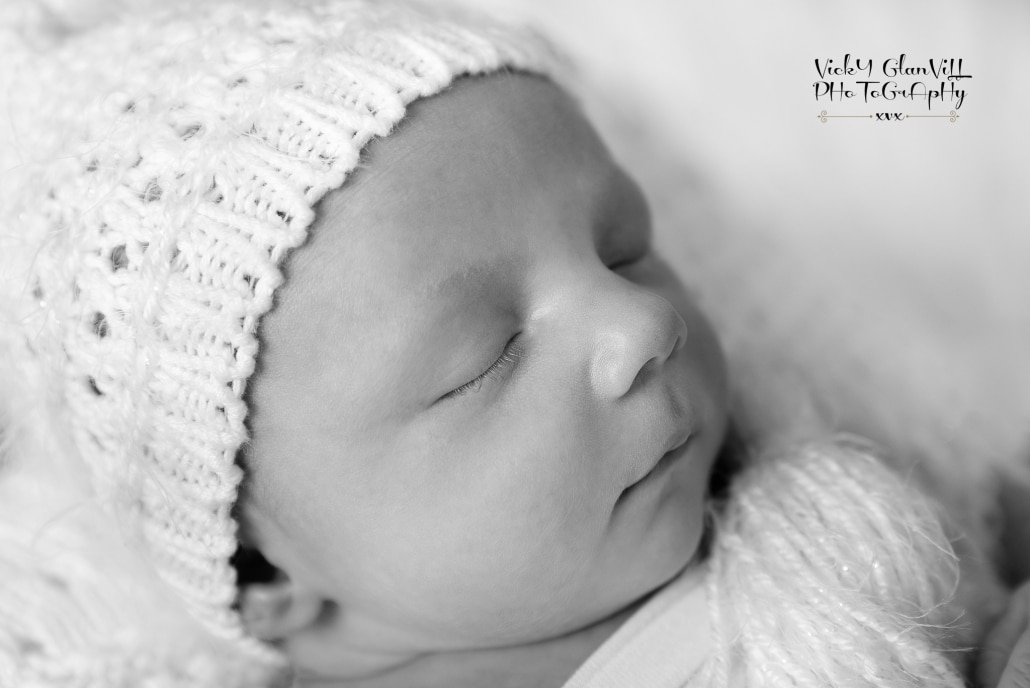 Try and get down as low as possible too, as this will put you (and the camera) on the same level as your baby, and you will also be able to get some lovely close-up shots.
7. Capture their details:
Don't forget to capture all those sweet little early-day baby details. Keep an eye out for that gorgeous baby pout, those full plump lips, their sweet chubby cheeks, precious button noses, long piano-playing fingers or cute short digits and dinky little toes.
That amazing head of hair or luscious baby curls – All the little things you will want to remember as time passes. You will tend to find that these little details will change so fast as your baby grows. Mostly though, remember to experiment and have fun!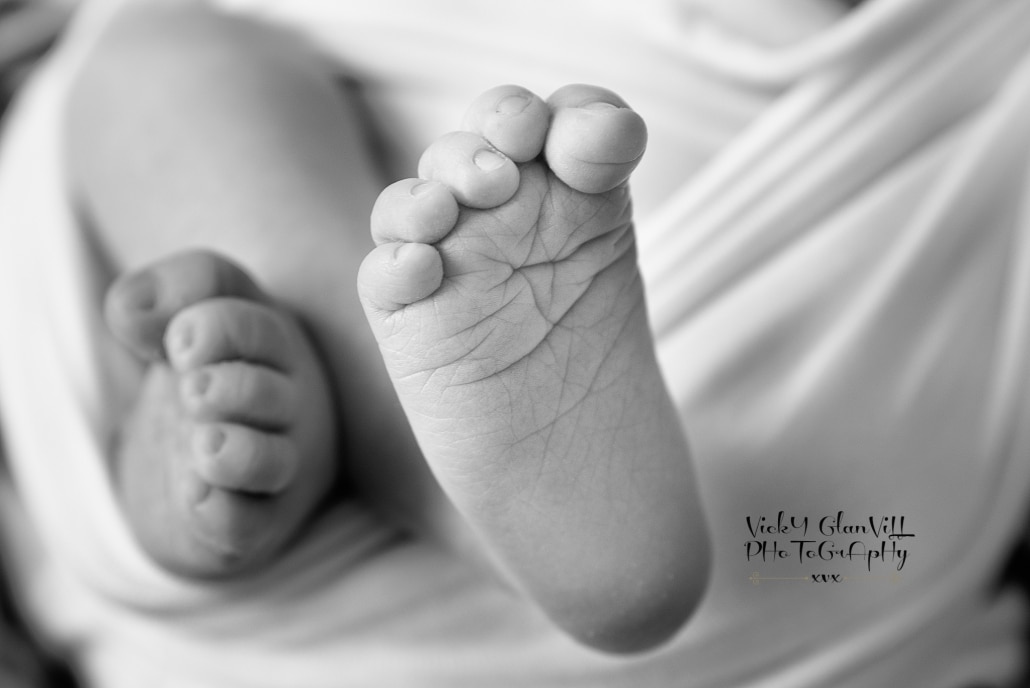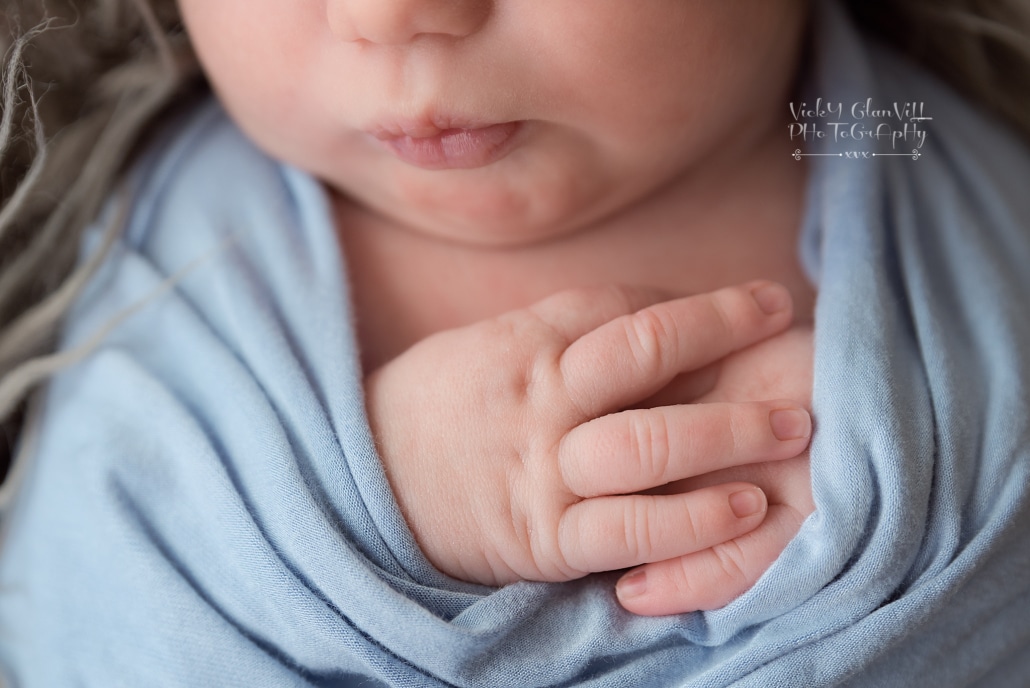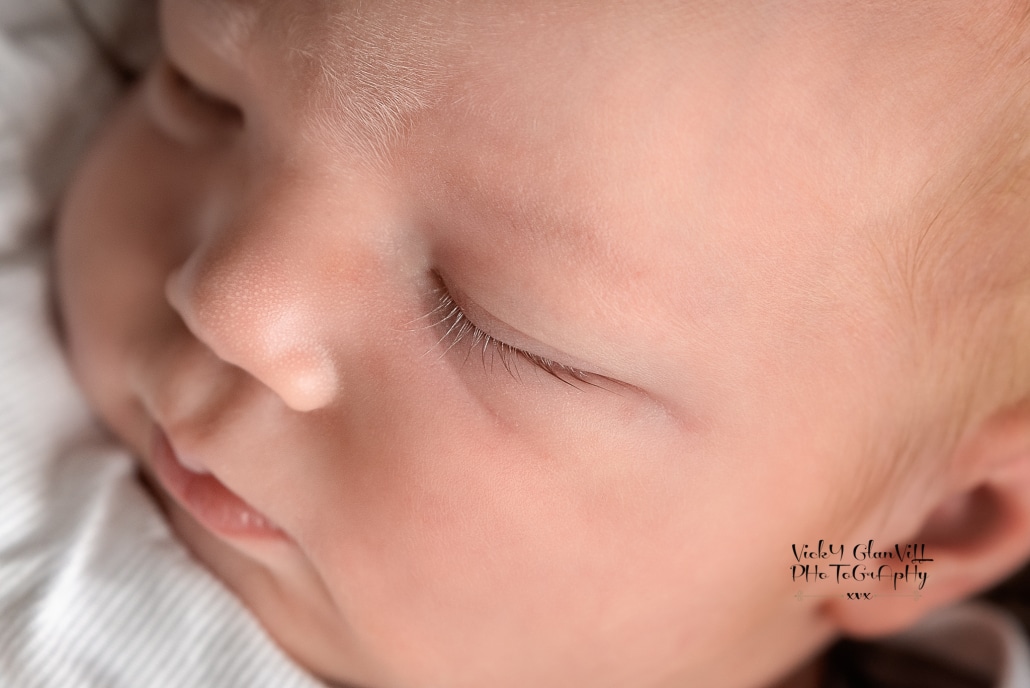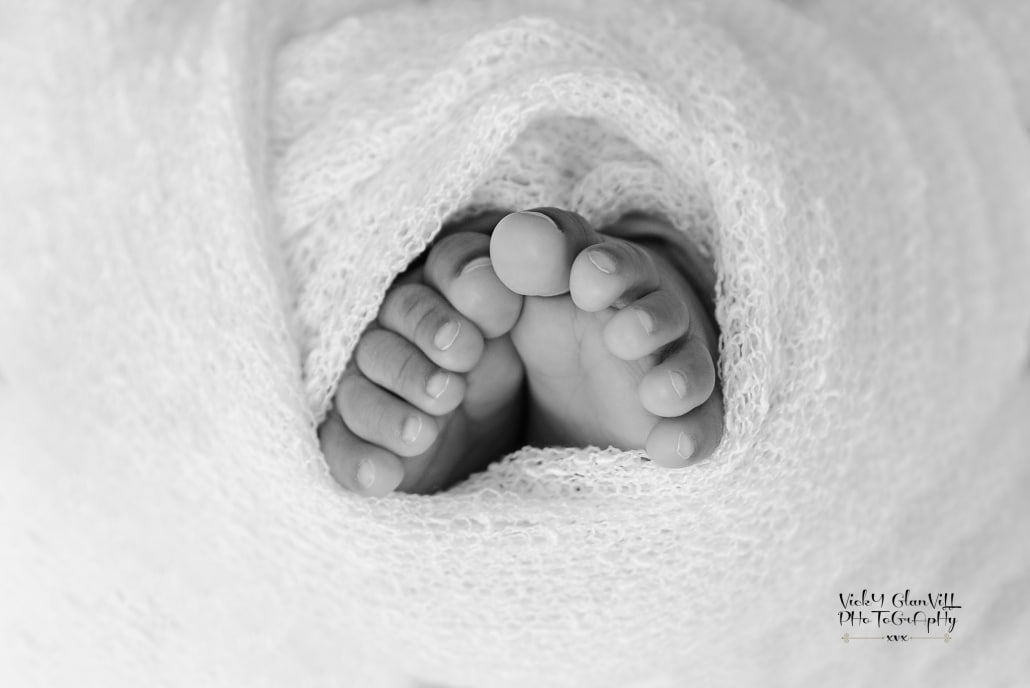 8. Oh Brother! –Sibling Time:
One of the best ways to get your older children involved and to ensure they know they are still special even though the new arrival may be getting all the attention, is to include them in your photo session!
Some of the most adorable memories are the ones with all your children together. Older children may be able to hold their new brother or sister safely whist sitting, whereas simple laying down poses are perfect and safest for younger children.
Remember to have fun and don't get stressed if the siblings don't play along at your first attempt – they too will probably be much happier if their tummies are full, and the "session" is full of laughter and fun.
Remember you have the time to experiment and play, and not all your pictures need to be captured on the same day. (Toddlers often don't work to our plans anyway!).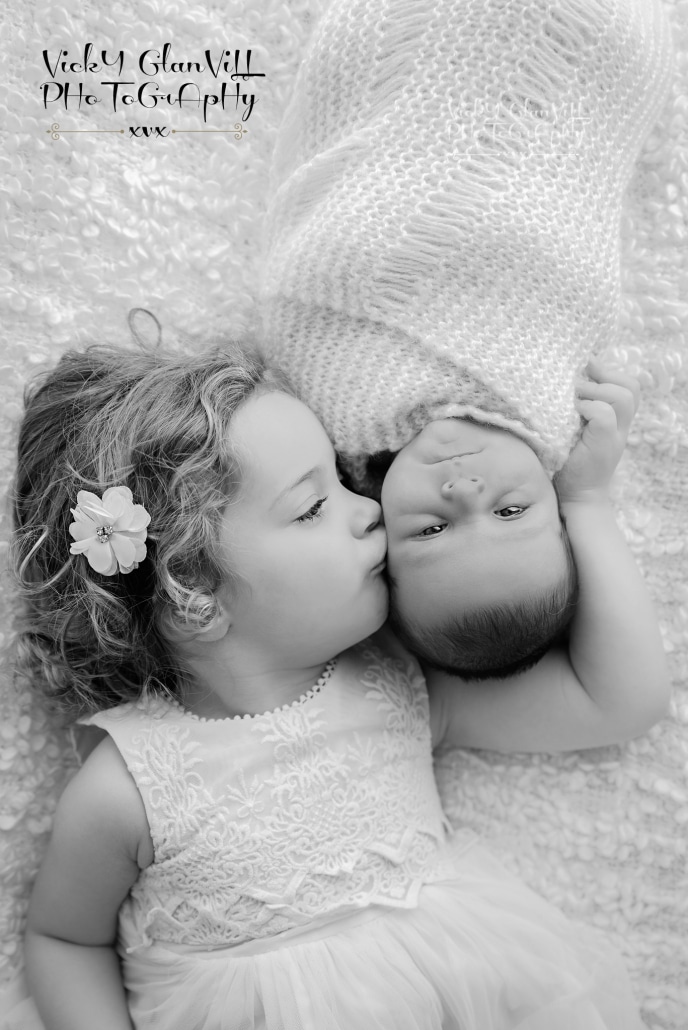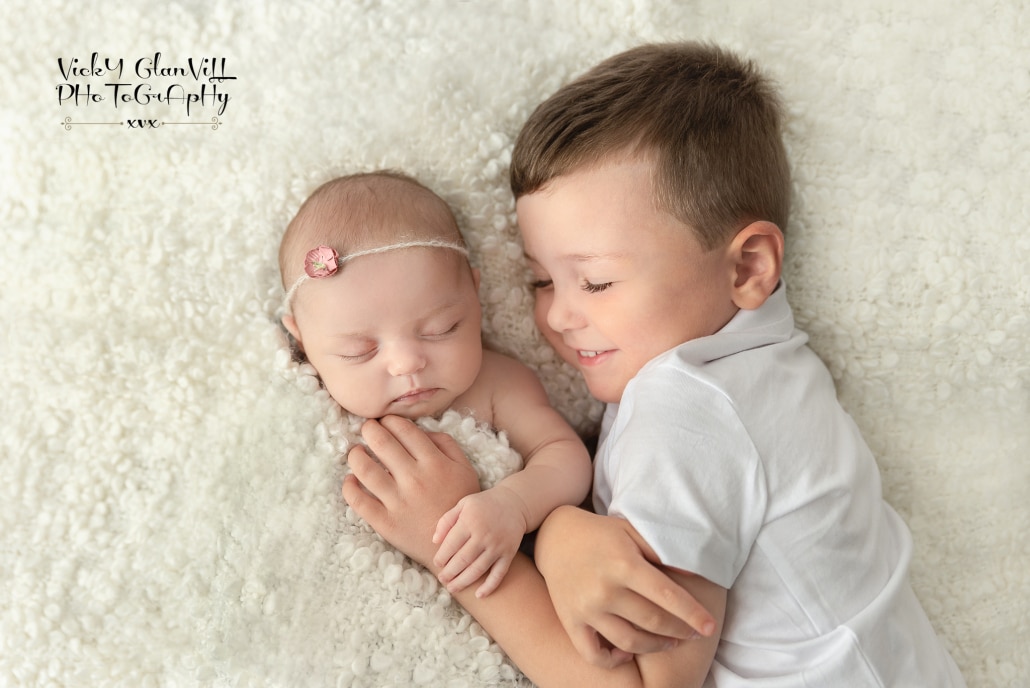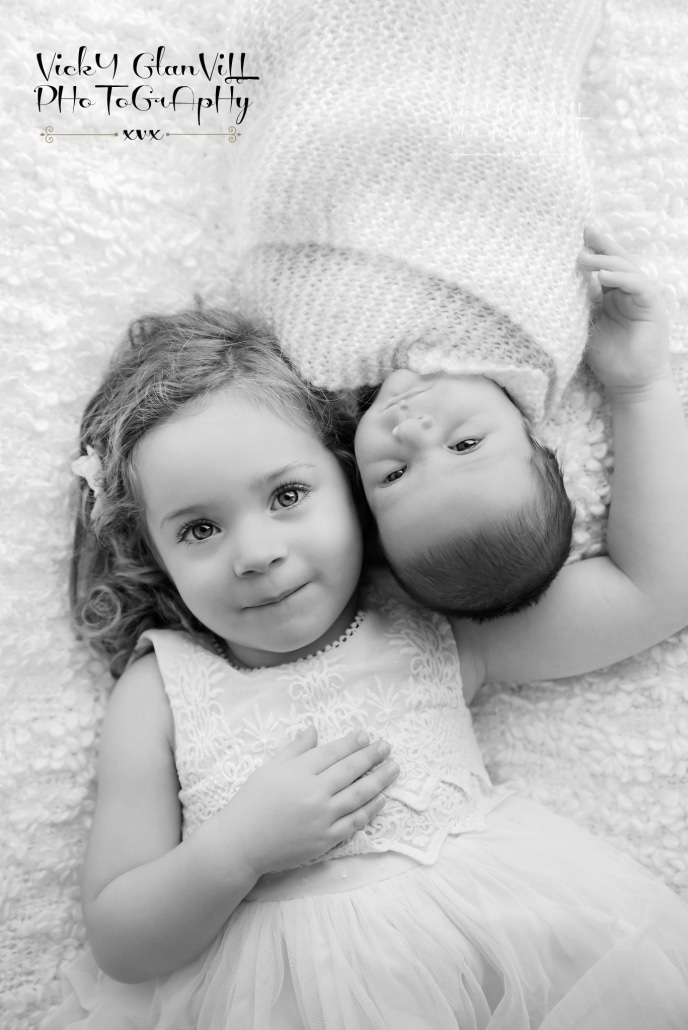 9. Don't Forget about YOU! –
As time passes and the busy days are filled before they have even begun, you will find that it is always you who takes the photos, the quick "snap-shots" to capture precious memories.
It is always recommended that you make time to give the camera to someone else – your husband, parent, an older child, or a friend – and get a few pictures of yourself with your new baby too.
You will be thankful later that you did, and it will be a priceless memory for your little one to see you in their photos with them, as they grow up, so… JUST DO IT!
Holding baby close, in a cuddle pose, over your shoulder (like when you are burping them), or against your chest, are often the easiest and safest way to capture parent cuddles photos.
You can even try images that have just your hands in, for example when baby is lying down, slide your hands gently beneath their head or try holding their precious little feet between your hands…or perhaps a simple profile, nose to nose capture. (Like below).
Don't try anything hazardous though and always remember to support your baby's neck and head.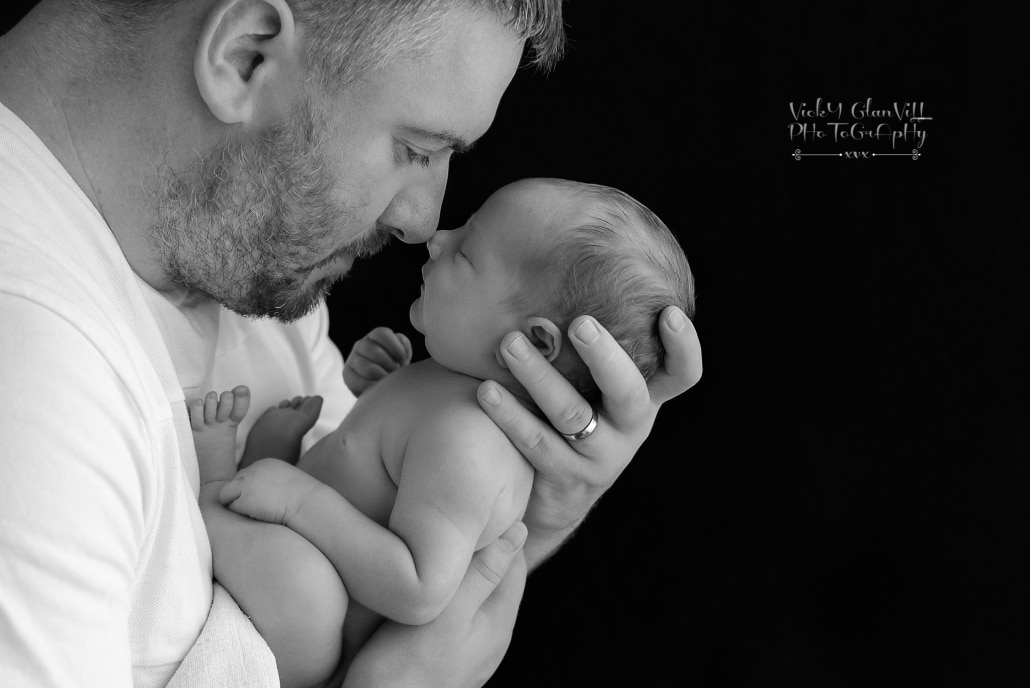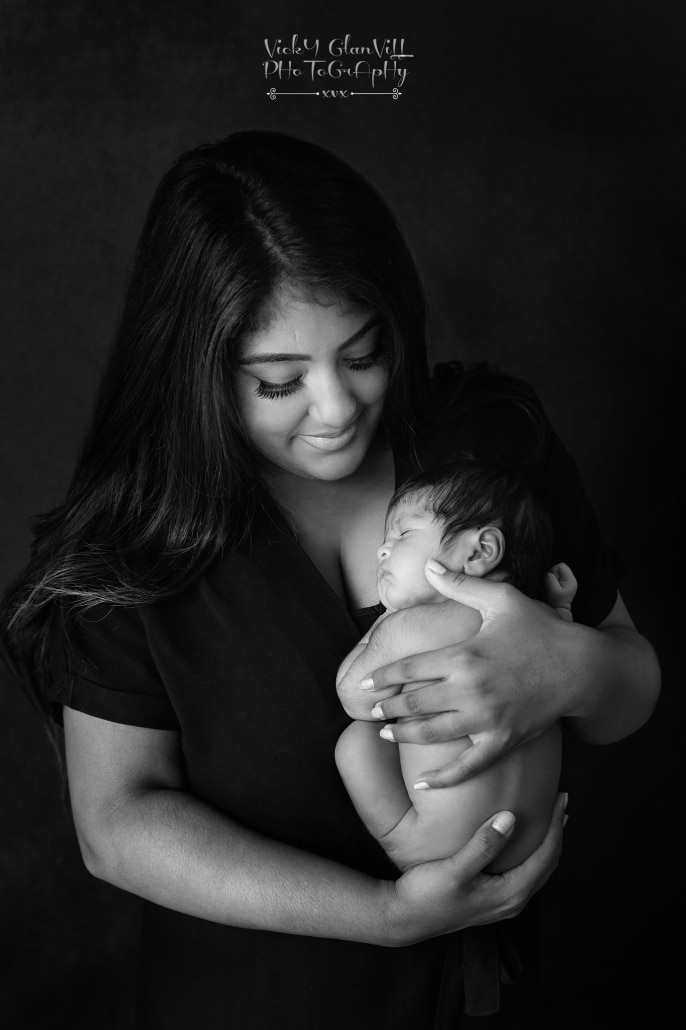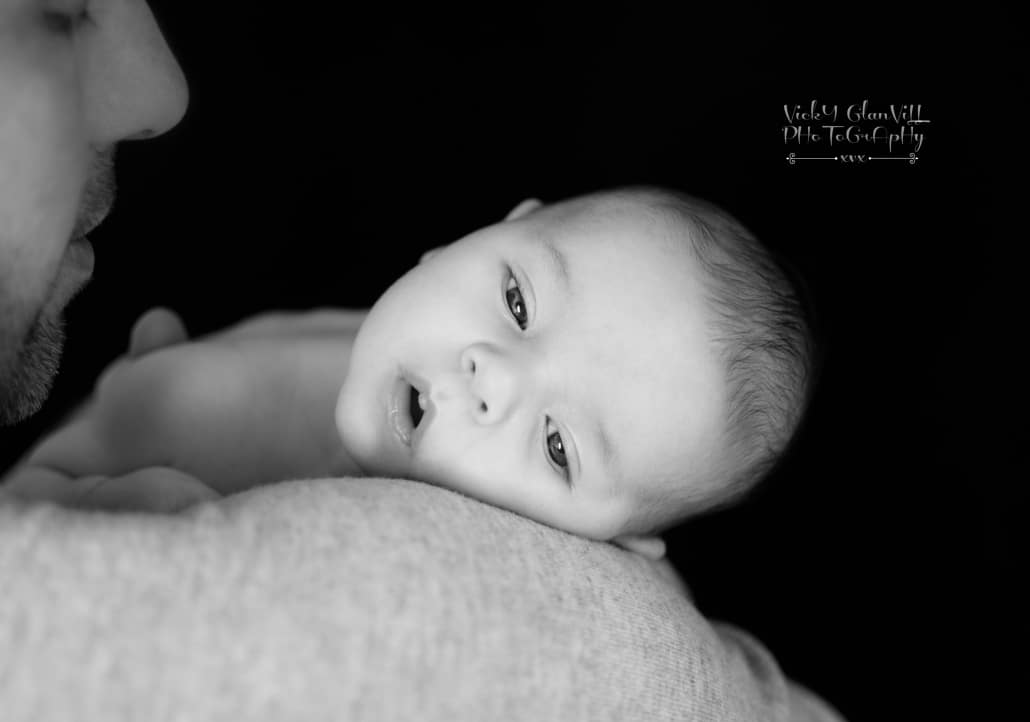 10. Head to the Printers! –
There is NOTHING more important than printing out your precious memories – Especially the ones you have captured! Don't leave them, forever lost in the chaos on your phone, don't wait for that "better day" ….. Take the few minutes to get yourself online or to the printers, place that order and HANG those PRINTS!
The best family photo walls are those which grow with you, as your family grows.
If, by any chance, this all seems like it's a little too much to take on, causes you added stress you don't really need, or you would just prefer to book in for a Professional Newborn or Baby Session, drop me a line and we can take the stress and guesswork out of the way! Email: [email protected] Vicky xvx
Contact Vicky Glanvill
This wonderful article was written by Vicky Glanvill: our exclusive newborn photographer in Maidenhead.
If you are based in Maideanhead and would be interested in Vicky's services, or have any enquiries, you can find more information and contact her via the methods below:
Hi I'm Vicky. 
Besides being a mum to two gorgeous boys, (My "real" day job.), I am also a registered, qualified & Award-winning photographer with the Guild of Photographers. My specialty is Newborn Photography, for which I have had, and continue to receive, extensive training. I also offer Toddler, Child, and Family photography along with Corporate or Professional Headshots. You can find me in the lovely little town of Maidenhead, Berkshire where I run my Photography business from my quaint home studio, or the surrounding, gorgeous landscape locations, for my outdoors sessions.  Capturing Memories is an amazing job, and I LOVE it! xvx
https://www.mybump2baby.com/wp-content/uploads/2022/09/DIY-Newborn-Photography-.png
630
1200
Vicky Glanvill
https://www.mybump2baby.com/wp-content/uploads/2016/10/Logo-MyBump2Baby_transparent-bg-1-1.png
Vicky Glanvill
2022-09-21 12:00:13
2023-04-13 16:42:40
DIY Newborn Photography - 10 Newborn Photography Tips for Taking the Best Photos