Baby showers are becoming more and more popular in the UK, I absolutely loved mine and I couldn't possibly count how many I have actually been to. One of the best gifts I received was a nappy cake full of absolutely gorgeous items (all absolutely needed and 100% necessary). The stunning nappy cake was packed to the brim full of disposable nappies. All I saw on the day was a lovely thoughtful gift that must have taken absolutely ages to make, certainly not something I would have the time to create myself, however since receiving one and reminiscing about how much it meant to me – it is now my first choice when I go to a baby shower.
It was whilst searching for a new business to purchase a nappy cake from that I stumbled across a news article about how many nappies are thrown into landfills every year. I must admit that I had never really given much thought about it, I had been so happy with mine and so grateful for the thoughtful gift that the impact on the environment was the furthest thing from my mind. Now, as a busy mum of one I have always used disposable nappies and the thought of just how many nappies I have contributed to landfills over the years truly makes me feel ashamed.
So now that my little one is out of nappies I want to help, but I also still want to buy my friends lovely nappy cakes like the ones that had meant so much to me. I definitely don't have the time or the inclination to make them myself so could there be a business out there that made eco conscious nappy cakes and baby gifts? I was delighted to find that there was such a business out there that could help me make a small difference to the environment with my gift buying. I give you Gooseberry.
Gooseberry lovingly makes eco-conscious gift baskets and nappy cakes hoorah!! They are the perfect gift for ideal for baby showers and new arrivals. Refreshingly Gooseberry's aim is to create as little waste as possible.
All of their products contain compostable, recyclable or reusable materials. Gooseberry uses the best, most sustainable, environmentally friendly and ethical products and materials in their gift baskets and nappy cakes even their cellophane is compostable. Everything is cruelty-free and suitable for vegans with all toiletries and fabrics being organic. Gooseberry was created by a lovely lady who after noticing the nappy cake revolution wondered if there was anyone out there creating eco-friendly versions.
Having always cared about the planet and the impact she was having on it she had always used washable nappies on her own children, as well as preferring organic, natural fabrics and toiletries on their skin. So with this in mind her business was made. Selling on Etsy and eBay gooseberry provides the most wonderful gift ideas and my personal favourite gift idea the nappy cake.
Gooseberry welcome custom orders by finding out the amount you'd like to spend and working together with you to make the ideal eco-friendly gift. Gooseberry use products from the following companies; Kit and Kin, Beaming Baby, Earth Friendly Baby, Bambino Mio and Child's Farm. They are also keen to support other small businesses and are always looking for suitable products to add to their creations.
Due to their savvy idea and eco-friendly product use Gooseberry has been recognised by Members of South West England Vegan Businesses recommending their business as an "outstanding business"
Returns policy for Gooseberry
Whist always striving to use recyclable and reusable packaging if there are ever parts of the packaging you can't reuse you can even post them back to Gooseberry and they will send you a voucher for your next purchase, they will even send you an envelope to put them in, now that's caring!
If you are like me and want to do a small part to help the environment but love buying gifts such a nappy cakes for a baby shower, take a look at Gooseberry and be assured that the gift you give is friendly to the environment.
Based on the testimonial and the eco conscious products used we have awarded Gooseberry the recommended on MyBump2Baby badge.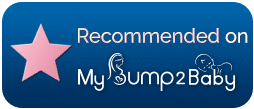 Carla is the founder of MyBump2Baby. Carla has a huge passion for linking together small businesses and growing families. Carla's humorous, non-filtered honesty has won the hearts of thousands of parents throughout the UK.
She has previously written for the Metro and made appearances on BBC News, BBC 5 live, LBC etc. Carla is a finalist for Blogger of the Year award with Simply Ladies inc. Carla is also the host of the popular Fifty Shades of Motherhood podcast and The MyBump2Baby Expert podcast.
https://www.mybump2baby.com/wp-content/uploads/2019/08/Environmentally-Friendly-Nappy-Cakes.jpg
1563
1563
Carla Lett
https://www.mybump2baby.com/wp-content/uploads/2016/10/Logo-MyBump2Baby_transparent-bg-1-1.png
Carla Lett
2019-08-06 12:21:07
2020-12-31 08:48:03
Environmentally Friendly Nappy Cakes