Family Christmas Gift Guide 2021
Disclosure: This article may contain affiliate links, this means at no cost to you, we may earn a small commission if you purchase a product through them.
Welcome to the 2021 MyBump2Baby Christmas Gift Guide!
With Christmas fast approaching, the hunt for the perfect Christmas gifts is underway.
This year's Christmas gift guide features brands and products that you cannot miss this Christmas!
Jaques of London
Jaques of London is a family business which has been passed down from father to son for eight generations. As the oldest games company and sports manufacturer in the world, the Jaques name has a longstanding history in British family fun, having invented many well-known games, such as Croquet, Ping Pong, Snakes and Ladders, Ludo, Tiddledy Winks, The Staunton Chess Set, Happy Families, Snap, and many more.
Founded in 1795, they have been teaching the world to play for more than 225 years. Their extensive toy range celebrates Montessori play as a foundation for effective early learning. Jaques' exclusive toy range has been designed by UK teachers to offer children a hands-on learning experience. The Jaques of London portfolio paves the way towards self-discovery and provides a platform to bring families together interactively.
Our ambition is to extend our own family heritage to that of our customers, in forming a close bond that not only values our customers as individuals, but as a group who share life's most valuable moments together.
As ongoing Award Winners (as voted by parents and children), we have grown a brand that has a direct connection to those we are most ambitious in helping. Through the power of play, we unveil the excitement of learning through traditions that have last and will continue to last for generations.
Website: www.jaqueslondon.co.uk
Instagram: @jaquesoflondon
Facebook: https://www.facebook.com/jaquesoflondon
 
Besties Doggie
ITS CHRISMAS!! LET'S CELEBRATE!!
One thing lockdown has taught us, is how important our family and friends are! And, for a lot of people, dogs were our saviours in many ways with their unconditional love, companionship, getting exercise and meeting new people, to name a few.
If you are a dog owner, you will fully appreciate that they are a HUGE part of our family and are as much our babies as are our own children! So, lets spoil our four-legged fur babies (our very own Bestie's) because they deserve it too!
My homemade dog treats are all vegan and are the perfect, healthy, guilt-free gift you can give your Bestie! The Christmas range include Advent Wreaths (a daily treat to count down to the big day itself) Christmas Gift Boxes (that include toys and treats), Cookies, Biscuits or Dog Friendly Chocolates!
Prices range from £4 – £30 (plus £3.95 P&P within the UK Mainland only)
Contact: [email protected]
TEL: 07977234836
Web – www.besties-dogg.ie
Facebook – https://www.facebook.com/bestiesdoggietreats
Instagram – https://www.instagram.com/bestiesdoggietreats/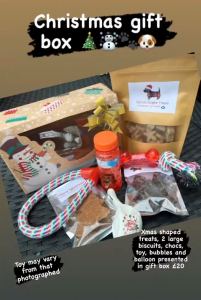 Wellness Empowered
Wellness Empowered is based in Wigan and run by Julie, who is a Women's Wellness Coach with a huge passion for health and wellness. This started from her own health journey, after suffering from issues with her weight and also Ulcerative Colitis.
2021 has been an exciting year and the launch of a new Holistic Core Restore®️ Programme, EveryWoman.
It is a FOUNDATION, GROUND-BREAKING 6/12 Week Pelvic Floor and Core Health programme that truly is a gift that keeps giving and one that we feel EVERY WOMAN should experience it at least once in her lifetime!
The programme takes you on 6/12 weeks of education and REVOLUTIONARY 'WHOLE BODY' Pelvic Floor and Core exercise, layered with delicious nutrition and self-care guidance whatever life phase you're in. It is a tried and tested programme that's been getting AWESOME RESULTS SINCE 2013!
The programme is adaptable for virtually all women and is designed to bring you 'back home' to your amazing body with your Pelvic and Core Health at the centre of our focus.
My passion for helping clients means, I work with you as an individual, there is no one sizes fits all approach.
In all aspects of my work YOU as the client matter to me!
If you would be interested in working with me in 2022, get in touch:
www.instagram.com/wellnessempowereduk
www.facebook.com/wellnessempowereduk
Holistic Core Restore coaches are available across the UK, want to know if there is a coach near you, check website to find more: https://www.holisticcorerestore.com/will-these-programmes-help-you/find-holistic-core-restore-coach-near/
The Artist's Bookshop
Find the perfect gift at The Artist's Bookshop. As a partner of one of the world's leading independent book publishers, Usborne, our products are both educational and entertaining. We have something for every age from birth to adult and cover many interests. Like Usborne, we believe in the power of children's books. Books open doors to new worlds, allow children to walk in someone else's footsteps, help them learn new skills, and encourage them to explore new ideas. For this to be effective, all children – including children of every ethnicity, age and gender – must be able to see themselves in our books, as well as seeing people who are different from them, in many ways. So let us help you find the perfect gift this Christmas.
Memories Box
It is estimated that in 2015, 41,000 dependent children lost a parent before the age of 18. That is 112 newly bereaved children every day*
Everyone at some point in their life will experience grief, be it the death of a loved one, a pet, the end of a relationship or job even.
Children from as young as 2 have presented with emotions of grief, if they are not supported with this in a sympathetic and supportive way it can lead to issues throughout the remainder of their lives.
Memories Box has been created to help with this, suitable from 3yrs to young adults.
By combining the use of art therapy along with a story book, parents and carers are helped to have open and relaxed conversations with the children in their care.
This can help with general discussions about life, loss and grief, along with preparing for or managing a bereavement.
Boxes have also been created to help with understanding feelings and to help with anxiety and stress.
Memories Box offer a variety of designs. All include a storybook, arts & crafts and the paints to personalise the box itself. This can then be kept as a memory/keepsake box to keep those mementos safely inside.
Christmas lines & Angel inspired gifts are also available.
Website: https://www.memoriesbox.co.uk
Instagram https://www.instagram.com/memoriesbox.co.uk
Facebook https://www.facebook.com/memoriesbox.co.uk
Royal Touch London
A world first, this beautifully handmade multi-functional Sterling Silver Baby Bottle from boutique luxury retailer Royal Touch London makes the perfect sustainable Christmas gift for Baby – and it's an excellent investment piece too.
Sterling Silver is naturally antibacterial and antimicrobial, and so the bottle itself does not need to be sterilised which is a massive time saver for new mothers and gives them peace of mind every time their child needs to feed. The bottle has been cleverly designed to provide continued use as baby grows, thanks to a changeable lid that converts the bottle into a food storage container. Reassuringly, there is no food contact with any plastic in the bottle, and the supplied silicone screw thread lid and teats are BPA and BPS-free meaning that the bottle is safe as well as multi-functional to use – making this Sterling Silver Baby Bottle a real world first.
Silver has enjoyed a growth of more than 400% over the past two decades and this suggests that this gift would also make for an excellent heirloom and investment piece. The bottle is assayed in London and features the brand's iconic crown logo to guarantee authenticity.
The bottle complements an existing range of exquisite Christmas, baby shower and Christening' Diwali, Hanukkah and Ramadan gifts from Royal Touch London (www.royaltouchlondon.com) which includes a baby-friendly Sterling Silver spoon and fork set and a Heart mug perfect for weaning-stage infants.
The bottle is now available as a limited-edition round model or as a made-to-order faceted version (see images).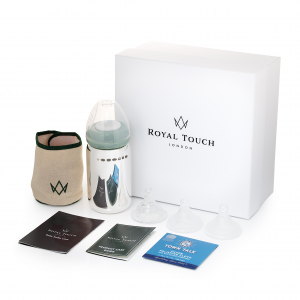 Tiki Lashes
Tiki Lashes was created to make lash application fast and easy, whilst focusing on the quality you look for in lashes.
Being 100% cruelty-free and Vegan, our main mission is to minimise the unethical use of Mink Hair. We use only the best materials and specialise in providing natural-looking and luxury lashes. Our lashes are suitable for all eye shapes and sizes. Our mission has always been to make sure busy mums and busy people in general still have time to do the things they want to look and feel great, like apply lashes, which is why we specialise in an easy application and natural-looking lashes. Your lash application will be super easy but if you are struggling, we are always here to help and offer 1:1 video tutorial support. 
We use strong magnetic liners which are safe to use on sensitive skin and are 100% Nickel Free. We also have adhesive pens that come in various different colours. The adhesive pens make application much easier and also helps keep lashes in place for longer.
EXCLUSIVE DISCOUNT FOR MYBUMP2BABY READERS (20% OFF): MYBUMP20
Website: www.tikilashes.co.uk
Instagram: www.Instagram.com/tiki_lashes_
Facebook https://www.facebook.com/Tiki-Lashes-100418975117435/
Colour Chronicles
Hi, we are Colour Chronicles. We make  baby and childhood journals to capture the magic and mayhem of family life – for every kind of family.
As the wonderful chaos of family life speeds by, our fill-in-together books are designed to help kids and their grown-ups slow down, connect, and share stories. They are a chance to have fun, see the world through each other's eyes and save special memories.
'The Baby Book of You: A record of your first year' – for new arrivals.
'The Book of You: A record of childhood' – for baby's 1st Christmas.
'The Book of Me & You: A record of us' – from a child to a special grown up (or the other way round!).
We believe in celebrating every family – single parents, same sex parents, adoptive parents, bonus parents and blended families. Family members who are gay or straight, trans or cis, able-bodied, disabled and neuro-diverse.
Our books are all created with inclusivity in mind and are 100% judgement free zones. We don't assume how babies arrive, and we don't assume which 'firsts' are important to you or which grown ups matter the most. Our journals are designed so you can create a record of growing up that is as unique as your family.
Give the gift of memories this Christmas.
'Those books may become the most important things we own.' – Dave Burden, Daddy to Huey.
Colour Chronicles. Celebrate every family.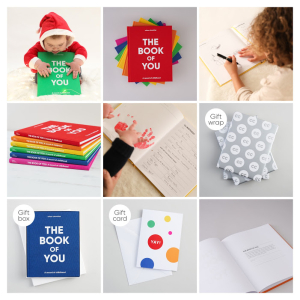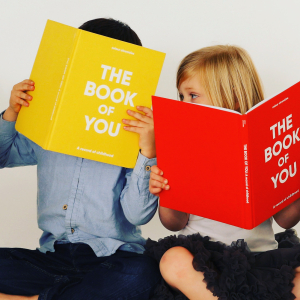 Bombaby
Bringing the magic of India into our homes and bedrooms, Bombaby is all about colourful and modern children's bedding with beautiful scallop trims, pom poms and tassels galore. It's all in the detail! Bombaby products are entirely hand-made by artisans in Jaipur; you won't find anything else quite like them. Beautiful block print quilts, roomy changing bags and matching accessories are available in gorgeous & quirky co-ordinating patterns, all designed by me.
Our signature scallop quilts really are to die for; all lovingly stitched by hand in India and modernised with neon brights and funky tassels. For smaller people, check out our mini quilts; the multi-tasking, stand out hero of our range. Easily rolled up and popped into one of our changing bags, the mini quilts work beautifully as roomy changing mats, play mats, picnic rugs, cosy car blankets or even as a quilted teepee floor mat on a hard floor.
No retailer of Indian textiles would be worth their salt if they didn't offer fabulous and roomy quilted washbags, all adorned with neon tassels & trims. Our luxe washbags are generously sized and feature water-proof lining and pockets, making them perfect for hoarding your cosmetics and toiletries; they are also the BIZ for stashing nappies, felt tips or whatever the hell you like!
As a busy working mum of two myself, Bombaby really has been a labour of love; I truly hope that you find the magic & joy in all of our products too.
Love, Sarah.
Hand made in Jaipur; pimped up by ME!
WELCOME10: 10% off your first order over £75
Links:
https://www.facebook.com/bombabyuk/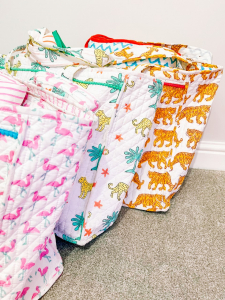 Gladskin
Better Science. Better Skin.
Gladskin uses patented technology to make revolutionary skincare products that solve real problems for people with inflammatory skin conditions, including eczema, and rosacea. Gladskin's products are microbiome-safe and help solve inflammatory skin conditions in a totally new way to actively balance the skin microbiome. Gladskin's mission is to make skin "glad" for everyone by working with the nature of skin itself to restore skin health.
Clinically tested, cleanly formulated, moisturizing, and steroid-free, Gladskin's Eczema Cream for Babies and Kids will be loved by parents and babies alike. Working noticeably fast, with noticeable results as fast as three days, this baby eczema cream heals in a different way than traditional over-the-counter creams and lotions.
Recommended by today's leading dermatologists and pediatricians, Gladskin's Eczema Cream is the new solution born from the nature of healthy skin. Gladskin's Eczema Cream balances your skin's microbiome–the natural bacteria that keeps your skin smooth and healthy.
Gladskin's Redness Relief Trio, featuring Gladskin's Redness Relief Cream, Makeup Remover, and Face Wash, brings peace to rosacea-prone skin. The Redness Relief Cream features Micreobalance®–a unique protein that restores the balance of the skin's microbiome while moisturizing. The Makeup Remover and Facial Cleanser gently wash the face without disrupting the skin's balance.
Gladskin's Shampoo Bar is formulated with minimal ingredients to gently cleanse sensitive scalps. Gladskin doesn't use any preservatives, fragrances, or harsh detergents found in typical shampoos that disrupt skin microbiome balance or exacerbate common skin concerns like eczema or redness.
Website: https://www.gladskin.co.uk
Facebook https://www.facebook.com/Gladskin.EU
Hi, I'm Louise- mum of one to a little boy called Mason.
I am the Digital Marketing and Admin Assistant for MyBump2Baby.
I enjoy working to provide excellent service to MyBump2Baby's growing families.
Nice to meet you!
https://www.mybump2baby.com/wp-content/uploads/2021/11/Family-christmas-Gift-guide-2022.jpg
630
1200
Louise McCamily
https://www.mybump2baby.com/wp-content/uploads/2016/10/Logo-MyBump2Baby_transparent-bg-1-1.png
Louise McCamily
2021-11-25 15:41:52
2021-12-01 12:09:05
Family Christmas Gift Guide 2021