You know when you meet someone and you instantly click? Well that is what happened with Sophie and Iat the Blogon conference last year. We were both fairly new bloggers and we stayed together and laughed together all day! We had no idea that only a year later our businesses would have grown so much. Sophie has been on TV numerous times this last year and her YouTube channel is taking off massively. I am so proud of her!
I personally love Sophies blog and vlog and I decided to interview her so you could see how amazing she is too!!
So Sophie, tell the MyBump2Baby community a bit about yourself?
Mama Mei (aka Sophie Mei Lan) is a multi-award-winning blogger and vlogger specialising in gentle-ish parenting and mental health.
Mum-of-two Sophie can be found running with her buggy throughout Yorkshire or breastfeeding, drinking coffee and eating Vegan food.
She is a qualified journalist and film-maker, having worked for local and national press as well as being dubbed "Britain's best Bellydancer!".
Sophie has now turned her talents to blogging, vlogging, column writing, speaking, and running Blog Up North Magazine and Influencer Network.
She chats mainly about parenting, health & fitness, lifestyle, food and business.  As well as doing lots of reviews of places to go, things to do and where to travel with the family.
What made you start blogging?
Good question! I started my first blog whilst at university it was called Verita Magazine (veritamag.com): "News, Views and Human Rights Issues." I focused on investigative journalism exposing human rights issues as well as building a team of budding writers and activists. I had always been interested in social justice and this was an outlet for my passions.
What is your blog about?
I now run a gentle-ish parenting and mental health blog called Mama Mei as well as a vlog on YouTube and a business blog on Evoke Media Group.
What is your favourite part about blogging?
I am so passionate about what I do and get lots of feedback from people who follow my blog and vlog especially as I am so open about my mental health issues and breastfeeding journey. I always enjoy it and look forward to writing for my own blogs and a variety of publications. I am also a trained journalist so I feel I am utilising my skills too.
What is your least favourite part about blogging?
As a journalist I am used to producing good content which will be seen by a large audience. Whereas with a blog you feel you are constantly flogging yourself and trying to build an audience and there is less time to focus on content – you're doing it all! Also, I am used to selling other people's work but I cringe at promoting my own.
What books do you like to read?
Uhm I am dyslexic and dyspraxic so I struggle reading for too long (even in the past when I read it would be the Secret Dreamworld of a Shopaholic). Now I try to read easy-to-read business books and self-help books. I love learning so I have to learn something in anything I do.
I mainly read blogs and online news articles as well.
Although I am writing my own book on Eating Disorders (using the help of other people in the same boat) as well as finishing off a book on breastfeeding.
What do you like to do at weekend?
I am really into fitness, so I love going to Body Combat and Zumba classes or running and most of all, I see the weekend as a time to see family and do any 'days out reviews' etc I have got to do. I love the theatre too and exploring the UK.
What are you scared of?
Letting people down! Also, poor mental health and not being there for my kids. But my blog and vlog help me in my recovery journey as it gives me a purpose to go through all of this and a focus to be as well as I can be and not fearing the unknown, just controlling what I can day-to-day.
What do you love?
My family, my friends, being pampered (my fave place is Aloha Holistics in Sheffield and Harmony Salon in Wakefield), blogging, vlogging and running businesses e.g. Blog Up North influencer network and magazine, Evoke Media Group (evokemediagroup.co.uk) and The Hepworth Café. I also help my husband with Pop up North
What is your favourite things to do with your children?
Doing anything active like football, riding bikes, learning to roller-skate and we love making Youtube videos together. I enjoy watching my chef husband Chris Hale teaching them to cook (especially when they're making Vegan food for me!).
Tell us an interesting fact about yourself?
I was a semi-finalist on ITV's Britain's Got Talent with my first love… bellydancing! I still teach and perform bellydance too.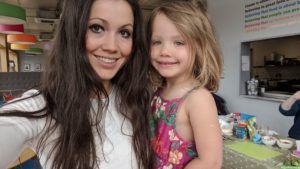 https://www.mybump2baby.com/wp-content/uploads/2018/06/mama-mei.jpg
1152
2048
Carla Lett
https://www.mybump2baby.com/wp-content/uploads/2018/08/My-Bump-2-Baby-Logo-1.jpg
Carla Lett
2018-06-13 12:12:23
2018-06-13 12:21:41
MyBump2Baby's Favourite Blogger of the Month for June - Mama Mei