Finding a Family Friendly Budget Hotel in Edinburgh
I was invited to Edinburgh for a job recently and we decided it would be nice to have a family mini break over the weekend. We love Edinburgh and even chose Edinburgh as our honeymoon destination.
Edinburgh is a beautiful city, it has everything you would want whoever you are, with the strange yet beautifully perfect amount of history peppered with the class and style that the modern society adore.

I was really excited to head to Edinburgh again but I wanted to make sure that we didn't spend more than I was earning as it wasn't in this month's itinerary and was an "off the cuff last minute decision"
The only downfall with Edinburgh is the price of the hotels, I looked at prices the weekend before and was utterly "gobsmacked", my first thought was "how do families afford it a night away these days?" We decided to have a look at for some "family friendly budget hotels" in Edinburgh but a little out of the city centre. I really wanted a hotel that had a swimming pool so we could have a bit of fun if we came back to the hotel early due to tantrums (which are pretty much inevitable with a 2-year-old).
After scrolling through hotel after hotel we finally came across the "Best Western Kings Manor Hotel" located only a 7-minutes train ride outside the city centre of Edinburgh. The price was fantastic and we decided to click to book. The hotel is a dog friendly hotel which originally put me off a little but I must stress that the hotel is extremely clean and well kept.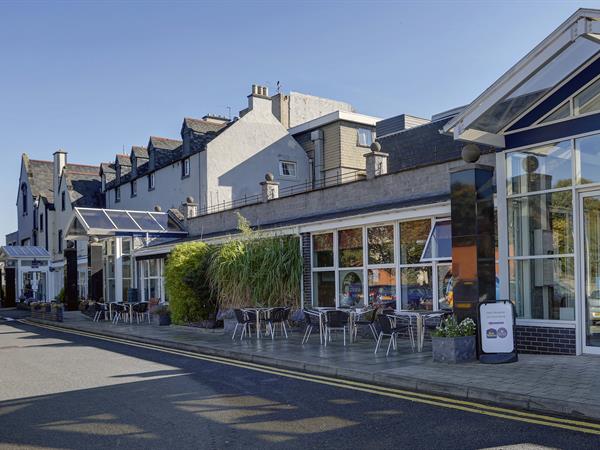 I decided to write this review after our trip to this hotel as I want families to benefit from this amazing family budget hotel in Edinburgh like we did.
Car Parking
We were really happy to see that car parking was included in the cost of the hotel, whenever we book a hotel I always forget about this additional cost.
Arrival
We walked in to the reception and we were greeted by Olivia who was absolutely lovely, she gave us a little colouring book for George with pencils, presented us with hotel information including swimming pool times, the wifi code and also helped us work out which transport would be best for us to get in to Edinburgh. Instantly we felt welcomed and we headed to our room.

The bus stop is located just outside the hotel and would take 20 minutes, the train is justa  few minutes away which would take 7 minutes or they could call a taxi for us, we decided to drive in to Edinburgh instead.
The Hotel Décor
The hotel décor was a little outdated but what do you expect when your hotel is half the price of other hotels in the area? I'd rather the hotel be a little outdated than twice the price.
The Hotel Room
Upon arrival we were upgraded to a club room which is always a bonus. The hotel room was  clean and extremely spacious, the travel cot was neat and was ready in our room when we arrived, there was a flat screen TV with around 30 channels and a PlayStation 2 which was a bit random but I thought it was a great idea. The bed was a queen size and very comfortable and we had an extra single bed in the bedroom too. You could have easily fit 2 adults and 2 children in this room without feeling to squashed.
There was a kettle with tea and coffee and plenty of biscuits. The room had an en-suite bath/shower which is ideal for toddler bath time (George hates showers).
George spend lots of time at the table colouring with the pack the hotel gave him which was handy whilst we unpacked and got ourselves ready.
Swimming/Spa
We were able to use the gym and swimming facilities during our stay at the hotel which was great. Gone are the days of being able to go for a meal then a few bars and stumble back to the hotel in the early hours – we now have a 2-year-old to think about. Booking a hotel with a swimming pool was important to us, reason being that if George "kicked off" early evening, we wouldn't have to come home and be stuck in the bedroom all night, we could use the gym or go swimming without the night coming to a halt.
The swimming pool had a baby pool that George could comfortably walk around in, he enjoyed splashing me and his daddy. We then ventured to the bigger pool but it was a bit too cold for me (I have major issues with cooler pools) George and his dad were happy and warm in it once they got in but I used it as the perfect excuse to sit in the Jacuzzi and then move on to the steam room and sauna. Every time they started getting bored, I kept saying to them "wow you are both such good swimmers" and they stayed in the pool a bit longer – what a treat!!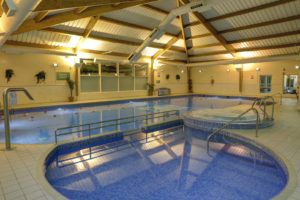 Bar
There is a bar attached to the hotel, I was told the bar is NOT kid friendly which is a bit annoying although I can understand it if people are wanting a quiet drink. There was a restaurant but we didn't try it, we headed in to the city centre instead.
______________________________________________________________________________________________________________
The Best Western Kings Manor hotel in Edinburgh was brilliant. I have stayed in some very expensive hotels and the service was incredible. The staff couldn't do enough for us, the hotel was clean and well-kept and I would definately recommend this hotel to anyone thinking of heading to Edinburgh on a budget.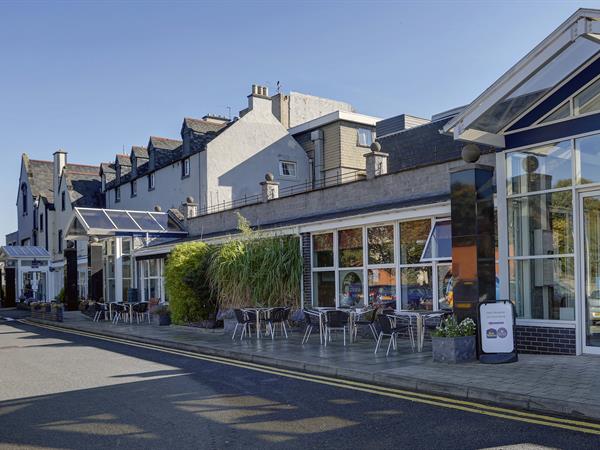 To Book the Best Western Kings Manor Click here
[rwp_box id="0″]
Carla is the founder of MyBump2Baby. Carla has a huge passion for linking together small businesses and growing families. Carla's humorous, non-filtered honesty has won the hearts of thousands of parents throughout the UK.
She has previously written for the Metro and made appearances on BBC News, BBC 5 live, LBC etc. Carla is a finalist for Blogger of the Year award with Simply Ladies inc. Carla is also the host of the popular Fifty Shades of Motherhood podcast and The MyBump2Baby Expert podcast.
https://www.mybump2baby.com/wp-content/uploads/2018/07/Family-friendly-budget-hotel-edinburgh.jpg
450
600
Carla Lett
https://www.mybump2baby.com/wp-content/uploads/2016/10/Logo-MyBump2Baby_transparent-bg-1-1.png
Carla Lett
2018-07-26 22:04:28
2018-09-19 15:16:39
Finding a Family Friendly Budget Hotel in Edinburgh