When we launch our businesses, we often want to appeal to everyone because we want as many customers as possible, but, this can be a huge mistake when it comes to marketing our businesses. Not only can it dilute our marketing efforts, but the results can often mean a business with minimal profit. Finding your niche in business is a MUST.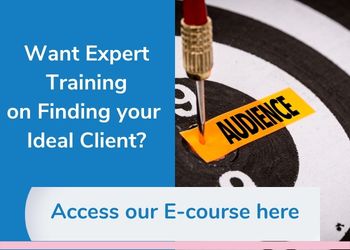 By not having a niche market, it is likely you could be losing sales.

You may find that another business owner, who started their business after you, are now growing their business into a lucrative business, and yet you are exactly in the same position as you were 12 months ago.
Don't worry – it does not mean your failing as a business owner, it just means you need to make some changes.
Narrowing Down Your Niche Market Can Be Scary
Whether you are just starting your own business on maternity leave, or are running an established business that has been alive for years, narrowing down your niche can be scary.
With many business owners feeling like they are just about keeping their head above water, narrowing down their niche can be off-putting; many of my clients feel like they are shutting their door to clients when they really can't afford to, but that is absolutely not the case.
The problem is that by appealing to everybody, sometimes we can end up appealing to nobody.
My Target Audience and My Niche

I could target my posts at everyone if I wanted to; I am an online business coach for everyone after all.
I mainly work with business mums; that is my business niche. But I also have had one-to-one clients that are men and women that are not mums, but you will find I am writing to mummy business owners mainly.
I am passionate about working with mums in business because I know setting up a business, whilst managing mum life, can be a challenge, so much so that many mums don't end up taking the leap to launch their own business, and, if they do, it is a struggle to grow it due to limited time and accountability.
I was that mum a few years ago; I took the leap. It was a challenge to keep myself accountable and to keep turning my ideas into actions, but I did it and it has been successful for me. I am passionate about supporting other mums and that is why mums are my target market.
Finding your niche market sets you aside from other businesses
Finding your target audience, your people and your niche market puts you in a very specific position in the business. You may be currently finding fulfilment in what you do, which is great, but I want you to find both success and fulfilment in what you do.
Be the Expert in Your Field
You want to be the person that is mentioned when someone is looking for something specific. For instance, just the other day I had 5 calls from mums who wanted to start their own business because their friends told them about me.
The friends who knew about me may not want to start their own business or they may not be ready yet, but I have been that specific in my marketing their friend recommended me – how cool is that?
You see, if my marketing was aimed at everyone, then it would not separate me from any other business coach, and then, perhaps those friends wouldn't have thought to recommend me, because, there a lot of business coaches out there, and I would just be another business coach. But the fact I am specific in my marketing makes a huge difference when it comes to recommendations and referrals.

Think about your niche? Is your niche too broad? Is it stopping you from gaining extra clients?
In order to narrow down our Niche, there are a few key exercises that we can do to make sure that we are speaking to the right people.
You may be worried that cutting your niche down is almost turning people away and closing the door to people, but, actually, you are bringing more people through your doors when you narrow your niche down properly.
Narrowing down your Niche when it comes to business can be what sets some businesses aside from others. It's what makes some businesses hugely successful without a huge budget.
Example
Say, for example, you sell shoes. If you set up a shoe shop online and cater for mums, dads, kids you are another online shoe shop which is great, and I am sure you will get a few sales, but, perhaps, not as many as you want. Think about the blogs you would write, the social media posts you would share. Yes, there would be so many but who would they be aimed at?
Let's look at this a bit more deeply: If you decided that you wanted to be a shoe shop for plus-sized women. You may still sell other shoes, and that is fine because the plus-sized women can buy shoes for other people in their families. You may not sell other shoes and that is also fine.
Yes, it would mean that non-plus-sized women may not be interested in your content but plus-sized women would be REALLY interested in what you have to say because you are speaking to them… each and every time. You are being consistent in your marketing and your message becomes LOUD AND CLEAR.
Essentially, your business would grow more than if you were just a shoe shop because you now stand out from the crowd.
If you stayed as a shoe shop that appeals to everyone who is your content on social media aimed at? Is anyone really going to have an emotional attachment to you? Is your message loud and clear?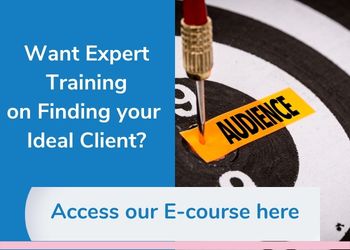 What Are Your Passions in Your Business?
Every business owner will have things that they enjoy, and things they don't, and you must-have aspects of your business that you are more passionate about than others.
Think about the reviews, testimonials that you get? When a client comes back to you, with an amazing testimonial about this aspect of your business, your heart skips a beat.
Ask yourself. What are your passions when it comes to your business? What do you enjoy doing the most? Who do you enjoy working with the most? When you have a passion for what you do, for a certain aspect of your job, it shines through and people can spot it a mile off.
You may dread a certain aspect of your job, or you may dread the calls or meetings with this particular type of client. This is the perfect time to stop the dread and start living a more abundant life by doing the parts of your business you love.
Uncover Pain points Your Target Audience Have
Delving into your target customer a little further and getting to know them as an ideal customer is a game-changer and something I do with my ideal clients. From this, we can learn so much. You can access my course on finding your niche here.
By discovering the right niche, the ideal customer, the perfect client – it creates a very specific audience and one that can take our business to that next level. It allows us to find keywords our ideal audience is searching for and helps us with price points too.
Identifying your client's pain points helps to identify problems your audience are having. It will help you gain more customers and in turn, be a more profitable business owner.
Another Example
Let's create another example, back to the shoe shop, if you sell shoes to everybody and you create content for everybody (i.e. blogs, podcasts, videos and social posts) your niche is very broad as we discussed. But if you can uncover your ideal audience pain points you can solve your ideal client's problems which is half the battle of getting clients sometimes.
For example, if you write a blog on "Summer shoes – What's new?" or we have a shoe on "Shoes for plus-sized women that won't rub this summer" what would be more desirable to you as a plus-sized woman?
Not only would you be interested in the second blog more, but women who have that VERY issue may be looking on the internet to solve that VERY problem. It is worth noting that being specific and having a clear focus on what your audience struggle with can help you drive traffic to your website too.
Research competition in your Free Time
If you have found a profitable niche, a unique niche, you will find that you have narrowed down your competition too which is great and should be easier for you to appear on search engines. Of course, there are many things that go into SEO (search engine optimisation) but you could absolutely find that you are getting global search volumes and bringing more potential customers to your niche website than you ever have before.
High search volume + more people on your landing page = more sales.
Creating your Ideal Client
This is something that I work with business owners on regularly. Knowing your ideal client in business is a game-changer. I'm not just talking about knowing them as in "women, plus-sized 30-60 years old" I mean really knowing them.
Not only does having a specific, ideal client and target market for your niche business help with market research, it also helps you to find your niche on a closer level, and get to know your niche markets.
Do you know how much money your ideal client has? Imagine if you knew how much they earned, surely then it would make pricing easier for you.
It would also mean that you can carry out keyword research easier and you can identify a clear strategy for SEO (search engine optimisation)
Identifying your ideal client. And their pain points makes all the difference. Instead of becoming just a "shoe brand" you are now solving problems for your ideal client.
Market research with Your Ideal Client is More Effective
You may read a lot about actioning market research, and whilst it is great to carry out market research regularly, if you carry out market research about a niche you are unfamiliar with, or a niche that is too broad, your research will not be targetted enough and would ultimately be less beneficial for you as a business owner.
When doing market research, it is vital that you ask your target customers.
If you have identified your perfect client, you can make sure you are asking questions to your perfect client about your product or service, in the current market, which will provide you with more accurate answers, help with new businesses, help you to decide on certain keywords, and, may even help you know if the products you are intending to sell are actually what your ideal audience wants. Sometimes through market research with the right audience, you can realise your own products are perfect but too expensive or even not expensive enough.
Here are some benefits of asking the right audience about your product or service:
You find out how much they would be willing to pay for your product/service
You find out how much interest they have in your product or service
You find out about problems your ideal audience has
It can drive traffic to your website
It gives you a clear focus and marketing plan
The problems with asking the broad audience about your product or service;
It will not help with keyword research
It will not give you true honest answers
If you would like to narrow down your niche, you can either do it one-to-one with me as your online business coach by clicking here or you can access my course on finding your niche in business.
Carla is the founder of MyBump2Baby. Carla has a huge passion for linking together small businesses and growing families. Carla's humorous, non-filtered honesty has won the hearts of thousands of parents throughout the UK.
She has previously written for the Metro and made appearances on BBC News, BBC 5 live, LBC etc. Carla is a finalist for Blogger of the Year award with Simply Ladies inc. Carla is also the host of the popular Fifty Shades of Motherhood podcast and The MyBump2Baby Expert podcast.
https://www.mybump2baby.com/wp-content/uploads/2021/11/Finding-Your-Niche-in-Business.png
630
1200
Carla Lett
https://www.mybump2baby.com/wp-content/uploads/2016/10/Logo-MyBump2Baby_transparent-bg-1-1.png
Carla Lett
2021-11-08 16:49:59
2022-01-07 16:35:27
Finding Your Niche in Business