"First Steps Consultancy offers a unique, supportive service, personalised for every family. I have helped many parents to overcome problems that were having a significant impact on their family, and well-being. The parents who have used First Steps Consultancy feel that they have gained control of the situation and feel empowered as a parent, which ultimately gave them more self-confidence, better quality of life, and happier children. They were then able to spend their time with their families focusing on making memories to cherish!
I passionately believe that the best way to overcome bad or unwanted behaviour is to use positive reinforcement, and to get the whole family involved. I have many tips and techniques to share, many of which I have put into practice in my own home, with my own children.
As part of my Behaviour Support Package I offer a consultation, ideally at home, or over the phone or Skype. We will discuss what is going on, what you are struggling with, and how you would like to move forward. I will then devise a personalised plan for you and your family, using the techniques you have chosen and make sure that you are confident with the plan, and ultimately feel as though you can put it into practice, and be consistent, as consistency is the key!
Sleep can present numerous challenges to parents and families in the first few years of welcoming a baby. Having a good amount of sleep is such an important part of being able to function and manage day to day life, and being a parent makes this even more necessary!
After researching the emotional effect on children who have been 'Sleep Trained', I don't offer my full 'Sleep Support' package to families who have a baby under 6 months. Before this age, the techniques are not suitable, and can be very distressing for both you and your baby. All of the techniques I advocate are gentle, and are appropriate for all children over six months of age. Before that time, we need to respond to baby's needs and cues, and, if we don't, they can become very unsettled, as they need to feel safe and secure.
If you are not enjoying parenthood as much as you could be, why don't you get in touch and see if I can help you?"
You can visit my website;
http://www.firststeps-consultancy.co.uk/
Have a look at my testimonials;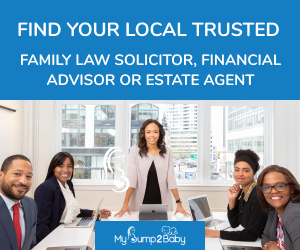 http://www.firststeps-consultancy.co.uk/services
If you would like to follow me on Facebook then click the link below
https://www.facebook.com/First-Steps-Consultancy-1798336490426931/
https://www.mybump2baby.com/wp-content/uploads/2017/12/E1D337DD-FA5F-4341-AC10-758A2D3DBAAF.jpeg
1536
2048
danny
https://www.mybump2baby.com/wp-content/uploads/2016/10/Logo-MyBump2Baby_transparent-bg-1-1.png
danny
2017-12-14 21:23:23
2017-12-14 21:23:23
First Steps Consultancy