At MyBump2Baby Lancashire,  we are always on the lookout for fun classes for toddlers in the Blackpool and Fylde area. Today we are really excited to be sharing our review on the fabulous Tumble Tots. 
Who hasn't heard of Tumble Tots? If you haven't get out of the room… No, but seriously, if you haven't where have you been? I remember my friends being Tumble Tots members when I was a kid, and however much I don't want to show my age here … it was ahem… cough cough… over 25 years ago.
Tumble Tots was actually established in 1979 by Bill Cosgrave, coach for the British Olympic Gymnastics team of 1968. Since then, they pride themselves on being the UK's leading structured physical play programme for children from 6 months to 7 year olds.
We are proud to promote Tumble Tots on MyBump2Baby and I personally was really excited to have been invited to our local Tumble Tots Blackpool, Preston and Fylde to write a review.
Me and My Parenting
First, let me set the scene and share some of my epic parenting fails with you and then you may understand why I personally found Tumble Tots a great class to go to for babies right through to 7 year olds.
One of "those" mums…..
You know those mums that are literally terrified of their child getting out of bed in the morning… you know the ones….  terrified of every cough, splutter and cold, the ones who almost have panic attacks at most meal times in case of choking… well.. that my friends is me… In a nutshell!!!
I can no longer count the times on my hands that we have sat for hours in the walk-in centre for a heat rash. It is no wonder my poor little George screams when he is sat on a swing in the local park God love him, I have probably put the fear of God into the little boy. My aim in 2020 is to let him do his thing, within reason of course and let him learn, fall and do what he has to do without wrapping him in cotton wool.
Tumble Tots Review
George and I headed to Poulton on Monday afternoon for the class which was carried out by the lovely franchise owner Lyndsey and her Tumble Tots Team. The layout for the class looked really excited and George was desperate to get started that we barely had sat down before he was pulling off his shoes and socks.
The parents sit in the back whilst the children take part in the class this is a great way to encourage children to get used to being away from their parents. I personally love this idea for 2 reasons, 1. I can actually catch up on email and work and 2. So I don't have a mini heart attack every time I see George climbing things I would usually discourage him from doing on his own.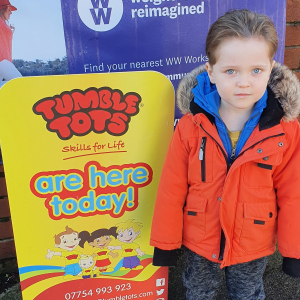 The Introduction
The children have a chat and a warm up before the class begins. All the children are split into separate groups so the teachers can work closely with the children in their group.
The Circuit
A circuit was set out for the children and I am not going to lie… I wouldn't have minded getting involved myself, it looked so fun!!!
Each individual circuit encouraged different skills and development and I was really impressed by how well thought out this class was.
Each exercise represented different skills but all nicely also fitted together. The different skills the child learn through Tumble tots are hand eye coordination, climbing, team work, balance, agility and las but not least the ability to follow instructions (every mums dream)
Each session is 45 minutes and you can see by the level of effort that goes in to the class that each session is carefully designed to enhance physical, social and cognitive development.
The eye catching, fun equipment is very clean and looked very safe and although I saw George do things that I didn't know were even capable at his age I felt safe in the knowledge that he was in the hands of experts.
I must admit that it was clear to see that George's fine motor skills weren't as fine-tuned as some of the regulars which made me realise that I need to get George more involved in classes like Tumble Tots
Our Overall Summary of Tumble Tots Preston, Blackpool and Fylde
Put it this way, there was a huge meltdown as we left the class and George has been talking about Tumble Tot's ever since. So it was a hit with George.
I found the whole class from start to finish excellent, the fact any parents get 45 minutes to themselves is reason alone to book the class but in all seriousness…. I was really shocked at the development of some of these little tots and their confidence. It certainly made me realise that George needs to be taking part in more activities like this going forward.
I spoke to a lady that has been taken her grandson since he was 6 months old and she couldn't speak highly enough of the class and how much it has helped with his development, she stated that "Tumble Tot's has made him ready for school in September" and I could understand and see exactly what she meant.
How to book in with your local Tumble Tots
Tumble tots work on term packages but if you would like to have a taster of the classes to see if it is something your little one would like to do, they accept a one off payment of £5.00. I can guarantee you won't be disappointed.
To book in with Tumble Tots Preston, Blackpool and Fylde click here.
https://www.mybump2baby.com/wp-content/uploads/2019/10/Tumble-Tots-Social-Media-Logo.jpg
860
860
Carla Lett
https://www.mybump2baby.com/wp-content/uploads/2020/02/Logo-300x81.png
Carla Lett
2020-02-19 16:51:37
2020-02-19 16:53:52
Fun Class for Toddlers in Blackpool and the Fylde - Our Tumble Tots Review