Fun Things to do for Families in Dartford

We are thrilled to bits to feature the amazing Tracey from the awesome Usborne Books who is blogging today about fun things for new families to do in Dartford.
As a first time mum to a now seven month old, my initial thoughts when I was pregnant were around how to change a nappy or would I be able to breastfeed?! When he arrived, I realised the real challenge ahead was how to keep my baby…and myself…entertained! Those first few weeks were incredible bonding with my son and spending our days wrapped in a blissful bubble, but the four walls soon closed in and my inquisitive baby became bored of the same ceiling to watch from his Moses basket so I decided it was time to venture out and see what Kent offered babies!
There are a plethora of options to choose from; some free and some not! The amazing thing about living in Kent is the amount of beautiful outside space there is to enjoy for FREE! (More on that later!)
Baby classes in the Dartford area;
Our first class was a Baby Sensory class. I had read a lot about baby sensory classes and the concept is amazing. The sessions which were in total darkness with fairy lights, disco balls and glowing toys were enthralling! It was magical for me so I can only imagine the sensory delight my three month old was feeling!
There are tons of articles online with reasons why sensory classes are so good for babies and how they aid with development and you can steal a lot of the ideas to make your own sensory areas at home! One of my babies favourite activities is to sit on a foil blanket (the type you keep in your car for emergencies) and make a lot of noise rustling the foil! He absolutely loves it!
Our second class was Tots Play run by Nicola Whitehead in Dartford and Bexley. Classes are from birth to four years old and combine a range of different activities in each session – baby yoga, sensory play, sign language, music and massage. My son adores the bubble machine at the end and often, he would fall asleep during story massage after having so much fun and stimulation! I've also been to the older kids classes with my Usborne Children's Books business and have seen, firsthand, the enjoyment the kids get and the energy they expend…which may mean you get a cup of tea in peace when you get home if they're asleep!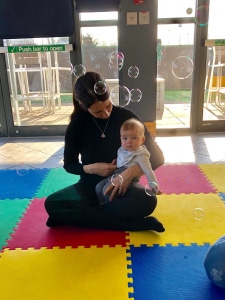 Another amazing class is Sing & Sign in Dartford. I knew whilst I was pregnant I wanted to try baby sign classes to help my baby communicate before he could talk. Within a few weeks he knew the sign for "milk" and would get very excited when he saw me signing! Each week we learn different signs and he enjoys listening to Netty, who runs the class, sing and play with Jessie Cat. Nothing brings me more happiness than seeing the beaming smile on his face during classes! It's also something to focus on outside of class too and builds a bond between you with a silent language only the two of you understand!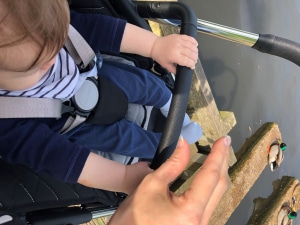 As an avid fan of books, I was excited to see a new class starting locally to me, Sounds Right Phonics….in my opinion, reading is such an important part of childhood and this class helps children with their reading by covering sound recognition, alliteration, segmenting and blending as well as gross motor skills for handwriting. The Mini's class is from 12-30 months and there is a preschool class for 2.5yrs-4yrs. There are classes at various Kent locations.
There are so many classes to choose from it's impossible to list them all! Check out the MyBump2Baby directory for more options.
Fun Things to do Outdoors in Dartford
With summer approaching, enjoying the outdoors is high on my list of things to do with my baby. With the coast not too far away, daydreams of ice creams and sand between our toes is within reach!
Closer to home I love spending a few hours at Shorne Country Park. With various trails (including buggy friendly ones!) and a cafe on site, it's a great place to enjoy nature. As it's a wooded area it is also great for when it's warm and sunny as there are plenty of shaded places to keep children out of the sun. There is also Jeskyns Community Woodland in Cobham which is 360 acres of woodlands, meadows and orchards. This is a very popular place for dog walkers too!
Having spent the majority of my life in the suburbs of Birmingham, every day I am so grateful to live in the Garden of England, Kent. There are so many family friendly options to choose from. To see more have a look at the MyBump2Baby Directory
Carla is the founder of MyBump2Baby. Carla has a huge passion for linking together small businesses and growing families. Carla's humorous, non-filtered honesty has won the hearts of thousands of parents throughout the UK.
She has previously written for the Metro and made appearances on BBC News, BBC 5 live, LBC etc. Carla is a finalist for Blogger of the Year award with Simply Ladies inc. Carla is also the host of the popular Fifty Shades of Motherhood podcast and The MyBump2Baby Expert podcast.
https://www.mybump2baby.com/wp-content/uploads/2019/05/Things-to-do-as-family-in-Dartford-3-e1558645789372.jpg
2560
1920
Carla Lett
https://www.mybump2baby.com/wp-content/uploads/2016/10/Logo-MyBump2Baby_transparent-bg-1-1.png
Carla Lett
2019-05-23 21:12:50
2021-11-12 10:35:51
Fun Things to do for Families in Dartford