Gripe Water for Babies – Everything You Need To Know
I had heard of Gripe water before my son came along, however, I had no idea how truly magical it was! It worked wonders for his colic. At the time it really was our last resort, as we had literally tried everything. My sons colic started at around 4 weeks; he would cry for hours on end and it would usually be just as my husband and I were settling down for the night. It was at the same time every night and tended to last for hours on end.
My mum had mentioned "Gripe water" for newborns, but because so much has changed since she had me I just shrugged it off (silly me). I tried lots of other expensive remedies and none seemed to work. At one point it was that bad we thought that he must have an allergy of some kind, but when the GP looked into it, he didn't. We were at our wit's end by this point and possibly on the verge of a divorce- when my health visitor advised that we try gripe water for colic, I went out and bought some from the local chemist right away, and within days he was like a new baby! This article "Gripe Water for Babies- Everything you need to know" will provide the answers to any questions you may have about gripe water for babies.
In this article:
What is Gripe Water?
Gripe water is a liquid supplement that can be purchased over-the-counter at a pharmacy. Unlike other remedies for baby ailments- it is a herbal remedy- meaning it doesn't include all sorts of mysterious chemicals. Gripe water is not a medication- but rather a herbal remedy. This makes it a preferred form of treatment for colic, gas and other various baby ailments by some parents.
What is in Gripe Water?
Baby gripe water is an entirely herbal-based remedy. There are different variations of gripe water, which contain different herbs, including:
ginger
cinnamon
lemon balm
fennel
licorice
Gripe water usually also contains sodium bicarbonate (or baking soda)- which is believed to relieve colic in babies by neutralising stomach acid. You should consult your GP if you would like to give your baby gripe water containing sodium bicarbonate- as it may offset the pH levels in your baby's stomach, which can consequently, worsen colic symptoms.
If you choose to purchase gripe water, you should take care to avoid gripe water remedies that include:
Alcohol – alcohol can cause development problems in your baby.
Gluten (such as wheat)- as this can cause your baby to have an upset stomach.
Sucrose- as this particular ingredient can lead to tooth decay.
Dairy products – as this can cause your baby's tummy to be upset.
Gripe Water Benefits
The benefits of gripe water are largely unproven- with a study in India showing that the majority (64%) of babies who took gripe water, continued to cry excessively due to colic or gas. Many parents, however, swear by gripe water and describe the following benefits:
Easing gas pains in your baby
Helping to soothe a colicky baby
Easing excessive crying in babies
Soothing stomach pain or stomach discomfort in babies
Is Gripe Water Baby-Friendly?
Whilst many parents describe Gripe Water as "a life saver"- many parents may still feel unsure, and wonder- is it safe for my baby? Below outlines the risks of using gripe water for babies.
Gripe Water Risks
Whilst gripe water is a herbal remedy and is usually safe, there are a few risks associated with it. These risks include:
Allergic reactions
Hindering breast milk supply if given too soon after birth
Introduce bacteria into the baby's digestive system
You should look out for signs of an allergic reaction in your baby after giving your baby gripe water.
These include:
Hives
Watery Eyes
Itchiness
Changes in breathing
Swollen lips
Swollen tongue
It is also worth noting that, because gripe water is classified as a supplement- rather than a medication- it is not regulated by the Food and Drug Administration (or the FDA)- meaning that we cannot guarantee that the bottle really contains what is on the label.
Most paediatricians will recommend that you try other forms of colic relief before trying gripe water.
Can You Use Gripe Water for Newborns?
It is recommended that you do not use gripe water for babies under one month old- as the newborn's digestive system is very sensitive- and still developing.
How Do You Give Your Baby Gripe Water?
The first step to giving your baby gripe water, is to ensure that you read the instructions! You should not exceed the recommended dosage- and you should check that this dosage is acceptable for your baby with your general practitioner.
You are able to give the medication to your baby via the medicine dropper straight into your baby's mouth. Gripe water often has a nice taste, so there is no need to attempt to mask it with your baby's milk (or baby food, if your baby is slightly older).
Gripe Water Recommendations
Little Remedies Gripe Water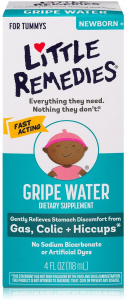 Woodward's Gripe Water
[content-egg-block template=custom/mb2b limit=1 offset=1]
Mommy's Bliss Gripe Water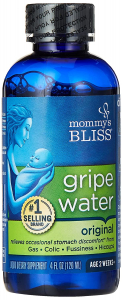 [content-egg-block template=custom/mb2b limit=1 offset=0]
What Alternatives to Gripe Water are there?
Before trying Gripe Water, there are many alternatives you can try:
Antigas Drops
Antigas drops are a medication used to ease gas in babies. These gas drops commonly contain simethicone- a generally safe medication for babies which can relieve painful symptoms associated with gas build-up.
Bicycle your Baby's Legs
Gently moving your baby's legs around in a bicycle motion can help to release any gas bubbles in your baby's digestive tract and provide relief from gas pain.
Apply Pressure to your Baby's Tummy
You can provide relief to your gassy or colicky baby by applying pressure onto your baby's tummy. You can do this by gently rubbing your baby's tummy whilst they are laying down, or by sitting them up with their tummy leaning against your hand. Tummy time whilst your baby is awake will also help to apply pressure to your baby's tummy, as well as help to strengthen your little one's stomach muscles.
Swaddle Your Baby
Swaddling your baby helps to comfort them as it reminds them of being inside of the womb- this can help to soothe a baby who has excessive crying.
Check Your Diet
If you are breast feeding, then what you eat is also essentially what your baby eats! Removing dairy or soy products from your diet may help to reduce your baby's discomfort- so, if all else fails, it is a good idea to try omitting these products one-by-one and evaluating if there is any improvement.
Carla is the founder of MyBump2Baby. Carla has a huge passion for linking together small businesses and growing families. Carla's humorous, non-filtered honesty has won the hearts of thousands of parents throughout the UK.
She has previously written for the Metro and made appearances on BBC News, BBC 5 live, LBC etc. Carla is a finalist for Blogger of the Year award with Simply Ladies inc. Carla is also the host of the popular Fifty Shades of Motherhood podcast and The MyBump2Baby Expert podcast.
https://www.mybump2baby.com/wp-content/uploads/2016/09/gripe-water-for-babies.jpg
1128
1685
Carla Lett
https://www.mybump2baby.com/wp-content/uploads/2016/10/Logo-MyBump2Baby_transparent-bg-1-1.png
Carla Lett
2022-02-03 14:15:39
2023-07-17 12:27:54
Gripe Water for Babies - Everything You Need To Know