hCG levels at 4 weeks pregnant
Congratulations on your pregnancy! Whether it's your first, second or more, we're sure you've got lots of questions that need answering. In this blog, we're telling you about hCG levels at 4 weeks pregnant.
This article includes:
What is human chorionic gonadotropin?
Where does hCG come from?
How are hCG levels measured?
Normal hCG levels at 4 weeks pregnant
Does a darker line on my pregnancy test mean higher hCG?
Low hCG levels at 4 weeks pregnant
Testing hCG levels
High hCG levels in pregnancy
What is human chorionic gonadotropin?
Human chorionic gonadotropin (hCG) is a pregnancy hormone. The hCG hormone plays an important role and is responsible for telling you that you're pregnant. So we know what you're thinking – what do you mean? Well, at home pregnancy tests detect hCG levels in the urine.
You'll see a positive result if hCG is detected, even at only 4 weeks pregnant. Some expecting mothers can find out they're pregnant this early, while others may not find out for a little longer.
hCG can be found in the blood from as early as 6 days after the egg implants itself. This process can cause implantation bleeding, which is usually nothing to worry about.
Pregnancy hormones rise rapidly in the first trimester, and hCG is no different. Other main pregnancy hormones that will increase are oestrogen and progesterone. These hormones are responsible for some pregnancy symptoms, including your pregnancy glow!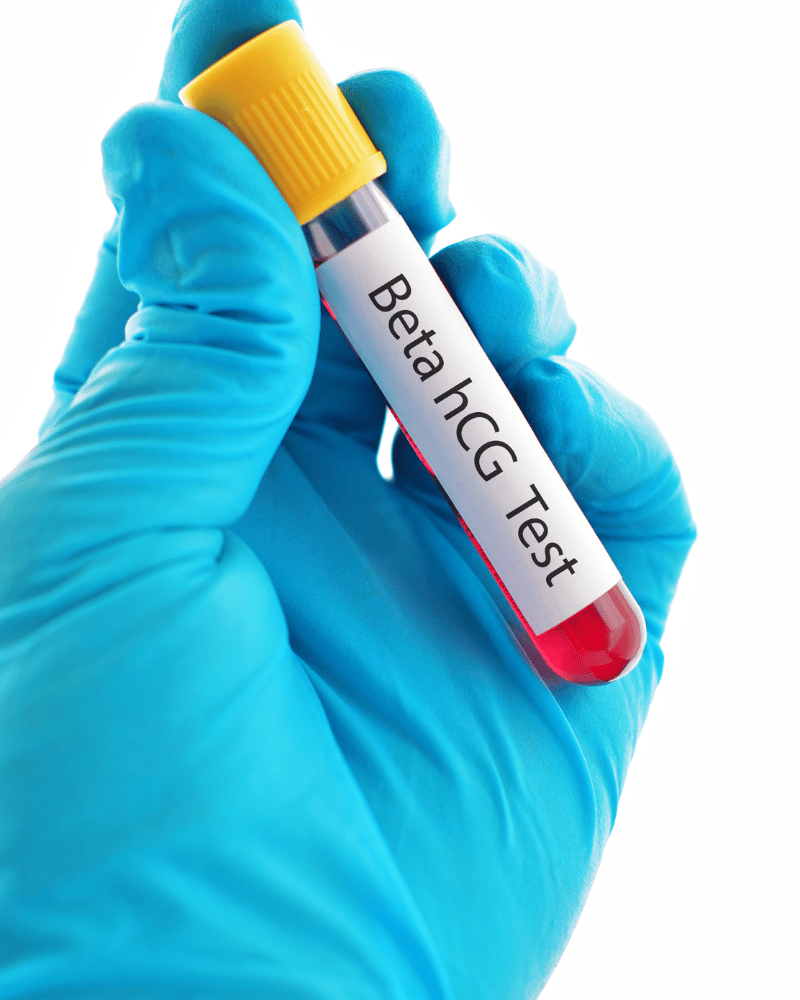 Where does hCG come from?
During pregnancy, the female body undergoes many changes. However, you might not notice some changes until you're sat wondering, 'why does my boyfriend say I feel different inside during pregnancy?'
hCG comes from the placenta, which is responsible for giving your baby oxygen and essential nutrients. The placenta grows as the pregnancy progresses.
To maintain a healthy pregnancy, you should consume a balanced diet. Don't forget that whatever you eat, your baby eats too. Your midwife can let you know about any foods to avoid in pregnancy.
You might choose to take prenatal vitamins as well as consume a healthy diet. At 4 weeks pregnant, you can continue to take folic acid. But, after the 12th week of pregnancy (second trimester), it is no longer necessary.
Pregnancy symptoms at 4 weeks
Many women suspect pregnancy due to certain 4 weeks pregnant symptoms. One of the first signs is a missed period, but there are many other signs too. On the other hand, some women may be 4 weeks pregnant with no symptoms.
In the UK, most women find out they're pregnant at week 5. You should always use an at home pregnancy test to confirm pregnancy. Most home pregnancy tests have a high accuracy rate.
When it's your first pregnancy, it can be hard to know what to expect. Everyone is different, and pregnancy symptoms are unpredictable.
How are hCG levels measured?
hCG levels are measured through either urine tests or blood tests. Using urine for testing is typically done using a home pregnancy test. Pregnancy blood tests are conducted by a healthcare professional.
Using a blood test to measure hCG allows lower levels to be detected. This means that early pregnancy could be detected before any symptoms have appeared.
Normal hCG levels at 4 weeks pregnant
We use the word 'normal' loosely as every woman is different. If you feel worried at any stage of your pregnancy, you should seek medical advice.
Typically, hCG levels will be pretty low still at 4 weeks pregnant. However, when you're pregnant with twins, you may find that your hCG levels are higher. Not sure if you're having a twin pregnancy? Find out more about twin pregnancy symptoms at 4 weeks pregnant.
You should remember that a twin pregnancy can only be confirmed by an ultrasound scan. There is no other accurate way to confirm twins.
For a single pregnancy at 4 weeks, you're likely to have normal hCG levels of between 10 and 750 mIU/mL. These may fluctuate for many reasons.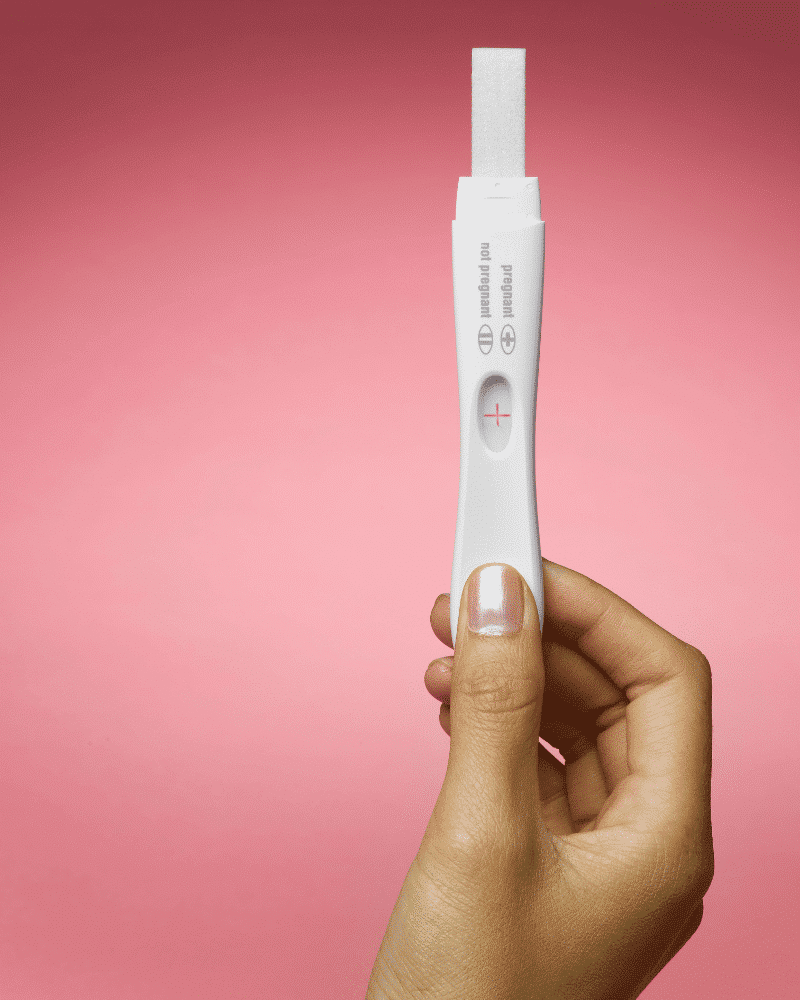 Does a darker line on my pregnancy test mean higher hCG?
While it may seem a reasonable assumption, this is not the case. Sometimes a darker or lighter pregnancy test line can be caused by your body's hydration levels.
A pregnancy test can't be used to determine the levels of hCG present in the urine. This can only be determined using a blood test.
Low hCG levels at 4 weeks pregnant
Experiencing low levels of hCG hormone while pregnant may not be anything to worry about. It is totally normal to have low hCG levels in early pregnancy, as your body is still increasing the hormone.
Ectopic pregnancy
Another reason some women experience low hCG levels is ectopic pregnancy. An ectopic pregnancy occurs when the fertilised egg attaches itself outside the womb. This can happen within the fallopian tube.
Ectopic pregnancies are dangerous, and unfortunately, saving the baby is not possible. There are some signs to look out for; these include:
Tummy pains (usually on one side)
Vaginal bleeding
Pain in the tip of the shoulder
Discomfort when visiting the bathroom
It is vital to act quickly with an ecoptic pregnancy. The baby growing in a small space can cause extreme pain and, in some cases, ruptures. These ruptures would require surgery to repair.
A rupture can cause nausea, dizziness and extreme tummy pain. Seek professional medical advice quickly if you are worried about these signs.
Miscarriage
Another cause of low levels of hCG can be a miscarriage. Miscarriages are most likely to occur within the first 20 weeks of pregnancy. Signs of a miscarriage include:
No longer experiencing pregnancy symptoms
Pains in the stomach
If you notice any of the signs of a miscarriage it is very important to seek medical advice.
Pregnancy loss is a difficult thing to go through, and there is support available to you. Please don't suffer alone, and make sure you speak to friends, family and professionals.
Testing hCG levels
Usually, your hCG levels will only be tested if it is absolutely necessary. Women who have experienced pregnancy complications may be offered a test to detect hCG hormone levels. Having these tests can help to monitor your pregnancy.
High hCG levels in pregnancy
A twin pregnancy could be the reason for your higher hCG levels, but there can be other explanations.
A higher hCG level can signify that the pregnancy is further along than you initially thought. Your estimated due date and pregnancy week will be calculated based on the first day of your last menstrual period. Speak to your midwife if you believe your estimated pregnancy week may be incorrect.
As your pregnancy progresses, you'll meet milestones determined by a week by week chart. This allows your midwife to recognise any differences in your pregnancy.
Sometimes higher levels of hCG can be a sign of Down Syndrome. Your doctor may offer further tests throughout your pregnancy.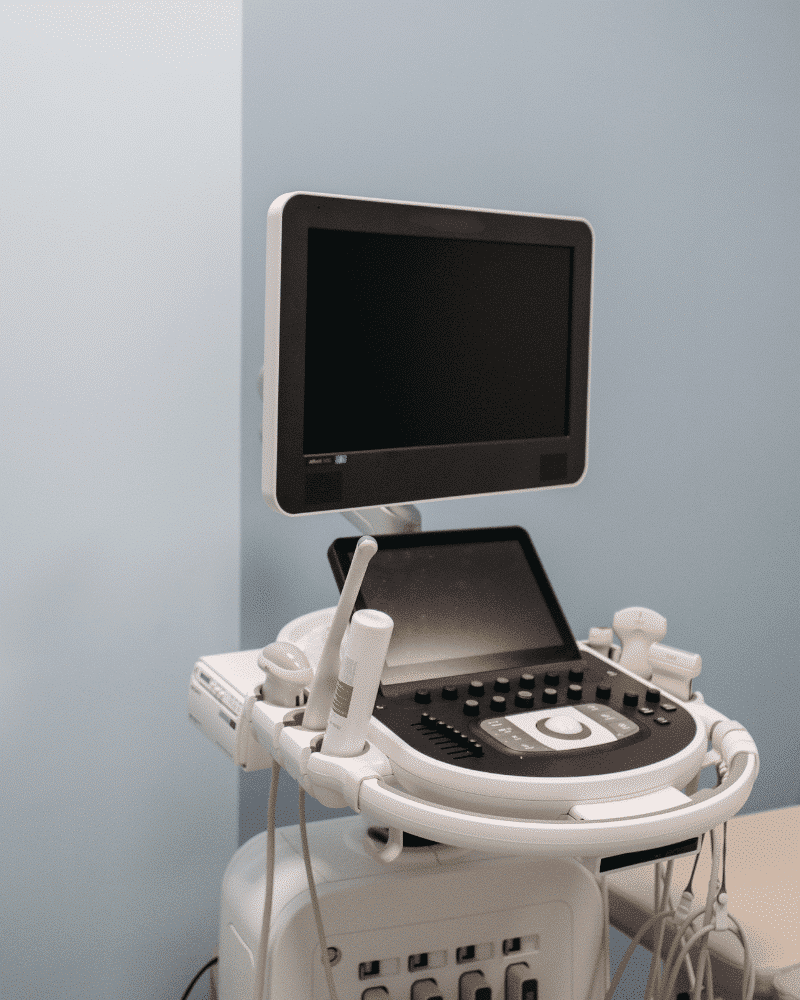 Experiencing higher than normal levels or lower than normal levels of a pregnancy hormone doesn't mean there's anything to worry about. Doctors and midwives will offer you testing and support throughout pregnancy.
Most babies are not detectable on an ultrasound until week 6 of pregnancy. At 6 weeks, you may be able to see the gestational sac. When a healthcare provider cannot identify the sac, they may perform tests to rule out complications.
An ultrasound at 4 weeks pregnant is completed using a transvaginal ultrasound. This involves a lubricated wand being inserted into the vagina.
Make sure that you try to enjoy your pregnancy. Even though you're right at the beginning now, it'll be over before you know it. We bet you can't wait to bring your new bundle of joy into the world!
Hey there, I'm Abigail! 
I recently graduated with a degree in Marketing. I'm currently a freelance blogger and Marketing Assistant. I love learning new things and hope that you find my blogs useful and informative.
See you in the next article!
https://www.mybump2baby.com/wp-content/uploads/2022/09/hcg-levels-at-4-weeks-pregnant-.png
260
750
Abigail Sproston
https://www.mybump2baby.com/wp-content/uploads/2016/10/Logo-MyBump2Baby_transparent-bg-1-1.png
Abigail Sproston
2022-09-08 16:50:27
2023-01-19 12:55:21
hCG levels at 4 weeks pregnant