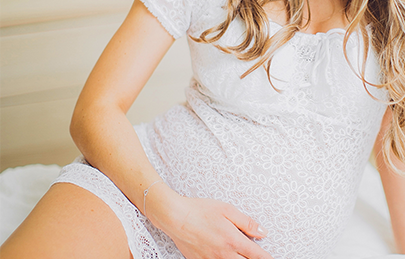 Are hiccups during pregnancy normal?
Absolutely, hiccups during pregnancy is very common and a question and is often asked by expectant mothers however as with most things during pregnancy there are things to be aware of to ensure that the hiccups aren't a sign of a bigger problem.
Fetal movements can be felt from as early at 13 weeks.Hiccups are very similar to kicks however they are more rhythmic and jerky like more of a muscle spasm. A good way to tell the difference between kicking and hiccups is to move around, if you change position your baby may move to a more comfortable position and they may stop kicking or kick in a different way. If it is hiccups the movement won't change the rhythm of the hiccups and they will continue.
Some expectant mothers feel hiccups during pregnancy several times a day and some mothers don't at all.
Hiccups tend to start around month 6 and it is a totally normal reflex and it is very rare that they are cause for concern however in later pregnancy it can be a sign that something is wrong. Later on in pregnancy hiccups can be sign that there could be a cord issue restricting blood and oxygen to your baby.
Cord complications and issues can include;
Stillbirth
CO2 build up
Changes to baby's blood pressure
Brain damage
Changes to heart rate
If you find that your baby is getting hiccups 4 or more times a day, or your babies normal hiccups have changed for example they feel different it is worth getting checked out just to make sure that everything is ok.
It is not only your little one that will be hiccupping. It is very common for expectant mothers to also develop more hiccups during pregnancy. During pregnancy your lungs inhale more than usual (30 – 40% more to be exact) The change in this means that you are more likely to suffer with hiccups.
Your babies' hiccups do not stop after birth, for some babies they get hiccups a lot in their first few months of life. Hiccups will not bother your baby however you may find it uncomfortable to watch the first few times but you soon get used to it. It helps if you burp your baby during and after each feed.
https://www.mybump2baby.com/wp-content/uploads/2016/02/hiccups-during-pregnancy.png
259
405
Carla Lett
https://www.mybump2baby.com/wp-content/uploads/2020/02/Logo-300x81.png
Carla Lett
2016-09-26 18:37:46
2017-06-07 06:12:01
Hiccups During Pregnancy