How Long After Implantation Does hCG Rise?
If you are in the two-week wait, it can feel like eternity. You may wonder, "How long after implantation does hCG rise?" so that you can take an accurate pregnancy test. This question is answered in this article, as well as several others!
In this article:
What is Implantation?
In short, implantation is the term used to describe when a fertilized egg implants itself into your uterine lining.
Your eggs start in your ovaries and are released, during a process called ovulation, one by one, during each menstrual cycle.
It is once the egg has been released, and it comes to rest within one of the fallopian tubes, that it can be fertilised by the sperm.
Once the egg has been fertilised, it travels down the fallopian tubes to the uterus and attaches itself to the uterine wall.
Implantation typically occurs between 8-9 days after fertilisation occurs, but it can happen as early as 6 – 12 days after conception.
For more information about when implantation happens, you can read our article When Does Implantation Occur?
It is after implantation occurs, that hCG (human chorionic gonadotrophin) becomes present in your urine.
Signs of Implantation
When implantation occurs, several signs may present themselves. However, if you are experiencing these signs, it does not guarantee that implantation has occurred; the signs listed below are also common signs of your menstrual period:
Implantation bleeding – Implantation bleeding is experienced by one third of women. Implantation bleeding is usually very light, and pink or brown in colour.
Bloating – Bloating is a common symptom of implantation, caused by the sudden increase in the hormone, progesterone, that comes with implantation.
Tender Breasts – Once implantation occurs, your estrogen, progesterone and hCG levels suddenly increase. This can cause your breasts to feel sore.
Headaches – The sudden rise of hormones, namely progesterone, can cause headaches shortly after implantation.
Mood Swings – Mood swings are certainly no fun. If you are feeling moodier than usual, then the sudden rise in hormones, due to implantation, may be the culprit.
Nausea – After implantation occurs, the sudden increase in progesterone causes your digestive system to slow down. This can cause you to feel nauseous.
Implantation Dip – If you experience a sudden dip in temperature of a few tenths of a degree that lasts one day, it may be due to implantation.
How Do Pregnancy Tests Work?
Home pregnancy tests work by detecting and reacting to the presence of human chorionic gonadotropin- or hCG- hormone in your urine. The hCG concentration doubles every 36-48 hours as your pregnancy progresses.
The presence of the human chorionic gonadotropin (hCG) hormone, creates a chemical reaction within the pregnancy test, which causes it to show a positive result. If the test is not faulty, results typically show within minutes after taking the pregnancy test.
It is recommended that you use pink dye pregnancy tests rather than blue dye pregnancy tests, as pink dye pregnancy tests do not show evaporation lines, which will help to prevent any false-positive results.
How Long After Implantation Does hCG Rise in Urine?
If you would like to take a home pregnancy test, you are most likely wondering when you are able to take a pregnancy test and receive a positive result.
It may take up to 7 days after implantation until your hCG levels are high enough to be detected on home pregnancy tests.
So, how long after implantation bleeding can I receive a positive pregnancy test?
Implantation typically occurs 8-9 days after conception, so your hCG levels should be high enough around 16 days after conception. If you receive a negative result, you should test again in a few day's time to ensure that the result is accurate.
Have you read our article, How to Help Implantation? It contains tips on how to maximise your chances of implantation successfully occuring.
Clearblue ultra early pregnancy tests are the best option for early pregnancy testing- as early as 6 days before your missed period.
How Long After Implantation Does hCG Rise in Blood?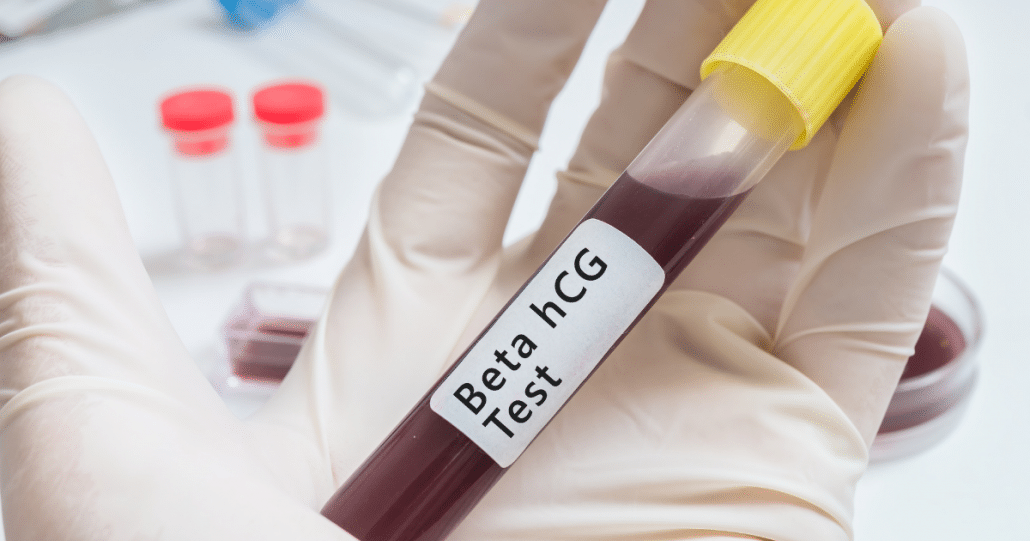 If you have been trying to conceive for a while, doctors may perform a blood test to test for pregnancy. You are also to purchase pregnancy blood tests online.
Your hCG levels in your blood reach a detectable level around 4-5 days after implantation, or around 14 days after conception.
Doctors use two kinds of blood tests to test for pregnancy, qualitative blood tests (which check if the hCG hormone is present or not) and quantitative blood tests (which measure the amount of hCG present in your blood).
So, In Conclusion, How Long After Implantation Can I Take a Pregnancy Test?

If you would like to take a drug store pregnancy test, then you should wait between 7 and 12 days after successful implantation before taking a pregnancy test, for accurate results.
If you are taking a blood test at the doctor's, it may be able to detect pregnancy straight away.
How Long Do hCG Levels Stay Risen After Implantation?
Your hCG levels after implantation are risen and continue to rise until your second trimester. The increase in hCG levels during the first trimester communicates to your body to maintain the endometrium, which is necessary for your pregnancy to develop.
During the second trimester, your hCG levels no longer need to be risen as the placenta has developed enough to ensure the endometrium is maintained.
Early Pregnancy Symptoms
During the two week wait, looking out for early pregnancy symptoms may be able to give you an indication as to whether or not you are likely to receive that positive pregnancy test result.
Increased Urination – During pregnancy, your body's blood volume increases drastically. This increase in blood volume causes the kidneys to process extra fluid, which is sent to the bladder.
Fatigue – Fatigue is certainly one of the most common pregnancy symptoms experienced by pregnant women. With your hormones fluctuating rapidly, and your body preparing to grow a tiny human, there is no wonder that you may be experiencing this symptom.
Missed Period – If your period is over a week overdue- and you are younger than 51 years of age, it may be a sign that you are pregnant.
Tender Breasts – Early hormonal changes during pregnancy can cause this pregnancy symptom. This pregnancy symptom is rather unpleasant, but it usually subsides within the first few weeks of pregnancy.
Nausea or Morning Sickness – Nausea, or morning sickness, is definitely one of the most well-known pregnancy symptoms.
Light Spotting – Light spotting is often one of the first symptoms of pregnancy. The light spotting is caused by implantation. This light bleeding is called implantation bleeding.
Constipation and bloating – During early pregnancy, your progesterone hormone levels rapidly increase. This rapid increase in progesterone causes your digestive system to slow down, which can cause digestive troubles, such as constipation or bloating.
When to Contact a Doctor About Pregnancy Symptoms
If you are experiencing:
One-sided lower abdominal pain
Pain when urinating or having a bowel movement
A missed period
Vaginal bleeding or watery brown discharge
Pain in the tip of your shoulder…
…it may be a sign of an ectopic pregnancy. In a normal pregnancy, the fertilized egg implants itself into the uterine lining, however, on occasions, the egg can attach itself within one of the fallopian tubes. This can cause the pregnancy to develop outside of the womb.
Ectopic pregnancies can be serious, so it is important to consult your doctor if you suspect that you may be experiencing one. urine tests
Hi, I'm Louise- mum of one to a little boy called Mason.
I am the Digital Marketing and Admin Assistant for MyBump2Baby.
I enjoy working to provide excellent service to MyBump2Baby's growing families.
Nice to meet you!
https://www.mybump2baby.com/wp-content/uploads/2022/05/How-Long-After-Implantation-Does-hCG-Rise.png
630
1200
Louise McCamily
https://www.mybump2baby.com/wp-content/uploads/2016/10/Logo-MyBump2Baby_transparent-bg-1-1.png
Louise McCamily
2022-05-05 16:37:18
2022-08-31 15:17:01
How Long After Implantation Does hCG Rise?