How Do You Tell Your Toddler You're Expecting?
Ok… Now before you jump to any conclusions… NO I am absolutely not!!!
A big question that many parents ask is "how do you tell your toddler your expecting?".
Telling your Toddler You are Pregnant
Many parents claim that the moment they tell their little one the exciting news about a future siblings arrival it has been a little….. disappointing! We all envision that the special announcement will involve a leap in the air, a fist pump and maybe even a tear of joy, but in reality, once many parents tell their little one the exciting news about the expectant new sibling, they are left with nothing but an array of difficult questions and little but no excitement. It's not surprising really, I mean think about it, it must be a little difficult to understand that there is a baby growing in your mummy's tummy. It can be hard for a toddler to process that they are now going to share their parents with another sibling. George seems to think Rambo the Cat is his brother so you can imagine how confused he would be if I told him I was expecting.
In addition to the million questions of "how, why and when" it can also be difficult to explain to a child why mummy is sick, tired or can't do certain things anymore. Many children could see all the changes as a negative, when in fact we want to create positive relationships between siblings before he or she arrives.
So how can you prepare your toddler for your new baby in a positive way?
The great news is that there is now a book out there designed especially for this called "Let's talk to Mummy's Tummy"
Let's Talk to Mummy's Tummy Review
This educational and positive book has been written by the talented Helen A. Lacey and beautifully illustrated by the wonderful Carla Moreno.
 The purpose behind the Let's Talk to Mummy's Tummy Book
The book has been designed to addresses potential concerns or questions that a child may have all in a positive child-focussed manner.
Let's Talk to Mummy's Tummy Book
When you open the book you will see 8 milestone stickers attached for your child to stick on the relevant pages. The sticker milestones begin at 12 weeks and has a picture of the fruit or vegetable every 4 weeks to update your child on their brothers or sister's growth.
The beginning of the beautifully illustrated book concentrates on finding out how your little one is feeling, raising any potential questions and also ensuring that your little one is aware their new sibling will not be coming for quite some time yet. It cleverly brings the attention back to your little one by speaking about what they were like as a baby, it also raises any potential issues that can affect your child such as mummy being sick and tired and reassures them that this is only temporary.
Week by week, the book raises issues to prepare your child for their sibling and week by week your little one is greeted with a message from their new brother or sister intertwined with lots of interesting facts to ensure your little one is involved as much as they can whilst promoting a positive bond from the very beginning.
Filled with fun interactive elements such as tasks and the special 'flip effect' throughout the pages that brings the sibling to life, this book is the perfect way to help a child to understand pregnancy and be prepared for what to expect when their brother or sister arrives.
Our Review of Let's Talk to Mummy
This book is fantastic and I actually got a little emotional reading it. This is a fantastic book to read with your little ones and a great way for them to feel included in your pregnancy whilst preparing them for the changes the new arrival will bring. This book forms a strong bond between your child and their sibling from the beginning and cleverly gives your new baby a voice so that your little one can interact with their sibling and carry out tasks such as cuddling and touching mummy's bump.
To be totally honest with you, this book has made me completely broody. I would absolutely purchase this book if I ever did have a baby in the future and I would really enjoy reading this book with George.
This book is the ideal tool for any expectant parent who has another child or children. I must admit that I found this book a refreshing change from most pregnancy based books out there as it focuses on your child's thoughts and feelings. It encourages engagement between siblings and is enjoyable for mum and child to both take time out of their hectic lives to bond with bump. Interacting with your bump is also now proven to support your unborn child's brain development.
The book covers a range of topics including;
Where the baby will sleep
Names
Baby crying
How will you wash the new baby
What the Baby will eat
plus many more.
This book can be used time and time again without getting repetitive as the book encourages discussions around different topics. Different children will have different thoughts and views.
We have awarded "Let's Talk to Mummy's Tummy" with our recommended on badge.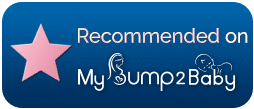 You can purchase this book direct from the authors website. It's also available on Amazon.
Follow Helen A. Lacey on her website;
Carla is the founder of MyBump2Baby. Carla has a huge passion for linking together small businesses and growing families. Carla's humorous, non-filtered honesty has won the hearts of thousands of parents throughout the UK.
She has previously written for the Metro and made appearances on BBC News, BBC 5 live, LBC etc. Carla is a finalist for Blogger of the Year award with Simply Ladies inc. Carla is also the host of the popular Fifty Shades of Motherhood podcast and The MyBump2Baby Expert podcast.
https://www.mybump2baby.com/wp-content/uploads/2019/03/How-do-you-tell-your-toddler-youre-expecting-1.jpg
500
411
Carla Lett
https://www.mybump2baby.com/wp-content/uploads/2016/10/Logo-MyBump2Baby_transparent-bg-1-1.png
Carla Lett
2019-03-19 21:39:14
2021-10-20 12:23:39
How Do You Tell Your Toddler You're Expecting?